One moment in time— is all you'll need to procure your ticket to The Bodyguard musical as it lands in The Hippodrome Theatre at The France-Merrick Performing Arts Center. As a part of the CareFirst Hippodrome Broadway Series, the iconic film turned stage musical— based on the Warner Bros. screenplay by Lawrence Kasdan and newly adapted book by Alexander Dinelaris— is bringing the spirit of Whitney Houston to Baltimore. Directed by Thea Sharrock, the show delivers a nostalgic walk down memory lane for those who remember the film and anyone who loves the music of Whitney Houston as well as a riveting new show for those unfamiliar with the story. Possessing incomparable theatricality when it comes to the concert-performance scenes, earnest heart in the character and overall story arc, and music that will have you desperate to be up dancing and feeling the heat with somebody, The Bodyguard musical is a stunning sensation that move you to always love it.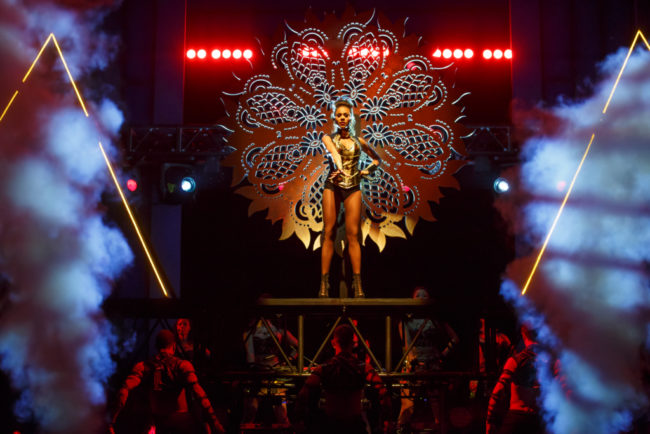 Deceptive simplicity is the name of the game for Set and Costume Designer Tim Hatley when it comes to the show's scenery. Simple sliding panels to reveal and obscure portions of the mansion as well as easily transition scenes from one to the next allow for a simultaneous coexistence of Broadway decadence and practical fluidity. Hatley's sartorial selection for the show is simply stunning. Nearly a dozen different outfits in every flavor of fashionably breathtaking are used for the Rachel Marron character, and the back-up dancers are matched accordingly. All of Hatley's designs play seamlessly into realism of the piece, presenting glamour and flash that enhance the fantastical narrative.
Hatley's scenic work is complimented by Video Designer Duncan McLean. Using projections of the stars in various moments of their scenic progression against dropped curtains fully integrates the digital notion of film in a subtle nod to the story's silver-screen beginnings. The special effects achieved with this tactic— working solidly in tandem with Sound Designer Richard Booker— are stellar. Booker's aural landscape, between the underscoring of dramatically intense moments and the effects that become character specific— often in a jarring and thrilling manner— are a satin finish upon the already rich and satisfying design elements that the production has to offer.
True concert-style lighting makes its way into existence by way of the illuminating genius of Lighting Designer Mark Henderson. Each of the major performance numbers that Rachel delivers in concert— be it big or small— is accompanied with wild and extravagant motion and colors, many of which sweep out into the house. Henderson also understands the subtle use of lighting as an emotional enhancer, letting a bright but tightly focused spotlight call attention to anguish, particularly when Nicki Marron is singing. Special effect lighting comes into play as well and Henderson handles its use sublimely, without overplaying his hand when it comes to its inclusion in the show's overall lighting plot.
Stealing all the attention in the production, however, is the astonishing and utterly mind-blowing dance work conceived by Choreographer Karen Bruce. Smart, sharp, and strikingly on point with the rhythm and overall performance energy of each of the numbers, there is something beyond compare to the way Bruce crafts each number to feel like part of a show that is also itself a dancer's spectacular. Members of the ensemble add vivacious energies to Bruce's routines for hit songs like "I Wanna Dance with Somebody" and "Queen of the Night." Coupling these sensational routines— filled with modern dance moves and acrobatics that bring on the cheers from the audience— with frozen moments of pristinely preserved sentiment echoed from the film under the direction of Thea Sharrock, the show is hands down a masterpiece worth shouting about.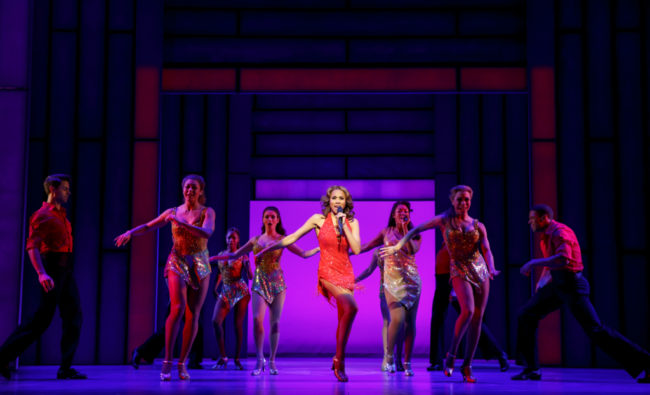 Popping with zesty quirks from the ensemble, The College Girls (Megan Elyse Fulmer, Dequina Moore, and Naomi C. Walley) take their 15 seconds of fame during the karaoke scene. Fulmer, Moore, and Walley whoop it up getting funky and funny with each other as they kick the scene off. Their comedic shenanigans grow exponentially as the surprising turn of events in the scene unfolds. Well worth a nod for their comic relief, these trio of talented performers has no trouble capturing the audience for their moments in the limelight. Jonathan Hadley, Alex Corrado, and Charles Gray deserve nods as well for their roles as Sy Spector, Tony Scibelli, and Bill Devaney respectively. Hadley delivers a flamboyance that could light up the entirety of the mansion on its own while Corrado is the heavy, delivering deadpan and seriousness from his role of chief security man. Gray, as the neutralizing Devaney, balances the trio out and provides subtler humor as necessary throughout the performance.
Spunk and talent are rolled into one precious young kid when it comes to Fletcher Marron (at this performance, Douglas Baldeo.) Enthusiastically energetic when it comes to bouncing in step with the rest of the dancers— and impressively on point when it comes to leading and mastering some of the more complex routines, like "How Will I Know?"— Baldeo is a vivacious burst of youthful energy that just can't wait to take the spotlight. Balancing that energy with a sweet temperament and congenial nature in spoken exchanges with both of the show's leads, Baldeo is a triple-threat performer as he ticks off all three boxes: acting, dancing, and singing. His voice has the early makings of a young pop star sensation and carries him well through his solos sprinkled throughout various numbers over the course of the evening.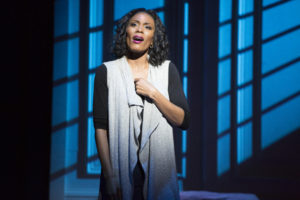 Waiting in the wings and carrying the back ends of a great many duets with the infamous Rachel Marron, sister Nicki (Jasmin Richardson) has tremendous heart and deeply expressive soul when it comes to her singing. Richardson, who's initial solo "Saving All My Love" is somber yet heartfelt, has an exceptional voice, delivering each song in which she partakes with bold emotional resonance. Her duets shared with Rachel, like "Run To You" and "All At Once" are on the verge of soul-shattering, brimming over with augmented emotions.
Brutally haunting and deeply disturbing by mere presence alone, The Stalker (Jorge Paniagua) is a frightening force to be reckoned with. A great deal of what makes him so spine-tingling is his mindful sense of presence and his exacting spatial awareness. Though given no musical numbers and very few spoken lines, Paniagua is painstakingly aware of his sheer mass and the way his character is meant to move. Slinking stealthily despite his muscular bulk, Paniagua incites a flame of terror inside everyone every time he appears suddenly in a flash of light or blast of nerve-jumping sound. His presence is powerful, and the boos and hisses received at the curtain call are a time-tested mark of just how thoroughly exceptional he is in this truly villainous role.
Stoic strongman Frank Farmer (Judson Mills) is the epitome of an alpha dominating character. This creates a catastrophic collision when encountering Rachel Marron (Deborah Cox), an equally staunch alpha character. The lighting-charged roller coaster that is their dynamic chemistry is emotionally blindsiding and yet deeply rewarding. Mills maintains a suave level of control, a pristine panache to his titular moniker, even when he's being humorous or light-hearted. Given just one musical moment— a truly brilliant way to incorporate Whitney Houston's most iconic song early into the show— Mills delivers an adorable and mostly-spoken rendition of "I Will Always Love You", which sends the audience into a fit of smitten sentimentality over his character in that moment. Mills is the epitome of protective, both with and without emotional attachment when the situation calls for it, and awakes the character of Frank Farmer in a fashion that is perfectly suited for the gravity of this stage performance.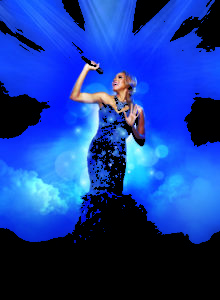 Deborah Cox seizes her one moment in time all throughout the evening and sparkles with dazzling effervescence every time she takes to belting out a number. Truly channeling the spirit and sound of Whitney Houston in a touching nod to the late singer whilst still balancing her own striking voice in the mix, Cox blows the audience away every time she opens her mouth to sing. Fierce and ferocious, yet tender and terrified, Cox exemplifies a deeply dynamic character portrayal, putting effortless grace into every moment she's on the stage. "I Have Nothing", the second most astonishing number performed by Cox in the evening is a musical tsunami of raw emotion and sheer vocal power. Cox delivers a phenomenal rendition of "I Will Always Love You" that is simply beyond description in all of its striking splendor.
Not a show to be missed, tickets are nearly gone for this whirlwind stop in Baltimore and if you're still able to procure them, do so, as this show is most definitely one for the books, perhaps the best of the season thus far.
Running Time: Approximately 2 hours and 20 minutes with one intermission
The Bodyguard plays through January 29, 2017 at the France-Merrick Performing Arts Center— 12 N. Eutaw Street in the Bromo Seltzer Arts District of Baltimore, MD. For tickets call the box office at (410) 752-7444 or purchase them purchase tickets online.
To read the interview with The Bodyguard: Judson Mills, click here.