Stay in my arms if you dare! Must I imagine you there? Imagine no more as The Bodyguard tour hits The Hippodrome Theatre at The France-Merrick Performing Arts Center. As a part of the CareFirst Hippodrome Broadway Series, the iconic film turned stage musical is taking cities across America by storm. In a TheatreBloom exclusive interview, we sit down with Judson Mills who plays the titular character of the show, to talk about the film to stage experience.
Thank you for giving us some of your time, Judson! If you want to do a quick introduction, we'll get started.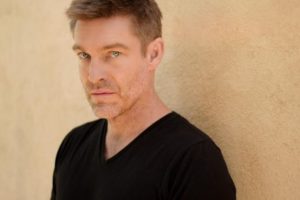 Judson Mills: My name is Judson Mills and I am playing Frank Farmer, The Bodyguard in The Bodyguard musical. My favorite thing I've worked in this last year was probably the new HBO Series West World. It was really cool. I had a bunch of stuff with Ed Harris and Clifton Collins Jr. It was a very exciting project to be a part of. I was also a part of Notorious, which is an ABC show. Those are probably my two favorites. I have a couple projects of my own that I've been working on for the last year with a couple of guys. I've been working on a web-series called Spades. It won some awards out in California at a few film festivals and is streaming now on a website called Streamable. That's kind of fun. Obviously I haven't been able to do much with that since I've been involved with The Bodyguard but that's very close to my heart.
You sound like you have a lot of television and web-series type projects in the works, what has it been like making that transition back into the live-theatre world?
Judson: Well I started on the stage. I went to school at the American Theatre of Dramatic Arts and I was a theatre major at another place called Barry University. That's where I met Alex Dinelaris, who was my first theatre buddy, my college roommate over there. He's part of why I'm involved with The Bodyguard. They were having trouble casting the role of Frank. Alex wrote the adaptation from the screenplay to the stage. So he gave me a call and asked me if I was interested in traveling, if I was interested in the piece. I'm a big fan of Costner, I'm a big fan of the movie, and a big fan of Whitney. I'm a fan of Deborah Cox. All of those things together were appealing. So I decided to give it a shot. He put some stuff on his iPhone, came out to a hotel in LA to visit, and here we are.
It's definitely a change but it's familiar, as I said I started in theatre. I've been in productions that are similar. The scope and size of this is a little different. Carrying the show like I do is a little different. I don't leave the stage for the whole show.
You definitely are the title character here. How does that compare to some of the other roles you've played, especially as you just said you almost never leave the stage?
Judson: It's a lot. In film and television, which as we mentioned I've been primarily involved in for the last twenty years, no matter what the scope of a scene is, there's typically a handful of minutes that that camera is rolling and that you're working with things. You can always start and stop if you need to. So to be on stage for the better part of two hours non-stop, driving the thing, requires an incredible amount of focus and stamina and presence to do it well. It's very challenging, but it's an amazing experience having the extra component of the audience involved. It's a really wonderful thing that we don't have so much of in film and television. The response from 2,500 people can be really, really fun and really intoxicating.

It's a wonderful challenge that I'm enjoying making the best of. Touring is a lot to tackle. Being in another city every week is challenging. Having new crew members and new dressers and new fundamental, important parts of your show change every week, that's very challenging. We're all learning how to continue to get better and grow and evolve as a show, but we also have to remember we have new people to teach the show to every week. So there's a certain amount of grace and patience that has to go along with that. It's a very challenging dynamic to try and make that work. Tuesday nights when we land in a new town are always kind of exciting because you never know what's going to happen.
How true would you say this adaptation stays to the film? Are people who are true fans of the movie going to find that they are as in love with the musical?
Judson: The story is slightly different. There are some fundamental differences in the relationships between myself, and Rachel, and Nikki. There's a bit more of a love-triangle going on in this story. I don't want to tip our hand too much. For the most part the story remains the same in terms of the danger provided by a stalker and in terms of the conflict provided by two alphas like Rachel Marron and Frank Farmer. And then the ultimate love affair that results from that. Some of the locations are a little different because we're on a stage, you know we can't use a plane. Most of the feedback that we get from people who have seen the movie is either they like it as much or that they like it better. We've had a lot of people say that they like the show better than the movie, which is great to hear. So far so good! Everybody seems to be happy. We seem to be selling out everywhere we go and the audience response and participation has really been overwhelming. It's been very gracious and positive.
How would you say you and Frank Farmer are similar? Or are you just complete opposites? Do you find it easy to relate to him?
Judson: Both Frank Farmer and myself I would consider to be alpha male, so that is similar. But we're also very different in that I'm am much more gregarious and humor-driven kind of personality on my own. Frank is a lot more quiet and he's the strong-silent type if you will. There's some differences in that. He's a lot more contained and a lot more still and quiet than I am. But it's fun to play the strong silent type for a couple hours a day. To be a hero is always fun.
Is there a moment in the show that really defines the show for you?
Judson: I think the karaoke scene seems to be a crowd favorite and a real turning point in the story and it's actually a moment where Frank lets down his guard a bit and you get to see some more of his personality. That's the scene I have the most fun with. I think Deborah (actress Deborah Cox, playing Rachel Marron) and I enjoy that the most. A lot of people seem to respond to that as well.
What are you hoping audiences will take away from coming out to see The Bodyguard?
Judson: I think it's the entertainment. It's a ride. It's a journey. Once you start, and it starts with a bang and you'll know what I mean when you see it, it's a real departure from whatever's going on in your life. The music is overwhelming and all-encompassing. Deborah Cox is just so talented and has such a phenomenal voice. The entertainment and the chance to escape your own life is the payoff for this one. It's a great ride. It's got danger, it's got love, it's got songs you remember from a different time in your life. It's just a great opportunity to get away. There's a lot of audience participation so it's a fun journey to go on. We break the fourth wall a lot. Because of the concert, the nature of the music and having a lot of performance numbers in it lets us use the audience as if they are in the venue that we are in. It seems to inspire the audience to participate a lot. It's fun like that. But it's a couple hours where you can just get away for a minute and take a fun ride.
What would you say being invested in this project has taught you about yourself?
Judson: I've really enjoyed embracing this role as not only the role as it is in the script but I've done my best to be the bodyguard for this team and for this cast. I've taken it as a responsibility and a privilege to lead this group and try to create an atmosphere and an environment of inclusion, of teamwork, and of family. It's been a wonderful opportunity to sort of be a shepherd and a father-figure, a bodyguard if you will. It's been nice. I'm away from my kids right now, so it's a chance for me to still love on a group and take care of people. Deborah and I have tried very hard to make this a group success and a team success. We've tried to make this a show where everybody is recognized and everybody understands how important they are. It's a nice experience in that way, the family relationships that we've developed and the sense of camaraderie has been really wonderful.
Are you excited about coming to Baltimore?
Judson: Baltimore is basically my hometown! It's the closest that we're going to be to my home town. I'm from Northern Virginia, about an hour north of Washington DC near Harper's Ferry, right where all three of those states come together. I grew up crabbing and fishing on the Chesapeake Bay. This particular stop is the closest to my hometown. We don't stop in DC or anywhere like that, so this is hopefully where all of my hometown people will come to see me.
Why do you want people to come see The Bodyguard?
Judson: I think being able to share what you love to do is amazing. Deborah and I always have a little prayer before we go on stage. We always just ask that God will inspire us to carry his message and his love to those that we have the privilege of entertaining. It's a chance to relate to people and to share something that you love to do. Deborah and I love this project and we're invested in it. To watch people enjoy themselves and have a good time and participate is priceless. It's difficult to describe but it's a real privilege to be able to be an artist who makes a living and be able to share it with others. It's just the sense of community, I think. All being together to enjoy Whitney's music, to honor her spirit, and to experience this great piece of iconic film memorabilia.
The Bodyguard plays through January 29, 2017 at the France-Merrick Performing Arts Center— 12 N. Eutaw Street in the Bromo Seltzer Arts District of Baltimore, MD. For tickets call the box office at (410) 752-7444 or purchase them purchase tickets online.