We're all stories in the end. Make it a good one, eh? Will your story be remembered? Do you want your story to be remembered? Take a chance; take a breath; submerge yourself into the story— into your own story— into their stories. Submersive Productions presents, for a limited engagement only, Plunge: An Experiential Storytelling Lab. Five wholly unique storytelling encounters, experienced in a unique and intimate one-on-one encounter, but which tales will cross your path? Which stories will speak to you? You could meet a stranger on a train or perhaps walk a mile in someone else's shoes; the evening is full of intrigue and mystery as the order of your experiences varies from person to person and what awaits you in-between these encounters is a creative and eclectic involvement of storytelling in a different format. Remarkably unusual and exceptionally stimulating to the mind, soul, and heart, Plunge delves headlong into a fascinating story all its own. How will your encounter end?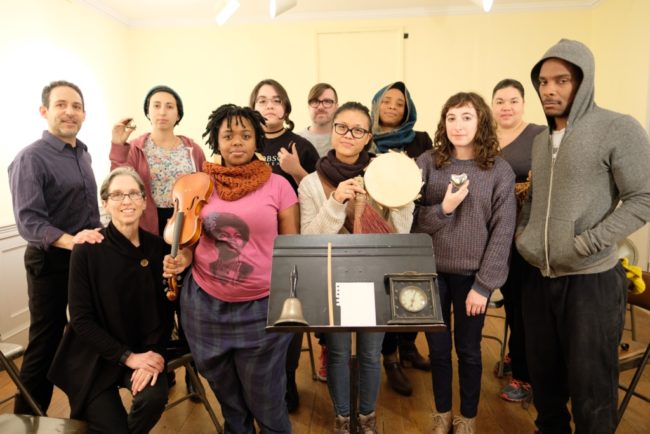 Installed in the upstairs dual-leveled hall of St. Mark's Evangelical Lutheran Church, Plunge has five separate story encounters, of which three can be experienced over the course of one performance. With a quintet of fascinating narratives, each one composed by a separate team of makers and performers, no two performance experiences will be the same. This unique approach to the performance allows the audience to engage on a personal level, connecting them further to the experience in a way that no other theatre is presently offering in the city of Baltimore. Audiences will start in the central hub of the performance space, receiving a passport to travel through the world of storytelling; each completed story experience earns them a stamp— provided by a friendly, albeit mysterious, concierge (at this experience Josh Aterovis) at the main podium. Said concierge will not only stamp your passport but guide your experience, setting your course for the evening. There are decompression activities provided in the hub as well, three participatory self-guided activities, artifact displays for perusal, and of course snacks and refreshments.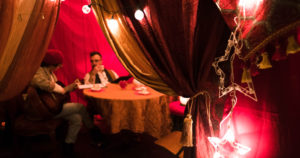 To speak on the specific nature of each of the encounters would be to give away a great deal of the mysterious intrigue and wonder that the performance provides, however, it can be said that the five experiences are completely separate from one another and yet loosely threaded together by this notion of storytelling. What does it mean to experience a story; will their stories spark a connection to your own life story? The encounters are personalized and everyone finds the experience impactful on different levels and in different fashions. Leave your troubles of the day at the door and allow yourself to be fully immersed into the experience; take the journey along with these performance makers and you'll find yourself connected to humanity in a way quite unlike any other being offered up theatrically at this point in time.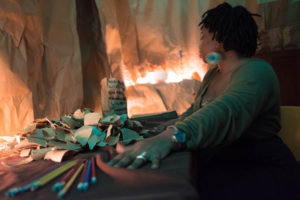 The performance teams include Mike Smith and Marie Claire Macadar, who draw to your attention the importance of an oft ignored everyday staple of life. Will you walk a mile in Smith's shoes as he invites you into his quiet little corner— as devised by Macadar—  of the performance world? Cori Dioquino and Ursula Marcum create an entirely different encounter, installed in the secondary tier of the performance space. A strange encounter of a transported variety might await you in Dioquino's telling of Marcum's creation. Then there's Ashley Minner and Samantha Callanta, creating a homey experience that might just leave you haunted. Minner's narrative is a particularly unique encounter as it features a secondary voice, or does it? Alisa Brock and Ada Pinkston will reinvent the importance of narrative by introducing a more serene and surreal approach to storytelling. Brock carries a presence about her that is almost ethereal and otherworldly, making Pinkston's creation a spellbinding one. And let's not forget Abby Becker and Kevin Griffin Moreno, the only performance duo featured in the experience. They give maker Ashley Minner's piece a real edgy heart that binds the mind to a topsy-turvy experience like no other.
The pieces are rare. The stories extraordinary and yet deceptively simple. You'll find yourself fully invested before you realize your session has ended and the overall performance gives you a great deal to digest, process, and explore by the time all is said and done. It is indeed worth investing an hour of your evening in, perhaps a second time if you are able as there is so much to be experienced, so many stories to be explored, waiting for you to take the Plunge.
Running Time: Each performance experience runs approximately 30-45 minutes and encompasses three of the five story installations.
Plunge: An Experiential Storytelling Lab plays for four days only from Thursday February 2nd through Sunday February 5th 2017 with Submersive Productions at St. Mark's Evangelical Lutheran Church— 1900 St. Paul Street in the Station North Arts District of Baltimore, MD. Tickets must be purchased in advance online as the experience requires timed entrances.