The United Kingdom has survived for centuries; it has survived being Thatcherized— even Reaganized from afar in recent decades— but can the crowned country survive a reign under King Charles III? Mike Bartlett's thought-provoking drama examines exactly such a premise, kicking things off at the funerary farewell to the woman who was arguably England's greatest monarch, Queen Elizabeth II. Now appearing in the Sidney Harman Hall of Shakespeare Theatre Company, the American Conservatory Theater production of Mike Bartlett's King Charles III as Directed by David Muse is taking Washington DC by storm. A politically charged, evocative drama that enthralls the average theatregoer with its radical notions, heated debates, and all too realistic and relatable controversies, the play sets out to start a conversation over exactly what could happen when the inevitability of Queen Elizabeth II's death comes to fruition.
The strikingly monastic appearance of Scenic Designer Daniel Ostling's set interior is overwhelming, if slightly inaccurate compared to its real-life counterpart. But embracing suspension of disbelief, Ostling sets a tone of severity early on with the towering walls and the crowned head statues looming down like fixated gargoyles of the past, scrutinizing every move made below them. Coupled with the illuminating tactics of Lighting Designer Lap Chi Chu, who employs a minimalist approach to emotional lighting, the more intense scenic shifts— particularly the siege at the end of the first act— become quite profound. Chu aligns the meticulously structured lighting plots with the work of Sound Designer and Composer Mark Bennett, ultimately maximizing the intensity and overall dramatic effect of scenic shift and transition throughout the performance.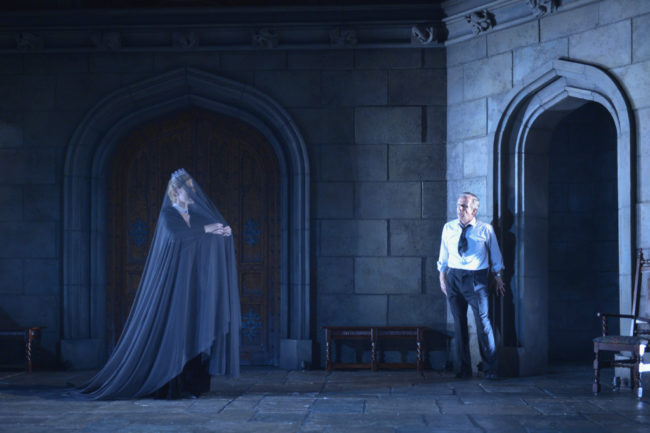 While Mike Bartlett's play is stunning in its own right, unique in its potentially prescient manner, and wholly invested in delving into the fathomless entities that are the royal family— as individuals with human characteristics and qualities beyond what is so often portrayed in the media— the premise itself is somewhat of a stretch. The conceit that the monarchy can dissolve parliament as well as the other practical political plot points are sound in practice and in history, however choosing the media censorship argument as the sticking point seems a bit far-fetched when all things are considered given the UK's current hot-button issues. This, in addition to some of the scenes constructed between the royal family— like Charles' immediate move to embrace the bizarre relationship with Harry and Jessica as well as instantly granting Harry his wish or Harry's scene with Jessica preceding the coronation— create a sense of contrivance for theatrical effect. However, as it is a theatrical piece meant to evoke emotions, these are forgivable missteps, albeit prominent ones, as the performances carry the drama's major question and concern quite soundly.
The comparison of Bartlett's work to some of the more prominent Shakespeare plays also does the work and its credibility somewhat of a disservice. Reading up on how the play follows similar plot structures, themes, even character similarities to plays like Hamlet, Richard II, Henry V, among others, primes theatergoers for a much stronger connection to the Bard's work than is actually present. Though 'The Ghost' (played aptly and with much reverence by Chiara Motley) and her stalking along the parapet, coupled with brief expressions of rhyming couplet allude to Hamlet, the other references do not read as strongly, in particular the inclusion of iambic pentameter. Though present in the text itself, it is lacking in the textual delivery. Approaching the show without the predisposed knowledge that Shakespeare is meant to be a guiding factor makes for a much more intriguing viewing experience.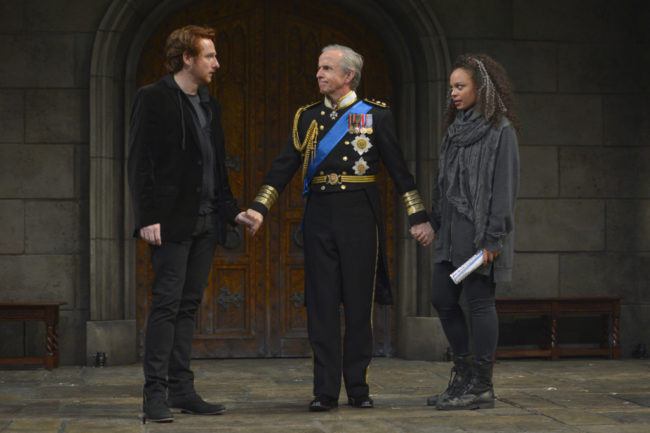 Complexity is abound in Bartlett's characterization of the royal family and with those whom they interact. Spencer (Rafael Jordan) and Cootsy (Jefferson Farber)— who could arguably be the Rosencrantz and Guildenstern to Prince Harry's Hamlet— give off quirky fraternal kinship in the brief scenes where they are present, but do so in a deeply meaningful and convivial manner. This pushes Harry Smith's portrayal of Prince Harry into a broader spectrum of desperation when it comes to seeking a normal party-boy lifestyle. Smith is arguably one of the most intriguing performers in the production, playing every moment with sheer dumb honesty and unapologetic sensibility. His interactions with Jessica (Michelle Beck) uphold the through-line of a romantic side-plot, in addition to disgraceful scandal, all key components of escaping the royal lifestyle and pivotal plot points to the work as a whole. Beck, whose accent is rather inconsistent, is a spark of energy that vibrates uncontrollably against the rest of the intentionally stagnant energy upon the stage.
Though only appearing briefly, when she does, Camilla's (Jeanne Paulsen) is heard. Bellowing out her feelings in a fashion most unusual for someone of her regal placement, Paulsen's representation of Camilla is almost picturesque in a distorted yet pleasing fashion. Paulsen embraces the natural revulsion that accompanies Camilla— decades of Diana-loving public and paparazzi have made it no easy task to love such a woman— and is unafraid to pack a powerful punch in her finale outburst near the show's conclusion. Paulsen provides an exceptional amount of diversity to the scenes in which she plays opposite of the King Charles III character, serving as a blazing fire to his rather dull and dormant watery existence.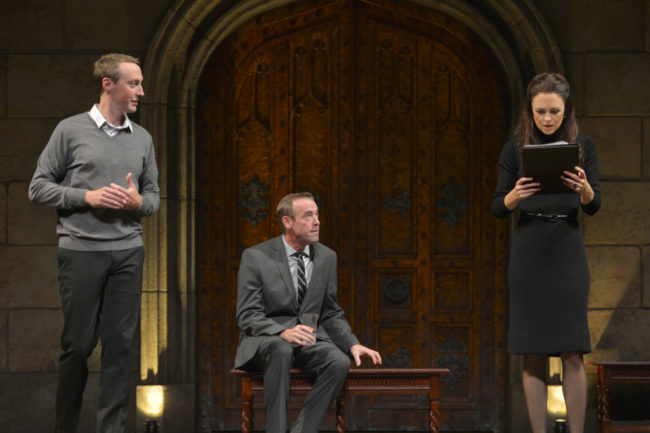 Prince William (Christopher McLinden) and Kate (Allison Jean White) are the two most intriguing characters in the production because of their placement and ultimate purpose in the plot. McLinden and White— both looking every bit the regally fashionable duo compliments of Costume Designer Jennifer Moeller— share a chemistry between them that is synchronizes a modernity and a timelessness to it, respecting their places in each other's lives, but pushing one another when necessary. White, who is sassy but restrained in her cheekiness, delivers Kate as a heroine to women of the monarchy, finding their place even when men refuse to acknowledge it. McLinden, who wholly embodies the gestures and speech patterns of the real Prince William, is equally impressive in scenes both with White and the other members of the company.
As the play encompasses the full political spectrum and scope, it is no surprise that characters like Prime Minister Evans (Ian Merrill Peakes) and Mr. Stevens (Bradford Farwell), the Leader of the Opposition, make frequent appearances. They could be no further apart in likeness, particularly when it comes to Farwell's portrayal of the Opposition Leader's underhanded nature. Backroom politics is Farwell's approach to the character, creating that unctuous and untrusting vibe every time he opens his mouth. Peakes takes a more reserved approach to this character, though that stalwart stiff-upper-lip component of politeness comes into play, even when he's at the frayed end of his character's rope. Both trade off scenes with the King Charles III character in turn, with Peakes even sharing quite a few intriguingly earnest moments with Prince William and Kate as the play progresses.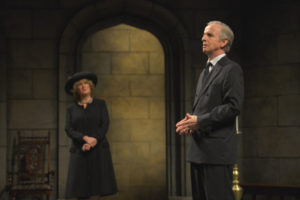 Bearing the title of the show, the crown of England— and in Queen Elizabeth II's footsteps no less— and the unimaginable weight of carrying the show on his shoulders, Robert Joy presents a mostly consistent and strong characterization of King Charles III, even if at times his emotional outbursts feel forced. It only seems to be in these moments of utter emotional deterioration where a lid of calmness can no longer be kept on the situation— the volatile exchange between King Charles III and Prince William late in the second act coming immediately to mind— where Joy's presentation wavers from exacting honesty to emotional artifice. When forced to drive the text at any great peak of pathos, particularly in that heated exchange, Joy's performance reads as extremely presentational. These faults aside, his mannerisms, gestures, and overall physicality as well as his initial textual approach to the character are spot on to what of King Charles III the media has gleaned over the years. It is no easy task living a life in waiting, and that perplexity and deeply confusing notion is delivered quite clearly by Joy in the audience-focused asides. On the whole, Joy handles the performance well, with minor hiccups preventing perfection, but this in itself is ironic as it is almost an exacting parallel to the real life Charles Prince of Wales.
Ultimately well worth seeing, if for nothing else but the regal coronation ceremony ensconced in the play's ending, King Charles III is a compelling drama that grips the audience and plagues the mind with questions of just what exactly will happen when England's beloved Queen Elizabeth II embraces life's final adventure and leaves the throne up for the taking.  
Running Time: Approximately 2 hours and 40 minutes with one intermission
King Charles III plays through March 18, 2017 at Shakespeare Theatre Company in the Sidney Harman Hall— 610 F Street NW in the Judiciary Square—China Town neighborhood of Washington DC. For tickets call the box office at (20) 547-1122 or purchase them online.