Change come fast and change come slow, but change come. And a change— Caroline, Or Change to be exact— is coming to Round House Theatre this season. Nothing happens below ground in Bethesda because all the fiery action of this sensational musical with Book & Lyrics by Tony Kushner and Music by Jeanine Tesori is happening on ground floor stage for everyone to see! Directed by Matthew Gardiner with Musical Direction by Jon Kalbfleisch, this striking story presents a magnificent tale how change impacts us all, especially when we're seeking to avoid it. In this masterful revitalization, Gardiner's vision along with the talents of the cast bring forth a spiritual reckoning that will settle into the depths of the soul long after the finale number concludes.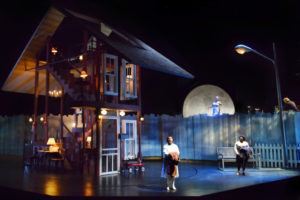 Situated on a pair of revolving concentric circles, the house of the family Gellman is a breathtaking skeletal structure that dominates the entirety of the stage. Scenic Designer Jason Sherwood has conceived a three-tier platform of their home in a fashion that is both minimalistic and yet robust. The framework of the house creates the illusion of a fully detailed interior with several rooms and functioning stairs, all while pragmatically existing as nothing more than platforms upon which to physically and metaphorically elevate the cast and their performances. It's Director Matthew Gardiner's precision blocking and spatial awareness of Sherwood's set that makes the installment truly theatrical, conveying a level of realistic magic to the piece.
Outfitting the cast to the 1963 aesthetic, Costume Designer Frank Labovitz lets the sartorial selection remain simple, taking a nod of glamour and a hint of glitz where appropriate— like with the costumes seen on 'The Radio.' The anthropomorphic character costumes— like that featured on Washing Machine and Dryer— are designed to actualize the life of these inanimate objects. Labovitz personifies household electronics and celestial beings alike by using human clothes in their purest instance, forcing the mind to mull over what a Washing Machine might look like if it were human. The vein carries with consistency for Labovitz' design work on the threads of the Moon as well.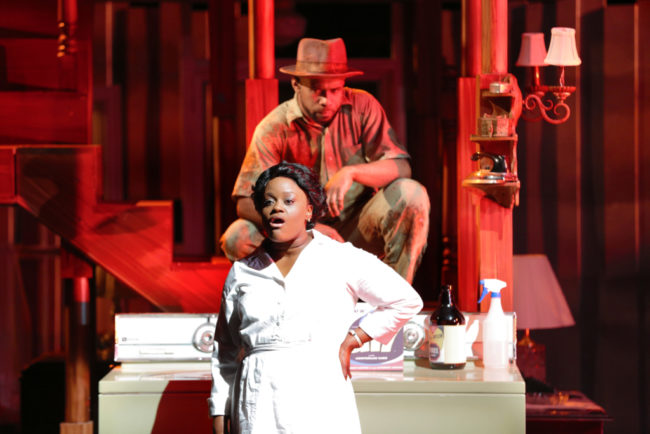 Lighting Designer Grant Wilcoxen delivers subtle shifts in the overall lighting plot of the show, choosing instead to focus on highlighting the anthropomorphized characters in an inspiring fashion. The devilish orange and red glow that frames Dryer when he slinks in for his solo is reflective of the hellish personality with which the character is ascribed, echoing too the sentiment put for by Caroline that "the devil made The Dryer." Symbolic lighting in this nature is Wilcoxen's stamp on the production as pure radiant white comes into play when Moon sings, and tranquil cleansing swaths of light bathe Washing Machine when she gets to churning things up. Wilcoxen's use of shadow and lack of light is also noteworthy as it adds an additional dimension to the production as a whole.
The minor hiccups that belay the production from joyous perfection are the lackluster singing voices on Grandpa and Grandma Gellman (John Lescault and Naomi Jacobson respectively) as well as the vocal struggles of Noah Gellman (Griffin McCahill.) What Lescault and Jacobson lack in tonal control they make up for with quirky character choices. McCahill, who does an exceptional job performing the role when he speaks— particularly when it comes to emotionally connecting with the character's strife— has a few noticeable vocal inconsistencies, mainly struggling with balancing his pitch and hitting notes in the higher range. McCahill portrays Noah with an impressive sense of self-awareness, spatial awareness, and an overall mindfulness, especially when he is talking with Caroline at night from his attic bedroom.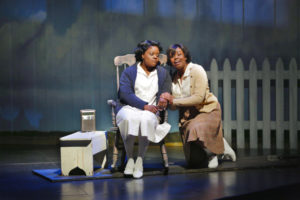 Possessed with spirit and eager enthusiasm, Joe (Micah Tate), Jackie (Elijah Mayo) and Emmie (Korinn Walfall) put their brightest energy into numbers like "Caroline Takes My Money Home" and "Roosevelt Petrucius Coleslaw." Tate and Mayo are particularly bubbly in both of these numbers and are a vibrant complement to Walfall, whose character is written with a great deal of substance. Blessed with a powerhouse voice and unafraid to belt it out, Walfall comes into her own with "I Hate the Bus." Walfall's character work is solid as well, capturing wholly the essence of a teenage daughter who wants greatness but still loves her mother at the end of the day.
Appearing for a brief cameo role in the second act, Scott Sedar takes up the role of Mr. Stopnick, and impresses the audience with his affected accent as well as a rich and robust sound when singing. Though he's only truly featured as a soloist in "A Twenty Dollar Bill and Why", his rich echoing voice reverberates with warmth when he speaks, particularly when getting into heated debate with the character of Emmie.
Of the fictitious characters, The Radio (Felicia Curry, Olivia Russell, Kara-Tameika Watkins) is the most effervescent. Bouncing along in a sharply focused spotlight whenever Caroline turns the Radio on, this trio of talent brings a leveling balance to "Laundry Quintet" and delivers a distinctive sound for "Santa Comin' Caroline", a number which is both jolly and foreboding in its nature and its placement at the top of the second act. The Moon (Delores King Williams) also provides a highly specialized sound in the overall aural spectrum of the show. Williams' operatic sound lends itself mellifluously to "Moon Change", rich in the notion of gospel and blues as the styles blend together in this number.
Dotty Moffett (Awa Sal Secka) is a character who exists outside of the immediate plot of the show, Kushner's creation of her adds yet another dimension inside of Caroline's world. Secka delivers a powerful personality for her brief stage time, though not one that is so outwardly bold. "Sunday Morning", a harrowing duet shared with Caroline, is a proper display of what Secka is able to achieve both musically and vocally in the role. The Dryer/The Bus (V. Savoy McIlwain) is of a similar tenacity when it comes to his character being fully experienced. The mournful dirge that wails forth from his lips during "The Bus" and "That Can't Be" is soul-shattering. This is a stark contrast to McIlwain's portrayal of The Dryer. Sultry and on the physical and vocal prowl, McIlwain delivers an unholy sound and full performance routine for "The Dryer" and his spine-tingling lines during "I Got Four Kids." Tempting as the heat of the devil-made-machine itself, McIlwain is a stellar fit for the role.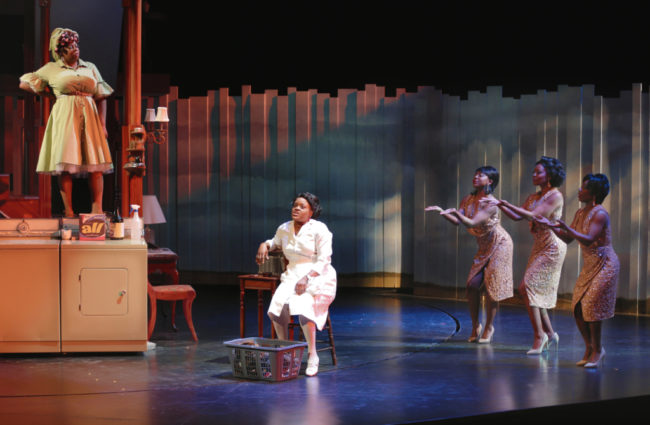 Bubbled up with an easy joy, Washing Machine (Theresa Cunningham) swivels her hips like the agitator inside of a washer, connecting the inanimate object with its human counterpart in the subtlest of ways. This physical representation, designed as a type of choreographic guide by Director Matthew Gardiner, of the machine's purpose gives the character a revitalized look on life. Cunningham bursts out with a moody and soulful belt, even in the more light-hearted numbers like the introductory "16 Feet Beneath the Sea." Sharp of wit and mindful of her stage presence, Cunningham takes the obscure role and elevates it to that of a critical player, the way Caroline see the washing machine.
Providing excellent character progression throughout the performance, Rose Stopnick Gellman (Dorea Schmidt) is an excellent foil to the plot's narrative, not only to Caroline and Noah. Schmidt is vocally blessed with clarity, exacting delivery and tonal control, all of which shine through in her recitatives which are smattered liberally throughout the performance. Her asides, addressed almost directly to the audience, are delivered with hilarious exasperation, grounding her inside her head and allowing the audience to absorb the awkward humor of the situation at hand. "Mr. Gellman's Shirt", one of the aforementioned recitative-style numbers, is an excellent example of the way Schmidt flawlessly traverses the emotional topography of her character's narrative.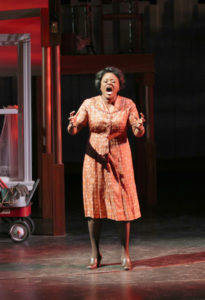 Tackling the titular role with striking fortitude and astonishing congeniality, Nova Y. Payton's portrayal of Caroline Thibodeaux is phenomenal. Expressing in earnest the changes that Caroline progresses through as the show unfolds, Payton uses her vocal gift to convey raw emotions with exacting precision, especially during solos like "Caroline and Noah Fight." The heart-stopping 11 o'clock number, "Lot's Wife" is deeply moving and an unabashed moment of pure vocal and emotional catharsis for Payton. Remarkable, versatile, and deeply dynamic, Payton delivers the role of her young career and owns the character of Caroline with gut-wrenching honesty.
Change come fast— February 26th the stage changes over and Caroline, Or Change won't be around anymore. Do not miss this emotionally enchanting and cathartically captivating production at Round House Theatre this winter.
Running Time: 2 hours and 40 minutes with one intermission
Caroline, Or Change plays through February 26, 2017 at Round House Theatre— 4545 East-West Highway in Bethesda, MD. For tickets call the Box Office at (240) 644-1100 or purchase them online.