Lizzie Borden took an ax, gave her mother 40 whacks. When she saw what she had done, she gave her mother 41. But there's always more to the story, isn't there? Pinky-Swear Productions is taking you back to an August in 1892 when all hell broke loose in the House of Borden…with the current production of Lizzie. Directed by Marie Byrd Sproul with Musical Direction by Piero Bonamico, this rarely produced, electrified shocking thriller of a musical will charge your soul from a place of darkness and draw you to the edge of your seat for one sickeningly satisfying evening of theatrical mayhem. Based on an original concept by Steven Cheslik-deMeyer and Tim Maner, Lizzie is the badass rock musical with a murderous edge waiting to creep into your eardrums and erupt with a blood-bathed brutality that is simply smashing.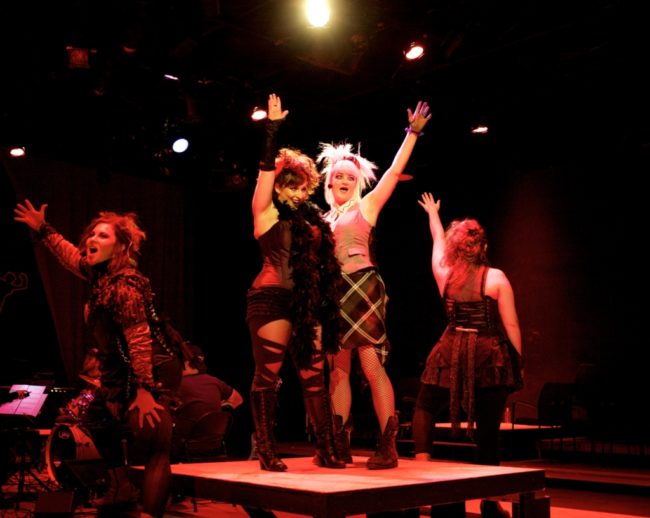 Delving into a punk-gothic inspired thematic, Scenic Charge Artist Mary Cat Gill sprays the hidden treasure of a play space that is the Anacostia Playhouse with a wicked combination of black and red. Gill's paint and design work under Director Marie Byrd Sproul's overall layout invites the audience into a night of vocal and narrative thrills, musical chills, showcasing an atmosphere that screams rock concert showdown. Combined with Lighting Designer Katie McCreary's emotional ablutions, which highlight critical moments in colored lights respectively, the aesthetic is charged and ready to fire from the moment the audience enters the house. The most unique feature, in addition to the platform raisers for the four performers, is the live five-piece band situated center stage.
Musical Director Piero Bonamico, who plays the keys of said aforementioned band, does an exceptional job of finding leveled balance with his five-person pit. Being fully exposed center stage with no true sound dampening barriers, especially given the style of music written for the show, gives little hope that the players will not entirely drown the performers. This, however, is a marvel most miraculous achieved by Bonamico as he succeeds heartily in keeping the volume even, while still infusing the music with that raunchy rock-and-roll sound that growls through the score's entirety.
Completing this terrifically twisted aesthetical vision, Costume Designer Liz Gossens bathes the cast predominantly in black, with strong blood-red accents where appropriate. The punk-rocker hairstyles, meshed with 19th century corsets, and modern day badass attitude all falls into place with Gossens' design work, creating a spectacle that enhances the performance tenfold. Though the four powerhouse vocalists performing in the production would have been equally suited in gunnysacks and garbage bags because their attitudes are awesome and their singing is sublime, Gossens' sartorial selection bonds these fabulous femme fatales with the overriding aesthetic of the show.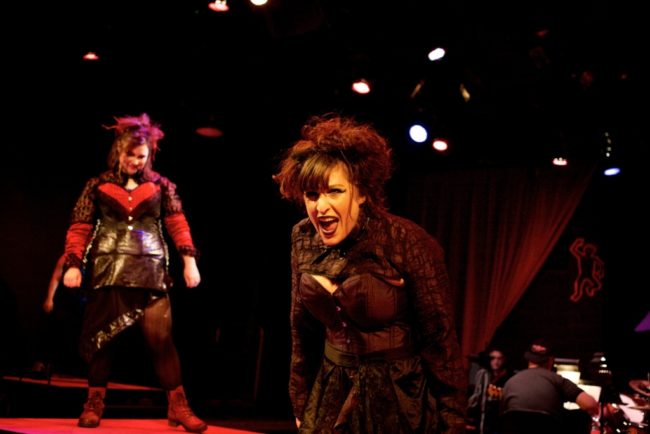 Pinky-Swear Productions takes a bold risk in mounting and producing Lizzie, a far cry from musical mainstream, as it were, but the risk is inarguably a success as the production is sensational. Director Marie Byrd Sproul and Choreographer Rachel Hynes run a tight ship as far as pacing and motion are concerned. The four femme fatales have their locations and their methods of getting to them, all of which align to the rhythms and tempos of the music and none of which ever feel contrived or forced in their process of arrival. The entire show moves to an electrified pulse, thrumming away at its core with a deeply resonate emotional expression.
Rigorous in their vocality, a true ensemble of four femme fatales— Allyson Harkey, Alani Kravitz, Karen Lange, and Rebecca Speas— unite to tell this gruesome tale in a raw and gritty rocker fashion. The four-part harmonies that blend and echo all through numbers like "The House of Borden" are ferocious, laden thick with hardcore angst and fierce determination. Taking turns with aspects of the narrative, mainly through song but also through spoken interaction, this quartet nails each number hard with a hammer of pathos designed to sear the soul and stroke the fire in your core. Beltresses and balladeers all, these four fantastic females will take you tightly by the wrist and pull you through an electrifying experience like no other, their voices possessed with raw emotional voltage the likes of which could power a thousand darkened histories.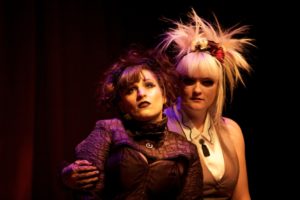 Sweet little Alice (Allyson Harkey) full of malice, wound up tight as a spring; was in love with Lizzie, it made her dizzy, but man you should hear her sing! Harkey masters the assuaging sounds of comfort when singing at the Lizzie character, reassuring her with rendition of "If You Knew" and her portion of "Maybe Someday," wherein the latter has her radiating hope to poor, lost Lizzie. Harkey's demure and delicate soprano sound is quite the contrast to the boisterous bravado belted out of the others with their mezzo ranges. Equally as alive as the others, though in a very different vein, there is a calm in the way she presents the character. But like all things it is consistent until it simply isn't there anymore. "Why Are All These Heads Off?" is the first subversion of the Alice character, and Harkey carries this through the character's transition in the back half of the performance.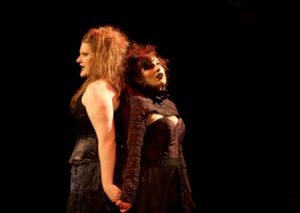 With permanent resting rage face, Rebecca Speas takes up the role of Emma, Lizzie's sister, with a haunting rigidity that makes her a formidable force to contend with upon the stage. There is a rocker rebellion rolling forth from Speas for "Sweet Little Sister." This disturbing number, which features an insanely mesmerizing guitar solo (performed by Mark Schramm) near the end of the song, presents Speas' vocally sensual side, complete with unyielding ferocity. Bombastically blasting her way into the second act with "What the F**k now, Lizzie?", Speas channels an inferno of unrelenting frustrations into this up-tempo rocker ballad, unleashing a full-on emotional maelstrom of angst, fury, disbelief, and panic into the lyrics. The duet Speas shares with Lizzie, "Burn the Old Thing Up", is striking; the rich sound of Speas' voice licking over and through that of Lizzie's like the song itself were being consumed in glorious bursts of flame.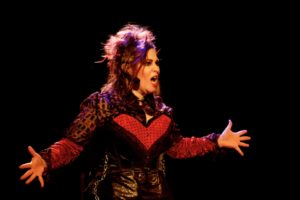 Playing devil's advocate, or perhaps just the devil incarnate, Karen Lange plucks up the role of Bridget and slings it over her shoulders like a fiery set of demon wings. Leading the ensemble through "The House of Borden" and "The Fall of the House of Borden", her emotional investment has the audience immediately on the edge of their seats, desperately clinging to her every word, yearning with unquenchable thirst to hear the tale of Lizzie. "Mercury Rising" and "Somebody Will Do Something" are two brutally brilliant moments belted out by Lange, enchanting these songs and unleashing their feral potential. There is an undeniable wickedness which possesses Lange, driving her through moments like "Why Are All These Heads Off?" in a deliciously unsettling fashion. Vocally savage, Lange is an alpha beltress in the moments where the songs are hers to lead.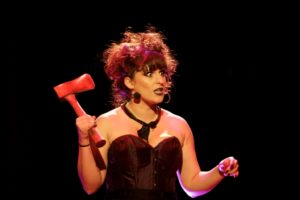 Alani Kravitz took an ax, gave this character 40 whacks; the role of Lizzie she did play, and every song her voice did slay. Kravitz, a powerhouse natural, invests not only her bursting beltress abilities into her portrayal of Lizzie for nearly every number in the production— particularly during the very late 11 o'clock number "Into Your Wildest Dreams" where her belt all but brings down the support beams of the playhouse— but also a rich and dynamically developed sense of pathos. Emotionally connected to the character in a biting and visceral way, Kravitz exposes each flawed vulnerability of Lizzie, but not quite so perfectly as that featured in "This is Not Love." Catharsis never felt so alive as it does when delivered through Kravitz' powerful pipes, the lyrics cleverly composed by Alan Stevens Hewitt trembling with authenticity as they rage from her lips. Phenomenal by every stretch of the imagination, Kravitz owns the titular role of the musical and has the audience begging for an encore by the show's conclusion.
Pinky-Swear Productions will get you good, if you don't go do as you should. Which is purchase tickets to see this show, best do it quick, or you too will know…the taste of steal and 40 whacks, delivered to you by Lizzie's ax. An exquisite show, a performance divine, don't you dare miss out, just make the time. Or you'll find yourself bloody and dizzy, if you miss this rare chance to see Lizzie.
Running Time: 1 hour and 40 minutes with one intermission
Lizzie plays through February 5, 2017 with Pinky-Swear Productions at the Anacostia Playhouse— 2020 Shannon Place SE in Washington DC. Tickets are available at the door or in advance online.