Everybody thinks and feels differently as the years go by, don't they? What was once a well-suited lifestyle of grandeur couldn't possibly still be such a palace of wonder and enchantment when it has all but crumbled around itself into a derelict and repulsive hovel of squalor and rotting pathos. Surely no one would choose to live in such conditions. But then again, who could ever bare to leave Grey Gardens? Kicking off 2017 with an evocative and harrowingly sensational musical drama, Stillpointe Theatre presents the shocking musical based on the documentary: Grey Gardens. Directed by Ryan Haase & Danielle Robinette, this spine-tingling musical exposes the beauty and the infested canker that was and became the lives of Edith Ewing Bouvier Beale and her namesake's spawn, Little Edie. This scintillating book, by Doug Wright, is matched to haunting lyrics, by Michael Korie, and a stunning musical score, by composer Scott Frankel; it will invite you to the unseen world of chaos, the tragically beautiful and beautifully tragic tale of American Royalty fallen from grace.


Co-Director and Scenic Designer Ryan Haase creates jaw-dropping astonishment with not one but two separate set designs. Making full use of the double theatrical space that Stillpointe Theatre now permanently occupies, Haase unleashes his creative genius across two full-sized play spaces. Grey Gardens in its historical glory is breathtaking, awash in a flood of delicate pink, ornate furnishings, and a polished word floor. Haase captures the essence of posh life in the South Hamptons cottage with this layout. This makes the transformation from its former decadence into heinous squalor that much more harrowing. A nod of appreciation should be given to local Baltimore artist Alix Tobey Southwick for the portrait of Big Edie featured over the fireplace. Without spoiling the outstanding treat Haase has in store for theatergoers by elaborating in detail how thoroughly disturbing the setting of the secondary location is, it can only be said that Haase's design and construction abilities are phenomenal. Both the beauty and the degradation of each set fully ensconces the audience in the reality of Grey Gardens; Haase is most thoroughly deserving of standing ovations for this striking work.
Haase's scenic work is not his only showcase of genius in the production. Sharing directorial vision and duties with Danielle Robinette, Haase creates a striking contrast of events and characters, divided over the course of the intermission, in both a symbolically representative fashion as well as a physical one. Transporting the audience from one room to another, to more fully submerge theatergoers in the Grey Gardens experience, Haase takes advantage of this opportunity that his two-theatre space presents him. He and Robinette work exceptionally hard to further the experience in the second act by layering memory and ghostly reminiscence into the scenic interplay. Again, to avoid spoilers, it can only be described as a particularly cinematic effect, but the result delivers shivers up the spine in a truly haunting and beautiful fashion.
Satisfying the high bar expectations set by Haase's enlightening design work, Costume Designer Kitt Crescenzo and Wardrobe Master Nick Staigerwald round out the aesthetic in tandem with Lighting Designer Adrienne Gieszl. Gieszl's subtle interior approach, which is best witnessed in the Act II set, gives the piece a neutrality to it, letting it exist in real time, even though the reality of the play is a step removed from our town time. The lavish costumes, particularly when it comes to dressing for the party in Act I, concocted by Crescenzo, fit the bill for the outlandish lifestyle and behavior that comes with the Bouvier-Beale territory. By stark comparison, Crescenzo's work in the second act is equally as fitting to what rancid appearances have arisen in Grey Gardens.
Musical Director Ben Shaver achieves unmeasurable success in the blending of harmonies and overall quality sound of the production, both vocally and instrumentally from the pit. There is a moment of sublime aural wonder in the second act during, "Another Winter in a Summer town" where all three incarnations of Edie sing as one voice, blending a pitch-perfect harmony that stirs the soul. Shaver understands his cast and where their natural vocal abilities lie, encouraging them to deliver rich and fulfilling sounds with great consistency throughout the performance.
It would be a sin not to mention one of the most delectable design elements of the production with the utmost respect and praise, but so ingrained into the play's reality are these fabulous felines that Puppet Master Michael Paradiso becomes a giver over that of a puppet designer. Crafting the infamous cats that populated Grey Gardens in its declining years, Paradiso brings wickedly whimsical puppets to resplendent life by way of motion-engaged dowel-rod jointed puppetry construction. Each feline— from the fluffiest to the repulsive hairless one— has a unique personality and appearance, enabling the puppeteers to fashion them with ease. Watch closely as these spirited puppets become integral characters in the story's inner workings.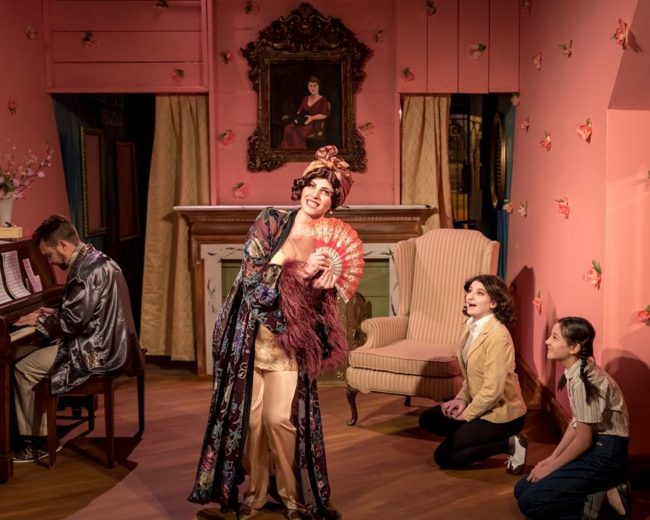 It's a tall order to play little anyone in a musical where the leading principals are staunch iconic women of outlandish proportions, but ate Kilner-Pontone and Compton Little knock their performances straight out of the park as little Jackie Bouvier and little Lee Bouvier, respectively. Alternating the roles with Anne Murphy and Avagail Hulbert (Murphy as Jackie and Hulbert as Lee) the girls bring a resilient and sprightly energy to young Jackie and young Lee, making them a noteworthy pop and sparkle of joy in the first act. The pair joins the ensemble in the second act manning puppets, in particular the two fuzzy racoons that Little Edie keeps in the attic.
Like the gears in a hallowed music box, turning and yet frozen in time, each performer fits their character like a fine satin glove. Terrance Fleming, who serves as Brooks and later Brooks Jr., has a subtle but assured mannerism about him and his warm rich voice is fulling in the group numbers. Barney Rinaldi, playing the austere Major Bouvier, is as comedic as he is serious, finding an exacting balance upon which to toe that character line. In the second act, Rinaldi takes up the role of Norman Vincent Peele, leading the ensemble in "Choose to Be Happy" in true tent-revival fashion. His robust voice and boisterous personality are a perfect fit for both characters, one a grizzled and eccentric patriarch and the other an oil-slick preacher type.
Adding a quirky and touching but equally sad layer to the second act of the story, John Kevin Lazarus takes up the role of Jerry and brings us the outsider's perspective on Grey Gardens. Demure of face, characterization, and of voice, his cherubic approach to Jerry tugs at the heartstrings, particularly when he speaks little reassurances to Edith, even if she is completely oblivious to them. More sung about than there is actual singing for him to do, Lazarus lends his vocal abilities to "Entering Grey Gardens" and "The House We Live In" as a singing feline.
With a radiant voice as bright as the walls inside Grey Gardens itself, Bobby Libby as Joe Kennedy is quite the stunner when it comes to vocal talent and charismatic charm. Though "Goin' Places" is the only chance he truly gets to showcase this sensational vocal ability, this wildly entertaining duet with Little Edie is quite the catchy number and not soon forgotten despite the darkened plot twist that pulls Libby's character through the show's first half. Presenting a perfectly respectable New England Kennedy affectation to his speaking voice, Libby is the epitome of what a young, polished Kennedy boy ought to be.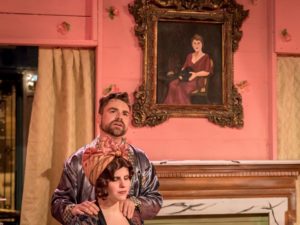 Though not a direct foil, Gould (Adam Cooley) is the polar opposite of the Kennedy character. Cooley takes to the fop with a flagrant flamboyancy that is perfect for Gould's demeanor. From hissing at the children to his snarky turn of phrase, there is something fantastically effeminate about the way that he approaches the character; Cooley is sassy and relentless when it comes to that conflagration of sensational spark burning inside the character's personality. This is not to say, however, that he does not temper the more severe moments with appropriate emotional gravity and find an earnest connection to the heartbreaking trauma that is the truth of his and Edith's life in Grey Gardens. "Drift Away" is an exceptional number in which Cooley gets to display his vocal prowess, rewarding the audience with a touchingly nostalgic duet with Edith.
Big Edie (Danielle Robinette), as she appears in the back end of life for the second half of the show, is but a vacant shadow of the frivolous eccentric that she once was. Robinette, who approaches the character from an emotionally invested part of her acting persona, delivers a stunning portrayal of the larger-than-life character now all but fallen into squalor. Much like Grey Gardens itself, Robinette presents a decaying and rotted character, completely with impressive age makeup, and wholeheartedly invests in the emotional rawness and realness of the experience. Because of her sincerity, "Jerry Like My Corn" becomes an uproarious scream of a number while slowly unraveling before the audience's eyes to reveal the true tragedy of the life she leads. Robinette has an earnest edge to her; there is a little desperation, a little arrogance, and a lot of heart and soul pouring out of her creation.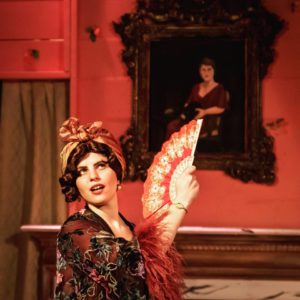 Zoe Kanter, also playing Big Edie though in the first act of the show, has her own invested approach to this legendarily infamous character. Showcasing her vaudevillian side as well as her operatic abilities all throughout the musical numbers of the first act, Kanter lends her sublime voice to the role with practiced ease. "Peas in a Pod", a duet with Little Edie (Christine Demuth) is a cheerful expression of how perfect life could be if only both characters lived within in arms' length of reality. It's "Will You?", the show-stopping Act I finale, that puts Kanter on the map as far as the production goes, with a stellar sound, sensational emotional connection, and striking presence of mind.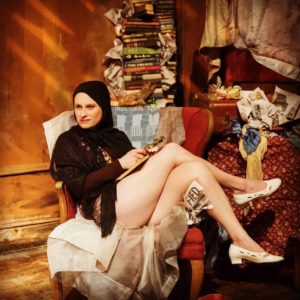 Mother Darling, in both incarnations, cannot hold a candle to the level of crazy that Christine Demuth brings to Little Edie. Cracked and broken from the off and never truly firing on all cylinders, Demuth portrays Little Edie's descent into denial and madness like a proper operatic tragedy. Brimming with gusto, panache, and pizzazz when she's holding all the cards, Demuth wields an emotional torch in her physicality as well as her voice. Watching her sing "The Telegram", torn asunder and all but emotionally eviscerated is truly harrowing. Demuth's versatility knows no bounds as she transforms Little Edie entirely for the second act, and watching the penultimate moment where she steps out to the gate of Grey Gardens steals your breath away.
Who could ever bare to leave Grey Gardens? But it will bare to leave you if you wait too long. Playing for a short run, through February 4, 2017, this is one emotionally unsettling piece of fine musical theatre that should not be missed.
Running Time: Approximately 2 hours and 20 minutes with one intermission
Grey Gardens plays through February 4, 2017 at Stillpointe Theatre— 1825 N. Charles Street in the Station North Arts District of Baltimore, MD. Tickets can be purchase at the door or in advance online.