Everyone remembers the "reading list books" from their school days. The Newbery Award (John Newbery Award, given to the author of "the most distinguished contribution to American literature for Children), often marked books that made this list. One such book, Bud, Not Buddy by Christopher Paul Curtis is now making its stage debut in the Eisenhower Theatre of The John F. Kennedy Center for the Performing Arts. In a TheatreBloom exclusive interview, we sit down and chat with Justin Weaks, playing the title character, about the experience.
Thanks for giving us some of your time, Justin, I know you're super busy! If you'll just give us a quick introduction, we'll get started!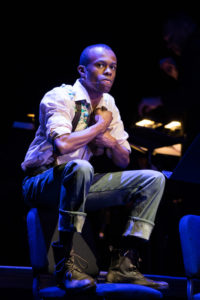 Justin Weaks: I'm Justin Weaks, and I'm actually relatively new to the DC Theatre Community this year. This past year I worked with Theatre Alliance, working in Word Becomes Flesh in rep with For Colored Girls Who have Considered Suicide when the Rainbow is not Enough. I did Lobby Hero at 1st Stage and most recently The Christians at Theater J. Except a few nights ago I just opened Charm by Philip Dawkins at Mosaic Theatre Company. I'm in the middle of that run right now— I'm actually taking a week's break from that show to do Bud, Not Buddy at The Kennedy Center. That sounds really busy, but it's a good problem to have, and I am very blessed and fortunate for that. The DC Theatre Community has been quite marvelous to me. I've been so surprised and grateful for how much great work there is in DC. There are so many great theatres and so many great people, it's a really supportive community here.
How did you get involved with this production of Bud, Not Buddy?
Justin: Last year I did the Kennedy Center's premiere of Darius & Twig adapted by Caleen Sinette Jennings based on the Walter Dean Myers novel. I played Darius in the fall of 2015. Since then, they've become kind of like family to me, at The Kennedy Center. David Kilpatrick and Gregg Henry have been really supportive of me and my career and keeping involved with things that are happening there whether it be workshops or readings or other projects. I was in the middle of Lobby Hero at 1st Stage and I got an email from the casting director from over there who said they were looking at bringing Bud, Not Buddy to life and they were wondering if I would come in and read for Bud in the workshop. They just wanted to hear how it would sound.
Bud, Not Buddy was one of my favorite books growing up. I read it in seventh grade. And I just fell in love with the story. I love the story, I love the book, so my answer to that email was "yes, absolutely!" I came in, did a workshop in— I believe it was October— and that's how the ball got rolling there. Gregg and the staff at The Kennedy Center thought I would be a great fit for Bud and here I am!
You had mentioned this is not your first time playing a youth on stage. What are the challenges of playing a young adolescent character on stage when you are a grown adult?
Justin: I think the younger the role gets, the more difficult I've found it to be. Darius was 16 or so. Bud is ten. What I actually learned a few years ago in a production where I was playing someone who wasn't quite a teenager yet was that there's an age where kids don't have a sense of irony. They accept things at face value. There is a lot jadedness of my adulthood that will try to sneak into the work and that I have to prevent from doing that. This is just a kid who is not quite there yet. Bud has had a rough childhood, being an orphan and having lost his mother, this, that, and the third, but he's still a child. He's still a kid. Not having the irony that we're able to rest back on as adults is a challenge. Being free to just accept things as they are and how Bud hears them; that's a challenge.
I love getting close to young people. I think it's a lot of fun. I'm a big observer in my particular process and I love kids. I love to watch kids and learn from them. I always find that I learn something when I'm around a children of a certain age.
Do you have a fair bit in common with Bud or are you very different? Do you feel like you can relate to him? What is he bringing to you in this experience and you to him?
Justin: That's a great question. I would say that Bud and I have quite a bit in common. He's really kind of feisty and big-hearted. He's just on a journey to find himself. Essentially he's on a journey to find this man that he believes to be his father. This man that he believes to be his father is the only person in the world left he could be related to. In a sense he really is trying to find himself while on this journey. I would certainly say, in that respect, that Bud and I are similar. I have to say, because I'm in the middle of re-reading the book right now, there are things that Kirsten (adaptor Kirsten Greenidge) has consolidated for time purposes— we can't have everything from the book— but the things that she chose to leave out, there are some details that I want to hold onto just as far as Bud's roughness. He has a rough-around-the-edges. Getting to be a young, black child orphan in the Great Depression in Flint, Michigan is really colorful. Those little things are things I am sort of stealing from the book adaptation of the character and bringing into him on stage.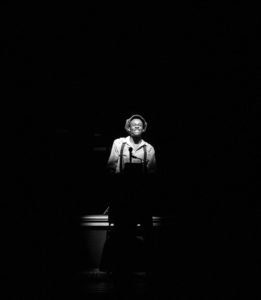 What would you say has been the most fun part of this process for you so far?
Justin: Participating in the early workshops, I think. We've only just started rehearsals with the rest of the company. We have rehearsal for two days working for two days with the band and the company and then we put it up. The releases have been calling it half radio play, half jazz concert, all heart. We will have music stands, but it is a very theatrical stage reading, so to speak. That initial reading was really exciting and I think it was just really refreshing for all of us to hear this story about this young kid. This is a story about a young black kid and that is a representation that we don't see often, this is a representation of our babies. I think there is a lot of joy in that.
How do you feel about jazz music?
Justin: That might be the thing I am most excited about, to tell you the truth. I have been a Terence Blanchard fan for some time. I love, Love, LOVE Terence's music. To know that that's going to be the score of the play, I think that's going to add so much to the show. It's going to add to the environment and to the emotional life of the piece. To have a 13-piece jazz ensemble backing you up? I can't ask for anything better and I'm so thrilled. I can't imagine what it's going to be like to hear that first swell of music. And also just jazz from that particular era is so exciting. We're hearing sounds from Big Band into kind of more bee-boppy jazz, and some things in-between there. I love this period of jazz music. I couldn't be more excited.
What has being a part of Bud, Not Buddy taught you about yourself?
Justin: What has Bud, Not Buddy taught me about myself? It's the lesson from the story, actually. A lesson that Bud got from his mother, "when one door closes, another door opens." It's funny because Bud says in the book he never understood that phrase, he was always afraid that a ghost was going to open his closet door at night. He wasn't sure what she meant when she said that. But that has really stuck with me over the past few months, that phrase. For me, it's teaching me to hold onto hopes. Especially in this time and era that we're about to head into. Hold onto the joy. Hold onto the joy of childhood. It's something that we talk about in our training as actors all the time. It's something that directors talk to us about all the time, getting back to being a child. Essentially as actors we are reverting back to being children, in a sense. We are playing. It's a play and we are playing with one another. That's what I've been holding onto that real sense of earnest and joy and passion and the love of life that kids have naturally. They're just naturally curious beings.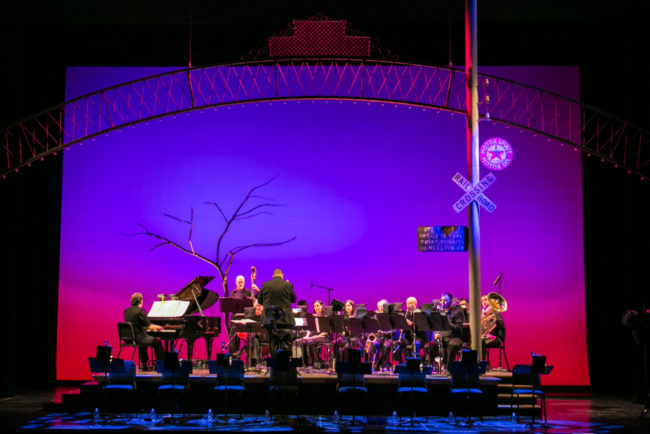 They haven't been around the way we have and they're just trying to figure it out, just in the way we as adults try to figure it out but a little different. You get to a certain point when you're a kid and you think "Oh, I have figured it out." And now I'm realizing in my life at this point, I have reached a place where I don't have all the answers but I'm comfortable with the fact that I don't have all the answers. I'm still learning. I'm learning to hold onto that fire for learning things new, always.
What is it you are hoping the audiences will take away from seeing Bud, Not Buddy? Why do you want them to come and see the show?
Justin: For so many reasons. The story is beautiful. I think that people will be surprised about how much they will learn about themselves and how childlike they are. Viola Davis said this the other night about Meryl Streep at the Golden Globes, that our job as artists is to make sure other people don't feel so alone. And I just keep thinking about this time we're heading into this month and this new year. That comes with all sorts of things, new relationships, new jobs, we have a new president coming into office. I think that this is going to be something really special. I want people to not feel so alone when they see it.
I don't think it's lost on us that this play takes place in Flint, Michigan. You know, this play may be taking place in the 1930's but what's happening in this play is happening in Flint, Michigan right now. There are Buds all over Michigan. There are Buds all over Washington. Nationwide, even worldwide; this is timeless. This is a story of young people and the responsibility we have to young people. That's something important that I want the audience to think about when they watch this piece. It's going to be a great night and a great time at the theatre. It's not often that one gets this kind of experience— as an actor or an audience member.
To get to sit down and watch this play unfold and be told through this beautiful music— music that you'll be hearing for the first time because it's all originally composed. I know it's going to be so much more than what I'm already anticipating. Those are all the things I want people to take away from the experience of Bud, Not Buddy.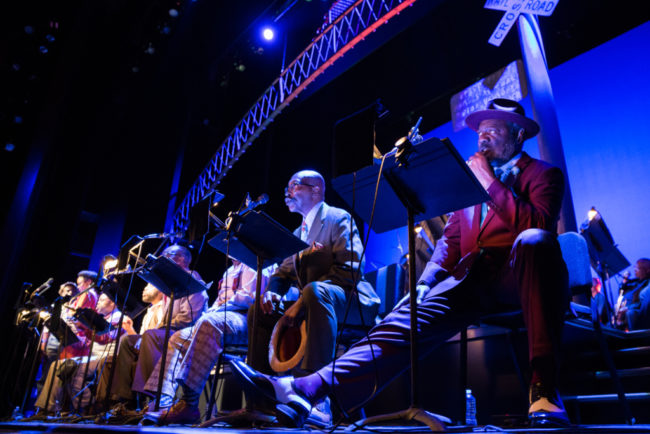 Is there anything else you wanted to say about the experience, about your work in DC, about the show?
Justin: You know, I'll give a piece of advice to young folks— this has been very exciting for me and I've had a lot of people reach out to me once they found out I was a part of this project, asking me to come and talk to their students, which I am thrilled and excited and honored to do. But for the young people out there, especially young artists and young artists of color in particular, I want them to know that their stories are seen, their lives are valued. Do as much art as possible. See as much as you can when you can. I think we're in an era of a lot of doors closing but they're also opening, as far as the types of stories that we're telling on stage and on screen. Your stories are valuable. Know that you have purpose. Know that it's only a matter of time, if you haven't seen your story yet that your story is going to be told. As a community of artists— not just theatre artists but musicians and technicians— we're on a collective conscious journey and it's emerging, we're on the verge. This is an exciting time. We're in a Renaissance. Embrace it.
Bud, Not Buddy plays through January 15, 2017 2017 in the Eisenhower Theatre of The John F. Kennedy Center for the Performing Arts— 2700 F Street NW in Washington, DC. For tickets call the box office at (202) 467-4600 or purchase them online.