You'll feel the earth— move— under your feet as the sensational Broadway hit show, Beautiful: The Carole King Musical, lands at The Hippodrome Theatre Baltimore as a part of the CareFirst Hippodrome Broadway Series. In a TheatreBloom exclusive interview, we take a moment to chat with Ben Fankhauser, currently playing songwriter Barry Mann in the show, to hear all about the Beautiful experience.
Thank you so much for giving us a moment of your time! If you would just give us a quick introduction, we'll get started!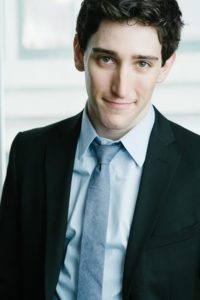 Ben Fankhauser: My name is Ben Fankhauser and I play songwriter Barry Mann in Beautiful: The Carole King Musical. In the past couple years, I've enjoyed touring the country in Spring Awakening and I played and originated the role of Davey in Newsies on Broadway.
What was the draw to want to come and be a part of the Carole King musical?
Ben: I saw the show when it first opened in New York and right away I emailed my agent and mentioned that I wanted to be a part of it. I thought that the functionality of the show was so smooth, the story telling was so strong, and the music was so good— I just knew I had a place in it.
What was your exposure to Carole King and her music prior to seeing the show on Broadway?
Ben: I had actually grown up with more music of hers than I thought. I think that's a really cool thing about the show. A lot of people sort of know Carole King post Tapestry. And the musical focuses a lot on her songwriting career. She wrote songs that I knew, songs like "Up on the Roof" and "Some Kind of Wonderful" and "You've Got a Friend." My mom always played oldies around the house, so I feel like I did have exposure to her music, even though I didn't know at the time that she was the composer behind them.
Do you find that you have a lot in common with the songwriter character of Barry Mann? Are you two more similar or different? What are you two bringing to each other in this process?
Ben: We have so much in common. First and foremost, we're both artists. I think I identify with the character's need to write that number one hit and to churn out that song. I feel a connection as an actor to go and nail that audition and to go book that job. I identify with all the sort of neurotic antics that come along with scrutinizing your own work. I think Barry is constantly looking to perfect his sound. As an artist, I am constantly trying to perfect my art and that's how I identify with him.
You've been on the tour when it got started, so you originated "touring Barry." What has it been like living through two incarnations— with cast changes here and there— living and growing with this character through what is essentially two evolutions of a tour?
Ben: That's a great question. It's been a really exciting challenge to sort of open the character up to the new DNA that's come into the show. It certainly wouldn't work if I just played him the same way and played the moment the same way regardless of how the other actors were playing the moments. It's actually an exciting time to get to reinvent the storytelling. We get to say, "what are we really doing here?" and "what's at stake? What are these characters actually going through?" Then on top of that you have a brand new DNA in front of you, a brand new actor, and they have so much to give. I spend a lot of observing what they're doing to then inform what I do. It's been a really fun challenge, especially on the road too, you know? We have new audiences almost every week and that definitely effects the way things play.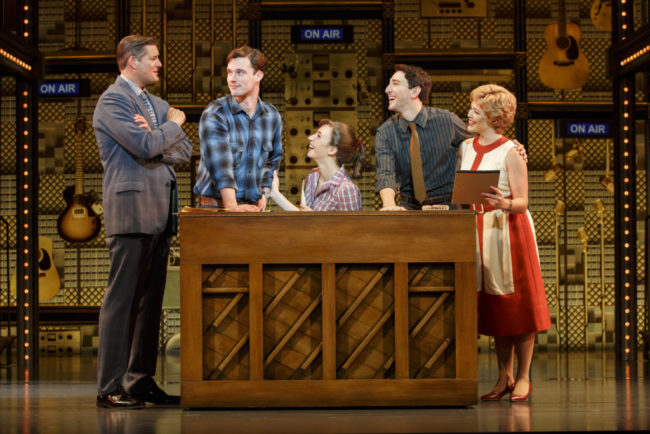 I'm glad that you brought up challenges and I'm glad that you're having fun ones, but what would you say has been the most difficult challenge for you with this experience?
Ben: I'd say the most difficult challenge is being away from home and living on the road. It's hard because you feel a little bit disoriented for the first couple days that you're in a new city. And you're dealing with a show in a brand new space every week. The sound is different, the layout of the backstage is a little bit different, the crew is certainly different. It's an entire layer on top of the performance. And then there's sleeping in a different bed, moving into a hotel or Air B&B. I think the biggest challenge for me is navigating my real life as a sort of gypsy on the road.
But you must love it because you keep at it, despite the challenge of it.
Ben: Absolutely. It's a great job because I do feel a sense of pride and honor to be able to bring Broadway to Middle America, essentially. I take that responsibility with a lot of importance. It is a challenge, obviously, to uproot your life and make it all about the work. But at the same time it comes with a lot of reward. Like I said, to be able to bring a big old Broadway musical— right now we're in East Lansing, Michigan— so to be able to bring a big old Broadway musical to East Lansing, Michigan is really cool and it definitely makes it worth it.
Do you have a moment or a song in the show that is your favorite or speaks to you above all others?
Ben: You know? This moment that you speak of is always in flux for me. It's different every week. Right now I think there's a really cool moment in the show in the second act when Carole King has decided to move L.A. She's thinking about getting a divorce from her husband and songwriting partner and her life is kind of in the pits at that moment. She shows up at a nightclub with my character and my character's partner and she's talking about all these things. Someone at the club gets her to get up and sing one of her songs. With great reluctance, she gets up and sings a brand new song that she just wrote solo in L.A. And it's "It's Too Late." Everyone knows that song and I think that is such a game-changing moment, it really sends tingles up my spine.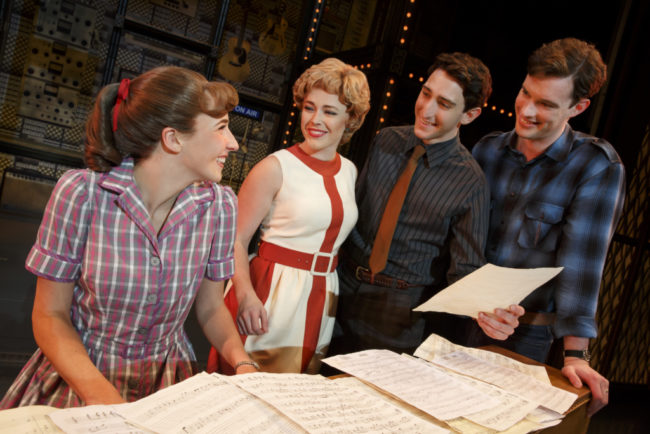 It's great because we really do hear one singular sound for the entirety of the show until this moment. We start to hear these minor seventh chords and the lyric is very beat. One of the lyrics in that song is "something inside has died and I just can't hide it. I just can't fake it." We see a real shift in the craft of songwriting and I think that moment shows that shift so brilliantly. It shows the reluctance of Carole as a songwriter saying, "I don't know if this is good enough", when in fact it's one of her most famous songs and everybody knows it. I think it's a really cool moment.
What would you say being on this tour as Barry through two runs of this show now has taught you about yourself as a person and as a performer? What have you learned about yourself in this process?
Ben: Oh, man! I think I've learned that a moment on stage or a moment that is crafted in rehearsal is perfect just in its mere existence. Just in the fact that I was able to play the moment or share the moment with other actors, makes it perfect. I spend a lot of time searching for perfection. And I spend a lot of time feeling like I've come up short. I've learned doing the show and sharing it with these audiences that perfection, especially in the arts, is so subjective. What is perfection in life anyway? It's different for everybody. I think I've learned, in striving for perfection, or kicking myself for feeling like I didn't do something perfect, that just the fact that it exists is perfect. Just the fact that I went out there and did the moment, even if it was wrong in my eyes for some reason, it's mere existence is perfect. The symbiotic relationship between the audience, feeling their energy, and feeling them hear the story and have reactions to the story tells me that it's greater than I am. To want to achieve perfection requires more than just my effort. There are a lot of moving parts in the show, there are a lot of other actors and a lot of scenery. I've learned to curve what my idea of what perfection means to me and to sort of trust that each moment is perfect regardless of my judgement of it.
What is it that you are hoping the audiences will take away from an evening of seeing Beautiful?
Ben: It is always my greatest joy to see audiences experience profound nostalgia. A lot of our audience are Baby Boomers and know Carole King's music very well. I'm finding that the story that they are watching is very strong, but they're also spending time in their seats reminiscing when they heard the song, who they were with, what they were doing. I think that is so cool to be able to connect your real life to a story that you are watching on stage. The nostalgia is an amazing part and it always knocks people out of left field, they are not ready for it and they are ultimately very moved when it creeps up. The story is, as I said, very strong and it is one of triumph. We see Carole King come into her own in her life. We see her face huge challenges that are cathartic for any audience member to see. We see her fall in love and we see her lose love. We see her triumph with success in her career and we see her bottom out. Similarly, with my character, we see a love story with one person not being ready to commit and with the other chasing them down for marriage if it's the last thing they do. We see grief, and love, and loss, and its surrounded by this incredible music that will undoubtedly connect you personally to the story.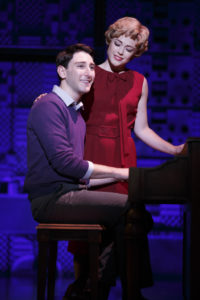 Why do you want people to come out and see the show?
Ben: It's an amazing show. Carole King's life is fascinating and it's a very entertaining show. It's good for all ages and all family members. A really cool device that we use in the show— we tell the story of how the song was written. You'll see a scene play out between— let's say— Carole King and her husband, Gerry Goffin. Let's say it's a little fight that they have. Out of this little fight comes a brilliant spark of a lyric. You see the exact moment that that song was written. You see it play out from the songwriters point of view. Then there is a beautiful transition and right before your eyes you see The Drifters on stage doing the song in its entirety, in its fullest production with costumes, and lights, and sets. And then in the blink of an eye you see The Shirelles, and you see The Righteous Brothers. You see all these groups of the day performing the songs that were written. There are production numbers, there are heart-wrenching book scenes, when I say the show has it all? The show has it all.
Is there anything else that you wanted to say about the experience?
Ben: I think we've pretty much covered it all when it comes to the beauty of the show that is Beautiful: The Carole King Musical, with the emotion and the joy and all the wonderful things that it is. I've been on tour with this show for 16 months, I can tell you with great confidence that everywhere we go this show lights up the city. It's a really neat feeling from my perspective and it makes me love my job. I see really loyal subscription bases coming to the show and being really surprised by the quality of the show, the depth of the show, and the subject matter of the show. I haven't met anyone that doesn't like Carole King. I've met a lot of people who had no idea that she was the mastermind behind this catalog of music. I feel like the people who made this show kind of struck gold here with her story. You can't not love this music it's so good. I've been doing it for 16 months and I am still singing the songs backstage every night. It does not get old by any means. Part of that is the audience reaction. It keeps it so fresh for me because I'm constantly reminded that people are seeing this for the first time. You think they're on a roller coaster ride with you. They're "oohing and aahing" and reacting to all the dramatic parts of the story, and then when a song that they recognize starts, there's another vocal reaction going, "Oh, I remember that song…" It is just such a beautiful thing. And such a joy.
Beautiful: The Carol King Musical plays through January 29, 2017 at the France-Merrick Performing Arts Center— 12 N. Eutaw Street in the Bromo Seltzer Arts District of Baltimore, MD. For tickets call the box office at (410) 752-7444 or purchase them purchase tickets online.