In every age mankind attempts to fabricate great works at once magnificent and impossible. And impossibly magnificent is the success of the maiden voyage of Signature Theatre's production of Titanic. With Story & Book by Peter Stone and Music & Lyrics by Maury Yeston, this spellbinding production is a floating city of magnificence in the ephemeral way that only theatre can be. Directed by Eric Schaeffer with Musical Direction by James Moore, this stunning, heartfelt, and simply beautiful production is unsinkable and grand; Titanic at Signature Theatre is the floating city of theatrical dreams.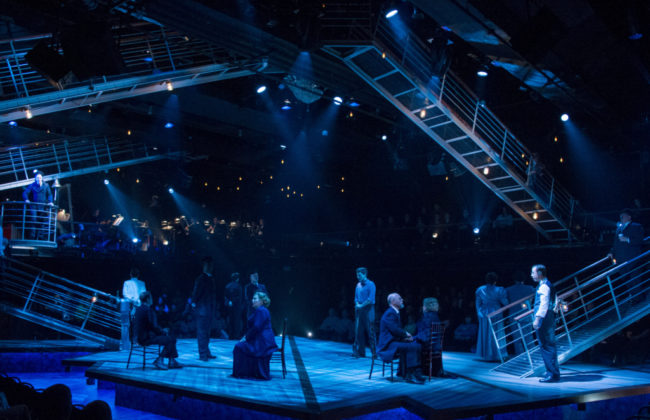 The grandeur of Paul Tate DePoo III's scenic design is breathtaking on multiple levels. There is an inherent simplicity to the gangplanks that arch upward into the unseen catwalk and overhang above the space, crafting the illusion of the ship's tremendous magnitude. The eponymous nature of the ship itself is fabricated in the gaps of the mind's eye on DePoo's set; the imagination connects the dots of the blueprint, filling in the majesty with the assistance of Lighting Designer Amanda Zieve. Simple elegance graces DePoo's set, augmented by Zieve's carefully crafted lighting plots, which are designed to capture moments of breathtaking beauty and heart-stopping experience.
With tranquility as his navigational beacon for the costumes' color palette, Costume Designer Frank Labovitz features an array of blues from navy to powder and a dozen hues in-between for the show's sartorial selections. Labovitz' couture creates a sense of serenity tinged with foreboding. Nautical nuance is laced into every first class outfit and gown, with similar sentiment being echoed in the threadwork of the second and third class passengers as well as the shipmen and crew. The lack of overt decadence in the first class attire does not detract from the performance in the least, if anything it enhances it, augmenting the director's symbolic vision of how all people are truly the same regardless of social and economic standing.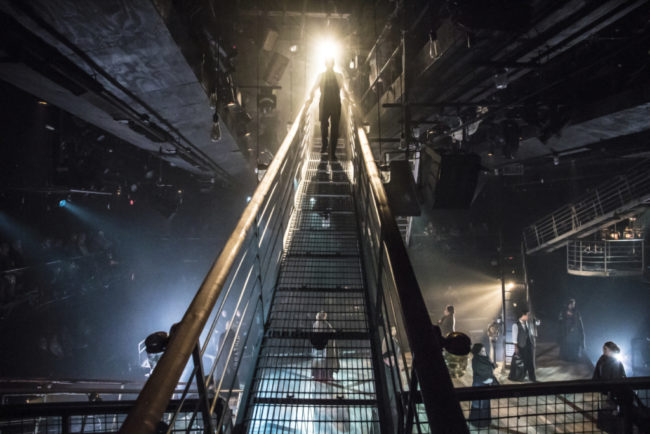 Gorgeous music, a hauntingly beautiful and tragic tale, the show Titanic is no small undertaking and Director Eric Schaeffer measures up to the task without question. Directing the show with a graceful reverence and an overall vision that livens the individual tales of this ensemble-focused musical, Schaeffer lands a major success with this show. His smartest choice by far is limiting the number of performers in the cast— at times doubling and tripling cast members in varying roles— bringing into the light the idea that all human beings are the same. This casting model is unique from its Broadway origins, resulting in an ensemble of just 20 individually talented performers. Members of the crew play first and third class passengers, though key principals like the ship's captain, the ship's designer, and the ship's backer are the only roles assigned to those particular actors. This too is a symbolically representative choice as these are the three featured characters who shoulder the blame of the mighty ship's unfortunate downfall.
It is a widely known historical fact that the Titanic does indeed sink; such a fact is a part of the musical as well. But to avoid spoiling the experience, as Schaeffer's approach to the piece draws the audience into the production in such a way that they are submerged in the show's essence, it can only be said that the way in which he handles the incident is strikingly profound and yet deceptively simplistic. There is a beauty and a grace and strikingly profound reverence to the way in which this moment occurs, truly a moment that must be seen to be believed. Furthering still this inclusive experience, each member of the audience is given the opportunity to connect with the experience by becoming a 'passenger' aboard Titanic, gifted with a boarding pass detailing historical details of a real passenger aboard the ship and a research opportunity to discover their fate. This feature, in addition to the intimate staging in the round fully envelops the audience in the overwhelming enormity that is Titanic in all its facets.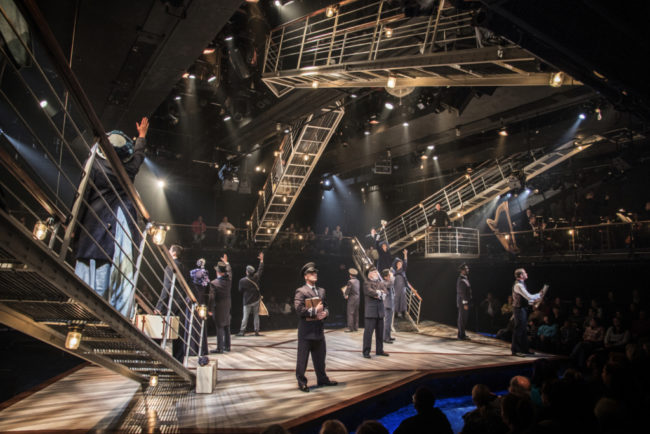 Carrying a sound like a chorus of celestial hosts, the 20-person ensemble delivers effulgent notes in harmonious blend throughout the course of the production, particularly "Godspeed Titanic." The sound that radiates from the company in this and other full-cast numbers is that of an omnipotent spirit, surging with the sensations of hope, opportunity, sincerity, and the raw vibrancy of being alive. Under the keen musical direction of James Moore, Maury Yeston's music and lyrics glisten with the earnest reverence that they deserve.
Third class folks to keep an eye and an ear on include Jim Farrell (Hasani Allen) and Kate McGowan (Katie McManus.) With rogue rough-n-tumble attitudes, particularly for McManus' Irish Kate, this pair makes for a delightful bit of low-brow entertainment with a turgid cord of sincerity tethering their storyline to the core of the ship's legacy. Putting her heart and soul into "Lady's Maid" alongside Kate Mullins (Jamie Eacker), Kate Murphey (Erin Driscoll), and the other third class passengers, McManus gets her voice heard and to great effect.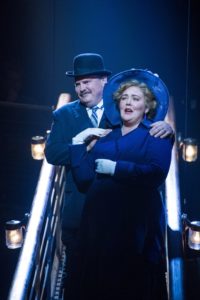 The second class sort that really turn heads are society wannabe Alice Beane (Tracy Lynn Olivera) and her husband Edgar (Russell Sunday.) Olivera brings a larger than life energy to the character of Alice; this is highly appropriate choice as the character itself seems to all but float away into the dreams of living a first class life. Sunday is a surefire balance to her starry-eyed dreams, delivering a clean and earnest character in Edgar along with a warm and robust sound when singing "I Have Danced", a duet shared with Olivera. The pair play well together and Sunday even gets a few subtle chuckles here and there for his one-liners, which sink to graver depths as the plot pushes forward.
Caroline Neville (Iyona Blake) and Charles Clark (Chris Sizemore) are the other pair in second-class that garner the audience's attention. Blake has a spirited voice that easily rivals Olivera's, though both women have distinctly different approaches to their characters and their style of singing. "I Give You My Hand", a heartfelt and touching duet performed by Blake and Sizemore, puts their feelings for one another on display. The same romantic sentiment— again showcasing the notion that people are simply people regardless of the societal and economic constructs that separate them— can be found in "Still", a profoundly moving duet performed by Ida (Florence Lacey) and Isidor (John Leslie Wolfe) Strauss towards the show's end. Lacey and Wolfe have beautiful voices that blend sublimely, drawing a tear to the eye for this number.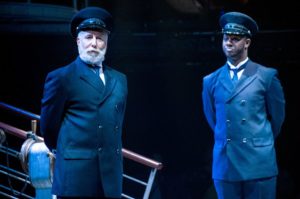 Though Titanic is blessed with musical wonder, there are a vast many moments for earnest character development to shine through. No finer an example of this type of layered personality exposure can be found than in Kevin McAllister's portrayal of William Murdoch. While McAllister does double as the Bass Player during "Doing the Latest Rag", his rich, deep voice permeates numbers like "To Be a Captain" with profound beauty. It's the way McAllister delivers his spoken lines, particularly when exchanging commands with Captain E.J. Smith (Christopher Bloch) that ensnares one's attention. The subtle reservation with which he speaks and the way he pushes inflections into his statements, all the while letting his facial features and physicality loudly speak the subtext of his internal monologue; these moments are what drive his scene at the end of the performance to resonate so strikingly.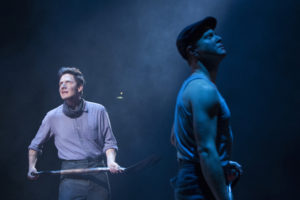 Cast in triplicate and then some, Nick Lehan, whose most noteworthy role is that of Harold Bride, is a charming addition to the Titanic ensemble. With a passionate display of character as Bride, Lehan is sweet and simplistically joyous for "The Proposal/The Night Was Alive", a duet shared with Frederick Barrett (Sam Ludwig.) The pair exchange sentiments of love— one to a woman left back home and one for the work of his telegraphy— and their duet is a rich and spirited number that perfectly captures the sentiment of romance. Ludwig, who has the finest Irish accent of all the company, is a blazing siren of enthusiasm and intensity when it comes to his solo, "Barrett's Song." With a lively pulse thrumming through his physicality as well as his voice, Ludwig takes the audience on a journey as magnificent and bold as the ship itself.
Captivating and full of an indescribably energetic motion, Christopher Mueller, in the role of Henry Etches, keeps your attention from start to finish. With a commanding voice that heralds through "There She Is" during 'The Launching' sequence, and again echoes resplendently for his lines during "What a Remarkable Age This is" and with urgent desperation in "Wake Up, Wake Up!", Mueller is another superb addition to the ensemble. His animated facial responses to the Alice Beane character during the shenanigans of "Doing the Latest Rag" are most amusing as well.
Mr. Ismay (Lawrence Redmond), Captain E.J. Smith (Christopher Bloch) and Mr. Andrews (Bobby Smith) are the driving trifecta when it comes to plot acceleration in this production. Though the show truly is an ensemble piece, where no one person carries any more or less of the weight than the other, there is a profoundly defining moment shared between this trio in the second act, brought to fruition through song, that is unmistakably the pinnacle upon which Titanic's emotional success erupts. "The Blame", featuring Redmond, Bloch, and Smith in full vocal fury with one another, explores with tremendous emotional integrity and intensity the sentiment of its namesake. Redmond, as J. Bruce Ismay, up to this point has shown nothing back cocksure arrogance tempered with societal airs, while Bloch, as the ship's captain, has shown a much calmer and more reserved character.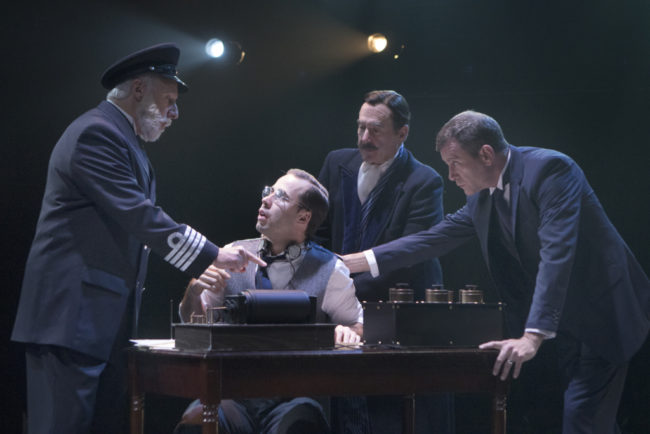 Bobby Smith, who opens the show and all but closes it, is a singing sensation in the role of Thomas Andrews. The visionary dream that lilts along in his opening solo "Prologue: In Every Age" is as divine as his ending solo, "Mr. Andrews' Vision" is emotionally blindsiding and movingly profound. The way in which Smith connects raw, unabashed emotions to the lyrics he sings is phenomenal, resulting in a riveting delivery of that final number. Remarkable as the ship is grand, Bobby Smith fully embodies the spirit that is Titanic in his performance.
Set sail aboard White Star Line's massive vessel, it is a cruise the likes of which you shall never forget. Do book passage to see Titanic straight away, the ship won't stay in the harbor of Shirlington for long and this is one momentous occasion that you will not want to miss.  
Running Time: 2 hours and 30 minutes with one intermission
Titanic plays through January 29, 2017 in the Max Theatre at Signature Theatre— 4200 Campbell Avenue in Shirlington, VA. For tickets call the box office at (703) 820-9771 or purchase them online.