Hail to the Princess, Briar Rose, a fair and winsome maiden who is sure to win the heart of the Prince if only the malevolent witch will stay out of her way. An iconic and beloved fairytale takes fanciful flight on the stage of Synetic Theater this holiday season, offering an awe-inspiring alternative for family friendly entertainment when it comes to this festive holiday season. Sleeping Beauty, adapted by Nathan Weinberger from Charles Perrault's classic fairytale and Directed by Paata Tsikurishvili, will awaken everyone's sense of thrilling adventure and whimsical enchantment. Visually stunning and remarkably expressive of pathos and story origin, this fluid production of movement tells the tale like no other can, using the perpetual and dynamic motion of the human body and the free-flowing expressions of human emotions, resulting in a dynamic synthesis of interpretive, performative dance and a fairytale classic.
Fabricating an aesthetically pleasing fantasy world, Scenic Designer Phil Charlwood keeps the scenery simplistic. Using silks strung from above to create a great many illusions of time and place, Charlwood lets the other creative designers shine in this production when it comes to making marvelous magic. The production team has been blessed with three enchanted faeries all their own in this regard: Multimedia Designer Riki Kim, Lighting Designer Brian Allard, and Sound Designer Thomas Sowers. Together these three sprightly and imaginative creators weave a chimerical tapestry of special effects and bewitching moments of fantasia that draw the audience into the glimmering reality in which Sleeping Beauty exists. Sowers unique sound effects sync up often with Allard's motion of light, all tied together by Kim's moving projections against Charlwood's draping silks. These moments, particularly in the beginning of the production— both when the witch is playing with her magic and when the woods is set ablaze— are stimulating to the mind and pleasing to the senses of both sight and sound. Wonder is created by this quartet of visionaries, falling in line with the rest of the fantastical production. Allard even manages a tributary nod to the Disney incarnation of the story, changing Briar Rose's lovely dress from blue to pink and back again with his illuminating devices.
Furthering the unfathomable depths of fanciful creation, Costume Designer Kendra Rai takes a step into the wondrous strange with the outfits she appropriates for that cast, particularly when it comes to the faeries. Wild shades of purple, pink, and of course blue, populate the creative couture featured on this trio of sprites; Rai's take on both their masks and wings adding to the excitement of their overall appearance. For the witch, costumery is much simpler, favoring sensual black leather-looking affairs over frills and frippery. Rai should also be commended for her work with the ensemble costumes, in places seamlessly blending human bodies into scenery. This is most impressively displayed when she transforms the ensemble into the spiky jutting thorns of the briar patch meant to keep the Prince from rescuing Briar Rose.
Emotional charged, Resident Composer Konstantine Lortkipanidze devises a score with striking versatility enabling Choreographer Irina Tsikurishvili to work her own ephemeral magic over the story's narrative; this fusion of Lortkipanidze's composition with Tsikurishvili's dance routines is a theatrical revelation that forges a new way of experiencing storytelling through the absorption of pathos-guided interpretive dance. Lortkipanidze uses a variety of musical tempos and styles for the score of Sleeping Beauty; this is well-suited for Tsikurishvili's perpetual shifting styles of dance. Each emotion captures a moment of movement and vice-versa, one informing the other so intensely and seamlessly that it mystifies the mind as to which force is guiding and leading the performance— pathos of the character in their situation or the motion that compels them to move?
The way in which Tsikurishvili's choreography ensnares itself into Nathan Weinberger's adaptation is stunning to say the least. Entangling the Prince in the silks when the Witch abuses her powers to wipe Briar Rose from his mind, Tsikurishvili physically represents a brutal emotional struggle so that the audience can see the princess literally being ripped from his heart. Tsikurishvili's overall choreography lends itself to the infusion of a great many fight scenes, constructed by Fight Choreographer Dallas Tolentino. Like the overall approach to the show's dancing, these moments are conducted with sharp efficiency and precision delivery to maximize the adventurous side of the fairytale. These three creative minds, in addition to Director Paata Tsikurishvili who acts as a binding life thread among the creative devisers of this work, materialize a fleeting and ephemeral beauteous creation: fairytale theatre that speaks to varying audiences on multiple levels beyond just the heightened senses of a magnificent aesthetic.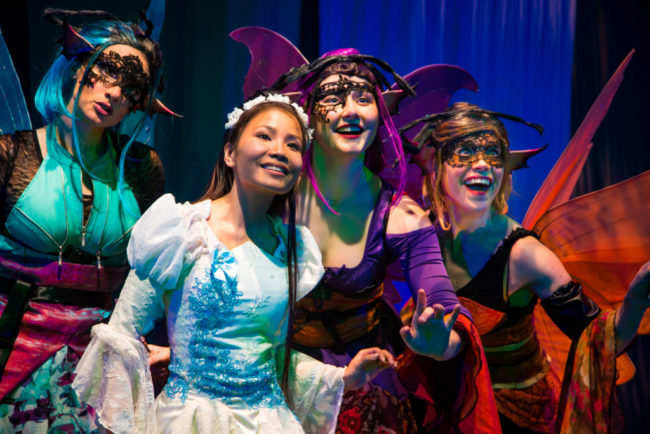 Hail to the princes and princesses of the ensemble— Thomas Beheler, Francesca Blume, Kathy Gordon, Chanel Smith, Scott S. Turner, and Emily Whitworth. While all but two of these performers double up as named characters in the performance— leaving Beheler and Turner as the true unsung heroes of the show— all six of them deliver impressive dancing and fight-dancing skills that continuously amaze and delight from the moment the hunt seizes the forest through to the end of the story. Evocative in their expressions, all of which are exhibited through the use of their entire bodies, the ensemble creates moments of unbelievable theatrical magic, the most memorable coming to mind being the twisting briar patch where their bodies undulate as thorns alive.
Chanel Smith takes up the role of Queen in addition to her ensemble duties and plays a doting wife figure opposite of Dallas Tolentino, The King. Though their moments on stage are brief, and often intentionally overshadowed by what's happening around them, be it with the Witch or with the Faeries, they command strong presences, echoing the sentiment of their royal stations in their graceful sweeping movements from one side of the stage to the other.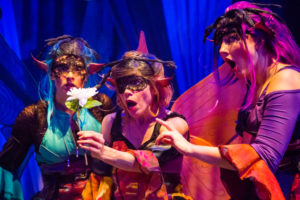 Francesca Blume, Kathy Gordon, and Emily Whitworth— as the pink, blue, and purple faeries respectively— are a quizzically whimsical delight when it comes to their performances on stage. Silly, sweet, and simply giddy, this trio of flighty fantasy creatures bring a much needed levity to all of the intense emotional action and movement infused into the performance. Their dizzying delightful motions are thoroughly enjoyable but the trio is not without their moments of serenity and reverence. In the mesmerizing silhouette and shadow play during the 'blessing of the baby' scene, all three of the faeries perform with elegance and grace, but none so notably as Gordon, who is tasked with saving the infant from her accursed fate.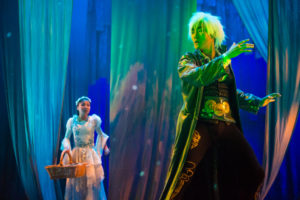 Noble, regal, and fitted with a princely gait, Zana Gankhuyag is an excellent match to the role of the Prince. Playing opposite Eliza Smith, the captivating Briar Rose, Gankhuyag makes magical moments leap from the stage to the audience's eyes, using his body to fully articulate such wonder. The ballerina-inspired spins and twirls that the pair accomplishes in their moments caught up in true love's grasp are divine. Smith moves with a lithe limberness in her body, which makes her curious and enchanting, all things a young princess ought to be. For as lilting as Smith is in her moments of exploration is as possessed as she appears once the Witch enchants her onward to her doom at the spindle of a spinning wheel. Gankhuyag has similar moments of intense movement where his body appears not to be his own, most often during the ferocious battles that plague his character once the Witch sets her task to wiping Briar Rose from his mind.
Hauntingly evocative as the Witch, Irina Tsikurishvili is a dazzling incarnation of pathos turned tangible. Gentle and kind at the show's open, it is harrowing to watch the transformation of embitterment and hatred which shifts through her like an unstoppable storm once destruction and betrayal seeps into her world. Tsikurishvili moves with an indescribable finesse that is both enthralling and jarring, pulling the eyes to her every motion— especially when wielding her powers— like a moth drawn helplessly to a flame. Deeply versatile in her expressive capabilities, Tsikurishvili uses her limbs, her stride, even subtle movements of her neck and head, to expound upon the turmoil that her character experiences. A wholly unique and hypnotic performance evolves from her rendering of the Witch in this tale; Tsikurishvili vilifies and humanizes her in the blink of an eye, making the production astonishing.
Sleeping Beauty is full of extraordinary moments that are designed to treat the mind to a veritable smorgasbord of folly, fancy, and fascination in this fluid dance-driven adaptation of the classic fairytale. Be sure to catch the production this holiday season, this one that you won't want to miss!  
Running Time: Approximately 90 minutes with no intermission
Sleeping Beauty plays through January 8, 2017 at Synetic Theater— in the Crystal City Shops at 1800 S. Bell Street in Arlington, VA. For tickets call the box office at (866) 811-4111 or purchase them online.