Deck the halls with boughs of holly! Fa-la-la-la-la! La-la-la-BLOOD??? What? At Christmas time? How terrifying! Tis the season to be donning the gay apparel and making merry…or making murder? That's exactly what Do or Die Mysteries is cooking up this Christmas! When things at the North Pole start to go south during the Annual Elf-preciation Celebration, it suddenly seems like the fat man isn't so popular. But no one could possibly be bold enough to murder Santa Claus, and just before Christmas, could they? Co-Written by Cybele Pomeroy and Ceej Crowe, this holiday hijinks is sure to tickle and delight what with all the Elf-Madness running around.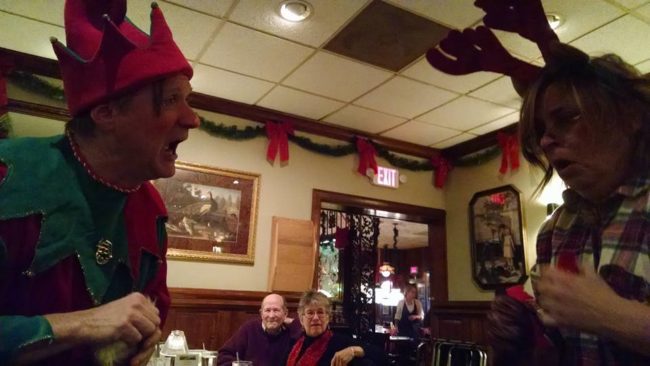 It's quite the evening and you're in for a treat if you've never been to a Do or Die Mysteries show before, especially since this one takes place at The North Pole! Keeping in mind that everyone in attendance is an Elf in Santa's employ and could thus be accused of murder, it's up to the audience to help out when things get bumpy and scary! A delightfully interactive murder mystery, featuring as much or as little interaction as you wish to have, this production features some of the company's most seasoned players, wrapped in sparkly holiday improvisational skills which are perfect for dealing with holiday dilemmas!
The Usual Suspects
With a full cast of six, including Santa Claus himself, there's all sorts of zany, well-articulated characters featured in this production— all of whom are outfitted by Ceej Crowe and the combined efforts of the cast— to look their seasonal best. Elf shoes, printed stockings, even some wild hats make their debut in this show and really spruce things up at the North Pole. Wink.
Kris Kringle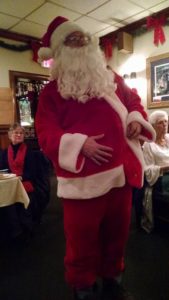 Not a suspect— though that could be a completely different play if you're not careful— the head Elf, the spirit of Christmas, the big fat man in the big red suit, whatever you call him, Stephen Kirkpatrick has the mannerisms and the jollity of the iconic Christmas Elf well and thoroughly mastered. He's sweet and silly and perfectly pegged to play the Master of Christmas, but don't confuse his simple pleasures for chocolate and sweets for his inability to lay down the law when and where necessary. He's happy to hear everyone out, but if you have questions, you'll have to talk to him tomorrow.
Jingle Kringle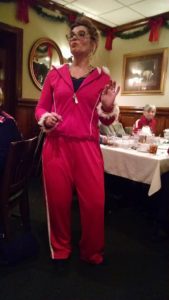 On a health kick to keep her hubby in shape, Jingle Kringle (Cybele Pomeroy) does quite the number on those Christmas cookies, especially when she starts trying to make them with bee pollen and flaxseed. Pomeroy has a sweet disposition that's well-matched against Santa Claus, and she's a fun one to play with when it comes time to interacting with the audience. But sometimes Pomeroy is showing mood swings. Could it be the early signs of Elfopause? Or could all the health food be making her blood all angry? Without enough sugar it's hard to stay sweet and that might just be enough to murder dear old Santa!
Stocky Zarhung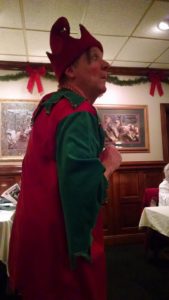 A nifty and humble little elf, Stocky Zarhung (Jose de la Mar) is a bit of a jokester, a prankster, a teaser if you will. Making the crafty little toymaker the mischievous one, at least when it comes to teasing poor Rain Deere, de la Mar really knows how to get into character. There is something undeniably Elfish about him! He even got Santa's St. Nicholas pin for being such a good elf. There are plenty of moments all throughout the performance where de la Mar's shenanigans really shine, but above all— like the tinsel on the tree— it's when he's playing directly with the audience. Possessing a knack for rolling with the punches, whether or not they're eggnog-flavored, de la Mar keeps the laughs coming in a keen and honest way when it comes to improvising with the house.
Holly Thornbush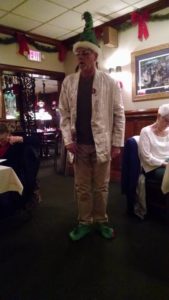 The chief SecuritElf, Holly Thornbush (Pat McPartlin) is the real tough guy keeping things safe, sound, and secure up at the North Pole. There's a true mafia gangster sound that McPartlin delivers while playing Holly that makes his get-up of tinsel-shiny silver jacket, sparkly Christmas tree hat, and big elf shoes look absolutely absurd, adding to the hilarity of the situation. But watch out, the big man in charge has got a hot-pot temper that would even boil Heat Miser's bum this time of year. Excellent at fielding questions from the audience, and thinking of clever backstory style responses when the questions get personal during the interrogation, McPartlin is a real team player when it comes to playing Holly Thornbush.
Rain Deere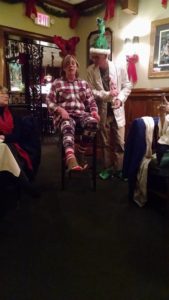 The oldest of the elves, and starting to show the earliest stages of Elfzheimers, Rain Deere (Ceej Crowe) is something else entirely. Speaking caribou, with the assist of her little reindeer hand-puppet, Crowe is a madcap hoot, scream, and barrel of monkey-bound laughs when it comes to this crazy character. Fully committed to the choices Rain Deere would make— like moping about and stealing lemons with her mouth from the dinner tables— Crowe is the cat's meow, the bees knees, and the reindeer's poop when it comes to character commitment. Having an absolute fit when she hears certain things from Stocky Zarhung, Crowe lets the character run wild with imagination and improvisation.
Kandy Kane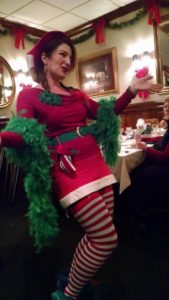 Ms. JanuElf herself, Kandy Kane (Erin Tarpley) is certainly turning up the heat at the North Pole, so much so that she might be the single-handed cause of global warming! Tarpley struts her stuff in a sensual and seductive fashion, showcasing her patented Brooklyn "cock of the walk" accent for the character. Using her physicality to express the character's tawdry ways, Tarpley is most definitely waiting underneath the mistletoe for that holiday kiss. But is she sugar and spice or did she make Santa's naughty list? With a fiery underbelly beneath her super sweet side, Tarpley's character could be just as guilty as any of the other elves when it comes to the big crime scene happening at the North Pole: Elficide!
Conclusion
So whodunit? Who murdered the big guy? Can you really kill the spirit of Christmas? You'll have to pop by for a Slay Ride to find out just which one of these amazing elves did the crime and will now be doing the time! (Pomeroy and Crowe have a hysterical comeuppance in the script's conclusion that is a nod to one of the greatest Christmas films of all time, be sure to listen closely and see if you catch it!)
Slay Ride plays Monday December 12, and 19th (both are currently SOLD OUT please call for the wait-list) and Tuesday December 20, 2016 at The Sunset Restaurant and Lounge— 625 Greenway Road SE in Glen Burnie, MD, where Do or Die Mysteries are currently in residence. Reservations are required and tickets are available for purchase by calling (443) 442- 3810 or by purchasing them online.
Be sure to follow upcoming productions by visiting the Do or Die Mysteries website