Oralene was dead: to begin with. This must be distinctly understood or nothing wonderful can come of the story I am going to relate. Well, jingling Jesus, there ought to be a law that every Christmas musical start out with a coffin in Silver Ridge, Tennessee! Christmas is a gift, it's true, (it's the season of presents for a reason, after all) and Signature Theatre is giving you the simplest, most entertaining, down-home musical gift that anyone could ask for at this festive time of year: the world premiere of Silver Belles. A brand-spanking new country Christmas musical with Book by Allyson Currin, Music by Matt Conner, and Lyrics by Stephen Gregory Smith & Matt Conner, this feel-good festivity ain't a hard candy Christmas and you won't shoot your eye out coming to see it! Directed by Eric Schaeffer, this hilarious yet touching Christmas musical is just the balm of laughter needed to keep spirits bright this holiday season.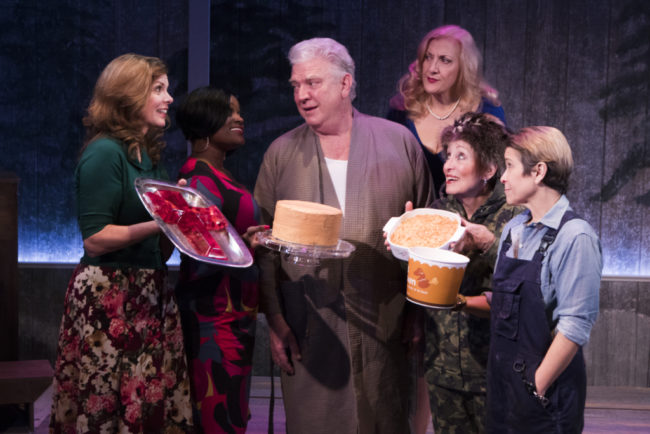 The Silver Belles of Silver Ridge, Tennessee put on their annual Christmas pageant every year and it brings good tidings of great joy and a big old holiday meal to all the little orphans of the town. But they're in for one big problem when their moonshine-making leader kicks the bucket and the still just four weeks before Christmas. Oralene could barely keep the pageant running when she was walking on God's green earth, but faces a whole new set of challenges now that she's hogtied to the hereafter. Allyson Currin's delightfully witty book, blended against Matt Conner's holiday tuned music, and Stephen Gregory Smith & Matt Connor's hilarious and emotionally balanced lyrics make for the perfect holiday musical that will quickly grow into audiences' hearts as a new Christmas tradition right up there with A Christmas Carol.
Everything about the show's aesthetic is calling back to a simpler time, much like the simple town of Silver Ridge that Currin pens in the show's book. Scenic Designer James Kronzer paints a rustic country backdrop with snow-glistened trees against wood-grained panels to really settle the show in that bucolic backwoods town of Silver Ridge. The exterior frame of the proscenium setup even resembles a barn and Lighting Designer Kelly Rudolph's old-fashioned Christmas bulbs are draped over the paneling to create a delightful portrait. Rudolph uses blue lighting to call back to scenes in memory and the Christmas bulbs blink into existence with a magical merry tinkling sound every time that transition occurs.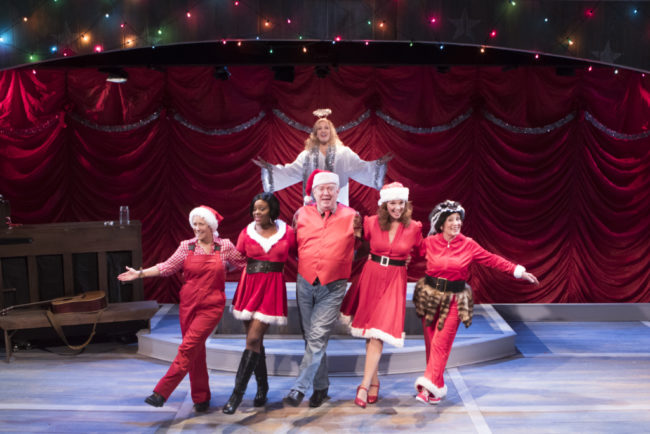 Furthering the aesthetic magic of the show, Costume Designer Kathleen Geldard keeps all four Silver Belles looking jubilant and stylish, even when three of them have to wear black to Oralene's funeral service. Geldard crafts a campestral couture for Bo Jack and Earl, particularly in the red checkered outfits seen on Bo Jack, that speak to their down-home nature. Finding a look that suits each of the Belles' personalities becomes Geldard's specialty, especially when it comes to the outlandish affairs featured on the Gloria character.
While the dancing is minimal there is celestial praises of the holy holiday variety coming to Choreographer Karma Camp for putting a little showmanship in the basic boot-stomping that the Belles get up to the few times that they do. Combined with Eric Schaeffer's perceptive and smart working approach to the musical as a whole, the show is practically perfect. Nova Y. Payton, though blessed with exceptionally powerful pipes (which are featured heartily in her duet "Mistletoe") is just not the right fit for the role of Gloria. Too far outside of the twang that the other five performers possess (though Payton starts the show with an attempt at a southern accent, it disappears entirely a few moments in never to be heard again), Payton's performance, though vocally gifted, is too heavily settled in a modern pop musical quality and does not gel well with the more laid back country sound that the show radiates.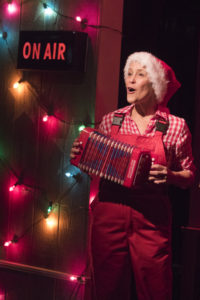 Bo Jack (Naomi Jacobson) is just a rip-roaring punch of pastoral panache. Jacobson fully embraces the tomboyish nature of the character and really gets spirits going every time she barks into the megaphone to call an emergency meeting of the Silver Belles. Quirky and hysterical during her radio broadcast segments, Jacobson delivers the humor of the character with vibrant vim that keeps the audience chuckling along as the show progresses. Her vocal prowess pops out to play during the humorous duet, "Moonshine", featuring some wild facial reactions from her character as she squares off and sings with Earl.
Ruth Ann (Peggy Yates) might not be the brightest bulb on the tree but she's shining in her own right when it comes to keeping the pageant on track. Yates is a delight in the role of Ruth Ann, giving the character the good warm heart it deserves. Vocally sound and eager to please, Silver Belle trio and quartet numbers like "We Three Belles" and "Carol of the Belles" are high points in her performance. Yates's big duet break— "Christmas Cookies" (singing with Oralene)— showcases her character's unyielding determination and her vocal clarity as she falls in line with the warm harmonies of the song. Adding a strong blend to the trio of twinkling twits when they sober into "Christmas Everywhere", Yates is a fine addition to the Silver Belles.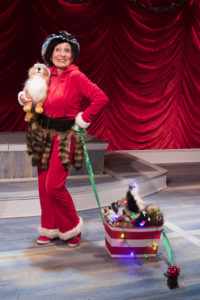 While Ruth Ann isn't the brightest, Berneice (Ilona Dulaski) is a whole can of crazy, cracked like a box of dropped Christmas ornaments, shiny and sharp but mostly in pieces. Dulaski is a hoot, and once she gets her camo threads and beaver cap on she goes to town on the crazy train. There's a tragically sweet temperament to the way Dulaski portrays Berneice; the tender and emotional side just sort of slips in between the cracks of cuckoo. Her patter is strong during "The Funeral" opening scene, but her shining glory happens during "The Friendly Beasts." The shenanigans that unfold in that song are the epitome of comic gold, between Dulaski carrying the number and the way Oralene responds to it, there's simply nothing else like it.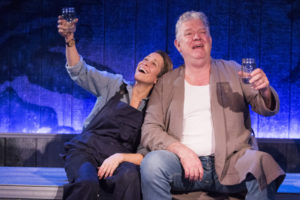 The heart of the story when it comes to emotional weight settles heavily on the shoulders of Earl (Dan Manning.) Drowning in grief and sorrow over the loss of Oralene, Manning still manages to find moments of levity and lightheartedness throughout the piece which makes his character undeniably sympathetic. Some of his strongest moments are those where he is featured opposite of Oralene (Donna Migliaccio.) The pair has a strikingly earnest conviviality about the way they interact, particularly during "I Don't Know What to Say", a heartfelt duet that really brings a tear to the eye. Manning lights up like a Christmas tree once his character gets a little "Moonshine" under his belt— the duet shared with Bo Jack is ripe with holiday sentiment and jumpstarts the fantastic finale. "While the Getting' is Good", a number which features the entire cast, is another pivotal moment for Manning's character and doubles as a showcase for his vocal range and emotional depth.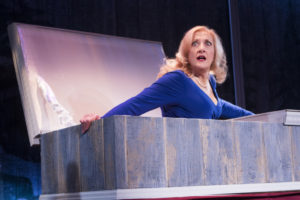 With all of the gleeful gumption and artistic vision needed to make the role of Oralene a smashing success, Donna Migliaccio is the shining star atop the Christmas tree in Silver Belles. With facial expressions to die for every time she has to silently respond to one of her sister belles and their bogus ideas and incidences, Migliaccio delivers the textbook example of reactive listening with this character. With powerhouse vocals that maintain the integrity of her Tennessee twang while singing numbers like "Strike Me, Lord" and every single duet she shares with the other Silver Belles, Migliaccio's Oralene puts on a rapturous pageant all her own in every ghostly scene she graces. Bursting at the brim with heart and firm emotional connections to even some of the sillier moments, Migliaccio leads the cast through putting the 'fun' in funeral this holiday season.
You won't even need to wish for snow this Christmas because Signature Theatre is serving up everything you need with this joyous holiday musical. Silver Belles should be at the top of every Christmas wish list this year!
Running Time: 80 minutes no intermission
Silver Belles plays through December 31, 2016 on the Ark Theatre stage at Signature Theatre— 4200 Campbell Avenue in Arlington, VA. For tickets call the box office at (703) 820-9771 or purchase them online.