"Think and wonder, wonder and think." Infamous children's book author Dr. Seuss (Theodor Seuss Geisel) seemed to be a big fan of a good think. All throughout his books, he encouraged kids to think for themselves, find out and become who they are and fight for what they believe in. So, it's no small wonder that a musical based on his books is all about characters trying to do just that. Seussical, The Musical, directed by Jon Gardner at the Greenbelt Arts Center, is a patchwork quilt of Dr. Seuss story elements, imbued with hope and love, and expressed with singing, dancing and a lot of fun.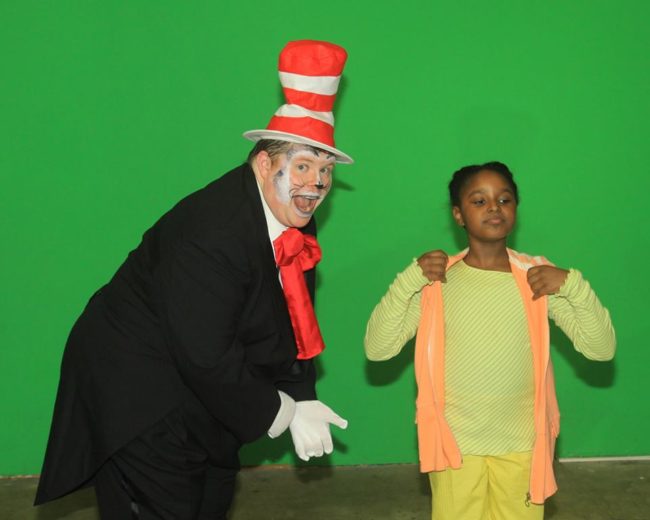 At the beginning of the play, a young boy finds an odd-looking hat in the middle of the street and "thinks" up The Cat in the Hat and the whole Seuss world. He then becomes a character in the play – JoJo. We find out that JoJo is the son of the mayor of the town of Whoville (versions of which appear in both How the Grinch Stole Christmas and Horton Hears a Who.) JoJo is constantly getting into trouble for thinking too much. Whoville is so small it is located on a speck of dust. And yet an elephant – Horton – hears its townspeople cry out for help and places the town (cleverly represented by a laser beam) onto a clover, swearing to protect it. Much of the play is based on Horton's adventures to keep Whoville safe. He is given a second goal, however, when he is charged with looking after an egg left in his care by a very flighty creature (no pun intended) – Mayzie La Bird – while another bird – named Gertrude McFuzz – wants to win Horton's heart and help him save everyone.
For the most part, the cast is an ensemble with only JoJo (played by the wonderfully talented Courtney Harris), Horton (played very endearingly by Bob Gudauskas), and the Cat himself (played by a very enthusiastic and full of joie de vivre Stephen P. Yednock) having somewhat larger roles. But a strong ensemble it is. Certain actors do stand out, however. Jamie Miller as Gertrude McFuzz, the bird with only one tail feather, is very sympathetic and sincere in her portrayal. She makes the audience want her win Horton's heart. Shawday Graves as Mayzie is very energetic in her role, flitting from place to place like, well, a bird.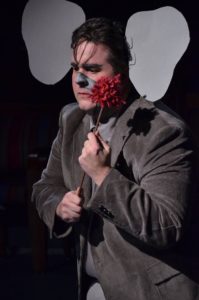 The Circus McGurkus performers deserve special mention as well. They do plate spinning, unicycle riding, and juggling galore. Their performances add an air of wonderment to an already amazing show. Thing 1 (Findley Holland) and Thing 2 (Sophie Cooper) are the set changers and action movers and are a lot of fun to watch. And last, but not least, the "awww" moment of the evening comes when the egg Horton has been sitting on finally hatches – to reveal a baby elephant bird – played by nine-month-old Brooks Baird. It is a very cute idea to use an actual baby, and it really ties the show together.
The unsung stars of the piece, however, are the technical directors. The lighting design (done by Jeff Lesniak) is brilliant – at one point utilizing boards with attached Christmas lights that eventually turn into arrows leading JoJo home to Whoville. The choreography is phenomenal. In a space as small as the Greenbelt Arts Center, staging a musical with a large cast can be challenging. But choreographer Rikki Howie Lacewell pulls it off masterfully. Laura Adams, the circus coach, deserves a special mention. It is clear how hard she has worked with these kids, and the efforts certainly pay off. The costumes (designed by Susan Neff) and the makeup and hair design (Shemika Berry) are especially fun. The set (designed by Jen Retterer and Jon Gardner) is minimal – with only a backdrop painting of Truffula trees and a large Dr. Seuss book on a stand – with drawings that suggest where the characters are currently situated. It is brilliantly simple, and works beautifully, allowing the majority of the stage to be used for the action.  
Seussical, the Musical takes the wonderful stuff that Dr. Seuss has instilled in youth – truly, in all of us – for many years – and turns it into a play that speaks to all of us, adult and child, alike. It is a difficult time in American history for many. There is a lot of confusion and fear. However, this production, with all of its magical simplicity, lifts you out of all of that. It captures your heart and reminds us that "A person's a person, no matter how small." Bring your kids and your sense of fun and adventure. This one's not to be missed.
Running Time: Approximately 2 hours and 20 minutes with one intermission
Seussical The Musical plays through December 18, 2016 at the Greenbelt Arts Center— 123 Centerway in historic Greenbelt, MD. For tickets call the box office at (301) 441-8770 or purchase them online.