It's the holiday season— with a whoop-de-do, and dickory dock, and four heartfelt holiday bitches that only Santa could bring to Washington DC this time of year! Unlike Frosty the Snowman, who returns every year during the holiday season, The Kinsey Sicks haven't been through the Nation's Capital since 2011, the last time the graced the stages of Theater J. Blaspheming their fabulous Christmas carols of catastrophe and heralding the holiday-hoorayness from hell, this hysterical huntys are here to cram that joy of the season right up your holly-jolly happy place! In their smash sensation, Oy Vey in a Manger, the Beauty Shop Acapella quartet bastardizes, brutalizes, and beautifies all sorts of holiday classics with their own twisted parody performances. The result is a good old-fashioned, down-homo Christmas and Hanukkah show that will have you screaming in the aisles with laughter and all the holiday season long.
Living in the Christ Manger, which they procured some 2,000 years ago, The Kinsey Sicks look like they're set to host the holiday affair of the season thanks to Co-Scenic Designer Audrey Bodek and Tom Howley. The pair of creatives had visions of sugar plums dancing in their heads, which were washed down with drag queen glory and a lot of Vodka before being sprayed liberally like Christmas vomit all across the stage. Bodek and Howley's set is actually quite pretty with all its twinkly lights and mismatched décor. Their combined efforts bring together the spirits of Christmas, Hanukkah, and drunk drag queens all under one roof, creating a fabulous playset upon which the quartet deign to enact their shenanigans.
All praises are sang on high by a host of heavenly gratefuls when it comes to Lighting Designer Garth Dolan. While Dolan's work is simple— some basic interior lighting that accentuates the garish abomination that is their very spirited Christmas tree, a few pops of house lights when required— it's the precision work that is delivered when it comes to spotlighting the divas that really makes the work pop. Particularly when each of the gals get their moment to perform solo— and specifically when Trixie takes on her operatically themed number— Dolan's work is sublime, creating a limelight in which the gals would bask for hours if they could.
For a group of gorgeous gals, the fashion is on point. Christmas couture in its finest threads are bedecked out for each member of The Kinsey Sicks, all from their own wardrobes. While Trixie looks the most fashionable in her stunning yellow and black silky-flow affair, Winnie brings a touch of tasteful class in her more traditional green and black checkered frock. Trampolina sports a modernized party cocktail dress in a lovely shade of purple and Rachel— well, be thankful Rachel's wearing clothing. With too much rouge, playing into her character divinely, and an overly gaudy attempt at eyeshadow, Rachel's outfit— heavily influencing her demeanor— is the byproduct of a drunken Frankie Valli and Minnie Mouse doing too much crystal meth in the back ally before copulation.
With three perfectly painted queens, and one hot mess— because every family has one— The Kinsey Sicks bring their own brand of merry-making to the stage and deliver a hysterical evening of crude but comforting entertainment with their production of Oy Vey in a Manger. They push the envelope when it comes to just how far they can go before things settle into that extremely awkward level of discomfort. Cracking wise about all sorts of holiday nonsense, this fierce, fabulous foursome is putting on a show in more ways than one. With practiced and poised personalities that could turn on a dime to scratch your eyes out, and voices that would put Beyoncé in her place at the lemonade stand, The Kinsey Sicks are serving up the fishiest dish of holiday hotness in town!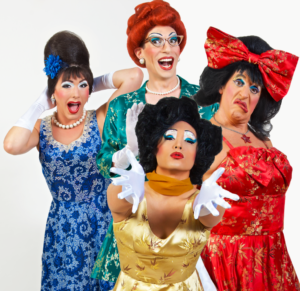 Underneath all the shenanigans, the glamour-slamming, and all of the stereotypical hilarity that ensues when you stick four drag queens on stage, the group has a solid understanding of how to harmonize as a proper acapella group. This is the most rewarding facet of the show. While the humor is poignant and punchy, if raunchy and occasionally offensive, their ability to create real music is delightful. Singing with gusto in a seamlessly blended flow of four harmonious sounds, the quartet creates aural bliss with great consistency throughout the performance. Winnie and Rachel even take turns delivering the percussive line which is crucial for any acapella group, and share that responsibility with glee.
The parodies of the songs are clever; the lyrics smartly penned. This quartet of queer queens knows how to pen a punch into a familiar holiday tune and really drags home the hysteria of the holidays when it comes to a great many of these numbers. Their ability to fit lyrics to rhythm and meter is impressive; all too often parody songs obliterate these things, but this is most certainly not the case with The Kinsey Sicks. There's even some audience participations— watch out, front row! Nothing short of dazzling, this wonderful whirlwind of spirit and drag queens is just what the nation needs to relax this holiday season.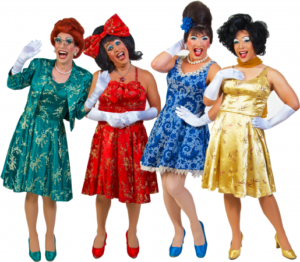 Trampolina (Spencer Brown) is the group ditz. Bubbly and bubbleheaded, Brown's diva doll is to die for. Every group has one blonde— even if she's sporting a brunette beehive— and The Kinsey Sicks has Trampolina. Blessed with the skill of patter, Brown takes up a wild rumble-roll about a gun late in the second act and showcases a series of musical talents that are most impressive. But it's Brown's solo rendition of "O, Holy Night"— tripped on its ass and drag-ified to focus on porn— that gets the audience squealing with glee. Belting a gloriously high tenor sound that drifts right up into an alto-sound, pushing the envelope to something higher, Brown wins that crowds' affections with this song.
Rachel (Ben Schatz) is a mess, a hysterical and uproarious mess, but a mess just the same. Schatz has the shtick of this character well in hand when it comes to mucking things up, and does the dysfunctional character a great service. With one of the finer points of Schatz' performance being the audience involvement section, Schatz doesn't hold back and dives in balls deep, giving the audience a roaring shot at being involved with the whole affair. Though there are moments when Schatz comic timing and delivery is just a little off-kilter, it fits the bill for the wayward vices that have absorbed Rachel all along the way. "Don't Be Happy, Worry" (a parody of "Don't Worry, Be Happy") is the number that really lets Schatz play hardball with the house, and it's a large success.
Winnie (Nathan Marken) is the ring-leader of the quartet of queens. With sass and flare and a well-seasoned approach to the character, Marken is delicious in more ways than one. Channeling a hint of Bianca Del Rio and blending in a stereotypical sense of a Jewish woman, Marken is off the rails when it comes to this hybrid creation of a character. Carrying the bass line for a great many of the group numbers, Marken's rich voice is smooth and glorious, thoroughly enjoyable no matter what's being sung. Though Marken's pun-game isn't as strong as Schatz (they go at a pun-off early in the first act with Schatz emerging as the uncontested victor), there is a palpable sense that Marken understands comic timing and delivery. The song that brings the audience to their knees with laughing tears is Marken's rendition of "O, Tranny Boy" (done to the traditional "Oh, Danny Boy") and with a sweet serenity, the song would be strikingly beautiful and serene if it wasn't so damn funny lyrically.
The most ferocious of the bunch, with a well-practiced resting bitch face, Trixie (Jeff Manabat) is fierce with a capital 'F.' Serving up sassy shade like an oversized beach umbrella, Manabat goes to bat with the best of them and knocks run after run out of the park. Strutting Trixie's stuff all over that stage, Manabat is not afraid to let a little sauce show in the character's sashay. A song in the second act has Manabat showcasing the most angelic falsetto sound, followed by the most melodramatic milking of a deep-bended opera-diva bow ever witnessed on stage. Manabat's big solo "Anchor Baby" (a parody of "Santa, Baby") really smacks hard when it comes to the social situation we're currently facing politically, but is delivered with such a ferocity that it becomes hysterical before the heavier notions in the lyrics can settle in the ear. Manabat is the fishiest queen among them, serving up all sorts of sassy shade and makes Trixie's stamp on the show with all the high-quality glitz would expect from such a queen.
With a limited run playing just ten performances, you won't want to miss these loony ladies and all the festive cheer they have to bring to you this year. So, DC babies, hurry over to Theater J tonight!
Running Time: Approximately 1 hour and 45 minutes with one intermission
Oy Vey in a Manger plays a limited engagement through December 28, 2016 at Theater J in residence at the Washington DCJCC's Aaron & Cecile Goldman Theater— 1529 16th Street NW in Washington, DC. For tickets call the box office at (800) 494-8497 or purchase them online.