Only flirt with those you intend to refuse.
A poor choice is less dangerous than an obvious choice.
Never write letters.
Always be sure they think they're the only one.
Win or die.
So are the Libertine Commandments recounted by the aristocratic temptress Marquise de Merteuil for her cohort in conspiracy the Vicomte de Valmont. Her credos just scratch the surface of the perverse dance in which the two engage in Christopher Hampton's 1985 play, adapted from the 1782 epistolary novel by Pierre Choderlos de Laclos. Slyly directed for Centerstage by Hana S. Sharif with humor and intrigue, we are granted a glimpse into the twisted lives of the elite of Louis XVI France on the brink of the French Revolution, one last seductive waltz before their corrupt, amoral world will come crumbling down around them.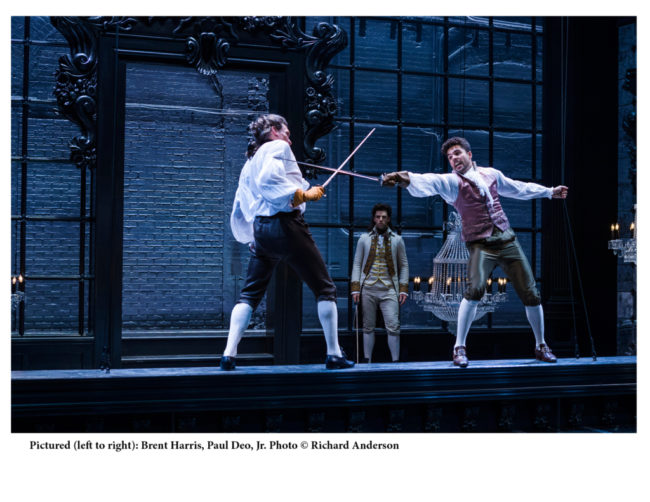 The match is launched by the confident and alluring Merteuil, a siren in satin and silk, as she challenges on again-off again lover Valmont to a sexual game of chess utilizing their social underlings as pawns, manipulating their lives and emotions for sport. Recently jilted by a lover, she elicits revenge through Valmont, offering him the quest of ravaging her ex's intended bride, Cécile Volanges, a youthful virgin fresh out of the convent, thus ruining her for marriage. The lothario Valmont declines the challenge, already having set his eyes on bedding the wife of an aristocrat, the virtuous Madame de Tourvel, merely for the conquest. Intrigued by his suggestion, Merteuil offers him a night of passion if he can accomplish his feat and provide her written proof. However, while courting Madame de Tourvel, he discovers that Madame de Volanges, Cécile's mother, has warned his prey of Valmont's lascivious reputation, causing her to strengthen her resolve. Eager now to exact revenge, he accepts Merteuil's side bet to also deflower the virginal Cécile. But Valmont finds himself in deeper than intended when he finds midway through his dual conquests that he has not only unleashed an unquenchable sexual beast within Cécile, but that he has also unexpectedly fallen in love with Madame de Tourvel. Juggling the two women along with Merteuil, who continuously alters the sexual rules of her deal with Valmont, while indulging her own specific appetite, we watch the cocksure Valmont steadily lose his grip on his world as he knows it, much like his class is beginning to lose theirs. When the accomplices eventually become the opponents, the results of their endgame are equally as disastrous.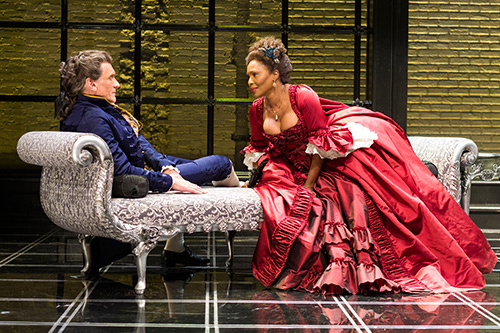 Suzzanne Douglas as Merteuil is an elegant, voracious vision in jewel-toned couture. Fluid in motion and of tongue, she not only commands every scene in which she appears, but her menace haunts her inferiors when she's unseen.  This puppet mistress confidently and defiantly plays her adversaries like so many rummy cards in a sexual game of gin.  Alternately stunning, charming, alluring, and terrifying, Miss Douglas displays strong character choices in every suit.  She can turn up the heat in her boudoir with a precise wave of her fan as adeptly as she can chill the air in the parlour with a razor sharp turn of phrase. She devours every one of Hampton's delicious bon mots, and delivers them with her own unique wit and flair. Her Merteuil is a sensuous but strong force that aptly drives the entire production. When she allows us to eventually see the cracks in her flawless veneer, she is quietly heartbreaking.
Brent Harris as Valmont evokes rakish charm as he plays two women for the affections of a third. Although his hands are full, he embodies all the facets of the lusty roué. Handsome, strong, seductive, and as physically impressive out of his finery as he is in it, Harris changes characters and covers his tracks with chameleon-like speed and expertise. He is equally effective as Merteuil's volleying partner as he is clueless when she in turn plays him. In reality, he may only be the Bishop to her Queen in their treacherous game, but he plays with no less voracity than his counterpart. Contrarily, his discovery of genuine affection is legitimately as much of a shock to him as it is to his audience.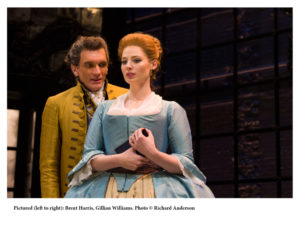 Gillian Williams as Madame de Tourvel sets her character up with a pious brittleness and an air of assured propriety, making her faltering and demise more tragic when she succumbs to Valmont's advances against her moral values. Likewise, her quiet beauty slowly drains as she wrestles with the consequences of compromising her moral code until she is the empty shell left from her role in the cruel competition.
Noelle Franco is delightful as the convent-bred Cécile, whose sexual awakening provides delirious comic levity. In contrast to all the other pawns of the antagonistic couple, she is the lone survivor who grows and prospers from her encounter in their sordid contest. She juxtaposes her innocent beauty with heightened sensuality, transforming into a complete and satisfied woman by story's end. Paul Deo Jr., as the naive music instructor Le Chevallier Danceny, is the ultimate pawn in Merteuil's game, led by her to all four corners of the board as his role constantly changes to suit her needs. Deo displays great flexibility allowing his character to evolve according to her devious will. Carine Montbertrand as Cécile's mother Madame de Volanges, Elizabeth Shepherd as Valmont's aunt Madame de Rosemonde, and Georgia Warner as courtesan Émilie all adeptly provide necessary comic relief with every appearance.
Scenic Designer Michael Carnahan creates a spectacular vision for his set, a contrast of ornate interiors with a distressed back wall and tattered draperies that fly in and out to create a series of parlours and boudoirs throughout the various estates of the characters, reflecting the surface opulence and the decaying interiors of both the impending historical era and the amoral aristocrats populating it. He is aided with a variety of colorful and effective light play by Lighting Designer Matthew Richards.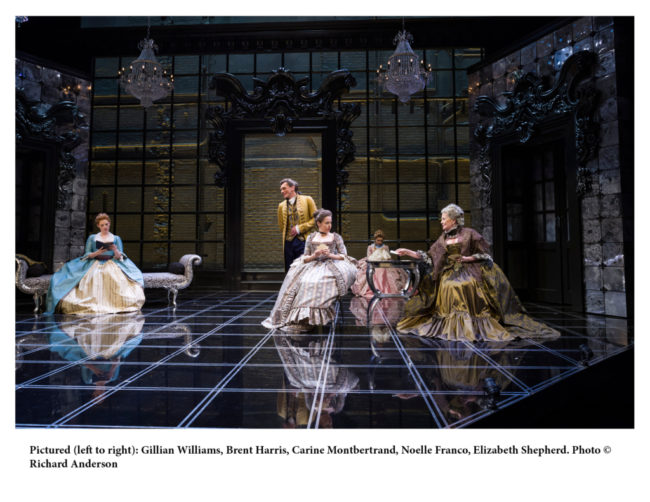 Costume Designer Fabio Toblini excels with his elaborate designs that spare no excess or detail. From Cécile's youthful debutante gowns and Madame de Tourvel's just demure enough day dresses to Valmont's velvet waistcoats and brocade dandy vests, he uses fine fabric, texture, and color to perfectly define his characters. But his sumptuous designs reserved for Merteuil, flowing visions in electric jewel tones, trump even the best of his plot. Miss Douglas' talent and persona draped in Toblini's extravagant creations espousing Hampton's sublime words combine into the mesmerizing force of nature she creates in Merteuil. Toblini provides her with every tool she needs to commandeer the stage with minimal effort.
Director Hana S. Sharif combines all these elements and her incredibly gifted cast to provide a fluid tale told with many varying levels of intrigue. She finds the poetry and the humor in Hampton's book and visually creates a variety of stage pictures that capture everything from the elegant to the humorous to the sensuous. She balances the boudoir comedy and drawing room humor with erotic tension, culminating in a powerful denouement to destruction in the end. Sharif deserves great credit for coordinating all her superior components into a breathtaking production of period excess.
This play contains simulated sexual behavior and brief nudity.
Running Time: Approximately 2 hours and 45 minutes with one intermission
Les Liaisons Dangereuses, a Centerstage production, plays through December 23, 2016, in the Pearlstone Theatre at Centerstage— 700 N. Calvert Street in the Mount Vernon neighborhood of Baltimore MD. For tickets, call the box office at (410) 332-0033 or purchase online.