Jellicle cats come out tonight! Jellicle cats come one, come all! Jellicle cats at Milburn Stone— Jellicle cats have a Jellicle Ball! And you too will find yourself among the feline fantasy world of Andrew Lloyd Webber's Cats if you dare to venture to the Milburn Stone Theatre for a sensational production of Broadway's second-longest running musical. Directed and Choreographed by Bambi Johnson with Musical Direction by Shane Jensen, this phenomenally enchanting evening is whimsy incarnate and invites you to a wildly wondrous world of feline fantasy that will delight every family this holiday season. Remarkably entertaining with mind-blowing choreography, Cats is the cat's meow at Milburn Stone Theatre this Christmas.
A fully immersive scenic overflow, one of the many hallmarks of an MST production, greets the audience as they enter the theatre. Oversized garbage from the alleyway flows up into the balcony overhang, drawing the audience into the reality of the feline realm, compliments of Set Designer Bob Denton. The darkened alley comes to life in real-time with a sharp combination of Denton's visionary design work and Lighting Designer William A. Price III's illuminating techniques. With gobos and motion lights, all tuned in purples, blues, pinks, and shades of shadow that erupt under the cats as they move, Price's lighting creates an atmosphere of secrecy and sorcery; these cats live a magical life known only to them and by way of Price's luminary notions against Denton's multi-tiered construction, we humans of the theatre are now privileged to experience it.
Adding to the mystique and magic of the scenery and lighting, Special Effects Designer Dan Schoener adds a theatrical flair to the production with smoke, finger-lights, and other nifty tricks that must remain secretive so as to not completely ruin the experience. Schoener works with Denton and Price to achieve those moments of theatrical magic that suspend our disbelief and pull us into the world of Cats. The effects are enhanced exponentially by the design team responsible for costumes and wigs, which completes the cat look. Wig Designers Marie Bankerd and Lance Bankerd fill out the furry features atop the performer's heads while Costume Designers Lindsay Ellis, Brenda Kinzinger, and Joyce Williams fill out the bodies with a plethora of spandex patterned bodysuits.
Both Marie and Lance Bankerd provide a series of unique wig fixtures that create an individual personality for each of the performers, with some actors having two or three different wigs to portray two or three different felines. This individuality is echoed in the design work of Ellis, Kinzinger, and Williams wherein the cat costumes becomes like fingerprints and snowflakes where no two cats are the same. Of Even Demeter and Bombalurina, who are meant to look similar, have different colorations in their 'fur patterns' and Mungojerrie and Rumpleteazer, who are twins, have subtle differences in their coats. It's a visual smorgasbord from fluffy top wig to swishy end tail, one that would not be possible without the efforts of Bankerd, Bankerd, Ellis, Kinzinger, and Williams.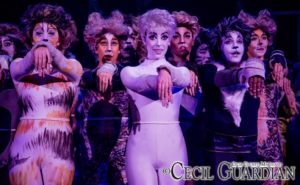 Adding to the feline perfection in a way most indescribable is the work of Makeup Designer James Ginnever. Full facial plots of feline markings, colored in faces, and other fanciful effects are the handiwork of Ginnever's design. There is something part feline and part human in these painted looks that perfectly captures the essence of Webber's intention, giving a humanized approach to the feline world that Eliot's poems have created. These looks are masterfully represented in Ginnever's work and executed nearly flawlessly on every face featured in the production.
The production's visual perfection continues as the stage is flooded and filled with stupendous dance routine after dance routine. The specific choreographic routine for Rum Tum Tugger, featured during "The Rum Tum Tugger", is credited to Dance Captain Whitney Russell. The perpetual motion of jumps, and kicks are quite the showcase for Ron Jones, playing Rum Tum Tugger, and the ferocity that Jones brings to his performance makes this number stand out as one of the best solo dance routines featured in the show.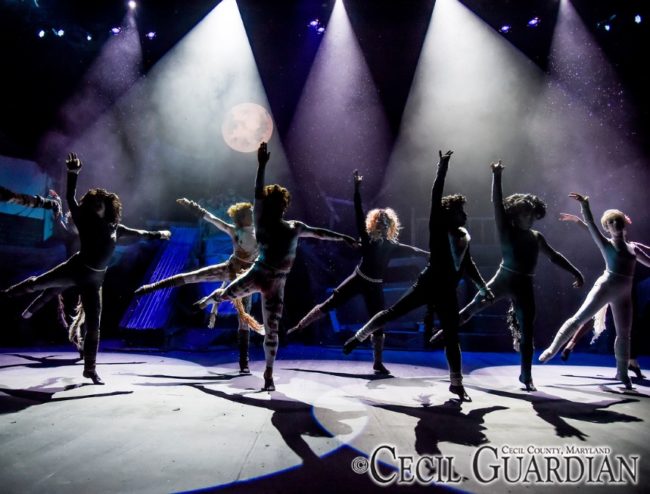 Bambi Johnson, as the show's Director and Choreographer, is responsible for the rest of the steller dance routines featured throughout the production. Johnson's  natural proclivity for dance radiates through the performers and spreads like a great dancers wave over the stage and out into the audience. Whether it's "The Jellicle Ball" which features the entire company or "Mungojerrie & Rumpleteazer" which is a duet of slinky cat-dance-moves including linked-body cartwheels, Johnson's choreography is a dazzling element all its own that will mesmerize and mystify everyone watching. It's not just skill and form which Johnson puts on display, though she finds appropriate moments to showcase those with intense dancing talent— like the solo routine "Magical Mr. Mistoffelees" which involves ballet-inspired leaping twirls and then some— but also her comprehensive knowledge of how to effectively move a large ensemble through a routine in a fluid and synchronized manner. There is something to be said for someone who can move an ensemble, but someone who can do so with the precision knowledge of each dancer's skill level and ability so that the routine is crisp and succinct is well deserving the highest of praises; Johnson exists as such a choreographer and does exceptionally well with the prestige of her routines in this show.
Musical Director Shane Jensen, working with Johnson to achieve the perfect combination of storytelling felines and singing cats, creates divine sounds in both song and spoken word. Finding the nuance of poetry that is naturally layered into Webber's work— it was based on Old Possum's Book of Practical Cats by T. S. Eliot— becomes an intricate journey that wends its way through both the songs and dance routines of the piece. Jensen and Johnson deliver an astounding performance that will delight audience members of all ages as each character is introduced and each song and dance discovered.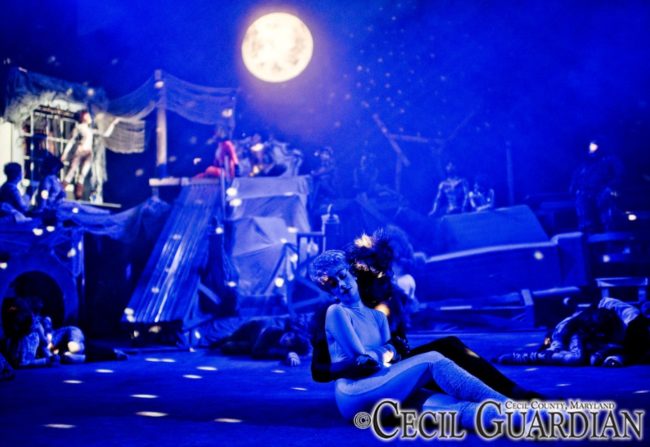 While there is a great deal of wonderful dancing— including that delivered by Eyvo as Mr. Mistoffelees (both playful and poignant in his silent routine "Magical Mr. Mistoffelees") and Ron Jones as the aforementioned Rum Tum Tugger— there are two featured dancer cats who appear in multiple numbers with the fluidity and slinky nature that fully ensconces the notion of a cat on a human body. Exotica (Whitney Russell) in beige and Victoria (Marissa Broujos) could be called "Dancer Cat" for all the times that their feline names are mentioned in the production, but the label would stick heartily. Both Russell and Broujos, who often find themselves partnered with other principal cats in their dance, move sublimely and deserve great nods for their visually pleasing movements.
Jumping in the line of cats who deserve mentions— they all do but why read about them when you can see them all live on stage?— Bustopher Jones (Jeffrey Sexton) has a delightful little cameo that is ticklishly teasing, in his self-titled number. Jennyanydots (Allison Graham) is the tap-dancing wonder featured in "Old Gumbie Cat", showcasing her fancy footwork in a fabulous orange coat, though the song itself is sung by Bombalurina, Jellylorum, Demeter, and Munkustrap.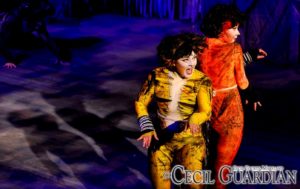 Cats are curious and though it seems strange that a cat could receive praise for his absence, Macavity (Tim Sheridan) does exactly that. Sheridan is only momentarily exposed at the end of "Macavity: The Mystery Cat" but makes his presence felt ferociously. Doubling up as The Rumpus Cat in "The Battle of The Pekes and Pollicles", Sheridan continues to delight the audience though in this number, he does so comically. It's Demeter (Erin McArthur) and Bombalurina (Darby McLaughlin) who carry the swanky, sassy song portion of "Macavity: The Mystery Cat" and this pair of performers is simply smashing. Both McArthur— in yellow— and McLaughlin— in reddish-orange— are sensually naughty and set a cheeky swing to the song as they showcase their delicious voices and striking prowler moves.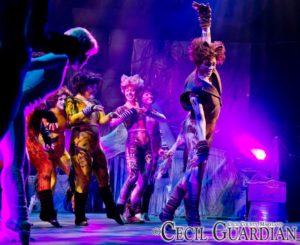 In a completely different vein of showy, Skimbleshanks (Timmy Bradford) steals the show in the second act with his wildly wonderful tap-toe routine in "Skimbleshanks: The Railway Cat." Bradford is charming and alarmingly disarming; he's a flashy dancer with a robust and clear voice that does the number a great justice. Like many of the cats, who flit in and out of ensemble numbers having just the one moment to radiate in the warmth of the spotlight, Bradford makes the most of this opportunity, winding the audience around his character like yarn around a cat's claw. Delightfully enthusiastic, Bradford brings an exuberant punch to the performance as Skimbleshanks.
Old Deuteronomy (Ted Cregger), who is revered and respected among all of the Jellicle Cats, falls into the role of the unsung elder leader Cregger, who's glorious and rich baritone voice appears at the end of his introductory number, "Old Deuteronomy", and again later at the top of the second act in "Moment of Happiness" swells and fills the audience with a solemn yet reverent warmth. There is something calming and welcoming about both his voice and his presence, particularly when Cregger takes to singing in the penultimate number, "The Ad-Dressing of Cats."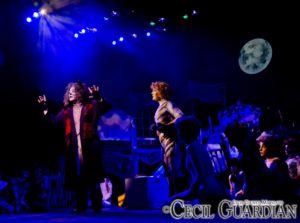 Robust and bursting with energy as Growltiger, but equally old and respected as Asparagus, Lance Bankerd gives Cregger a run for his money when it comes to the lower range of the singing octaves. Bankerd's character work is second to none in this production as he transforms in the flick of a tail from a doddering old washed out cat recollecting his heyday to a virile active cat portraying a pirate in a play. The entire front of Act II— from "Gus: The Theatre Cat" through to it's reprise— is Bankerd's time to shine and not only does he showcase his deeply satisfying vocal prowess but his versatility as a physical performer, bounding about as Growltiger in scenes with Griddlebone (as played by Jellylorum as played by Barbara Hartzell.)  The pair have a heart melting duet in "Italian Aria" featured in the midst of the five-song section of the show, and Hartzell is equally as enchanting with both her singing and her overall performance.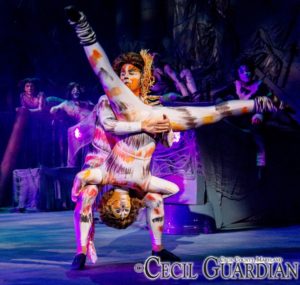 Rumpleteazer (Stephanie Smith) and Mungojerrie (Rob Tucker) take turns delighting the audience in the number of their namesakes. Or is it Mungojerrie and Rumpleteazer? Either way, Smith and Tucker, or Tucker and Smith are a hilarious duo that works together as if they were a singular entity, tumbling, singing, dancing, and ultimately slinking back into the trunk of a car from which they appeared. Tucker, whose character pops up in solo lines peppered throughout the performance, has a bright voice that lulls you into a sense of comfort, the way only a cat purring in your lap can.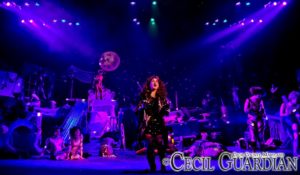 Jemima (Gina Dzielak) and Grizabella (Lauren Spencer-Harris) will steal your hearts with their renditions of the iconic song, "Memory." Though it's Spencer-Harris who gets most of the song— including its various occurrences both before and after it actually appears in the production— Dzielak's voice is smooth one to carry the haunting lyrics to the doleful melody. Spencer-Harris, who portrays the down-trodden and grizzled Grizabella, the Glamour Cat, fully embodies the harried lifestyle her cat has experienced with a full flush of bitterness and remorseful regret. Her voice is crystalline for "Memories" and touches the heart deeply.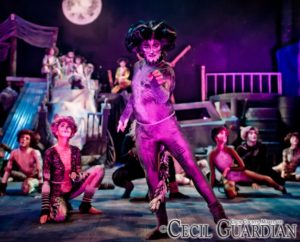 Munkustrap (Joseph Murphy) pops from the shadows as the leader of these alley cats. A narrator of sorts, taking lead on a great many numbers, including "The Battle of the Pekes & Pollicles"— among others— his dulcet voice is both vibrant and hearty, delivering song after song with vim and gusto. Murphy's movements are the epitome of feline motion, and the rest of the performers take their lead from his actions, creating a unified sense of what it is to be a cat slinking about in this back alley. Remarkable in the way he purports the character, with confidence and determination, Murphy is the right choice for the role.
Come one, come all to the Jellicle ball! Don't miss these fine production of Cats, or you'll be sorry that you did.
Running Time: 2 hours and 25 minutes with one intermission
Cats plays through December 11, 2016 at The Milburn Stone Theatre— 1 Seahawk Drive in North East, MD. For tickets call the box office at 410-287-1037 or purchase them online.