Tantallon Community Players production of Babes in Toyland Really— Directed by Valerie Holt, with Music Direction by Charla Rowe— isn't specifically a Christmas show, but the way it evokes the magic and wonder of childhood is certain to put you in the holiday spirit. Tantallon stalwart Charla Rowe's adaptation of Victor Herbert's classic 1903 operetta, now set in today's electronic age, had the audience in stitches on opening night. A little boy (Jack Horner; no, not Little Jack Horner) unwillingly exiting childhood wishes he could live in Toyland instead of the real world, and he gets his wish! But living with a cornucopia of Mother Goose nursery rhymes come to life, from Little Bo Peep to Humpty Dumpty, isn't as much fun as it sounds.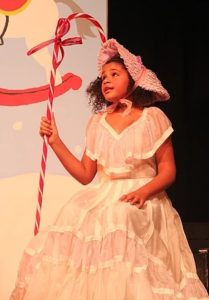 Director Valerie Holt does a wonderful job in corralling the 23 children (and three adults). With that many folks on stage at one time, there are bound to be traffic jams. One way around it is to straight up incorporate the traffic jam, such as in "The Dance of the Sugar Plum Fairy." What starts out as a simple ballet number, turns into plum fairies bouncing off one another, crashing to the stage time and again. Kudos to the little girl who was doing cartwheel after cartwheel throughout all the chaos. Music Director Charla Rowe manages to get everyone involved and mostly on point. Some of the kids could use a little increase in projection, but that didn't detract from the overall performance. The orchestra consists of only a piano, played perfectly by Daniel Flores.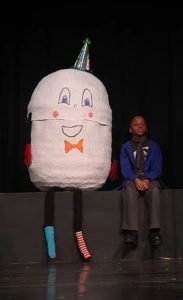 Costumes and Properties by Valerie Holt, Charla Rowe, and Vicki Cline were on point. My favorite prop was the life-size Humpty Dumpty. Of course, you know what is going to happen. Humpty Dumpty falls and his insides go everywhere. Of the many costumes, standouts include Old King Cole's black and silver king attire, and the many different flower outfits, with colorful cloth petals as hats. Set Construction was handled adeptly by Mark Holt and George Roff. Several rotating flats were used to show various scenery, highlighted by the spooky woods of Spiderville.
While most of the cast consists of children, there are three adult roles in the show. Karl Weaver, as Old King Cole, had the audience rolling with laughter with his large and in charge "Sixteen Tons". Vicki Cline was lovely in the dual roles of Jack's Mother and Mother Goose. Her rendition of "Little Boy Lost" was touching. Angelo Cline plays Bear with a dry humor. He also has a nice duet with Jack in "Side by Side".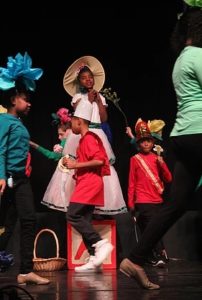 The real stars of the evening however, are the children. Lainey Holland's Goldilocks is appropriately played like the spoiled brat that she is supposed to be. Riyan Ware as Mistress Mary Quite Contrary does a lovely job in "Hurry, It's Lovely Up Here", while being helped out by her "flowers." Aubrey Anderson, as the Snake, glides easily around the stage on rollerblades while singing "A Friend Like Me". And Samantha Goldenberg brings down the house as Miss Muffet and with her rendition of "Hero", along with the rest of the ensemble. The footlights shined brightest on young Linwood Scott, playing Jack. Mr. Scott, with his mischievous grin, wry asides while breaking the fourth wall, and sparkling tenor voice, kept the audience on their toes all evening.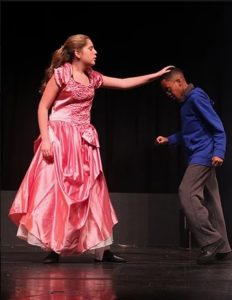 While it is impossible to mention every person in the cast, I certainly don't want to slight any of them— they're wonderful, and theatre is a team effort— it takes everyone doing their part to bring a show together, and the cast is excellent, whether singing, dancing, telling jokes, staging bits of business or just delivering their lines. Babes in Toyland Really is a fun night for the whole family, whether young, or young at heart. Make your way to Tantallon, but don't wait too long, as it will be over before you know it.
Running Time: 85 minutes with one intermission
Babes in Toyland Really plays through December 11, 2016 at Tantallon Community Players in the John Addison Concert Hall of the Harmony Hall Regional Center— 10701 Livingston Road in Ft. Washington, MD. Tickets may be purchased at the door or in advance online.