For those of you of gut-tickling constitution, for those of you who enjoy the mirthful art— of comedy, shenanigans, and all-around good things— then this tale is exactly the place to start! Indisputably a musical sensation— having won four Tony Awards including that for Best New Musicals— A Gentleman's Guide to Love and Murder is a roaring good evening of laughable levity at the theatre. Appearing for one week only in Baltimore's Hippodrome Theatre at the France-Merrick Performing Arts Center as a part of the CareFirst Hippodrome Broadway Series, this witty theatrical gem will worm its way into your heart. And your gut. And your pocket before all is said and done. With a jocosely jesting book by Robert L. Freedman, which sharply articulates the fine nuances of black humor, and marvel music by Steven Lutvak, with the pair coming together to create astutely humorous lyrics, A Gentleman's Guide to Love and Murder will give you spine-tingling thrills, gut-laughing chills, and the best night at the theatre anyone could ask for in recent times.
Lavish as the D'Ysquith family, the scenic aesthetic is a glistening tableau of yesteryore, a picturesque capture of the old Vaudevillian stage days with the decadently draped curtain and all the finery that adorns the edges as trim. Scenic Designer Alexander Dodge gives this madcap musical its polished appearance by using rich reds, glamorous golds, and earthy wood tones, which play exceptionally well against Projection Designer Aaron Rhyne's creations. Rhyne works miracles for scenic shifts and adjustments in the locale, enabling smooth transitions with great consistency throughout the performance. Everything from the Honey Shack fields where young Monty encounters Lady Phoebe for the very first time to the interior of Sibella's opulent flat is fabricated through Rhyne's projection designs, allowing Dodge to simply set each scene with a table and chairs— and the occasional doorframe— to keep the show clipping along briskly.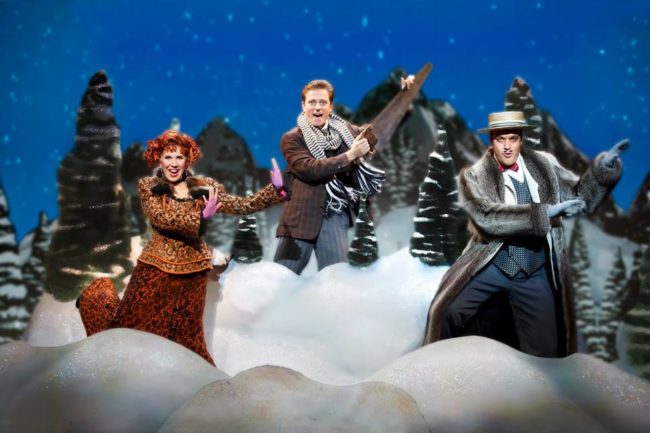 Accompanying this bountifully beautiful aesthetic is a treat for the aural palette, compliments of Sound Designer Dan Moses Schreier. Murder never sounded so delicious as it does in the well-seasoned ear and hands of Schreier, who makes each incident echo resplendently as it occurs. Whether it's the whipping wind atop the church spire, the ferocious buzzing of the bees out at the Honey Shack, or the cracking ice— accompanied to perfection by one of Rhyne's many projections— and the subsequent drowning burbles thereafter, Schreier capitalizes on the comedic opportunity such a soundtrack to the show can make and does so with a humorous vigor that adds a layer of exceptional enjoyment to the production on the whole.
The mother-load of visual spectacle with this production is delivered in spades by Costume Designer Linda Cho. Though the couture's initial visage appears to be little more than funerary mourning togs— featured at the top of the show and again at the top of the second act— Cho gets a chance to display her finery when it comes to the wardrobe of Sibella. Soaked in shades of sinful salmon, rouge, fuchsia, and a dozen other pigments of pink along the colorful spectrum, Cho's work gives the tasteful trollop something superb to tout upon her figure. While Monty Navarro's wardrobe is rather unimpressive, intentional by design, Cho does again find her threads put to the test— passing with a variety of flying styles as it were— when it comes to the nearly dozen D'Ysquith Family members on parade throughout the production.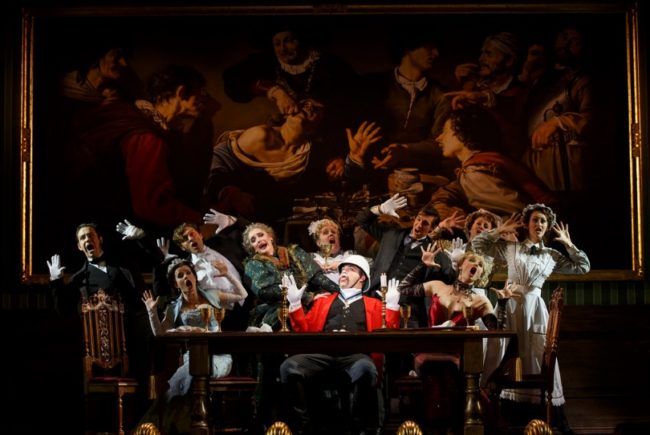 Robert L. Freedman's book, along with Steven Lutvak's music— and together their delightfully poignant and irreverently smashing lyrics— are delivered to their fullest potential under Director Darko Tresnjak.  Pushing the performance forward like a well-oiled clockwork mechanism, Tresnjak moves the ensemble with a great fluidity through each moment of the play. This is most readily observed in the obscenely expeditious costume changes that occur around The D'Ysquith Family character actor, John Rapson. Tresnjak meters every moment with precision, allowing for all of the diabolical brilliance of Freedman and Lutvak's lyrics to land on the ears of the audience, even those completely unfamiliar with the songs.
With a stellar ensemble, whose voices are hearty and robust additions to the marvelous music of the performance, the production holds no punches when it comes to talent. Rising above the others with character work that is inconceivably adept, Kristen Mengelkoch tackles Lady Eugenia with a rigorous vigor reserved for only the heartiest of exercises. Her interactions with John Rapson— in those moments as Lord Adalbert D'Ysquith— are pricelessly perverse. With a warped distortion about the way they excite one another, in every imaginable sense of the word, Mengelkoch makes her highly fabricated caricature presentation of Lady Eugenia a memorable one.
Providing character support as sturdy as her tried and true vocals, Mary VanArsdel puts a pip of pizazz in Miss Shingle. Even though her character is only featured at the very open and very close of the show, VanArsdel creates a lasting impression on both audiences and characters alike. Her robust sound is featured in "You're a D'Ysquith", a duet shared with Monty Navarro, and her comic timing is quite solid as well.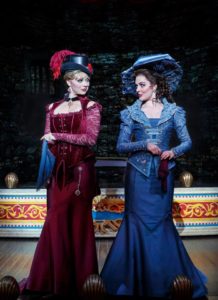 Figuring the word love is in the title it would seem only appropriate that there be a young ingénue type romantic interest in the picture. Naturally, being a complexly beautiful musical, there are in fact two young ingénue type romantic interests featured, though one is much more a mischievous minx than the other, who is a blushing babe if ever there was one. Look at Phoebe (Kristen Hahn), noble and pious, but then there's Sibella (Kristen Beth Williams) full of desire, passion, and love! Hahn and Williams square off splendiferously in "That Horrible Woman", their voices going toe to toe in a wild duet determined to solve the sticky situation which has arisen near the show's end. They take part in the delectably giddy semi-pattered ballad of feelings, "I've Decided to Marry You", which is arguably one of the show's most memorable numbers not only because of the bits they include but because of all the silly shenanigans Monty gets up to during that scene.
Hahn is delicate and winsome, both of face and of voice, especially when it comes to her initial encounter with Monty. Their duet, "Inside Out" is a wonderful showcase of the way their voices entwine, sparked into forward motion by the notion of love at first sight. Hahn bubbles to life when she joins the trio of tomfoolery during "I've Decided to Marry You" and is one half of the quintessential quintet which harmonizes to perfection after her solo verse during "That Horrible Woman." Williams, as the saucy and seductive Sibella, is quite the opposite when it comes to her character portrayal. Equally spirited and talented when it comes to singing soprano and sustaining the operatic sound of her character's solos, Williams is far more vapidly vain than Hahn's Phoebe. "I Don't Know What I'd Do" and "Poor Monty" are both numbers that allow Williams to take the shallowness of her narcissistic character to richer depths, whilst simultaneously exploring her sensational vocal abilities.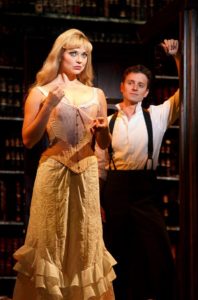 He's a D'Ysquith! A D-apostrophe-Y-squith, that Kevin Massey, he is. Monty Navarro D'Ysquith, in fact, and he takes to the role with great aplomb. Cheeky, particularly when it comes to the smirking facial cheats registered outward to his memoirs— and consequently to the audience— Massey is a phenomenal treat in the role. His reactive responses, oft experienced through his wildly animated facial features and by extension his perpetually engaged physicality, are what separate the character from textbook protagonist to something truly remarkable. Massey has a stunning voice, as witnessed throughout the entire production. His sound is mesmerizingly spellbinding, particularly during "Sibella," a sinfully delicious number in the second act that displays Monty's newfound confidence in sensual undulating waves. This is a sharp contrast to the naïve, bright-eyed, and practically ignorant lad that Monty originates as. Massey is particularly amusing during both renditions of "Poison in My Pocket"; take note of his tushy-waggle as it's hilarious.
Vocally astute, Massey holds his own against master of the characters John Rapson. Playing the entire D'Ysquith family, save for Miss Phoebe D'Ysquith of course, Rapson brings a unique personality, vocalization, and affectation to each character he tackles over the course of the evening. Rising to the challenge, Massey goes head to head with Rapson, treating each D'Ysquith with his own variety of individuality so that no two D'Ysquith family members get the same Monty upon encountering him. The camaraderie and sheer fun that Massey puts into working through the show with Rapson is palpable, making the enjoyment factor multiple exponentially as the performance carries on towards its ridiculously uproarious conclusion.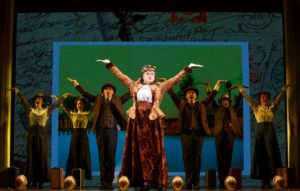 He's a D'Ysquith, and not just one either. John Rapson plays nine different D'Ysquith family members over the course of the performance and each one is vastly different from one another yet bearing certain hallmarks that make them unobjectionably related. A true master of comedic timing, comedic delivery, and comedic pacing, Rapson is the epitome of perfection when it comes to expressing his humorous side. There's a mincing shuffle and hard vocal affectation for Reverend Lord Ezekial, while Lord Adalbert is much more of a bristling arrogant chap with vile repugnant spirit to spare. Rapson delivers two tremendous numbers in this D'Ysquith skin, "I Don't Understand the Poor"— stuffed to busting with overzealous upper-crust dignity and obnoxious affluence— and "Looking Down the Barrel of a Gun"— a much milder but equally hysterical number.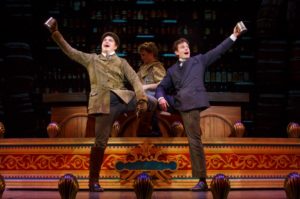 Rapson delivers a sound clap of masculinity in both gait and vocalization when playing Major Lord Bartholomew, and both Lady Salomé and Lady Hyacinth are disproportionately larger than life, with the latter of the two women being unfathomably unsinkable. Proving his versatility as a character actor, Rapson delivers a tender and genteel D'Ysquith in the form of Lord Asquith Sr., who even sings a sentimentally sincere segment of "The Last One You'd Expect." This is a strong contrast by comparison to Asquith Jr., an insufferably unpleasant little blemish of a thing who is featured most prominently during "Poison in my Pocket." But Rapson's finest achievement— despite how insanely impressive the aforementioned seven D'Ysquiths are and the yet to be mentioned ninth D'Ysquith is— arrives in the role of Henry. Rapson takes a fantastically flamboyant approach to the wee fella and his hearty and hilarious rendition of "Better with a Man", a duet shared with Monty, is simply to die for!
Hurry now, whether or not you've got poison in your pocket, as this wondrous little devil of a musical won't last long in Baltimore! You'll want to witness the excitement, the thrills, and all the magical mayhem that is A Gentleman's Guide to Love and Murder while you can!
A Gentleman's Guide to Love and Murder plays through January 1, 2017 at the France-Merrick Performing Arts Center— 12 N. Eutaw Street in the Bromo Seltzer Arts District of Baltimore, MD. For tickets call the box office at (410) 752-7444 or purchase them online
To read the TheatreBloom interview with Kevin Massey, click here.