There's so much more to do! Shopping, cooking, baking, wrapping— and there's only 17 days to go! Because it all comes down to Christmas! And if you're in Baltimore at The Hippodrome Theatre, then you've only got seven more chances to see A Christmas Story, The Musical before it hops on Santa's magic sleigh and flies away for the holiday! Presented as a part of the CareFirst Hippodrome Broadway Series, with Book by Joseph Robinette, and Music & Lyrics by Benj Pasek and Justin Paul, America's favorite iconic holiday movie gets its very own shiny spin upon the musical theatre stage. Directing this lively holiday tour, Matt Lenz and the creative team bring all of those wonderfully familiar moments— the Bumpus' dogs, the pink bunny suit, the leg lamp, and many more— to spirited festive life through song, dance, and a razzle-dazzle show with a heartwarming holiday core. Just in time for Christmas, this seasonal musical is sure to become a treasured classic much like it's film counterpart for years to come.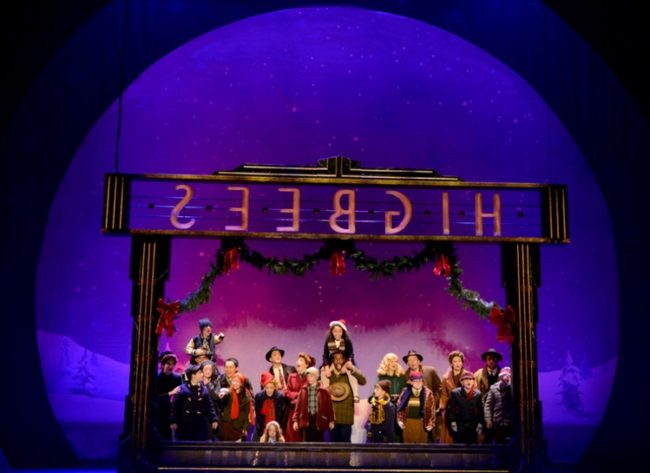 There's a warm feeling that tingles through the body when Christmas is present and that glorious sensation sparks to life across the entire visual palette of the design elements of A Christmas Story, The Musical. With much of the production design based on the concepts from the Original Broadway Designers (Scenic Designer Walter Spangler, Costume Designer Elizabeth Hope Clancy, and Lighting Designer Howell Binkley), there is an abundance of charitable delights to fill out the show's aesthetic. Tour Lighting Designer Charlie Morrison handles the shift from scenic home world, which is something akin to a peaceful snow globe, to the outrageous dream sequences with great gusto. An entire world of mesmerizing wonder is created with Morrison's illuminating tactics, particularly when it comes to changing the flavor of a scene from vivaciously imaginative— like during "Ralphie to the Rescue"— to a ghoulish green nightmare, for "Act I Finale" when Ralphie's worst nightmares seem to be coming true!
Tour Costume Designer Lisa Zinni captures the essence of 1940's Mid-Western appearance for all of the daily life costumes featured on the Parker family and the others that they encounter. Zinni lets the spirit of not only the seasonal holiday flourish in the elf outfits for the Higbee's story employees but also a fantasy spirit— as featured in both major dream-dance sequences, "Ralphie to the Rescue!" and "You'll Shoot Your Eye Out." Zinni covers a myriad of styles, everything from 1920's flapper costumes to turn-of-the-century cowboy couture, and gives the production a polished chimerical feel for moments where it really needs that extra boost of imagination.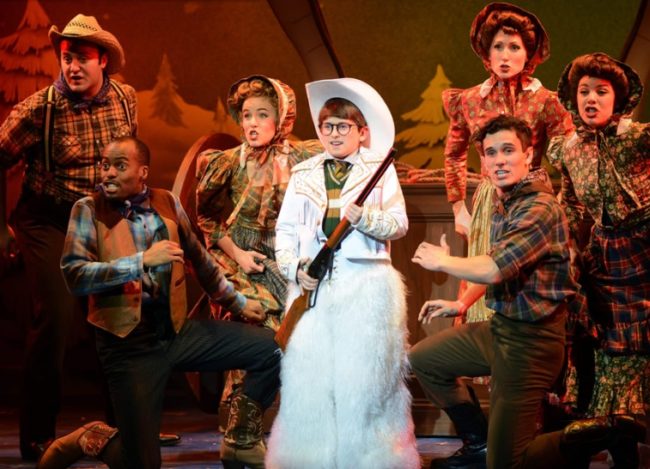 Rounding out the iconic aesthetic, with everything from the Higbee's Santa slide scene to the two-tier Parker family household, Tour Scenic Designer Michael Carnahan creates a winter wonderland fit for every eyeball, kids one to 92 and every age in-between. Taking the cherished memories from the movie and fitting them to a proscenium stage, Carnahan adapts Walt Spangler's original design approach and makes scenic transitions smooth and simplistic. The illusions crafted therein, with rolling pine trees for trips in the family car, and the frost-covered school windows, are placed strategically throughout the scenic design to really enhance the view of the scenery. This folds neatly into the overall aesthetic package prepared by the design team, making for one perfect pretty present this Christmas.
While glamor and glitz aren't necessary for a musical to be successful, Choreographer Warren Carlyle has them gleaming by the gallon in each and every dance routine featured in the show. With the assistance of Zinni's costumes, Carlyle's choreography sparkles that much brighter and welcomes the awe and wonder that should be felt when seeing a Christmas-themed musical. Working exceptionally hard with the young performers in the ensemble during "When You're a Wimp" and during "You'll Shoot Your Eye Out", Carlyle maximizes the flashy style, the precision execution, and the overall impressive delivery of these intense routines. Delivering a show-stopping tap routine during the dance break of the aforementioned number, Lucas Marinetto, who plays bully Scut Farkus for the remainder of the show, gets a shining moment to showcase his fantastical footwork, alongside the clean and crisp tap work of the ensemble. Carlyle's varying approach to each of the numbers— including the ever-impressive kick-line combo twirl, a signature of a razzle-dazzle Broadway routine, in "A Major Award"— is exquisite; the dancing could not be merrier, more delightful, or more engaging if Santa Claus himself had sent the dancers himself as a present to the show.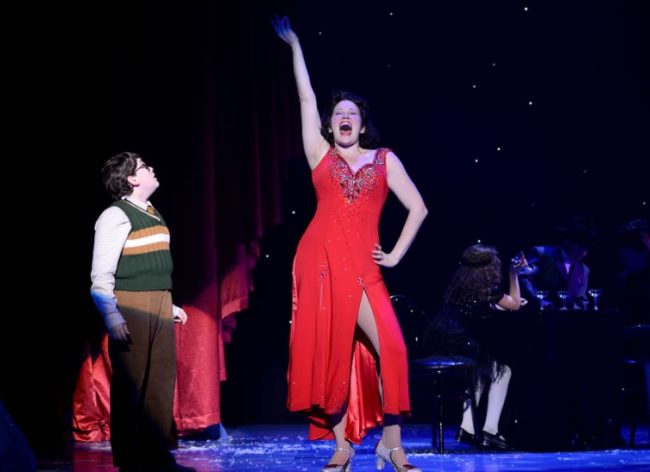 Notable performances given in the ensemble include the Chief Elf (Jessica Crilley) for her snappy attitude, and Santa Claus (Andrew Berlin), who is the epitome of a grumpy St. Nick on Christmas Eve. Berlin, who doubles as the nefarious fantasy villain in "Ralphie to the Rescue!", gives a rousing rendition of "Up on Santa's Lap", one of the more iconic scenes from the movie now set to delightful, albeit deranged, song and dance. Berlin has a clear voice and keeps his character work crisp, milking Santa for all the cookies he's worth. Show stopper Angelic Richie, as the prudish Miss Shields, does quite the number— or two— on the production as Ralphie's teacher, whom all hopes of the Red Ryder BB Gun ride for a time. Richie, who is blessed with powerful belting vocals and a real knack for adding swanky charm to the number, "You'll Shoot Your Eye Out," gives a madcap performance every time she appears on the stage, especially when she spazzes out in her classroom over Flick's sticky situation.
The youth performers in the show are sensationally energetic. While there are too many to mention, it should be noted that they make the performance well worth enjoying between their excited attitudes and overall spirited nature. Flick (Wyatt Oswald) and Schwartz (Josh Davis) are two particularly comic characters who really add zest to the story as it unfolds. Both Oswald and Davis are full of panache and add worlds of entertainment to "Sticky Situation", with Oswald's tongue-stuck singing being a comedic highlight of the number. Scut Farkus (Lucas Marinetto) and his bullying sidekick Grover Dill (Joey Little) are worth a nod as well, being the chaotic catalysts for "When You're a Wimp." As mentioned, Marinetto gets a secondary moment in the twinkling Christmas lights when he showcases his unfathomably intense tap-dancing skills during "You'll Shoot Your Eye Out."
Randy (Arick Brooks) is a spunky sprout when it comes to existing in the slight overcast shadow of his older brother, Ralphie. Brooks is bouncing with glee and whines with the loudest tantrums every kid brother possesses when it comes to making a fuss over something. He gives the audience good reason to laugh once he's all bundled up in his ridiculous snowsuit, and really adds ladles of humor to family dinner scenes, especially when it comes to his piggy-eating moments. With a splendid voice for duets like "Somewhere Hovering over Indiana" and "Before the Old Man Gets Home", Brooks is a bubbly delight in the role of Randy.
Mother (Susannah Jones) and The Old Man (Christopher Swan) are quite the pair in The Parker house. Jones has a warm and sweet voice which alights perfectly on "What a Mother Does", filling the song with maternal sentimentality that fills the heart with an indescribably comforting feeling. Giving the perfectly calm balance to the hot-headed, fricken-fracken, hootin-hollerin husband character, played by Swann, Jones' Mother is a delight, all the more so when she sings "Just Like That", an equally sentimental song filled with wonder and heartfelt emotions. Swan, who is an absolute hoot, delivers the character with rocketing levels of irritation. Whether he's being chased by The Bumpus Hounds (props to Stella and Hoss, the most adorable stage dogs ever!) or swearing up a blue streak the furnace and the Oldsmobile, Swan has the characterization of The Old Man down to a refined science.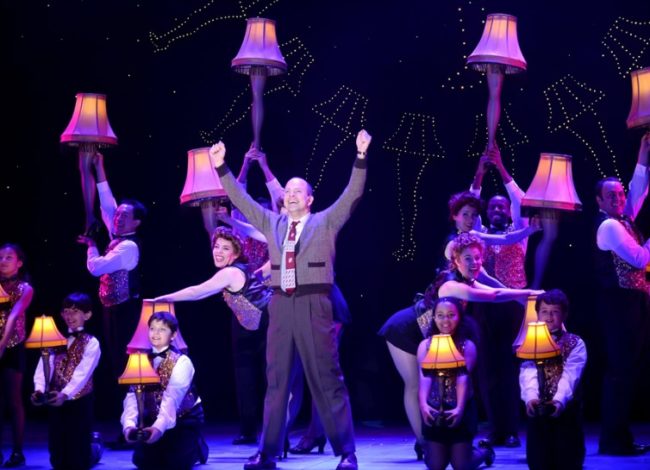 Swan, who is not only talented in his character work but also in his approach to singing and dancing, has two tremendous show-stealing numbers— "The Genius on Cleveland Street" and "A Major Award" which really take the Christmas Cake. The former is a wild ride through his own imagination, sung divinely, acted impressively, and delivered with a vigorous blast of energy that can't be beat, while the latter might just be the 11 o'clock number of the show for all its sparkle, spangle, and overall showmanship, with Swan taking the lead dead center. His interactions with all of the varying characters are sincere, though crassly comic at times, and really shows that heartwarming message of "parents who love their children simply because they do."
The whole show can be wrapped up in the earworm number, "Ralphie to the Rescue!" featuring Ralphie Parker (at this performance Austin Molinaro) and all of his precious gumption. With a voice that carries clear as a bell on Christmas day for miles and miles, Molinaro is a jovial youth that really packs a powerful punch of pizazz to the character of Ralphie. Songs like "Red Ryder Carbine Action BB Gun" and "It Call Comes Down to Christmas" (and it's many reprises and reincarnations) feature Molinaro's superb voice in a way that just excites the audience. Fully animated both physically and vocally, Molinaro creates his own vision of Ralphie in a way that is uniquely true to what folks remember from the film, but still fits cozily into the stage musical adaptation.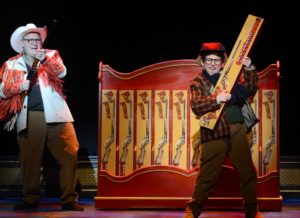 Carrying a youthful exuberance in his portrayal of Jean Shepherd, Chris Carsten is the narrative focus of the show, guiding us through each and every moment as it unfolds. Little moments shared with Molinaro, when Carsten— as the older version of Ralphie— interacts with his childhood self, are made of Christmas magic. There is an undeniably chipper and cheery energy which blasts out of Carsten's core whenever he gets excited during his recollection of how that Christmas came to pass. Filled with honest moments that tug at the heartstrings, particularly near the show's end, Carsten is the spirit of Christmas, reminding us all that it's truly about love and family this special time of year.
You'll shoot your eye out if you miss this miraculous production of A Christmas Story, The Musical, so don't be lame, don't miss your chance to see this treasured holiday favorite now live on stage at The Hippodrome Theatre.
A Christmas Story plays through December 11, 2016 at the France-Merrick Performing Arts Center— 12 N. Eutaw Street in the Bromo Seltzer Arts District of Baltimore, MD. For tickets call the box office at (410) 752-7444 or purchase them online.
Click here to read the interview with Baltimore local, Joey Little, playing Grover Dill!