You only live twice or so it seems, one life for yourself and one for your dreams. Annex Theatre might make you consider the dream life that you are or are not living at least twice with their current production of 1-800-Mice. Based on the comics of Matthew Thurber and adapted to the stage by Carly J. Bales and Sarah Jacklin, this absurdist nightmarish dreamscape takes interpretive experimental theatre to new levels with its nonsensical existence and surrealist approach to absurdism. Directed by Sarah Jacklin, the production is best approached with a quick glance at the delightfully penned comics (available for purchase in the lobby prior to the show) and an otherwise blank slate for a mind.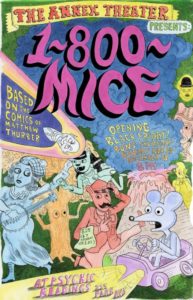 As mentioned in Director Sarah Jacklin's program note, the play is meant to be a dreamscape adapted from Matthew Thurber's comic books. A pell-mell chaotic surrealist rendition of the apocalypse that teeters on the edge of happening is the actuality of what Jacklin has delved into by way of her and Bales' adaptation. Almost like Waiting for Godot in the sense that the audience finds themselves waiting for a finite solution or resolution that never arrives, 1-800-Mice is loaded with images and snippets that neither stand alone nor come together. There is something disturbingly unsettling about the disjointed nature of this bizarre fantasy dream, which weaves elements of the melodramatic soap opera-like tale into political resistance and utter absurdism all in just 75 minutes of stage traffic. It is best not to attempt to make sense of anything that's actually happening, or not happening as the case may be, but rather enjoy it for the stimulating visuals and aural interactions that it provides.
Co Scenic-Designers Rick Gerriets and Daniel Marks do a fine job of matching the absurdist theme to the imagery in the comic books. The "treeople" of Volcano Park are vividly represented with enormous googly eyes, though the most striking feature of the set is probably the enormous shiny silvery space meteor. Working in tandem with Lighting Designer Evan Moritz and Sound Designer David Crandall, Gerriets and Marks bring wave after wave of unusual design elements into the aesthetic, creating a unique experience for this curious performance piece. Projections Designer Rachel Dwiggins deserves a nod of praise as well for the documentary style "back-story" inclusion, complete with sepia-toned 'vintage' images for the trifecta story involving The Great Partaker, LA Shogun, and Aunty Lakeford.
The visual masterpiece envelops the show by way of Costume Designer Nicolette Le Faye. While the play itself may have no grounds in reality, Le Faye ensures that the dreamscape is fully encompassed in her sartorial selection. With wild outfits for The Dapper Chaps, and more subdued ones for characters like Chlorie, there's a world of unexplored expression just waiting to be seen. Le Faye's finest offerings are perhaps those outfitted to The Great Pretender, Aunty Lakeford and LA Shogun. (Though the prop-costume combo of Sushi Chefs Maru/Razu/Patson, worked on with Properties Designer Deanna Knapick is also quite impressive.)
Of the eight-person ensemble, the performances are matched instance for instance on a heightened melodramatic level of theatricality. With each performer playing no fewer than three different characters and most playing four, there are some wildly intriguing things happening to differentiate from one to the next. Most notably standing as the outlier in this category is Martin Kasey who plays Tom Chief, Anecdote, and Therapist. His resounding deadpan and sarcastically non-committal approach is identical for each of the three characters he plays, though in his specific case this may be deliberate. Kasey's trio of characters may in fact all be the same person, representing that notion of dream reality versus living reality that Jacklin and Bales have attempted to deconstruct and reconstruct in the piece. It's difficult to tell which of his characters is more enjoyable because Anecdote is humorous while Tom Chief is just insane.
Philip Rogers gives the audience a taste of hot-headed semi-political corruption with his Officer Nabb character, while Suzie Dougan portrays the mildly-jaded peaceful foil to that character with her presentation of Chlorie. It might be helpful to note that Chlorie is a Dryad (human-tree baby) and her union to Officer Nabb (who may or may not be human but let's assume he is) could bring peace between the tree people and the non-tree people of Volcano Park. It might also not be helpful to note this and so such noting could be disregarded, either way it fits into the production with their well-seasoned character portraying abilities used in good practice.
Peace Punk (Jacob Zabawa) is the radical anarchist stereotype, or anti-establishment archetype, who has a hipster-groove wavelength about him. Zabawa channels this vibe into the Berg character, which is effectively the counter-culture iconic father of Peace Punk. This is a nifty familial trick which brings another layer of humor to the performance. Groomfiend (Nina Kearon) is perhaps the most consistent of the inconsistencies in the production when it comes to characterization. Kearon, like all of the performers, delivers the primary character with gusto and enthusiasm, and Groomfiend's experience as a 1-800-Mice delivery mouse is quite an empathetic one.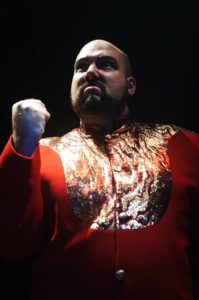 The main three— The Great Partaker (Dave Iden), LA Shogun (Alexander Scally), and Aunty Lakeford (Carly Bales)— are the unifying force, if a dreamscape turned nightmare reality in an absurdist adaptation can have such a force. Scally is as his namesake implies a big show of 'big guns' style personality. With melodramatic anger infused into nearly every monologue, he brings the thunder with ferocity. Bales relies on a subtler approach to the character of Aunty Lakeford, which makes what ultimately happens with that character quite the shocker. Iden, who spends more time as the adorably deranged Gummi Boy than as The Great Partaker, holds up the remaining third of this disastrously dissonant trio of ex-musicians. Together they make for interesting pops of plot eruption, and also showcase great character work in the process.
Confusing, most definitely, but a unique and captivating experience just the same, 1-800-Mice is unlike anything else currently appearing on the Baltimore theatre scene and should be investigated solely for that purpose.
Running Time: 75 minutes no intermission
1-800-Mice plays through December 18, 2016 at at Annex Theater— 219 Park Avenue in Baltimore, MD. Tickets may be purchased at the door or in advance online.