The Children's Playhouse of Maryland is putting some cheery folderol on ev'ry wall and ev'ry nook, and they've tinsel'd up ev'ry corner, 'til it's Christmas ev'ry where you look! That's right— they're having a sparkly, jolly, twinkly, jingly production of Elf Jr. The Musical! Based on the major motion picture, new line cinema film written by David Berenbaum, this razzle-dazzle-ringle-lingle-shiny-showy-cheery-kringle-holly-jolly-very-merry-sparkly-jolly-twinkly-jingly show is rearing up and ready to go just in time for Christmas! Directed by Liz Boyer Hunnicutt with Musical Direction by Charlotte Evans, this jovial, jubilant delight is the perfect feel-good musical chocked full of Christmas spirit!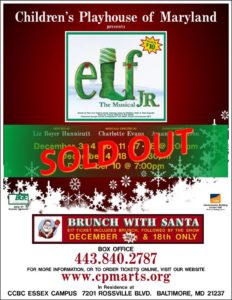 Giving us the full sparkle-jolly-twinkle-jingle experience, Set Designer Diane M. Smith and Scenic Artist Laura Miller create a winter wonderland of a set for the play as it unfolds. Realistic Santa's Workshop style signs and a lovely backdrop give that crisp Christmas morning feel that only the magic of such a musical can provide. Working with Lighting Designer Thomas P. Gardner, who creates some whimsical snowflake effects all through the house, the design team develop that sense of fantastical festivities all across the stage for each of the wonderful scenes in the musical.
Rounding out the aesthetic for the production, Costume Coordinator Sharon Byrd has every elf looking their absolute best for Santa! Byrd's sartorial approach makes all the elves— both the tall and the small— look utterly adorable. Pointed hats and curled-up shoes with matching colors in their outfits make each and every elf a uniquely whimsical part of the production. Buddy's costume in particular is a spot-on match with that from the iconic film, making him look ever the part for the elf that stands out among the rest of the elves. The Macy's store elf costumes are particularly cute as well, giving that candy-striped Christmas look a place among the actual elves of the North Pole.
Above and beyond the talented group of kids that Director Liz Boyer Hunnicutt and Musical Director Charlotte Evans work with to make this production a smashing success (so much so that it is completely sold out for the entirety of the run), it's the phenomenal dancing coordinated by Choreographer Amanda Dickson that really takes the cake in this show. Choreographing for children is no small feat, but to do so in a clean and efficient manner that looks good is Dickson's specialty. In addition to all of the large group routines, which are executed with precision and sharp accuracy, Dickson deserves a thunderous applause for the tap routine featured in "Sparklejollytwinklejingley." Showcasing an octet of terrific tappers— Ava Correlli, Emily Davis, Grace Glennon, Rose Glennon, Emily Ricci, Elliott Whitman, Olivia Winter, and Maia Vong— the number is filled with razzamatazz and a healthy dose of showy Broadway-style spectacle that really punches the routine up to the next level.
Maia Vong, who also plays Charlie, a featured elf at the North Pole, is a delightful character actor in addition to her sharply honed tapper skills. Her performance in that role, among a few other sections where she pops up in the ensemble are noted for her persistent and infectious smile. Much in the same vein as Vong, Gwendolyn Lowell approaches the character of Charlotte Dennon, the news reporter, with a heaping help of gumption. Jared Davis, as the Macy's store manager, shares a similar spirit to both Vong and Lowell, particularly when it comes to his solo lines in "Sparklejollytwinklejingley." Colleen Beyer, as office assistant Deb has her moments of quirky entertainment as well. These four performers, as well as the rest of the talented ensemble, make magical little moments throughout the production and keep the audience believing in the magic of the story as it moves along its merry way.
Santa (Matthew Trulli) is our narrator that guides us into the world of Buddy's story, and although he's only featured at the beginning and the end of the production— Fake Santa (Matthew Byrd) takes over during the Macy's department store scenes— he makes his presence known and his voice heard, especially during "Happy All the Time." Trulli has a rich deep voice that is perfectly suited for the jolly old elf, and really gives the audience— those young and young at heart— the courage to believe in Santa Claus and all the miracles he brings at Christmas time.
Sweet and disbelieving, Michael Hobbs (Sammy Jungwirth) is all but over the moon to learn that he has a brother, even if his brother is a crazy super tall elf from the North Pole. Jungwirth has a delightful voice which combines well with Kathryn Schudel (playing his mother, Emily Hobbs) for "I Believe in You." This duet, which is filled with sentimentality and heartfelt honesty from both Schudel and Jungwirth, reminds everyone about the true meaning of Christmas and exactly what a person ought to wish for when writing a letter to Santa. Both Jungwirth and Schudel can hardly contain their excitement when they discover the real Santa Claus, and display this enthusiasm proudly in "There is a Santa Claus."
Completely opposite of his wife and young son, and the polar adversary of Buddy, Walter Hobbs (Connor Moore) is bitter, agitated, and downright grumpy. A regular Grinch, Grumpus, and Scrooge all rolled into one, Moore crafts the character of Walter Hobbs with a frosty ice chip on his shoulder, bombastically exploding when the scene calls for it. Though Moore doesn't get much of a chance to showcase his voice, when he finally does in "The Story of Buddy", it's a fantastical display.
When everyone is happy it seems really, really crappy that an elf as sweet as Jovie (Ana Lane) could be blue. But when your dreams of Christmas are all shattered and forgotten, well then what's a lonely New York girl to do? Lane is wonderful in the role of Jovie, getting a chance to show her strong belting vocal prowess during "Never Fall in Love with an Elf." It's her duet with Buddy, "A Christmas Song (reprise)" that restores the faith in Christmas magic and Christmas miracles, as Lane's lovely voice twines in perfect harmony with Buddy's for that sweet and dulcet reprise.
Oh my gosh— he's Buddy! The Elf! That's Nathan Beyer as Buddy! The Elf! And oh boy, oh boy, he's a wonder! He's a marvel! He's amazing! Beyer is an amazingly high-strung, animated individual with a stellar voice that brings the spirit of Christmas to life brighter than all the bulbs on the tree! Bouncing with bubbly blitheness all through the first act, numbers like "World's Greatest Dad" and "Sparklejollytwinklejingley" are overflowing with the most ecstatic exuberance one could imagine coming from such a tall elf. This makes the heartbreaking solo "World's Greatest Dad (reprise)" that much more devastating by comparison. Thoroughly entertaining and exceptionally gifted in both song and dance, Nathan Beyer has found his calling this Christmas in the titular character of Elf Jr.
The show is sold out! Do what you can to find a way to see this production as it's too good for words! It'll be a real Christmas miracle if you can manage to wrangle up some tickets. Better write your letter to Santa right now and ask him for a seat to see CPM's Elf. Jr.  
Running Time: Approximately 1 hour and 40 minutes with one intermission
Elf Jr. plays through December 18, 2016 at the Children's Playhouse of Maryland in the Lecture Hall of the Administration Building at the Community College of Baltimore County Essex Campus— 7201 Rossville Boulevard in Baltimore, MD. For tickets call the box office at (443) 840-2426 or purchase them online.
Elf Jr. is SOLD OUT for the entirety of the run. Call the box office for details about the wait list!