When a thing is wick it has life about it— just come to the garden and you'll see— The Secret Garden now appearing in Shakespeare Theatre Company's Sidney Harman Hall. Blooming with beauty and bursting with vibrant life, this newly envisioned production of Marsha Norman's book & lyrics and Lucy Simon's music based on Frances Hodgson Burnett's novel, is a sensational and mesmerizing musical experience. Directed by David Armstrong with Musical Direction by Rick Fox, this enchanting tale will blossom into your heart and wrap its beauty through your soul just in time for the holiday season.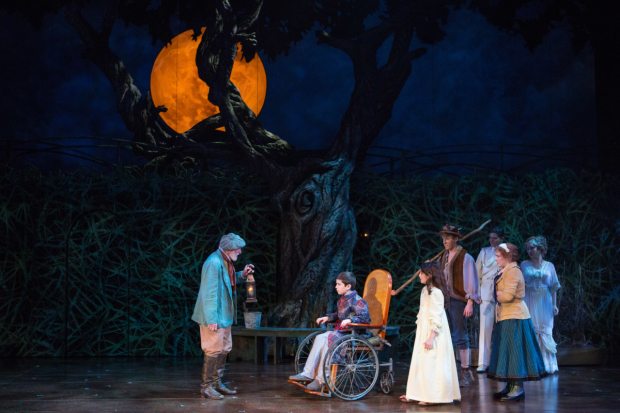 With the striking visual grace of a set that belongs on Broadway, Scenic Designer Anna Louizos crafts wonder, whimsy, and magic into the gliding scenic fixtures that are featured on the Sidney Harman Hall stage. The twisted wrought iron facades that slips through one another to create the wending mysterious corridors of Misselthwaite Manor are ominous and eerie. Louizos carries this thematic into the gnarled ivy that coats the garden walls, capturing the essence of physical and emotional decay that has long been festering inside the manor and its grounds since the death of Lily. This serves as a stark contrast when juxtaposed against the living portraiture of Lily in the garden and the final reveal of the show's namesake.
Enhancing the visual masterpiece fabricated by Louizos' scenery, Lighting Designer Mike Baldassari illuminates moments of magic with exacting precision. Working Sound Designer Justin Stasiw, Baldassari proves that nature is wick and ripe to sprout in this production. The ferocious storms conceived by the pair creates shadowy ghosts amid the manor halls of Misselthwaite, but ominous shades aren't the only spectacles Baldassari and Stasiw have tucked up their sleeves. The delicate lighting and sounds of the garden, particularly once it is in bloom, are wondrous strange in a delighting and fanciful way. Most striking in Baldassari's menagerie of lighting effects is the haunting shadow play used to achieve ghostly effects on the spirits, both in Mary Lennox' memory and in the hallways of the darkened manor.
Rounding out the brilliant and inspiring aesthetic of the show is the work of Costume Designer Ann Hould-Ward. Though the colors themselves are not the most vibrant in Hould-Ward's initial palette, they match the ambiance of the atmosphere and shift accordingly as merrier moods infuse their way into the storyline. The hints of color that appear in the regal costumes of the spirits before they become spirits are just dashing enough to create a shocking contrast when those same costumes appear in ghastly white once tragedy has struck. Hould-Ward does an exceptional job of outfitting Mary Lennox in proper outfits that both speak to her moodiness and desperate curiosity as a young girl far displaced from her home and her family.
Director and Choreographer David Armstrong has cultivated a performance masterpiece; Armstrong possesses a true green-thumb when it comes to growing quality musical theatre in the Washington DC area. Poetic and flowery words will not do an ounce of justice to the picturesque moments Armstrong has captured in his staging of The Secret Garden; the show is phenomenal in all of its striking yet haunted beauty and morose yet hopeful themes, which wend themselves flawlessly into each performance like ivy through a gate. Armstrong's choreography is the thing that's wick in this production as all too often dancing is dismissed in pieces of musical theatre that are more operatic and narrative in nature. Lively, spry routines, featured most often in the garden, populate the show, but there is also something to be said for Armstrong's approach to movement in general. When the score soars with emotion or crescendos into something wild, so too does the pacing of performer movement. Armstrong understands the pulse of the piece and puts it on display for all to cherish and treasure.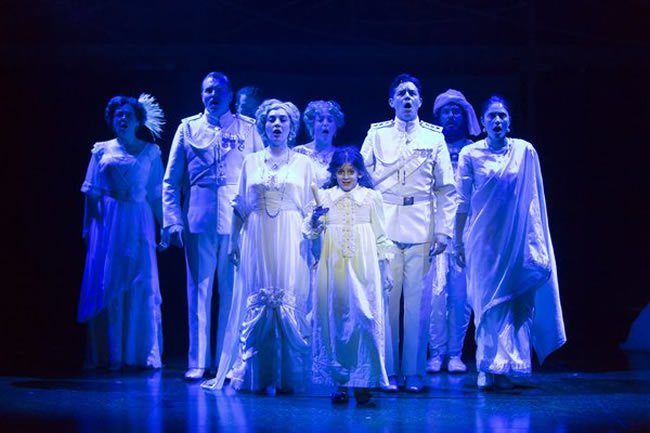 Armstrong's visionary sensation fluidly and flawlessly incorporates the spirits as active working characters into Marsha Norman's book. No longer standing aside and hovering until they are called upon in song, these spirits walk among the living, watching, engaging, albeit silently, and reacting to the world that is unfurling around them, as if a sense of duty has bound them to the story on earth that they left behind in their corporeal form. The spirits even go so far as to perk up and 'lean in' whenever they are mentioned by one of the living characters and even this subtle gesture brings a new level of connectivity to the characters in the way they fit into the bigger picture. All of this is achieved with Armstrong's precision blocking of every moment as it unfolds. There is no meandering or shambling about as spirits; each step is deliberate and pulls them one step closer to the story's conclusion. This approach to the show explores multiple themes on intricately deep emotional and psychological levels, making this an evocative new take on the musical.
The tragically beautiful score and all of its musical accompaniments comes to flourishing live under the skilled hands of Musical Director Rick Fox. Encouraging full, resonate sounds from The Spirits and The Others, numbers which feature the ensemble, like "The House Upon the Hill" are delivered with arduous fervor, completely ensnaring the audience into their mesmerizing sound. Rose Lennox (Brittany Baratz) and Captain Albert Lennox (Jason Forbach), featured in the "A Bit of Earth (Reprise)" lend their delectable voices to this trio number and have voices that blend sublimely in other moments when the spirits are singing. Vishal Vaidya and Maya Maniar, as Fakir and Ayah respectively, are two more spirits whose performances deserve a nod of praise. Like Baratz and Forbach, Vaidya and Maniar lend their voices to all of the ensemble numbers but should be commended for their lively engagement in "Come Spirit, Come Charm." Vaidya and Maniar also deserve praises for their energetic dancing, particularly when it comes to moving young Mary Lennox with passion.
Toddling old Ben Weatherstaff (Seán G. Griffin) has his place among the garden like all things do at Misselthwaite. With a proper curmudgeonly attitude and a crusted over Yorkshire accent which gives him all the pleasantries of a withered cactus dried up in the gravel, Griffin fits the bill for the grumpy old gardener. Though much like the show's namesake location, Griffin's character may be wick yet, proving how right and lively a spirit he can possess when he starts into his duet with Mary Lennox, "It's a Maze." Providing a gentle watering can's worth of comedic relief, Griffin is a standout cameo character performer in this production.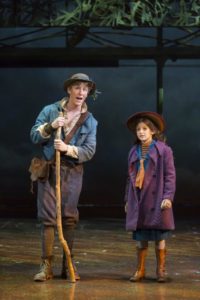 Sprouting right out of the garden like a wondrous weed, only twice as pretty and four times as hearty, Dickon (Charlie Franklin) is the balm much needed by young Mary Lennox when the moors have all but darkened and despaired her lost young heart. Franklin's voice is enthusiasm incarnate for "Winter's on the Wing" and again during "Wick." With boundless energy that informs both body and voice, Franklin is sunshine, dancing his merriment upon the neglected garden of the other characters' hearts, in particular that of Miss Mary Lennox. With a robust sound filled with the thrill of hope every time he sings, Franklin could awaken the entire secret garden every time he bursts into song.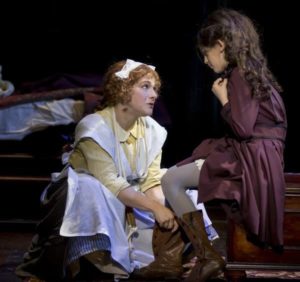 It comes as no surprise then that Dickon's sister, Martha (Daisy Eagan), is of a similar enthusiasm, though somewhat more reserved in sharing it. By far possessing the most distinctive Yorkshire accent, Eagan is a perfect fit for the character of Martha in every way— from wit to sarcasm and tenderness too. With a rich timbre, Eagan delivers a strong performance of "Skip, Skipped the Ladies" and later lends this same sound to the group number "Come Spirit, Come Charm." Showcasing the character's delicate side during "Letter Song", Eagan explores the many faces of Martha and showcases her ability to create a dynamic portrayal in an otherwise potentially flat character.
With the voice of an angel, it is only fitting that Lily (Lizzie Klemperer) exist only in memory and ghostly recall. Her opening aria, though such a label may be overly fancy as the string sung is quite brief, is a haunting but mellifluous invitation to the characters, to the audience, and to everyone listening to entrench themselves in the realm of The Secret Garden. Klemperer's voice is hypnotic, particularly when cooing out her cries in "Come to My Garden." Harrowing in the duet, "How Could I Ever Know", a song she shares with Archibald, Klemperer brings tears to the eyes and charges the emotional depths of the soul with her half of the number.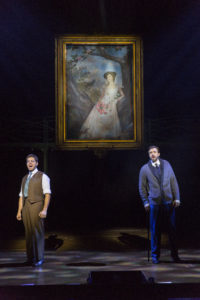 Brothers lost, emotional turmoil swimming in their veins, one for a life unlived and the other for a life unnamed; thus sits the story of Dr. Neville Craven (Josh Young) and his grieving brother Archibald (Michael Xavier.) Young's voice is superb, a decadent and dizzying addition to the cast. Featured only in solo and duet— primarily the former— Young imbues Neville with a strange yet visceral humanity that is difficult to accept given the way his character responds to those around him. Expounding upon these character-based complexities, Young develops Neville Craven into something far beyond a simple antagonizing force in the story. His solos, "Disappear" and its reprise, are brutally honest, showcasing his remarkable ability to swell the song with raw emotion.
The duet that Young shares with Xavier, "Lily's Eyes" sweeps through the audience and possesses not only the ear but the soul with an impassioned embrace of profound grief and sorrow. Michael Xavier, as the reclusive and bitter Archibald Craven, delivers sublime perfection to the character, both in his acting and his singing. Charged with unfathomable emotional depth, Xavier's rendition of "A Bit of Earth" showcases the dynamic struggle which Archibald experiences when it comes to addressing Mary's presence in the manor. Torn asunder by these gripping emotions in the second half, "Where in the World" is a harrowing showcase of every expressive outlet Xavier possesses.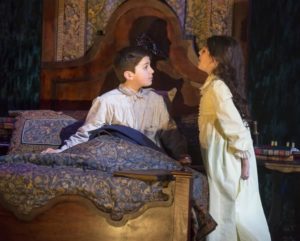 A precocious child unafraid of mouthing off at adults but terrified of memories that she cannot quite recall, Mary Lennox (Anya Rothman) is the centerpiece of all the commotion inside both Misselthwaite and The Secret Garden. Rothman, whose personality as Mary is at its peak in scenes when she's antagonizing Colin Craven (Henry Baratz— who is equally obnoxious and delightful in his role as Rothman is in hers), is a versatile young performer with a maturity on the stage that far surpasses her years. Rothman and Baratz play exceptionally well together, especially when it comes to having tantrums, and they get on smashingly once they come round to the idea of being friends rather than bitter pills toward one another. Rothman's Mary Lennox is exactly as one hopes it would be, full of panache and spunk but delicately balanced with honest emotions and childhood fears. Her voice is delightful, especially during "The Girl I Mean to Be" and she drives the show as a jovial spirit, spreading hope and optimism— in her own stubborn way— much the way a gardener spreads seeds throughout his garden. Tending each scene and song with care, Rothman is sensational in the lead role of Mary Lennox.
Come to the garden before it's too late! Come to the garden before winter frost does away with all of its splendor, astonishing spectacle, and utter beauty. Do not miss Shakespeare Theatre Company's production of The Secret Garden or you will have missed out on one of Washington's most delectable theatrical secrets of all time.
Running Time: 2 hours and 15 minutes with one intermission
The Secret Garden plays through January 8, 2017 at Shakespeare Theatre Company in the Sidney Harman Hall— 610 F Street NW in the Judiciary Square—China Town neighborhood of Washington DC. For tickets call the box office at (20) 547-1122 or purchase them online.