In the early 70's, an out of work British actor, Richard O'Brien, amused himself during his hiatus by writing a campy ode to indulge the passions of his youth— science fiction, B horror movies, Steve Reeves muscle flicks, and 50's rock and roll. Accentuating the unintentional humor and over-the-top dialogue of the so-bad-they're-good movies he was saluting, he paired it with a catchy pop/rock score and wrapped it in layer after layer of camp to create The Rocky Horror Show. Chance meetings with the right producers, the right directors, and a then barely-known young actor named Tim Curry resulted in a moderately successful London engagement, a flop production on Broadway, and a critically panned motion picture version that met a lukewarm reception, until it began receiving attention on the midnight movie circuit. Coming full circle as a campy film appreciated by the late night crowd as exactly what O'Brien (who pulled off the theatrical trifecta of penning book, music, and lyrics) intended, it took on a supernatural life of its own, becoming a cult hit that eventually transcended back into the mainstream that originally abandoned it.
Fans began attending movies in costume, supplementing the intentionally bad dialogue with awkward to hilarious ad libs, and, taking advantage of the season, eventually a Halloween tradition was born. Years later, a reasonably successful Broadway revival followed in 2001, as well as an internationally televised BBC 40th Anniversary production from London, and the recent 2016 Fox TV movie The Rocky Horror Picture Show: Let's Do the Time Warp Again! have made the show even more relevant than ever. Continuing the Halloween tradition, Maryland Ensemble Theatre has mounted a large scale, over the top production of the now classic show, directed by Tad Janes with music direction by Alison E. Shafer, the first in their partnership with Frederick Community College.
For the uninitiated, there really is nothing to know about the story. A plot device of a stormy night drops a couple of squeaky clean kids into the sexual clutches of a mad transvestite scientist on the eve of giving birth to his latest creation. A few instances of murder, sexual confusion, aliens, and a few killer (no pun intended) dance numbers culminate in a science fiction camp fest with a plot as thin as a clothesline existing solely for the purposes of hanging O'Brien's infectious classic score. In the steady hands of Janes and Shafer, O'Brien's baby is in great care in a creatively conceived production that keeps the audience cheering, on their feet, and in a perpetual state of antici………pation.
Caroline Cash as the Usherette and Laura Stark as the Narrator get the evening off to a strong start with their prologue "Science Fiction/Double Feature". The bustier-clad Cash sets the tone with haunting vocals, and Stark, in a role traditionally written for a man (although in the most recent Broadway revival played by a rotating series of TV personalities including Sally Jesse Raphael and Cindy Adams), brings a thematically appropriate twist on the reverse gender-bend that echoes the show's themes as the events of the night progress. Stark is live broadcast on a JumboTron screen directly above her residence on the left corner of the stage, and she utilizes this effect to her best effort to alternately taunt and play with the audience during her running commentary.
As the straight laced innocents in question at the heart of the story, Jeremy Scott Blaustein, as a perfectly cast Brad Majors, and Tracy Haupt, as his doe eyed fiancée Janet Weiss, give winsome performances as the ciphers off which the rest of the cast bounce their absurd madness. In the wrong hands, Brad can come off as irritating and annoying (an "asshole", if you will), but Blaustein infuses him with an adorkable charm while simultaneously showing off his leading man song and dance prowess, expertly tempered within the boundaries of Brad's nerdy physicality. Haupt exudes Janet's conservative values without seeming brittle or prudish. The pair balance the best of the couple's chemistry with the requisite reserve and doubt beneath the surface. In the true opening number, "Dammit, Janet", Blaustein and Haupt tightly play off each other's naive romanticism, getting swept up in the excitement of their best friends' wedding and deciding to follow them down the aisle. The number offers Blaustein in particular many opportunities to playfully shine, and he professionally seizes them all. When they set out on a road trip to share the good news with Brad's mentor, their jubilation is short-lived after a run of bad luck deposits them at the castle of one Dr. Frank-N-Furter, where their luck turns from bad to worse to abominable in the events of an evening that tests both their relationship and their individiual constitutions.
The denizens of the castle are a variety of self-proclaimed Freaks gathered to celebrate the debut of the doctor's new creature. Featured amongst them are spooky butler Riff Raff (Taylor Rieland), morbidly dark maid Magenta (Katie Rattigan), and peppy party girl/groupie Columbia (Karli Cole). Rieland makes the biggest splash with his eerie Rock Star persona, and vocals to match, He and music director Shafer pay careful attention to avoid the screaming most performers associate with the role, and make sure to tweak the grace notes so they all fall squarely within Reiland's powerful range. This is fortunate because he is entrusted with the quintessential production number of the show, the rousing, audience participatory "Time Warp", which he wails with the intensity of a ghoulish Adam Lambert.
Cole is effervescent and exuberant in all her featured moments, especially a high-spirited tap solo in her spotlight section of "Time Warp". Rattigan, through no fault of her own, takes the longest to register. This is due partly because her solo was passed to another performer (Magenta is traditionally the Usherette who begins our journey with "Science Fiction/Double Feature"), and partly due to O'Brien's underwritten role in the script. Without a song to sell or lines to deliver, and a few of her traditional background bits removed (although replaced by other strong director's choices), she has little to do until the bizarre science fiction climax reveal of the true identities of all the castle inhabitants, when she picks up speed and makes a strong finish. In her defense, this is the same fate that befell her counterpart in last week's Fox's TV revival under identical circumstances. With the limited time she has left, Rattigan would be well within the context of both her character and the show to take charge of whatever moments she can and reclaim her character with a more aggressive presence.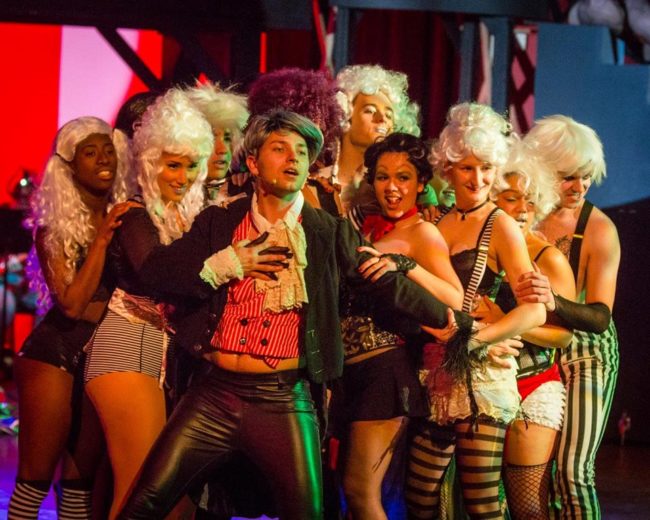 As Dr. Frank-N-Furter, the ominous host of the evening's festivities, Eric Jones makes a visual and imposing entrance, immediately dispelling the audience of any inevitable comparisons to his definitive predecessor Tim Curry. Jones immediately establishes himself as his own Frank, equal parts Mick Jagger, Elvis Presley, David Bowie, and Grace Jones. He commands his production numbers "Sweet Transvestite" and "I Can Make You a Man" with the sexy, cocky aplomb of a full-fledged Rock Star, albeit one who just happens to be the love child of Freddie Mercury and Sally Bowles. But his performance isn't merely all glamor, glitz, and feather boas. Interspersing intimidation with humor, both at the expense of Brad and Janet as well as himself, his Frank is a force of nature with a welcome dose of levity. In contrast, by story's end, as we watch him topple from his six-inch glitter pumps, he bestows Frank's demise with a bittersweet vulnerability and regret of a latter day Judy Garland.
The biggest liability in most productions of the show is finding an actor to embody the Creature, Rocky. Most are fortunate to find an actor who can either sing, or who has the proper muscular physique, but virtually never both (some settle for a reasonably pleasant looking young man who can't sing and just doesn't mind not being nearly naked on stage). Fortunately, Clay Comer is the entire (literal) package. A sexy pin-up hunk in gold lamé briefs, he flexes and preens to physical perfection while belting "The Sword of Damocles". The intricate musical staging of the number showcases not only his physical perfection, strong voice, and taut comic timing, but his athletic conditioning as well, as he desperately races about the stage avoiding Frank's lewd advances. As accomplished an actor as he is a vocalist, Comer is a delight to watch as he explores the new world of Rocky's inherent but undiscovered sexuality. He also displays some unexpected mad pole dancing skills during his sexual awakening in "Touch-a, Touch-a, Touch-a, Touch Me" with Janet.
Special note goes to the unusually strong corps of ensemble players who portray the self-titled castle Freaks. A crew of attractive and engaging performers, all well versed as singers, dancers, and actors, they assume a greater presence than is traditionally experienced, solidifying as a tight unit force. They each possess a uniquely individualized visual and ambient persona, yet united by a common thematic look, they elevate the mood as the de facto presence of the audience within the show. They virtually never leave the stage, which enlivens the production in many ways. From a technical aspect, they fill what would otherwise be the immense vacant space on the vast set, creating interesting and eerie stage pictures in the process. From a performance aspect, they enhance the atmosphere by maintaining their macabre energy throughout the show, as they observe everyone's actions from the sidelines like a ghastly, undead Greek chorus. But primarily, they function within the realm of the Rocky Horror universe by taking that Greek chorus analogy to the best extreme. O'Brien's script and story is decidedly, and intentionally, bad, with a plethora of melodramatic pauses. The fun of the show is the famous, now expected audience ad libs (referred to as "callbacks") that have evolved over the years at thousands of midnight movie screenings. Director Janes wisely utilizes their presence to augment his production with the official unofficial Rocky Horror Show script of audience callbacks, complete with a few topical updates, for which the movie has become infamous. Most live productions leave it to chance that select expert audience pros will assume the role, or occasionally scatter a few plants throughout the audience to safeguard if not. But taking a cue from the 2001 Broadway revival and having his ensemble deliberately scatter them throughout, he effectively controls and fine tunes the pacing and humor. Everyone benefits. It also welcomes any reticent audience members to join in the fun.
Janes and his entire production team have revisited the standard approach to the show and devised a clever new thematic scheme that coordinates all efforts, saluting the original yet updating and adding fun and unexpected new touches. Performing double duty as set designer, Jane makes maximum use of his expansive stage with a concept that begins as a series of silver lamé drapes and black curtains that, like Brad, Janet, and virtually every character of the show, scene by scene gets stripped layer by layer of  both fabric and inhibitions to reveal the sensual core of his vision: an impressive art deco dual staircase that evokes Hollywood movie queen Norma Desmond's palatial surroundings (if Norma Desmond was a deluded rock and roll drag queen).  A mobile, fold out set of stark black deco molding, accented with various rain curtains, drapes, and, the grand set piece, an upstage guard railing meant to resemble Frank's spread fishnet-encased legs, his design just as evocatively draws one visually into the hyper-sensual world of the Transylvanian's libido.  Lighting designer Paul Schillinger effectively enhances the mood in pools of light, shade, and a strategically backlit sequence, making great use of the space available to him across the length of the proscenium.
Costume designer Stephanie Hyder pays tribute to the spirit of the original yet also gives it her own artistic spin. Janet begins the evening in a bright yellow dress, the sole use of outside color, sunny and optimistic. Upon arriving at the castle, soaked from the ensuing storm, she is symbolically stripped of the color of her innocence and blends into the palette of the show. Virtually top to bottom, everyone is in black and white with judicious accents of red and silver (gold lamé is reserved for newbie Rocky), matching and complementing Janes' set. Hyder especially succeeds with the Freaks, creating a simultaneously individualized yet united look for the troupe. Starting with shock white wigs from all eras, she scantily clads her ensemble in uniforms of black and white lingerie, stockings, and skimpy skirts on the ladies, and vests, suspenders, and the occasional bustier on the bare chested gentlemen. The look combined with Bailey Sterling's sensuous and innovative choreography and Janes' inventive employ make them seem like the sexy undead cast of a road company of Chicago playing in lower Transylvania. (They even mark Frank's grand entrance to the floor show finale with the Billy Flynn fan dance.).
Sterling's choreography varies from the engaging to completely entrancing. She even modestly reinvents the iconic Time Warp, updating it with contemporary moves but not straying too far in concept that the audience members prepared to jump up and join in can catch on quickly, giving a treat of unexpected variety to the beloved set piece. Also of note is her inspired use of the ensemble to personify Brad's car used in their rainy journey to the castle during "(There's a Light) Over at the Frankenstein Place", complete with a male windshield wiper whose bare arms slap back and forth to the refrain of "asshole-slut, asshole-slut" (audience terms of endearment for Brad and Janet, for those not properly indoctrinated into the Rocky universe). Her only questionable choice, although laudable for trying something very different, is staging the bulk of "Touch-a Touch-a Touch-a Touch Me" as a pole dance.  While sexy and a definite showcase for Comer's athleticism, being confined to the far right corner of the stage drains the number of its manic, comic sexual energy. She would have served her performers better to open the number up to the bulk of center stage, and emblazon it with the same hyperactive energy she executed in "I Can Make You a Man".
Music director Alison E. Shafer has given the vocals a contemporary feel within the text of the original score. She also has coordinated a superior rock band that injects all the necessary rock and roll energy for her performers needs. The only technical liability, as seems standard these days, was the sound system.  Shafer's band was by no means overpowering the vocalists, but at certain points during the end of the show, solo microphones were failing at unfortunate times during the floor show finale and the 11:00 showstopper "Eddie's Teddy".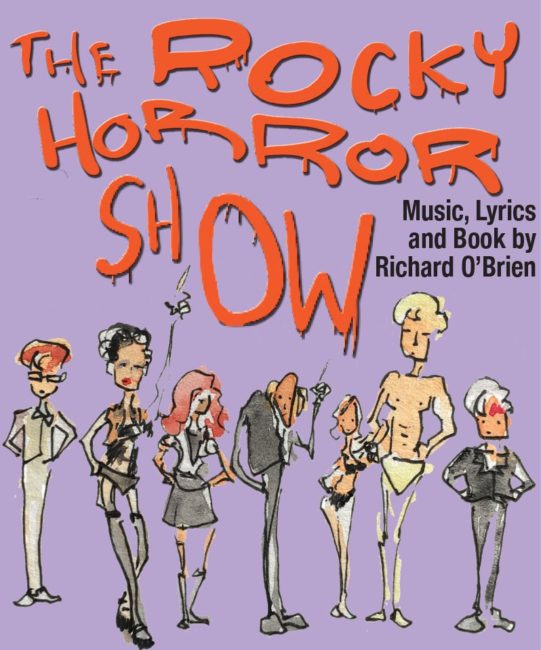 In the end, director Janes deserves maximum credit for expertly coordinating all these aspects with his performers skills, to produce a sleek, sexy, ultimately beginning-to-end evening of unadulterated, adult fun, which is all that is at the heart of Rock Horror. Wisely picking and choosing elements from the original production, the movie, the 2001 revival, and even the recent TV rehash, he forms his own unique vision into the anything goes, all-inclusive spirit of the show. Many community productions implode under the weight of their own chaos. But like the best roller coaster ride, Janes quietly controls his chaos and danger from within. Most importantly, more than usual, he is supremely conscious of his audience and their experience. In addition to the utilization of his cast to hash out the tried but true hilarious callbacks, he also employs judicious use of extending his staging from beyond the proscenium out into the audience. Usually this overused device is a staple of a creatively challenged director in a beyond amateur theatre, but in this piece where the audience is an unusually active player, it makes the best sense to physically incorporate them into the show as often as possible. He coaxes winning performances out of his entire cast, and makes particular effort to keep Brad and Janet as three dimensional as possible, instead of sliding into stereotypes of annoying, pretentious prudes. Their growth under Janes' masterful hand is a much more through and sympathetic arc than the characters usually achieve. If a spirited evening of fun and an excellent production of The Rocky Horror Show is one's inclination, it is highly recommended to literally take a jump to the left (as far to the left as Frederick) and then a step to the right (into the Jack B. Kussmall Theatre at Frederick Community College), then get ready for a night out (or a night in….) and have a blast doing the Time Warp again.
Running Time: Approximately 2 hours and 15 minutes with one intermission
The Rocky Horror Show, a Maryland Ensemble Theatre production, plays through November 5, 2016, at the Jack B. Kussmall Theatre at Frederick Community College. For tickets, call the box office at 301-694-4744 or purchase online