All the law is not in a book, and perhaps the oldest law of them all— that blood runs thicker than water— is what Arthur Miller truly meant to showcase in his riveting drama, A View from the Bridge. Or perhaps it was the notion of betrayal and justice that he was harping upon in this masterful classic, topics much too close to home in the present day political climate in Washington DC. Arriving for a limited engagement in the Eisenhower theatre of The John F. Kennedy Center for Performing Arts, The Center Theatre Group Production of The Young Vic Production of Arthur Miller's A View from the Bridge is a powerful and gripping drama that keeps audiences glued to their seats for the duration of the two-hours stage traffic and does so without daring to pause for an intermission. Directed by Ivo Van Hove, this stunning drama draws daring parallels to our countries struggles in present day through the myopic lens of immigrant life in 1950's Brooklyn. Remarkably poignant and sensationally performed, the mounting tension will mystify you right through to the heightened intensity of the show's conclusion.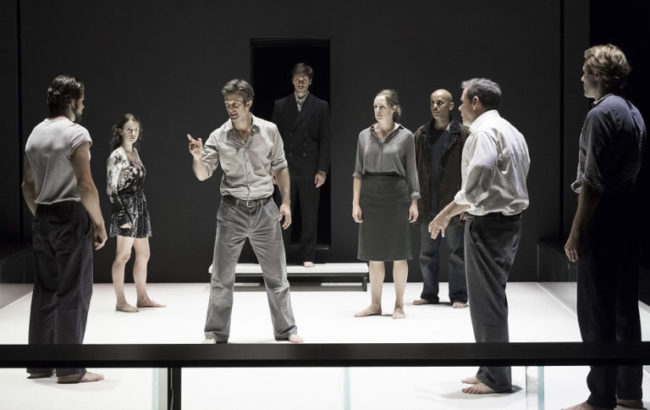 Everything about the production is startlingly striking, from the notion that the show will run a full two hours without an intermission to the optional on-stage seating for a more intimate vantage point of the performance. Director Ivo Van Hove has constructed a world inside of Arthur Miller's world which is both esoterically insular and yet simultaneously available to the everyman and readily accessible to our present day situation. There is a divine profundity that Van Hove captures in the stark staging and deliberate slowing of the text, which drives home the overarching messages of Miller's work. Van Hove's approach to the work presents the play as a cultural reckoning, a timeless entity that is as relevant in the here and now as it was in the time in which it is set.
Setting the action inside one tightly restricted cubic play space, Van Hove uses the Scenic Design of Jan Versweyveld to symbolically represent the constricting confines in which the characters find themselves living, not just physically but emotionally and mentally. Versweyveld also serves as the show's Lighting Designer, deftly manipulating light and shadow to further illustrate the dark and foreboding twists and turns that unfold as Miller's work develops. There are breathtaking moments which unfurl in dulled gray, which seems a contrary juxtaposition to the emotional turmoil seeping from the characters in these instances, but Versweyveld finds a balance with darkness and light to make these breaths and beats haunting.
Underscoring Versweyveld's dynamic use and absence of light, Sound Designer Tom Gibbons ties the production together with a faint hint of dramatically feverish music. Gibbons' relies primarily on the low hum of something unidentifiable, a chasm of tension filled the slightest hint of a whispered score. This proves a stark contrast to the metronomic pulse that pierces the piece in critical moments, driving the show's pacing and textual delivery in a fashion not dissimilar to waterboarding. Gibbons' work, combined with that of Versweyveld under Van Hove's sharp direction, brings the production to a masterful state of existence from the creative design side of the scale.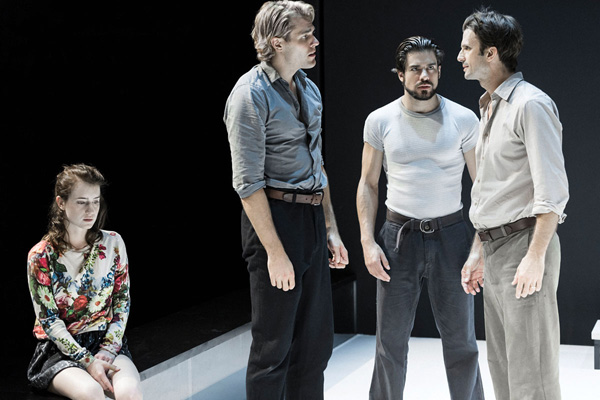 Equally impressive in Van Hove's directorial work is his ability to guide the cast through the tight confines of the set's physical constriction. Using stillness as a critical component, Van Hove forces Miller's words to carry most of the action in the play, rather than physicalizing these instances. This is an entrancing technique, causing moments where gesture or movement are the focus to be tightly honed in on, thus giving them a headier weight and deeper meaning. Keeping a physical distance between characters like Catherine and Rodolpho for the first time that they are alone, shockingly strengthens their emotional bond. Decisions like this liberally inform Van Hove's overall vision for the production, creating phenomenal still-life captures among the players; this is particularly true when climactic moments arise and everything appears to happen in slow motion.
Though Rodolpho (Dave Register) and Marco (Alex Esola) are a secondary line of support in Miller's work— though their placement in the script is essentially the catalyst that serves as the beginning of the end— both Register and Esola deliver their characters with polished aplomb. Esola, whose shining moment arrives at the end of the performance with a singular haunting outcry, delivers a calm performance, almost static in nature; this is accepted as a baseline for comparison once his eleven o'clock hour arrives. Register, who is quirky and amusing as the 'Paper Doll' Rodolpho, is not without his emotional gravity and weight to throw into the situation. The encounter between his character and Catherine is delivered with resonant gusto and is not easily overlooked in the grander scheme of the performance.
Always on the outside looking in, Alfieri (Thomas Jay Ryan) serves as a narrative vehicle to the story at large. Despite his in-scene moments of interaction with Eddie and later with Marco and Rodolpho, Ryan's approach to the character bares a permanent sense of detachment. Often leaning against the containment cube wherein the action of the play takes place, there is a striking notion of observation occurring in a meta-theatrical fashion for his character. Ryan delivers Miller's narrative tone with fluid poeticism, painting a bleak yet accurate portrait of life and the events that unfolded for the longshoreman and his family. Initially Ryan's character is perceived on a plateau of emotionless existence, but this explodes with rigor toward the show's natural conclusion.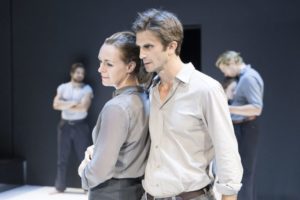 Beatrice (Andrus Nichols) is the vain voice of reason when it comes to the mess left unclean inside her household. Nichols' presents a fine Brooklyn accent with an even finer approach to her attitude, ever so delicately toeing the line of standing her ground and bowing to the almost misogynistic authority of her husband. There is deeply wounded pride and a tempered jealousy that informs her vocal delivery of the character, particularly in moments when she addresses Eddie about Catherine. Adrift in a sea of unfathomable emotions that bob and sink like one drowning in the ocean's current, Nichols plays Beatrice with an unexpectedly sharp edge that is praiseworthy but also emotionally upending.
Naiveté and knowledge can easily skew the impression that both Catherine (Catherine Combs) and Eddie (Frederick Weller) leave upon the audience. There is a blurred line amid the gray area of the performance as to when exactly the dynamic of their relationship becomes unsettling, though through the right lens it may very well start there. Immediately playing up a too-trusting familiarity between them, Combs is almost infantile in Weller's presence, physically throwing herself up onto him as a child might a father. Weller's reception of such actions is no less familiar and as the context of their characters' relationships to one another is revealed, what at first appear to be natural familial affections are quickly perceived as something distorted and seemingly unnatural. This dynamic is the perpetual undulation that drives the tension of the performance, especially once Rodolpho is introduced.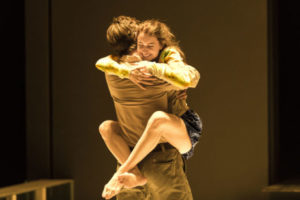 Combs gives a spry performance as Catherine, making her actions suitable for a character far younger than her years. This falls in line with the show's overall vision set down by Van Hove's interpretation of Miller's text. Weller, as the thickly-accented, passion-driven Eddie Carbone, is a tour de force when it comes to emotional roller coasters. Though many of the emotions expressed by Eddie could easily be dismissed as anger and jealousy, Weller delivers them with such finely honed nuance that they run the full emotional gamut in a few short breaths and blinks.
A cultural revelation that speaks volumes to the present day American from all walks of life, A View from the Bridge as it is currently presented is a rare opportunity to reflect on history and all of its present day relevancy.
Running Time: Approximately 2 hours with no intermission
A View from the Bridge plays through December 3, 2016 in the Eisenhower Theatre of The John F. Kennedy Center for Performing Arts— 2700 F Street NW in Washington, DC. For tickets call the box office at (202) 467-4600 or purchase them online.