You'll shoot your eye out! And the iconic leg lamp! All of the hallmarks that make an A Christmas Story, one of America's favorite Christmas movies, are now incorporated into a live stage musical just in time for the holiday season. The touring production is landing in Charm City to kick off Christmas in the first full week of December! In a TheatreBloom exclusive interview, we have a quick chat with performer Joey Little— a native of Reisterstown— and find out just what it's like to be a part of the iconic holiday musical show.
Thank you for sitting down with us, Joey!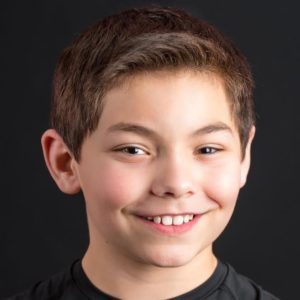 Joey Little: Sure! I'm Joey Little, I'm twelve years old and I'm from Baltimore, Maryland. I am a dancer. I've danced in Virginia and I was recently in Nightmare Next Door on the Investigation Discovery Channel.
What is it about A Christmas Story that made you want to go out and audition and hope to be a part of it?
Joey: As a kid, I've always wanted to do singing and acting and dancing. As a kid, to do Broadway type things it's kind of hard because there aren't many shows out there that provide kid-type roles. When I heard about this, I knew I had to audition for it because it's what I've wanted to do my whole life. I'm a kid, there are kid parts, I figured it was perfect! As soon as I found out I got a part, I was literally jumping for joy.
Were you familiar with A Christmas Story the movie before you went out for the audition or was this all new to you?
Joey: So I'd seen the movie a couple of times. And I saw it a couple years before I auditioned. Then I auditioned, watched it again, and after I got the role, I watched it again! So now I've definitely seen it a couple of times.
Tell us a little bit about the character you play, Grover Dill. What's he like?
Joey: Grover Dill is a bully. And he's got Scut Farkus, which is like his sidekick. He bullies Ralphie, Flick, and Schwartz just like in the movie. And just like in the movie Farkus and Dill get paid back for their bullying! Now what's different from me and Dill, at least I like to think— and I hope other people agree with me— but I'm not a bully. I'm a very funny, at least I think I am, person. I'm a nice, sweet person who would never do that.
You mentioned you're a dancer. What is the dancing like in this show?
Joey: The dancing is awesome because it's a very big mix of different styles. We have a tap number, we have a jazz number. And then there are many other mixes of numbers.
Do you have a favorite style of dance?
Joey: My favorite style of dance is contemporary.
Do you have a favorite number in this show that you really like?
Joey: My favorite number is "You'll Shoot Your Eye Out" because it is very fun to do while we're tapping and we get to tease Ralphie. We're all saying "You'll shoot your eye out with the bb gun."
Do you have any other favorite moments in the show?
Joey: Besides the "You'll Shoot Your Eye Out?" number? My favorite part in the show is whenever the leg lamp breaks and the two boys try to fix the lamp. It's my favorite because they're always arguing throughout the whole show, but whenever that song comes on they're trying to fix the lamp and they end up having to work together so that the whole fight that the mom and dad are having goes away.
Is A Christmas Story your favorite Christmas movie?
Joey: It is definitely up there. But I have to say my favorite Christmas movie is Elf.
What's your favorite Christmas song?
Joey: Um, I don't know what my favorite Christmas song is actually. But I do love Christmas. It's my favorite holiday because I just love this time of year. The decorations, being with family, I just love it!
Do you have a Christmas tradition that you do with your family that you really enjoy?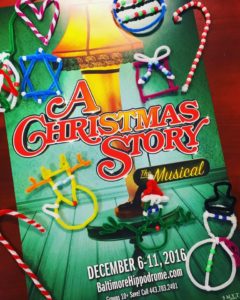 Joey: Every year we normally make ravioli. This year we made it earlier because I had to leave for the tour. I get to be home in Baltimore right before Christmas, but during Christmas we're either in Grand Rapids or Buffalo. Wait— I think it's Buffalo, then Detroit, then Grand Rapids. So we had to make the ravioli way early.
This has been your first tour experience, how are you finding it? Do you like it?
Joey: It's great I'm making a whole bunch of new friends. I'm also learning more of the acting and singing aspect of things because I'm a dancer, so that's really good that I'm learning that. It's also amazing because I'm not used to looking out at a sold-out crowd that is laughing and crying and happy. It's just awesome getting to experience that.
What would you say has been the biggest challenge for you being on tour with A Christmas Story so far?
Joey: The biggest challenge is probably that when I auditioned, my singing voice was a little bit higher than it is now. So I'm trying to get used to singing now that my voice is changing a little bit.
You're from Reisterstown, right? Are you excited to be back home for the holidays?
Joey: Yes, I'm from Reisterstown! I'm very excited to be home for the holidays. I'm really excited to see my family. I miss them when we're on the road.
What would you say being a part of A Christmas Story has taught you about yourself?
Joey: It has taught me that anything is possible and to not doubt yourself. Anything is possible, even if you think you won't get it, you might! So it's always worth a try!
What is it you are hoping people will take away from coming to see A Christmas Story?
Joey: As you know, the show is a family show and it will always be a family show. A lot of people love the show because it's full of mixed emotions. There are all these different scenes where he's happy and then he's sad. He gets his bb gun and then he's really happy again. Everyone has that— that joy of getting what they want for Christmas. It's a great musical and it's definitely one to come and see.   
Why do you hope people will come out to see A Christmas Story?
Joey: Because it's a classic! It's one of America's favorite Christmas movies. The show brings the movie to life. It is hilarious just like the movie with Ralphie Parker, with the Red Ryder BB Gun, and it features all of the favorite scenes from the movie with the leg lamp and the bunny suit, the Santa scene, the triple-dog-dare-you scene, it's all there!
A Christmas Story plays through December 11, 2016 at the France-Merrick Performing Arts Center— 12 N. Eutaw Street in the Bromo Seltzer Arts District of Baltimore, MD. For tickets call the box office at (410) 752-7444 or purchase them online.