Do people learn nothing from history? Not that there is nothing to learn but that people actively learn nothing, for surely somewhere in the annals of recorded time there are couples who engage in dark play, where not everyone in the game knows the rules. That's exactly the mechanism that snaps to life in Edward Albee's Who's Afraid of Virginia Woolf? now appearing on stage at Colonial Players as the second selection in their 68th season. Directed by Craig Allen Mummey, this contemporary stage classic brings out the monsters that dwell within all of us when an older couple invite a younger couple around to continue an evening of carousing and celebrating at their place once the faculty party has subsided.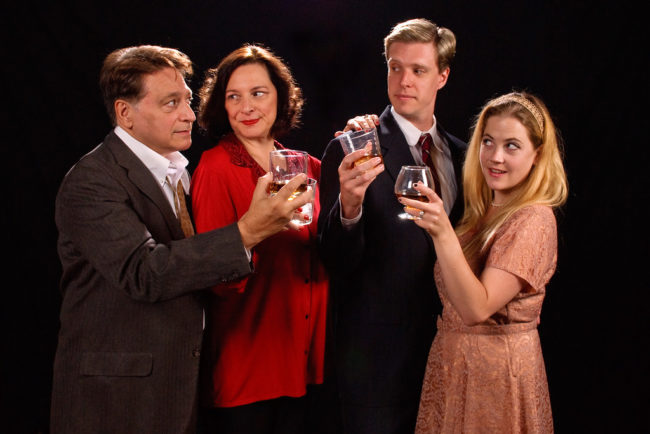 What is most striking about this production of Albee's iconic work is the subtle shifts in Alex Brady's Lighting Design. Ordinarily interior lighting would go unobserved set inside the living room of a college campus house in 1962. Brady works to pull subtle attentive focus to his illuminating design by fragmenting the room structure of the play space. Whenever characters find themselves departing— be it for the kitchen or the can— there is just a hint of shift that serves as the harbinger to both their exit and their return. Brady also finds delicate dimmers when two characters are in heated conflict in the middle of the space. There is something unspeakably remarkable about the nuance that this creates in the production as a whole.
While the furnishing are not lavish, and there is no true cause for them to be, Set Designer Barbara Colburn crafts a functional layout of the space, though by far her most impressively detailed piece is the window-box seating. Cultivating the illusion of full-length windowpanes, Colburn helps to fully enclose the living room so that the audience becomes true observes to the dark play in which Martha, George, Honey, and Nick all find themselves engaging. Other nods of appreciation are deserved to Sound Designer Ben Cornwell, whose work— much like Alex Brady— is subtle but appreciated, especially when it comes to the hints of nighttime crickets, and to Properties Designer Lois Banscher, whose efforts go out with a bang, so to speak, midway through the first act.
1962 is firmly established in the vision of Costume Designer Carrie Brady. Though there are a few questionable choices regarding Martha's wardrobe, once she starts changing it, the eccentricity of the character allows for this without too much incongruous conjecture from theatergoers. The dress on Honey is the perfect shade and shape for the time period, as are the suspenders on George and the dapper suit featured on Nick. Brady's notion of simplistic era-appropriate garments allows the focus to fall squarely on the performances, rather than minutia of what everyone is wearing.
Director Craig Allen Mummey keeps the play moving at a startling pace. Despite Albee's laborious efforts to drag the play on in real time from 2:00am until nearly dawn at 6:00, his time-tested words are no match for the way Mummey sets the tempo. (For clarification's purposes, Mummey has not mastered the art of time travel— the play is still three hours and 45 minutes with both intermissions— but if one does not chance a glance at a time piece, time feels to flow freely by without actually feeling like it's over three hours long.) Mummey also reworks a fair bit of the motivational factors when it comes to what specifically drives the tension between various character pairings as they encounter one another.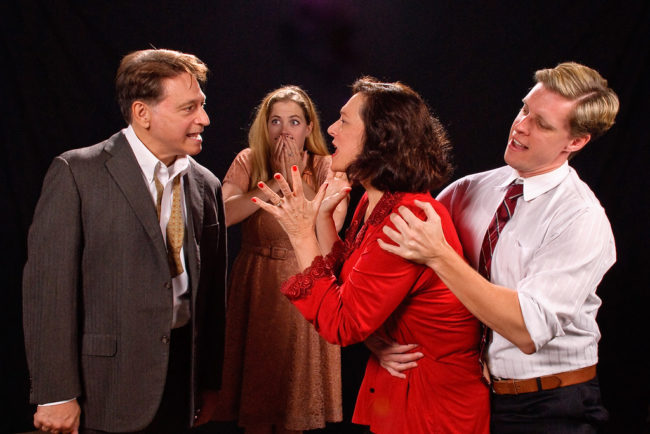 The biggest upset in the production is an unsettled imbalance between Martha and George. While the characters are meant to be out of sync with one another there is a chemistry, albeit caustic, that is expected to be present between them that often times throughout this particularly production is found to be somewhat lacking. This is baffling as both performers hold their own in scenes paired up against other actors and even during one of the final drag-down knock-out fights between themselves. It feels almost like they start the show at different points of their motivational track and struggle to catch one another across the trajectory of the plot. Once they do, however, the chemistry sparks and the play delivers exactly what is expected of it when it comes to the vicious games that are played.
Honey (Sarah Wade) being the dip that she is, is delightfully detestable when it comes to being the elephant in the room. Wade, who despite an accent that takes root in neither the Midwest or New England, finds a nasally affectation that makes the character of Honey wonderfully annoying. When she gets into her drunken fit, Wade is so fully engaged with the physicality that she all but becomes helium— lightening several of the tense moments dramatically. Though her character does provide some much needed comic relief, there is still quite a bit of depth which Wade manages to unearth in the rather simple woman and this is a refreshing surprise for those that are more readily acquainted with the stock caricature that Albee has painted in Honey. One of Wade's shining moments is her collapse into George's arms on the couch. Watch closely in this moment for the way this scene is played; the unspoken subtext and exchange between the pair is startling.
Nick (Ron Giddings) is possessed of a naïve smugness that suits him well. Giddings gives an equally refreshing depth to the character of Nick, and is impressively versatile in the role. Standing on the precipice of his composure as it crumbles beneath him at the top of Act II, the well-manicured façade of uninvolvement begins to crack after he confesses his story to George; little fissures of raw emotional turmoil split the surface of his cool composure, making his character arc all the more impressive. The scenes between Giddings and George (Joe Mariano) that really drive the show forward, at times more so than those shared between Martha and George. Giddings' facial expressions are worth noting, particularly late in the game as he absorbs the reality of the situation a bit too late.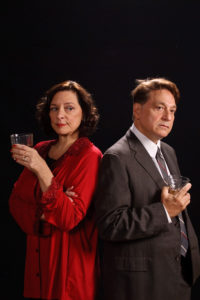 Mariano, as the earnest deceiver in this dalliance of dark play, is a bit stifled at first, though this is easily explained away in the character's initial fatigue upon returning home at 2:00am after a long night's party. Approaching George from afar, Mariano creates a curious detachment between the man who actively engages with Martha and the other two verses George the man present as things are happening around him. This dichotomy is intriguing as it presents George in an unusual but not unpleasant light. Delivering a complex series of emotional cascades, which start like waterfalls and end like stilled pools in a stagnant river, Mariano is deeply invested in George's journey, pulling the audience along for the bumpy ride.
Debbie Barber-Eaton hauls Martha through the mire of Albee's three-act play with as much dignity as can be expected for the character. Loud, vulgar, and startlingly human, Barber-Eaton takes Martha to task frequently over the course of the evening. There is something too vulnerable about her from the beginning, though this choice is easily reconciled by noting the play's ending. This is not to say that Barber-Eaton does not bring braying brimstone and crudities all her own to the portrayal of Martha. When the sexuality of the character ripens in full swing there is something to be said for the way that she fully embraces this shift. Among other moments, the play's finale is a divine example of Barber-Eaton's versatility when it comes to playing Martha.
There is psychological depth that boggles the mind unfolding in Albee's work. Colonial Players has given it a good turn, with fine performers and a driven director. This one, despite its length, is worth procuring a ticket for, even if mind games are not everyone's cup of tea.
Running Time: Approximately 3 hours and 45 minutes with two intermissions
Who's Afraid of Virginia Woolf? plays through November 12, 2016 at The Colonial Players of Annapolis— 108 East Street in historic Annapolis, MD. For tickets call the box office at (410) 268-7373 or purchase them online.