From the first moment I saw it, I knew I could love it, if it could love me. And love it I did, Single Carrot Theatre's first offering of their 10th Anniversary season: Savage/Love by Sam Shepard & Joseph Chaikin. When we're tangled up in love it's easy to experience all the flavors and sensations of the limitless emotional potential that life has to offer. Capturing the dizzying dervish of love and all of its varieties, Director Jen Spieler brings six ensemble members together with a gloriously creative production team to deliver the raw, unapologetic roots of love and all its savage nature. A remarkably poignant and emotionally stirring piece of theatre, this exploration of language— both spoken and visualized— and how it relates to the notion of love is a stunning experience that moves with ephemeral fluidity through the senses like a breath of unseen lover, a whisper of forgotten ghost, and a shiver of a tender kiss, all rolled into one evening of delight and sensuality.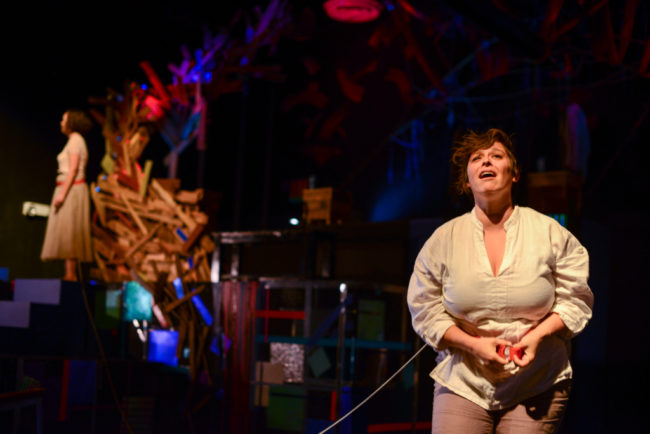 Love is many a splendid thing, not the least of which is chaos. Fully articulated in a visual representation, Scenic Designer Edward Victor has curated a strikingly calamitous set. Both functional and surreal with its series of tiers and stairs, ultimately creating multiple levels across the play space, Victor's scenic design is molded carefully over the imagery crafted within Shepard and Chaikin's text. Impossible to describe in its glory, each segment of the set— be it stairs coming in from the side or abstract decorated platforms or wooden splinters of the heart frozen mid-explosion— seems to represent one of the dialects of love expressed in all its radiant savagery from the script. There are elements of pathos littered throughout the design work, but most readily observed in Victor's set. Director Jen Spieler takes full advantage of this layout and uses it to further embed symbolism and metaphor into the production, blocking motion in spatial relation to the planes of the play space.
Lighting Designer Ryan Johnson and Costume Designer Jessica Rassp are flanking pillars of support when it comes to Victor's set and Spieler's overall vision of the production. Using carefully focused sectional lighting, demarcating unique areas of the multi-tiered play space, Johnson tightens and broadens the focus of these snippets and scenes with simple light and shadow. Rassp, who leaves the costumes at their most basic, allows the audience to focus on the storytelling narrative elements of the text, free of visual distraction in her sartorial selection.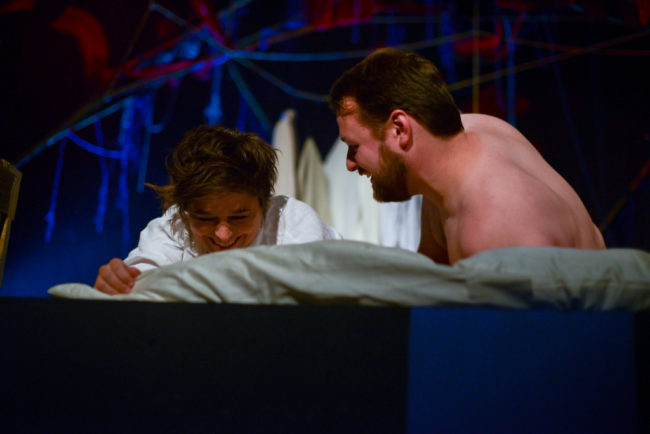 With love comes the expression of sound. Music being the universal language of love finds itself well in hand with this production under the crafty construction of Sound Designer Meghan Stanton. The music which underscores each of the little moments Spieler has captured and constructed within the confines of the play is at times so subtle that it's almost unheard. This a delicate and deliberate decision so as to devote the focus of the moment to the actors and their text. This does not, however, make Stanton's musical map any less poignant or relevant as each song snippet is an exacting match to the emotional verve of the scene. Working hand in hand with the way Spieler juxtaposes different sentiments into simple words, the pair create an artistic masterpiece filled with love in every way imaginable.
Honing in on the fact that the simplest shift of inflection, the gentlest nudge of tone, or change in delivery can completely upend the meaning of words exchanged between two people, Spieler mines Shepard and Chaikin's text for opportunities to present strikingly raw emotional exposure. Her blocking is sharp; the emotional clarity with which she guides the ensemble of six is exquisite in its execution. Spieler has a keen understanding of the multitude of love-flavors and does not shy away from any of them, becoming inclusive of even the negative aspects and elements that love can exhibit.
Genevieve de Mahy, Paul Diem, Kellie Mecleary, Dustin C.T. Morris, Lauren Saunders, and Matthew Shea comprise the ensemble and each delivers brutally beautiful moments of love in all of its splendor, all of its sorrow, all of its sincerity, and all of its severity. Often paired off, though sometimes alone, the sextet works the text into a frothy dream of sentiment, feeling visceral yet fleeting, mesmerizing yet tangible. Expressing a wide range of emotional outlets— running the full gamut of feelings— each individual performer takes moments at the beginning of the story to narrate the tale of love. Watching these moments transform, grow, and evolve as they become living, breathing scenes of exchange in the capable hands of these six performers is truly a masterful experience of an indescribable artistic verve.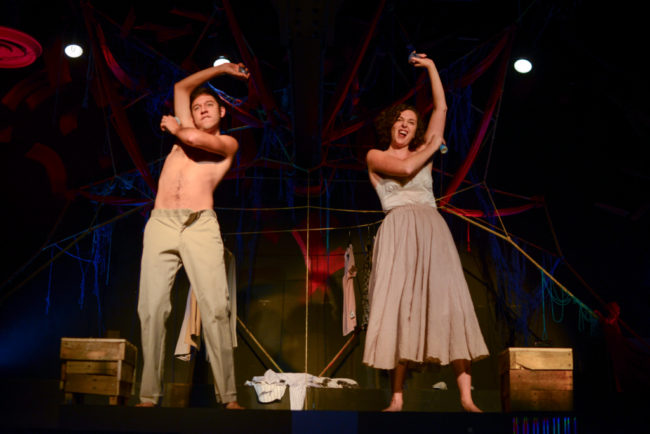 It would take pages upon pages to sing the praises of each of the performers individually for all of their meticulously focused emotional work and overall expressivity when it comes to the performance witnessed during Savage/Love. It can be said that the works feels ingrained as a unit, no one performer standing out as a leader while simultaneously giving each performer a voice. Each of the six performers feels as if they are an individual and yet a part of the bigger picture at all times. The emotional clarity with which they deliver the piece— in its fragments and as a whole— is moving beyond compare. A genuine expression of love, an honest example of how theatre can be transformative even when it's simplistic, a show worth seeing, Savage/Love is the perfect start to such a tremendous season with Single Carrot Theatre.   
Running Time: Approximately 75 minutes with no intermission
Savage/Love plays through November 20, 2016 at Single Carrot Theatre— 2600 N. Howard Street in the Remington neighborhood of Baltimore, MD. For tickets call the box office at (443) 844-9253 or purchase them online.