Quoth the raven, "Nevermore." It is, of course, October in Charm City and thereabouts, which can only mean that it is time once more for the dark and dreary Edgar Allan Poe to revisit his beloved Baltimore. Returning to the Sunset Restaurant and Lounge in Glen Burnie with Do or Die Mysteries, Poe's Last Stanza written by Ceej Crowe takes up roost in the front dining room for Monday evenings in the month of spooks and spirits, causing a delightful tremor of melancholy to ripple through Anne Arundel County.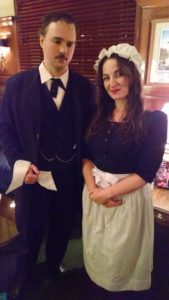 Crowe's play delivers unto eager audiences a more humane Poe than most have had the pleasure of encountering in their experiences with Poe. Presented without all of the fevered madness that is so often explored when attempting productions that portray the pensive poet, Crowe's script features a rather convivial and lively rendition of Edgar Allan Poe, freeing him from the hackneyed trappings of his oft-presented static existence. With a remarkable felicity for his drunken merriment, Crowe pens Poe with a reverence that acknowledges him as a witty human being and a spirited poet rather than a melancholy outline of gloominess and malady.
Carefully crafting a relationship between Poe and The Barmaid, Crowe constructs an entertaining element of immersion in her script, giving the characters leeway to interact freely with the guests should the need arise. This cultivates an accessible atmosphere for theatergoers of all capacities to not only experience Edgar Allan Poe and his work but to do so on an intimate and familiar playing field. With bits of well-tended audience interaction, Crowe's script brings Poe to the masses in a pleasing and palatable play that is simply delightful to discover.
Featuring two of the more prominent poems in Poe's canon, Annabel Lee and The Raven, Crowe hones in on the writer's literary genius as well as his sentiment, letting his drunkenness and his humors fall in and out of focus throughout the script. Assigning the roles of Poe and The Barmaid to company members John Kelso and Erin Tarpley respectively, Crowe achieves a fun evening that is a unique experience by comparison to usually quirky murder mysteries the company presents.
John Kelso, though looking less like Poe than one might expect, channels all of the appropriate sentiments and notions to deliver a well-rounded Edgar Allan Poe. The slightly accented affectation of voice falls well in line with his state of drunkenness as the evening continues and his mannerisms follow suit. Kelso's tonal shifts are palpable particularly when he delves into the more intimate Annabel Lee or at the show's end when all becomes clear. Tarpley, who is a right hoot as her role in the somewhat salty Barmaid, plays well against Kelso and provides a good foil to his Poe. Her moments as the Raven in The Raven are at first wildly comical but sharpen quickly into something chilling, augmented by her avian physicality.
Poe at his finest, or at the very least— unmaddened— Poe's Last Stanza is a rare holiday treat for the denizens of Charm City and surrounding areas.  
Poe's Last Stanza played two Monday evening engagements in 2016 at The Sunset Restaurant and Lounge— 625 Greenway Road SE in Glen Burnie, MD, where Do or Die Mysteries are currently in residence.
Be sure to catch the November show— Tune in, Turn On, and Drop Dead where the Age of Aquarius meets the millennials with hilarious and deadly results— on Monday November 14, & 21, 2016. Tickets are available here.
To read the TheatreBloom review of the 2015 production of Poe's Last Stanza, click here.
To read the TheatreBloom review of the latest Do or Die Mysteries show, One of the Gang, click here.