Honk! is the first all-kids production by Reisterstown Theatre Project. Featuring a live orchestra, a charming cast of young people, and an impressive technical array, Honk! endearingly entertained its small but enthusiastic audience. Director Bea Lehman has assembled a large and eager group of performers for this musical retelling of the Ugly Duckling story.  Hatched on a farm to nervous parents (played by Ben Gillespie and Tori Magee), young duckling Ugly (sweet-voiced tenor Ben Tasker) embarks on a journey of self-discovery, aided by an assortment of rural creatures, as he eludes both feline and meteorological threats and inevitably uncovers his inner swan, to the audible relief of the littlest audience members.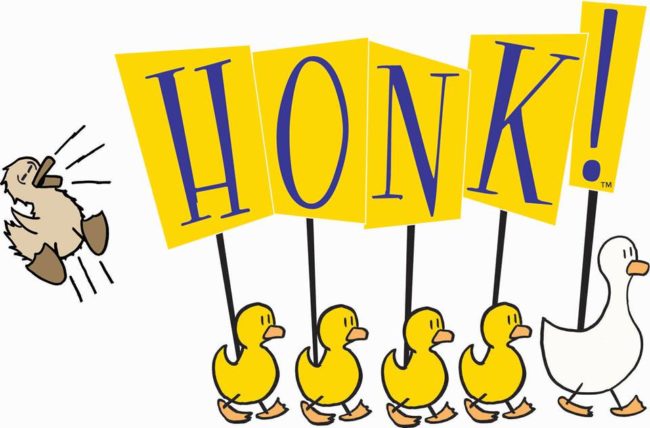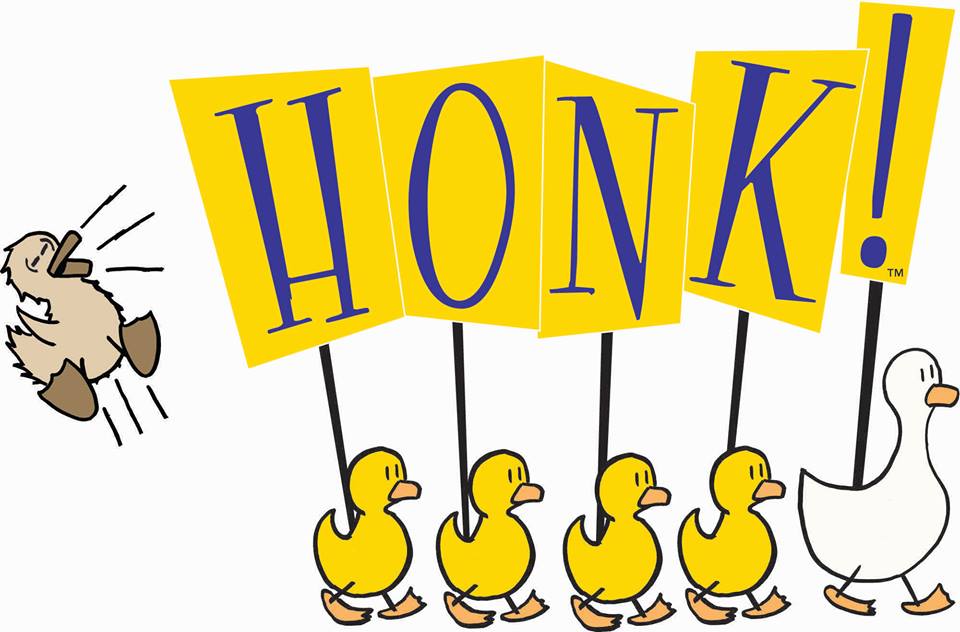 The charming scenic design by Rose Mooney included some cleverly transforming set pieces, skillful wood-look painting, a nice little fly-in window frame, and a sweetly-childlike backdrop farm scene, all ably lit by Jim Shomo. An impressive array of nearly 40 lighting instruments enabled a nice variety of special effects throughout the production. 
While the small stage provided some challenges for the large cast and their choreographers, Ms. Lehman made the best out of multiple entrances, curtain drops, and an orchestra-pond extension. Choreographer Doug Kotula managed to fit his large cast into the small space in some cleverly arranged stage pictures. The dances included a lovely feline tango for Cat (the wonderful Anike Sonuga) and Queenie (a slinky Audrey Caiola), as well as the tightly delivered "Wild Goose Chase" and edgy "Warts and All."
Standout performances included Tori Magee as Ida, the mother duck. Her scenes added poignancy to the story and her singing voice filled the room. The finest performance came from Anike Sonuga as Cat, a true triple threat. She owned every scene she was in, especially her masterful final turn reprising all the best numbers of the show. Anike Sonuga is one to watch! Special mention goes to the smallest performer on the stage, Drew Nelson, who was poised and polished in every scene she did, drawing the audience's eyes. Maya Lichtenberg gave a star cameo as ace reporter Maggie Pie, Brooke Nixon danced her heart out as Maureen, and Pierce Elliott showed impressive comic timing as both Turkey and Bullfrog. The Geese, led by Michael Nichols as Greylag and Sophie Schmidt as stewardess Dot, provided the best scene of the show. And the lovely duet between Maddie Simmons (Penny) and Ben Tasker was a sweet highlight. 
The young cast gave it their all, though the wireless mics proved more of an obstacle than an asset. With young performers, the mics seemed to hold them back from properly projecting, and the sound balance varied throughout the show. The orchestra, while ably accompanying the musical numbers, at times overshadowed the more timid singers, and some of the complicated harmonies were beyond this young cast. Still, the over-all effect was charming and earnestly-acted.
Honk! is enjoyable, family-friendly theatre sure to entertain all ages. The performance should encourage RTP to pursue more productions featuring younger casts. Enjoy Honk!
Running Time: Approximately 2 hours and 30 minutes with one intermission
Honk! plays through November 6, 2016 at Reisterstown Theatre Project housed at Franklin Middle School— 10 Cockeysmill Road in Reisterstown, MD. Tickets are available for purchase at the door (cash or check only) and are also available for purchase in advance online.