There is nothing either good or bad, but thinking makes it so. Thinking on the whole that Compass Rose Theater is delivering a good production of Shakespeare's Hamlet is not a bad thought to have. Directed by Lucinda Merry-Browne, one of the Bard's most iconic tragedies treads the boards in its most simplistic form. A harkening back to basic Shakespeare in the intimate black-box theatre, the production plants itself on solid ground and delivers a curious approach to madness as a central focus of these time-tested characters.
Director Lucinda Merry-Browne takes the appropriate and simplistic approach to Hamlet, leaving a good majority of the design elements at their most basic. The production's only major downfall in regards to design is the way that the sound design, what little that there is, is truncated in its delivery. Often when the herald of trumpets or the unearthly tones that announce the presence of the Ghost King echo out, they end abruptly rather than fade out and this creates an awkward beat between their end and a scene or moment of textual delivery's natural beginning. Lighting Designer Joyce Liao counters the aural issues with her brilliant incendiary plot. The lighting used during the Ghost King moments is particularly striking, a subdued and ephemerally haunting teal and blue hue gives way to the undead spirit. Liao works with the space's natural dark shadows as well, incorporating them into her design work to enhance some of the more dramatic moments in the production.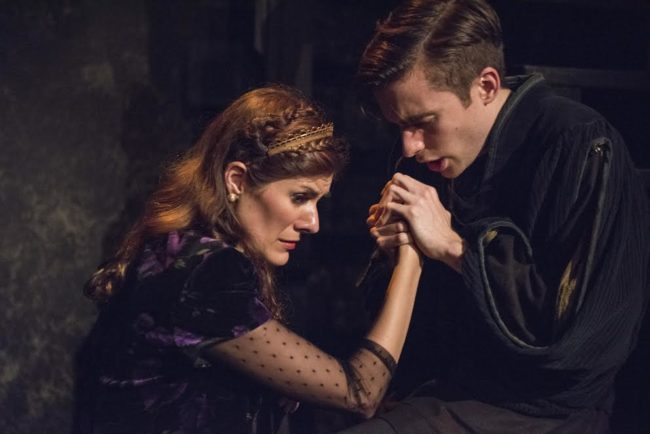 Merry-Browne delivers a unique approach to the madness that is all too often woven into the titular character of the play, presenting it as a deliberate charade for the Prince of Denmark. Watching the talented Phil Gillen knowingly mock his madness about at Polonius as well as others is an amusing and ultimately wise choice which puts an intriguing spin on the way the plot unfolds as a whole. There is a particular moment that is indeed striking within the context of this framework wherein Gillen's Hamlet approaches Ophelia (Ali Evarts) and is at first genuine in his sincerity. Gillen's facial features respond to the moment he knows he's being had by Claudius and Polonius, thusly informing his physicality and the shift in the scene is delightful. Moments like these and many others are Merry-Browne's strongest choices in her textbook approach to Hamlet.
Steve Lebens, who in a questionable but not unwarranted casting choice takes on the role of both Polonius and the Ghost King Hamlet, is another performer well worth watching in the production. His quirky nature and excitable facial responses add humorous depth to the character of Polonius, particularly in the scene where he bids good tidings and great wisdom onto Laertes (Joseph Dalfonso) at the time of his son's departure. Dalfonso, whose stage time is brief as the hot-headed son of Polonius, makes his point known when it comes to emotional clarity, riling with ferocity against the king upon his return to Denmark and finding vulnerability in the finale scene shared with Hamlet.
Galen Murphy-Hoffman, as Claudius, stands on uneven footing throughout the performance. Though he textually sound, a great many of his exchanges lack character and direction. This is often true when he is witnessed in scenes with Gertrude (Mary Lauren.) His confession scene, however, is quite stirring and grounds the character otherwise. Lauren leaves something to be desired in her portrayal of Gertrude, pressing the weight of the infamous scene between she and Hamlet squarely onto Phil Gillen's shoulders. Both Lauren and Murphy-Hoffman provide the appropriate response for the madness scene delivered by Ali Evarts as Ophelia. Though her portrayal here feels somewhat predictable and a little flat by comparison to the potential the text belays, Evarts is finds other moments to portray her talents in the part.  
Phil Gillen is marvelous in the titular role. There is something disarming about the way he approaches the sullen prince. Never lingering in any one emotion for too long, Gillen keeps Hamlet active but without the utter dizzying trajectory that the character most often travels. There are moments of sheer brilliance in his soliloquys and several more inspiring ones felt during moments shared with Horatio (Joseph Leitess.) Though Leitess' character is merely a supporting player in this production, his facial reactions— particularly during the final scene— are engaging and compel the audience to experience his internal thoughts and feelings without ever having to utter them.
Quincy Vicks is a standout cameo feature among the cast as the Player King. Melodramatically inclined, and humorously so, his introduction as the Player King is indeed a mirthful one. Colton Needles and Grant Scherini also deserve nods for their work as Rosencrantz and Guildenstern; the pair blend into the idle background plot that Shakespeare hath intended for the characters. The scenes where their direct involvement crosses Gillen's path are the scenes where their character work is most notably present.
To see or not to see, that is the question. Tis a good performance, most basic in its approach, and well suited for the space in which it plays. Perchance you will dream your way into a ticket and see all that remains unseen when it comes to madness and revenge in the rotten state of Denmark.
Running Time: Approximately 3 hours with one intermission
Hamlet plays through November 20, 2016 at Compass Rose Theater— 45 Spa Road in Annapolis, MD. For tickets call the box office at (410) 980-6662 or purchase them online.