So you're never going to believe me— but I guess you will if you go and see it for yourself— but there's a crazy world premiere musical happening in the Max at Signature Theatre this fall! Debuting—  after previous incarnations as a novel and two major motion pictures (about 25 years apart)— as a stage musical, Freaky Friday lands in the Max with a propulsive rock sound, a textbook Disney outline, and a sensational story that you just have to see to believe. With a stellar book by Bridget Carpenter, catchy music by Tom Kitt, and clever lyrics by Brian Yorkey, this heartwarming and hilarious musical journey will give you a delightful evening of family fun. Directed by Christopher Ashley, Freaky Friday puts the fun in dysfunctional when it comes to mother-daughter relationships and learning to walk a mile in the other's shoes.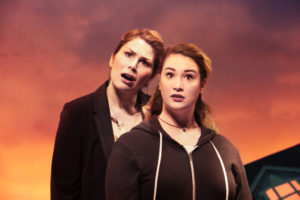 Like all world-premiere musicals fresh out of the workshop phase, Freaky Friday still has a few kinks to work out in regards to the execution of the production on the whole. The show itself, with the high-octane music composed by Tom Kitt and well-matched lyrics delivered by Brian Yorkey lends itself to a great deal of dancing potential. Choreographer Sergio Trujillo falls short of delivering these choreographic possibilities in a great many moments, with a bunch of the background movement feeling sloppily informed by a modern hip-hop style. To Trujillo's credit, however, there is an intense routine featured during "Watch Your Back" which involves a plethora of aerobic moves.
Much like Trujillo's missed choreographic opportunities, Director Christopher Ashely fails to do the show's blocking justice. There are multiple moments throughout duet numbers shared by the Ellie and Katherine characters where Ashley turns them inward toward one another, the end result being that they belt through those moments directly into one another's faces. And while this is an effective technique for driving forth the emotional intensity of a particularly note or moment in the song, Ashely's overuse of it diffuses its overall effectivity. The use of Scenic Designer Beowulf Boritt's concentric turntables are another misstep by Ashley; they add a superfluous layer of commotion to the stage in the already busy and chaotic blocking where the motion of the actors through the vehicle of dance would have better served the songs. Boritt's minimalistic approach to the set is smart, despite the turntable. The rotating pillars that flip sharply from inside the family kitchen to the locker rooms at school enable rapid scenic shifts with little to bog down the tempo.
Lighting Designer Howell Binkley understands the nuances of emotional lighting without laying an overbearing hand to the illuminating plots that frame the show. The projections and light designs featured during "Go" are some of the most invigorating featured in the performance. Binkley has a sturdy handle on when to dim background lights to heighten the spectacular, albeit overused, slow-motion effect of characters existing outside of main-moment asides addressed at the audience. Costume Designer Emily Rebholz adds a contemporary flare to the production, giving the threads of the characters, particularly those of the students, an edge of modernity without gluing them hard and fast in the immediate present of 2016. The garish vivid uniforms for the gym class routine featured in "Watch Your Back" are a potent visual aid when it comes to generating the location of the number.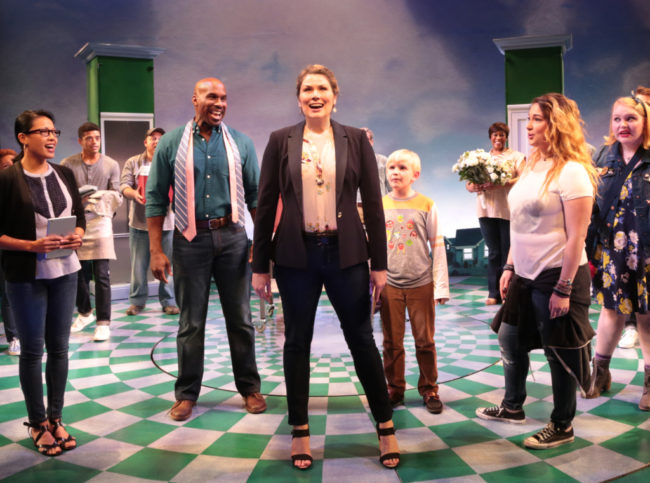 Directorial and choreographic issues aside, the casting is solid with incredible talent radiating through both lead females as well as supporting performers. There is a strong-voiced ensemble that fills each quintessential Disney number with gusto and emotional tenacity. Group songs like "Oh, Biology" and both the opening song and closing song "Just One Day" and "Today and Ev'ry Day" echo throughout the piece with their catchy tunes carried with solidarity on the fortified sound of this empowered ensemble. Brian Yorkey's exceptionally smart and well-penned lyrics find good purchase among this cast; their ability to articulate and let the humorous wording, the nimble phrasing, and sharply witty lines resonate with clarity is quite impressive.
Comic character work is resplendently distributed across the performances of Bobby Smith, Sherri L. Edelen, Jason SweetTooth Williams, and Cicily Daniels, who comprise the quartet of core adult tracks. Whether its Smith and Edelen as the meddlesome but well-meaning grandparents, Daniels as the vicious gym teacher Ms. Meyers— who showcases her vocal tenacity during "Watch Your Back"— or the work that Edelen, Smith, and Williams do during "Somebody Has Got to Take the Blame," wherein Edelen gets a tremendous showcase of her vocal abilities, there are thoroughly developed nuances for each of these character tracks. These polished developments of cameo characters augment the brilliant writing in Bridget Carpenter's book, which is a thoroughly fleshed out and well-developed story by comparison to the film remake in 2003.
Gretchen (Katie Ladner) and Hannah (Shayna Blass) are the stereotypical sidekick best friends to the unpopular Ellie. Ladner and Blass are both vocally sound and deliver wild quirks to their character representations that fit the bill for any Disney teenage accomplice role. Cookie-cutter villainess of conflict, Savannah (Storm Lever), who feels a little like she was lifted from every Disney Channel teen television program, is the epitome of 'bad girl' in attitude and appearance. Though Lever's character isn't given much depth by way of the script, she finds a vein in which to explore layers of the antagonist, making her richer and more fully involved in the story. Lever's sassy vocals are best featured in "I Got This" and "Busted."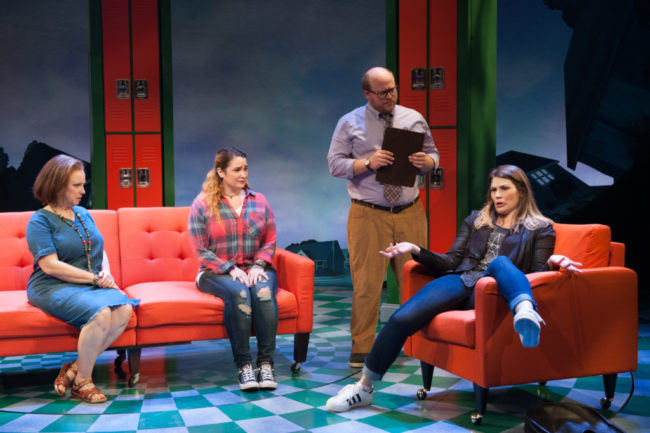 Cameo scene-stealer Torrey (J. Elaine Marcos) deserves a mention for her zany antics as the strung-out assistant to Katherine. Marcos is loaded with energy, bursting with personality and really gets her vocal prowess shining during "I'm Not Myself Today." The same can unfortunately not be said for Mike (Alan H. Green), Katherine's fiancée. While his congeniality as the step-father-to-be figure shines through clearly, his vocal abilities are lacking and he is both hoarse and soft when it comes to singing in the numbers where he does sing.
Fletcher (at this performance Jake Heston Miller) becomes a crucial component to the story's unwinding plot and settles nicely into the niche that the Carpenter and Yorkey have created for the character. Miller, who alternately shares the role with Tyler Bowman, is a convivial burst of youth exuberance, and loaded with laughable moments, particularly when it comes to the antics and shenanigans with his puppets. Though credited with no specific solo, Miller has quite the vocal ability about him and can be heard throughout the performance with delightful clarity to his voice.
Settling into the quintessential "Disney Prince" role, Jason Gotay lives and breathes a gloriously romanticized life into the character of Adam (who comes with his very own campy theme-arrival sound music!) Existing as a modern prince in this present-day fairytale, Gotay delivers all of the hallmarks of the charming romantic interest in addition to delivery stellar songs with his phenomenal voice. "Go" is one of the highlights for his character, as if "Women and Sandwiches" even if the number itself is pushing the outer boundaries of absurdity when it comes to making lyrical sense. The brilliantly awkward chemistry that he shares with the Katherine and Ellie characters add magical moments to his character's overall existence.
Ellie (Emma Hunton) and Katherine (Heidi Blickenstaff) are the portrait of a dysfunctional mother-daughter combo as filtered through the Disney-friendly lens. Hunton and Blickenstaff do an exceptional job of establishing their character's quirks, mannerisms, and physicalities early on so that when the 'switch' occurs it is jarringly obvious. Hunton, who starts life as the moody teenager and then becomes the mother trapped in her daughter's body, is gifted with a powerful singing voice, a tremendous versatility in her acting skills, and delivers both the character of Ellie and Katherine-trapped-in-Ellie with great energy. The same too can be said for Blickenstaff, who starts off as the reserved and anal-retentive mother figure and has to fall immediately into the wild and free teenage habits.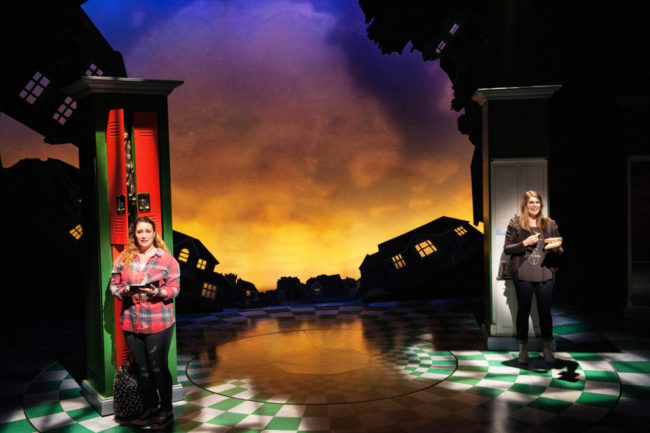 Blickenstaff and Hunton have a wickedly wonderful chemistry and their voices meld sublimely for duets like "I'm Not Myself Today" and the whacky "Bring My Baby (Brother) Home", which is right up there in questionable lyrics with "Women and Sandwiches." There is a striking conviviality in both Blickenstaff and Hunton when it comes to the way they hand the tension and conflict between each other and their interactions with the other characters. Blickenstaff's rendition of "Parents Lie" is astonishing and deeply moving, as is her version of "After All of This and Everything." Delivering a blast of volume and emotional intention for the 11 o'clock number "No More Fear", Hunton holds her end of the vocal bargain and stirs the audience right in the core of their soul with that song.
Remarkable and entertaining, perfect for the entire family, Freaky Friday will no doubt make its way into hearts across America as a treasured new musical that has a tremendously touching moral to be learned, experienced, and felt by the dedicated talent delivering it to the theatergoers of Signature Theatre.
Running Time: 2 hours and 10 minutes with one intermission
Freaky Friday plays through November 20, 2016 in the Max Theatre at Signature Theatre— 4200 Campbell Avenue in Shirlington, VA. For tickets call the box office at (703) 820-9771 or purchase them online.