Join us. Joooiiin usss….JOOOOIIIN USSS! Well, join them— Milburn Stone Theatre that is— as Ash of S-Mart braves the cabin in the woods and attempts to fight for his life and fend off the evil Candarian Demons that have been wakened from the Necronomicon! You heard it here first— Evil Dead: The Musical (rising from the beyond in the spooktacular Halloween repertory alongside The Toxic Avenger) has possessed The Milburn Stone Theatre's mainstage and is coming after you! Directed by Bob Denton, this madcap campy musical is a side-splitting, gore-drenching hysterical evening of gruesome violence, sheer maddening laughter, and of course— CANDARIAN DEMONS!
Director Bob Denton isn't afraid to address the camp that is required to make this musical production a success. With Book and Lyrics by George Reinblatt and Music by Frank Cipolla, Christopher Bond, Melissa Morris, and George Reinblatt (with additional music by Rob Daleman and additional lyrics by Christopher Bond), there's no denying that this is a stupendously stupid satire that mocks whole-heartedly every bad horror movie in the history of ever. That said, Denton fully embraces that hokey and unabashedly melotheatrical nature, refusing to shy away from the campiness and over-the-top shenanigans at any point in the show. This push in that direction is what makes the evening so hysterically entertaining.
What's more amazing than Denton's push toward the madcap maladies of the show's satirical nature is his mind-blowing set laced with special effects. There is a revoltingly familiar feel to the creepy cabin, and once things get animated it's not unlike a Chuck-E-Cheese Hoedown haunted by the damned, or perhaps more aptly described as a possessed Peewee's Playhouse set. Without getting into particulars or specifics, for fear of spoiling the grandeur, magnificence and utter absurdity that is this masterful creation, it's highly nuanced, extremely detailed, and of course, primed to feed the horror enthusiast. Denton's work includes the use of multiple hydraulic-fueled effects— WARNING— there is a 'splash zone' at the table-seats flush to the stage floor and the first three rows of the main house seats. Denton's scenic work is enough to keep the demons delighted as well as tantalize theatergoers everywhere.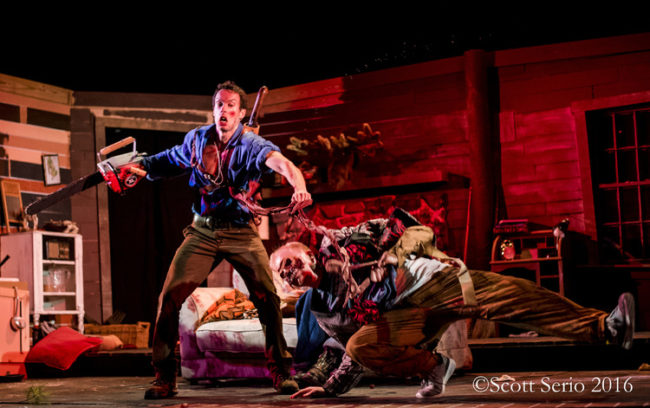 Filling in the show's overall spooky aesthetic, Lighting Designer Tyler Bristow, Sound Designer Moises Estrada, and Costume Designer Lance Bankerd enhance Denton's vision to magnify all of the scary elements possessed therein. Bankerd's unsettling couture makes sporadic appearances, particularly when it comes to the hillbilly hot-pants seen on Jake, the breakaway rhinestone costume featured on Annie and the really disturbing tree-garb for the sentient plants in the demonic woods. Make-Up Designer Siobhan Beckett deserves a nod for the FX-blood work and the collaborative effort used for the demon masks. Bristow and Estrada manage to keep pace with Denton's framework for the show, finding the appropriate balance between horrific and campy in their design work.
Andrew Dickenson's musical direction is of excellent pacing, but is often the trouble with having a live exposed band some of the balances are out of sync and often overplay the singers (though this appeared to be largely a microphones issue and will hopefully become less of an issue as the production progresses.) Despite the balance issues, The Necronomichords (the house band featuring Dickenson on guitar as well as Chris Deboda on Drums, June Suh on Piano, and Anthony Derrico on Bass) have a rocking lively sound that is well suited for the rock score crafted by the show's quartet of composers.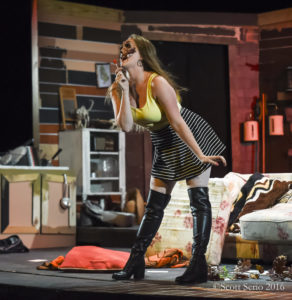 Though the size of the cast is small, everyone finds their footing in the funny show with relative ease, and when all the Candarian Demons come together for "Do the Necronomicon" it's an absolute scream. Keep an eye out for The Moose (voiced and possibly operated by Matthew Wolffe) as well, who is just stuffed full of awkward fun. Characters like Shelly (Stephanie Smith) may be short-lived when it comes to their usefulness in the show, but Smith makes an impact with her ditzy blonde routine, as well as her lollypop-sucking affectation. With her own little vocal solo for "Look Who's Evil Now", Smith holds her own as one of the gang when it comes to all of crazy scary goodness this production has to offer.
The famed five— Ash, Linda, Cheryl, Scotty, and Shelly— who start off in a manner most camptastic, chugging along in their cardboard car to "Cabin in the Woods", really give the show that jump-start of energy needed to get the audience in the mood for what's to follow. Setting the tone of ridiculousness early on, these five collegiate-aged kids— four if you take into consideration Cheryl being the stereotypical 'kid sister'— gear-up to go forth and have a great time. At a cabin in the woods. That they might be breaking into. And haven't told anyone that they're going to. What could possibly go wrong?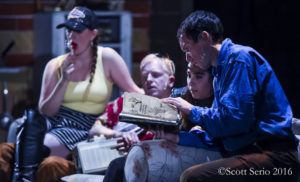 Linda (Darby McLaughlin) is the epitome of congenial and super sweet, particularly when it comes to being smitten with Ash (Mike Bliss.) Singing her dulcet duet, "Housewares Employee" with Bliss, the pair treats the number like any intensely deep and serious Broadway love ballad. The more moved they are with the number, the more hysterical it becomes for those of us watching. McLaughlin has an exceptional voice and isn't afraid to belt out her feelings, laying them thick over the absurd lyrics of the number. Befalling the fate of nearly everyone in this show, one McLaughlin gets her own verse of "Look Who's Evil now", her part goes— well— to hell in handbasket, so to speak.
Annie (Jessica Simonson) who is not a part of the original quintet, but rather a surprise arrival to the end of the first act, has a rather mild demeanor and an even softer spoken nature. Simonson, who takes the character to a bland extreme, showcasing a versatile opposition to the sweet and smitten Linda, has a level smooth voice which works well for her insane solo "All the Men in my Life Keep Getting Killed by Candarian Demons." Working the physical comedy of her breakaway costume, Simonson finds the humor here as well as in her somewhat bossy relationship with Ed (Nick Madden.) Though Madden's character is written to be a milquetoast, spineless sap of a human being, he all but runs away with the show in his 15-seconds of fame featured during "Bit Part Demon." His one moment to absolutely radiate, and with the pipes to back it up, Madden is a big burning star for all of 30 seconds— but that half minute is well worth the price of admission.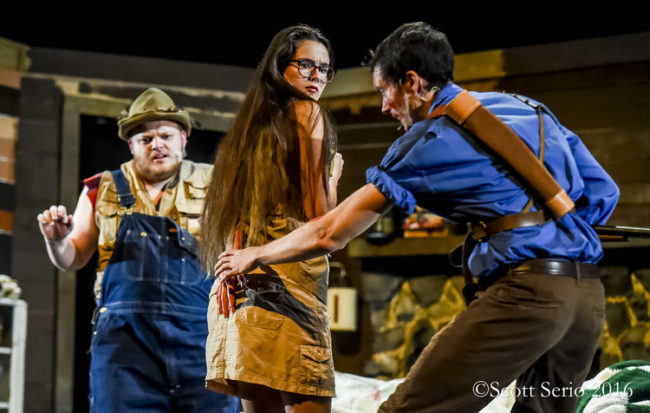 Speaking of scene-stealing ham hocks: enter Jake (Charlie Johnson.) A redneck local yokel to the epitome of caricature and stereotype, Johnson rocks onto the scene and brings a thunderous roll of hilarity with him. "Good Old Reliable Jake" might be the funniest song in the show and Johnson hams it up to the nines, fully laying into the camp, hokey flavoring, and general melotheatrical nature of the number. His antics and shenanigans featured during "Ode to an Accidental Stabbing" are as uproarious as his first solo, and he's determined to pour his blood, sweat, and tears— though mostly just his blood— into this zany song.
Scotty (Rance Denton) needs to live in a shed because he's such an epic tool. Denton captures the epitome of being a jerk, being an actual asshat, and just overall being the most heinous creature that makes the Candarian Demons look like pleasant picnicking cherubs. Denton is hypersexualized from the moment his character pops his pelvis onto the scene and everything about his is supremely raunchy. His tangoing duet with Ash, "What the F*ck Was That?" is another moment filled with killer laughs and his vocals are perfect for the harmonies he creates in the song. Knowing how to work a physical gag, Denton brings additional humor to his character once he's been set on by the trees.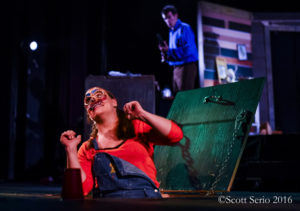 Cheryl (Angela Teague) is a modern day Patty Simcox, complete with nerdy continence, affected lisp, and a general feeling of being a super dork. Teague is strikingly versatile going from this wimpy, whiny, nerdy little sister character into the possessed lead Candarian Demon. Once Teague transitions, through her solo "Look Who's Evil Now" it's all downhill into utter hilarity from there. Chained to the basement door, constantly antagonizing Ash, and being a general riot worth a thousand laughs, Teague is front-runner for comic queen in this production.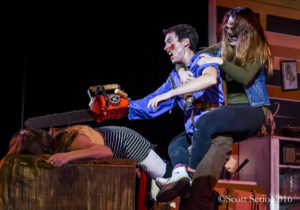 Mike Bliss wears the crown when it comes to owning the absurdity of the show. Never faltering in his over-the-top portrayal of Ash, Bliss brings an unimaginable strength to the character when it comes to being invested in survival. Balancing this with the campy nature of the plot line, the vocal requirements of his solos, and the overall physical commitment to what's actually happening on the stage, it can be readily said that Bliss is a boss when it comes to owning this role. "I'm Not a Killer" as well as "It's Time" get a sincerity behind them, in addition to showcasing his vocal prowess, that just breaks the barriers of comedy. But it's the physical intensity— like the forced-flip at his own hand behind the sofa— during the fight scene he has with his own body that keeps the audience perpetually mesmerized by his performance. Unabashedly involved, Bliss is the bomb when it comes to slaying demons and living to tell the tale.
So join them. Joooiiiin them. JOOOOIIIIIN THEM!!! You'll be sorry if you don't…and don't be surprised if the Candarian Demons turn up to steal your soul if you don't!
Running Time: Approximately 2 hours with one intermission
Evil Dead: The Musical runs in a spooktacular Halloween repertory with The Toxic Avenger at The Milburn Stone Theatre— 1 Seahawk Drive in North East, MD. For tickets call the box office at 410-287-1037 or purchase them online.