Beauty awakens the soul to act. Synetic Theater inspires such beauty that it would be a mortal sin not to act in such a manner that gets you quickly into possession of tickets to see their production of Dante's Inferno. Created by Paata Tsikurishvili and Directed by Irina Tsikurishvili, this stunning visual masterpiece is the quintessential interpretive movement ballet of contemporary theatre. Adapted by Paata Tsikurishvili and Nathan Weinberger from the poem by Dante Alighieri, this innovative retelling literally spins poetry into divine motion. A striking series of dances strung seamlessly together through evocative silent storytelling all set against the backdrop of Resident Composer Konstantine Lortkipanidze's astonishing score, Dante's Inferno is a mind-blowing, phenomenal experience that will easily render theatergoers across the District speechless.
There is indescribable majesty not only in the sheer breathtaking beauty of Scenic and Costume Designer Anastasia Simes' work, but also in her ability to fluidly connect her aesthetic to the project's overall lifeline. The craggy cavernous interior of the space, accentuated to appear at times demonic by way of illumination and shadow (compliments of Lighting Designer Mary Keegan), consumes the space in both a physical and metaphorical sense. Simes' strategic placement of hidden floor panels with pull-up hatches perpetuates the illusion of descending further into the circles of the inferno. Simes' nuanced use of particular fabrics allows for the illustrious extension of these visual fantasies to converge on the scenic scape of Alighieri's poetry. Demons and various incarnations of mortal sin are exactingly articulated through Simes' ingenious design work, wound intricately into the motion of the play with colors and textures that support and augment the vivacity of the production values.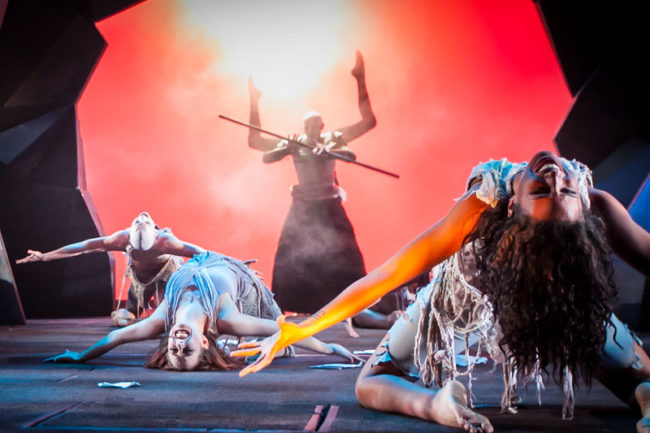 Harmonious synchronization of the sublime variety is what befalls the eyes and ears of those who attend Dante's Inferno. With Director of Music Irakli Kavsadze taking the original compositions of Resident Composer Konstantine Lortkipanidze and aligning them against the moving components of the production devised by Paata Tsikurishvili and Directed by Irina Tsikurishvili, interpretative dance theatre has never worked so beautiful in tandem to create contemporary art against an iconic classic than it does in this production. In addition to the artisanal craftsmanship that is readily visible in the show's narrative as expressed through dance and motion, Fight Choreographer Vato Tsikurishvili layers paralyzing moments of scintillating moves throughout the piece. This trio of talented visionaries work together to achieve theatrical brilliance, with so much happening that the experience is a fully loaded one just to drink it all in.
The score is haunting; the mesmerizing sounds often sounding otherworldly and are both emotionally and physically informative of Movement Director Alex Mills' approach to the work. The marvelous wonder Mills manages to capture in the way the denizens of the production— in particular the Souls— move is captivating. Leaps, acrobatics, spins, dance steps, even the overall contortion of bodies ensnares the audience's attention. There is an unbelievable magic which Mills imports to the performers; those playing Souls appearing to move not of their own accord when being pulled or dragged by unseen forces hither and thither, up from and down into hidden compartments of the stage. Mills treats motion as the universal language of the piece, with Lortkipanidze's musical compositions as a fluent interpreter to further unravel the tale as Dante traverses through the nine circles.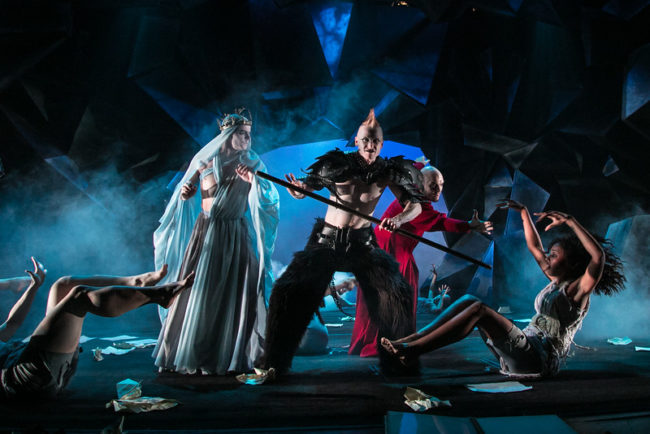 Watch for 'The Deceivers', with their eerie calliope music and visual effects early on, as well as the way Mary Keegan's Lighting comes into play to give a harrowing shock to the scene in 'The Forest of Suicides.' Paata Tsikurishvili and Irina Tsikurishvili send a powerful message with 'The Wrathful' scenic exploration where the movements send shockwaves of militaristic war resonating out over the audience; this is a stark contrast compared to the revolting imagery— by way of elusive staging and lighting effects— witnessed in 'The Greedy.' With so many utterly shocking visual and aural elements to the production it's impossible to praise them all.
Everything from Souls to flames, the core ensemble of performers (Lauren Ashley, Justin J. Bell, Katrina Clark, Shu-nan Chu, Philip Fletcher, Anne Flowers, Chris Galindo, Emma Lou Hebert, George Kamushadze, Kathryn Elizabeth Kelly, John Millward, and Chris Willumsen) are the building blocks of the production's foundation. Each with their own unique personality, reincarnated multiple times over, finds a thread of narrative fabric and pulls at it, drawing you into the world of the inferno. Whether it is Lauren Ashley, serves as Francesca during 'The Lustful', dancing in a demonically frantic tantrum with Dante and whirling her body about in an unabashed fashion, or Chris Galindo, who's brutally agonizing facial expressions as the Corrupt Pope most expertly capture Alighieri's sentiment on heretics, everyone is expressed in such a fashion that they are an unwaveringly integral part of the tale.
Those taking on the roles of demons— Justin J. Bell, and Philip Fletcher, who also takes up the title of Satan— have a tainted distortion all their own that runs cold through their bodies influencing their physicality in such a way as to truly inspire fear. Both Bell and Fletcher leap and flail about in a menacing manner, sparking all sorts of brutal imagery throughout, particularly when calling souls up from or casting souls down into the depths of the stage and its hidden floor traps. This is a sharp contrast to the holy Virgil (Alex Mills) whose costume aligns with his sweeping angelic movements. A pillar of physical strength as he drifts through his scenes, Mills displays the qualities of a guide fortified with cherubic energy, though matured in its development.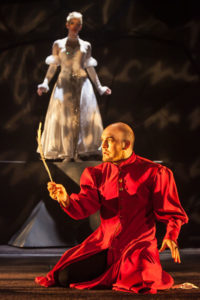 It is Mills interactions, so often with Dante (Vato Tsikurishvili), that showcase and strengthen the bond between storyteller and narrative guide. Tsikurishvili, who is wildly expressive both physically and with his facial features, finds himself more often than not traversing the circles of hell without his angelic guide, but when they are seen together, the interplay is striking. Tsikurishvili is phenomenal as Dante, drawing us into the nightmare that has become his world. Framed in such a way that this could very much all be a figment of the poet's restless mind— up to and including his interactions with the graceful Beatrice (Tori Bertocci)— Tsikurishvili presents the character of Dante in such a way that we are forced to experience the inferno through his eyes; this is a remarkable and extraordinary approach to not only the character but to the story on the whole.
Such a visceral and evocative production deserves praise in of the highest caliber, but words do such minimal justice to the poetic wonder on display at Synetic Theater. The truest justice of all, and in a sense the most rewarding of paradises, is to go and see the production before it closes.  
Running Time: Approximately 100 minutes no intermission
Dante's Inferno plays through October 30, 2016 at Synetic Theater— in the Crystal City Shops at 1800 S. Bell Street in Arlington, VA. For tickets call the box office at (866) 811-4111 or purchase them online.