Taut sails and fair winds! Load the cannons and hone blades— you're bound for Tortuga! Baltimore Rock Opera Society is taking to the high seas with their second all-original work of 2016, Brides of Tortuga. Debuting on the successful tailwinds of Chronoshred: The Adventures of Stardust Lazerdong and the remount of Amphion, this swarthy conclusion of the 2016 season serves as a female-empowering vessel of nautical revelry with great creative potential sprinkled liberally throughout the production. Originally conceptualized by Kris Hanrahan, this piratical adventure— Directed by Deirdre McAllister with Musical Direction by Ruby Fulton and Carson Korman— dares to push the company into uncharted waters when it comes to plot, characters, and musical style. Buck up and be ready, are you willing to go seafarin' with the BROS?

Less of a disclaimer and more of an apology for not being able to individually credit the hundreds of people involved in a BROS production— from start to finish and every step along the way— because to do so would require an infinite listing of names and nothing more, it needs to be said that the creative process and finished product of a Baltimore Rock Opera Society musical never ceases to amaze, despite some technical hiccups and glitches all along the way. The primary drawbacks this time around include microphone issues, a lack of musical composition to underscore the labor-intensive and clunky scenic changes, and some pacing difficulties— many of which are owed to the aforementioned complexities of the scenic shifts. While these are faults that bare mentioning, it would do the creative team as well as the performers a great disservice to linger on them for long as the overall result of the tremendous effort involved in the making of Brides of Tortuga is an excellent one.
The Writing Team— Ruby Fulton, Sarah "Flash" Gorman, Mike R. Martino, Pat Storck, Zach Yarosz— has developed an intriguing tale that in places could use a dab more fleshing out but on the whole catches the attention right away. Shifting focus from absurd space-misadventures (a la Stardust Lazerdong) or the ever popular mythology track (a la Gründelhämmer), Brides of Tortuga lands the BROS community on the high seas for sailing adventures that chronical Lott and her band of roguish female sailors once they cross paths with Mary the barmaid. A great deal of the music is subtler and of a more operatic inspired vein of rock than the tunes that are oft associated with a BROS show, though fear not! Numbers like "Hell or High Water" and "The Pirate Brides" feature that heavier rocker edge which many have come to recognize in BROS' shows.
Sets Designer Joey "Twoplaids" Martin and his dozen plus team of assistants creates realistic ships, though somewhat cumbersome, for the show. The enormity of these set pieces marks par for the course when it comes to their magnitude and sheer volume; the detailing in the scenic work of their construction results in a pleasing aesthetic. Costume Designer Jacob Whayne Dillow, along with his dozen-membered team, keeps the sartorial selection simplistic. This allows for a greater focus on the story as it unfolds, but to Dillow & Crew's credit, both the outfits of The Fop and Louis are gilded in decadence, as are the satiny dresses of Fayette, Genevieve, and Ivonne. Keeping the principal ladies in more ordinary outfits shows a stark comparison between the lives of the societal select and those scraping by on their wits.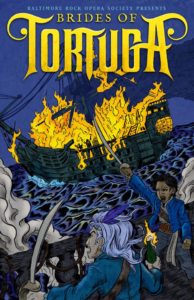 The band, dubbed Scurvy, is guided by Musical Co-Directors Ruby Fulton and Bandleader (also bassist) Carson Korman. Despite the heavy nature of some of the musical numbers, Fulton and Korman do an exceptional job of keeping the volume balanced so as to not overplay the performers. This tremendous feat is accomplished without compromising the intensity of some of the more driven songs, like "Hell or High Water." Adding to the clarity of the overall musicality of the show, Vocal Director Greg Bowen gets a roaring sound out of the ensemble as well as individual soloists with great consistency throughout the performance.
There are a great many stunning visual elements to the production, not the least of which are the BROS signature Shadow Puppet work. Designed by Chris Reuther, with an assisting team of eight to support his design work, these haunting figures assist with the spooky storytelling that occurs on deck of the commandeered ship, giving the nautical nightmare of a tale an ominous yet deeply pleasing aesthetic to accompany the smartly penned lyrics. Projections Designer Kevin Blackistone creates the much needed illusion of an endless sky above the ship, which assists greatly in suspending the audience's disbelief when it comes to the setting. Night-sky projections with stars are Blackistone's crowning glory when it comes to an awe-inspiring aesthetic.
With high-seas adventures no doubt comes swashbuckling. Fights Director Erich Poch falls somewhat short in this department as a great many of the sword-clanging spars feel sluggish and look highly presentational. This lackluster violence is, however, atoned for by the Props & Gore design trio comprised of Jessie Delaplaine, Zach Yarosz, and Margaret Bromilow Peterson. Aided by nearly a dozen and a half members of the Props & Gore Team, Delaplaine, Yarosz, and Peterson bring some delightfully grotesque bits to life during the production, not the least of which is the tar-covered severed head of one of the characters.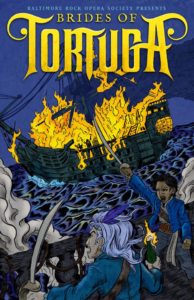 There's talent aplenty in the production, even among the minor character roles— many of which are assigned to the men. Fop (Derek Vaughan Brown) pops out immediately with his absurd costume but delectable vocals featured in "Foppish Hero." The same too is true of Louis (Bobby Harris) whose madcap presentation of the flamboyant French king is hilarious. Though it might just be Samy El-Noury, as Peter, who steals the minor character cameo spotlight with his hysterical delivery of a single line— "That's a god-damn big ship." El-Noury's character is written as an integral thread to Mary's plot, though Peter's words are few. Responding physically to everything happening around the character, El-Noury delivers a refreshing vibrancy to the role and finds a firm-footed place in the story as it unwinds.
With nearly a dozen female leads it comes as no surprise that the main antagonist arrives as John (Matthew Casella.) With robust vocals featured heartily in both "Symbol of Anarchy" and "In Clotho's Grip", Casella holds his own amid the sea of rogue female characters. There is an underlying angst that drives his character forward, particularly when he is confronted with Lott, and Casella manages to express this emotional turmoil in a way that feels genuine.
Fayette (Erin Reid), Genevieve (Martha Robichaud), and Ivonne (at this performance Sarah "Flash" Gorman) are three unsuspecting women who find themselves rescued from a life that they were unaware from which they needed rescuing. Reid, who at times appears to be the leader of the group, dips into a bizarre series of interpretive dance movements— some of which are done without musical accompaniment— and create the illusion that her character might be suffering a sort of madness. All three performers add even toned harmonies to the titular number "Brides of Tortuga."
Each of the renegade rebels aboard the ship has a distinctive character that pops right off the deck and into lively action when the time calls for it. Be it Dizzy (June Keating) and Devorah (Caitlin Weaver) who are all but inseparable in their antics, or Radmilla (Kay-Megan Washington) and Edana (Danielle Robinette) who bring seasoned salty knowledge to the forefront of their experiences, each of these featured females finds their place in the tale with gracious ease. Cecilia (Allison Hicks) and Abiona (Petrice Blemur) are much the same, lending their lovely voices to the piratical ensemble for "Brides of Tortuga" and "Hell or High Water." Tabeer (at this performance, Caitlin Rife) takes up a particular attitude as she is second in command to the wildly driven Lott.

Dueling female leads fall to the shoulders of Rachel Reckling and Emily Classen, playing Mary and Lott respectively. Though both have rich tenor ranges their characterizations could not be more different from one another than night is from day. While at first the story appears that it belongs to Classen's Lott, it is later discovered to be more of Mary's tale. Both Reckling and Classen do exceptional jobs of squaring off with one another— vocally, emotionally, and physically— in addition to reacting against the other characters. Classen is a powerhouse vocalist whose true vocal resplendence shines during "Let Chaos Be my Savior" while Reckling showcases her impressive talents most soundly during "The Pirate Brides." Spoilers prevent further discussion on their tremendous ability to sing and act, but know that they all but carry the show between them, making it well worth the investment to see the production.   
So give no quarter, show no clemency and bound yourself for Tortuga! Set sail with Brides of Tortuga or walk the plank of eternal defeat— get your tickets to see this show before it vanishes o'er the horizon into the mist of no return.
Running Time: Approximately 2 hours and 45 minutes with one intermission
Brides of Tortuga plays through Saturday November 12, 2016 with the Baltimore Rock Opera Society on the mainstage of the Chesapeake Arts Center— 194 Hammonds Lane in Brooklyn Park, MD. Tickets are available for purchase at the door or in advance online.