Come on in and sit right down, and take a trip down memory lane, as Dundalk Community Theatre presents a spirited version of Always…Patsy Cline. Originally created and directed by Ted Swindley, Always…Patsy Cline features over 25 songs performed by Cline from 1957 to her untimely death at the age of 30 in 1963. Directed by Eric J. Potter, with Music Direction by Charlotte Evans, and Stage Management by Margie Lake, Always…Patsy Cline is sure to please fans young and old.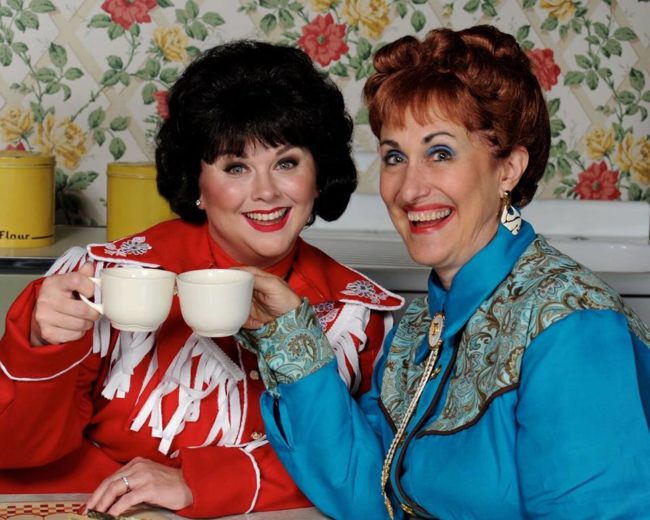 Based on a true story, Always…Patsy Cline tells the tale of Patsy Cline's friendship with Houston housewife Louise Seger. Having first heard Cline on the "Arthur Godfrey Show" in 1957, Seger became an almost obsessed fan of Cline's as she constantly hounded the local disc jockey to play Cline's records on the radio. In 1961 when Cline went to Houston for a show, Seger, along with her boss and boyfriend, arrived an hour-and-a-half early and, by happenstance, met Cline who was traveling alone. The two women struck up a friendship that ultimately led to Cline spending the night at Seger's house— a friendship that lasted until Cline's tragic passing.
Director Eric J. Potter has done an excellent job making sure this two-person show moves along at a nice pace. There is an air of organicness as he allows the actors to react in the moment, as they often interact with the audience, including some sing-a-longs.
Marc W. Smith has a full plate with this production, serving as the Scenic, Lighting, and Sound Designer, as well as the show's Technical Director. And he does not disappoint. Smith has broken down Dundalk's large stage into three sections, with Louise's kitchen on one end; a bandstand up stage center, (complete with a nice homage to the Grand Ole Opry) which houses the six-piece band (more on them later); and the "honky-tonk" where Louise first meets Cline, on the other end. Smith's sound design was impeccable, and the lighting effects in the various locales often had you feeling as if you were attending a concert. Properties Manager Amy Vickers, has crafted a perfect 1950's kitchen, and a beautiful jukebox in the honky-tonk. Costume Designer Larry Munsey created no less than ten outfits for Ms. Cline, effectively distinguishing not only Cline's different performances, but also different parts of her identity: classic cowgirl, glamorous night club singer, robe wearing everywoman, and put-together, independent woman.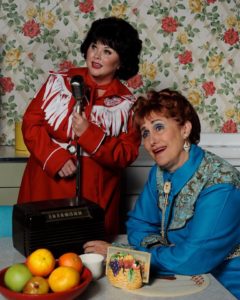 Music Director Charlotte Evans, who also doubles as the show's Conductor and piano player, has the band running like a well-oiled machine. The band's tempos were on point all evening, and the inclusion of a steel-lap guitar perfectly rounded out the orchestrations.
Tiffany Walker Porta Burrows is simply marvelous as Patsy. She looks the part, and more importantly, sounds the part, complete with her stylized enunciation, slightly stiff stage patter, and lilting country twang. Performing 27 musical numbers is no small feat, but Burrows handles it with the ease of a professional. Patsy Cline herself would no doubt be proud of Burrows' performance.
As wonderful as Burrows is as Cline, the night belongs to Maribeth Vogel as Louise Seger, who gets to tell the story, and is more than convincing as Cline's "super-fan." Vogel's comedic timing is impeccable, and she has the audience eating out of the palm of her hand within her first moments on stage. She's sassy when interacting with members of the audience, or when trolling for dance partners. Vogel also displays an endearing vulnerability while telling the story of learning of Cline's death, and in sharing one of the letters that Cline wrote to her.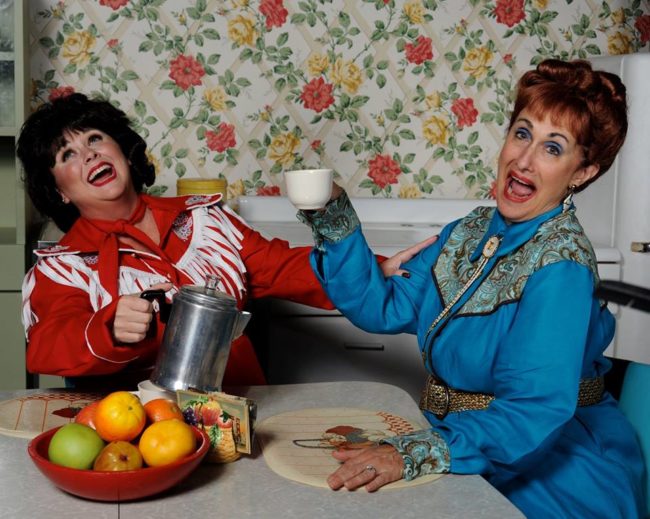 For those who are Patsy Cline fans, this show will provide an emotional connection with a performer who passed away tragically much too young. For those unfamiliar with Patsy Cline's music, this is a great way to become familiar with her songbook, which includes such country classics as "Crazy," "Honky Tonk Merry Go Round," "Walkin' After Midnight," and "I Fall to Pieces," among many, many others. It was clear at the performance that I attended, that many people were familiar with Cline's music. In particular, there were two elderly women sitting behind me, who sang along with every song in the show. Normally that would drive me to anger, but I could only smile, knowing how much Patsy Cline's music must have touched them.
Get your tickets now, because you'd have to be "Crazy" to miss this one!
Running Time: 1 hour and 55 minutes with one intermission
Always…Patsy Cline plays through plays through November 6, 2016 at Dundalk Community Theatre on the main stage of the John E. Ravekes Theatre in the College Community Center of the CCBC Dundalk campus— 7200 Sollers Point Road in Baltimore, MD. For tickets call the box office at (443) 840-2787 or purchase them online.