Nothing that's formal! Nothing that's normal! But something for everyone at Twin Beach Players— a comedy tonight! Old situations! New complications! Nothing portentous or polite! Because tragedy tomorrow— A Funny Thing Happened on the Way to the Forum tonight! Directed by Sid Curl, with Musical Direction by Katie Evans, this Sondheim classic will tickle your funny bone for a good two hours' stage traffic over the course of the evening! There are servants running amuck, a master in the tub, courtesans in the house, and a virgin on the roof!
An earnest community effort comes forth when it comes to the design elements of the production. Whether its Sound Designers Robert Snider and Rick Thompson— who do an excellent job of synchronizing the slides, thumps, and booms, during the chase scene— or Lighting Designer Sid Curl who keeps the lighting vibrant but simple for this crazy comedy. Set and Scenic Designer Wendy Cranford also brings out a world of construction beauty in her three different Greco-Roman inspired houses, each one looking different from the others so as to set them apart. The House of Marcus Lycus even has sculpted reliefs in the columns!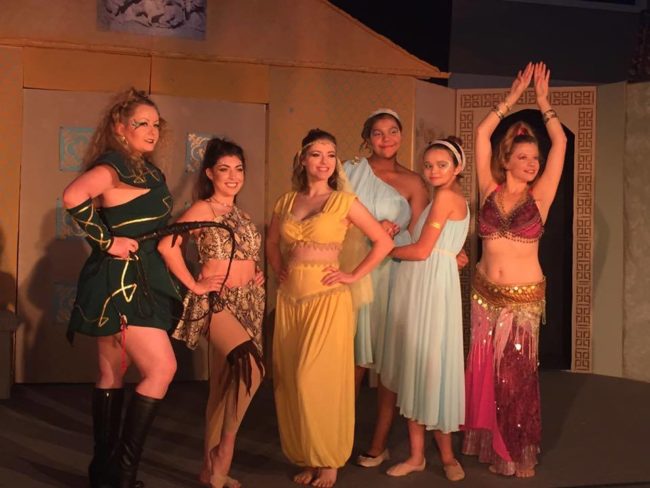 All hail Costume Designer Dawn Denison who crafts some of the most intricate looking era-inspirations for everyone featured in the production but especially the Courtesans of the House of Marcus Lycus. Each courtesan receives a wildly imaginative dress that is suited not only to her figure and form but to the unique personality that goes along with her. This makes the dance routines, conceptualized by Choreographer Sherry Dennison, much more effective when they're being performed. Perhaps the most spectacular spectacle in the sartorial selections on display by Denison is the glorious green 'dominatrix' duds worn by Gymnasia (Jenny Liese.) This is second only to the voluminous amethyst toga-inspired dress featured on Domina (barked beautifully by Lindsay Haas.) There can't be enough wonderful things said about the combination of work coming forth from Denninson's dancing and Denison's costumes particularly in regards to tantalizing Tintinabula (Arianne Dalton), the persuasive Panacea (Brittney Collins), the gorgeous Geminae (Mikayla Ann Ford & Aaliyah Roach) and the vivacious Vibrata (Hayley Miller.)
Though there is a bit of a stifled hiccup here and there in the show's overall pacing, mostly during the epic chase scene, the play on the whole rolls along nicely and the singing for the most part is robust and hearty, delivered with good spirits and with some humorous intent. Director Sid Curl works through numbers like "Everybody Ought to Have a Maid" with giddy delight, letting the four performers featured in this quartet really show their enjoyment of the song and jovial little dance routine.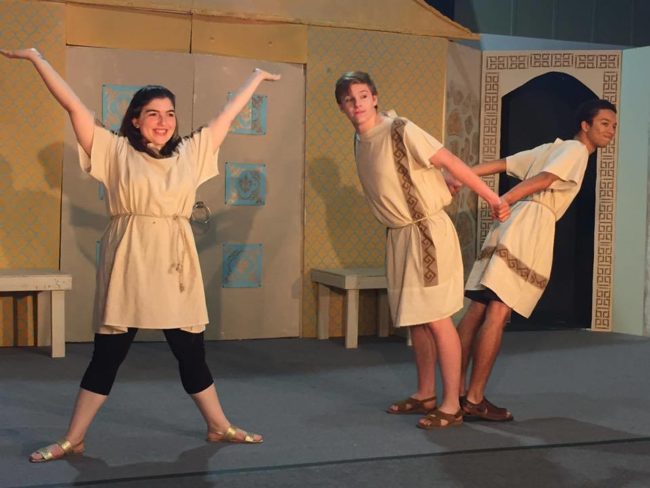 Scene-stealing Erronius (Phil Cosman) deserves quite the nod for his dedicated physicality. With hysterical mincing footwork, cartoonish in nature, when he arrives for his laps around the hills, he all but runs away with the show in those moments. Lindsay Haas, as the demanding Domina, has similar moments when it comes to calling on the attention of the audience, though her character is written more prominently into the script. It's the Proteans (Andrew Brinegar, Annie Gorenflo, and Tyler Vaughn) who carry a great deal of the show's comedy on their shoulders. With Brinegar and Vaughn goofing off a good deal— especially as the falsetto-pitched eunuchs squeaking "into the house" whilst dallying about at the House of Marcus Lycus— and Gorenflo stuck in their midst, there isn't much this trio of teasing tomfooleries can't do. Gorenflo even puts her improvisational skills to the test, delivering a critical set piece, which somehow missed its entrance for its scene.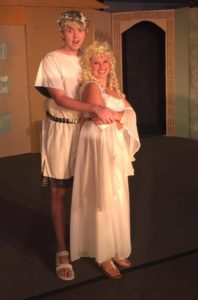 There's comedy to be had all around, especially when it comes to the ingénues, Philia (Katie Evans) and Hero (John Carter.) Both have dulcet and delicate voices and when they come together for their duet, "Lovely" it's simply delightful. Carter also carries the duet "Impossible", a song shared with his father Sennex (Rick Thompson, who has his own unique handle on comic timing.) It's Carter's facial expressions, which are hysterically over the top, that match perfectly to the bubbleheaded blond nature with which Evans plays Philia that makes the pair a match made on Olympus.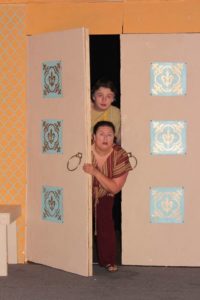 Every good story has a narrator and in this case, Pseudolus (Angela Sunstone) takes on that role. Constantly scheming and working an angle, Sunstone gives a quirky comic life to the character and really finds her footing when it comes to humorous delivery and pulling faces. Aided by the scene stealing comic calamity, Hysterium (Aidan Davis), there are laughs a plenty for all every time they end up on stage together. Davis is an absolute delight in the eponymous role, taking both the humor and hysterics of the character to new heights. Watch closely for both "I'm Calm" and "Lovely (Reprise)" as they are some of his finest moments on stage.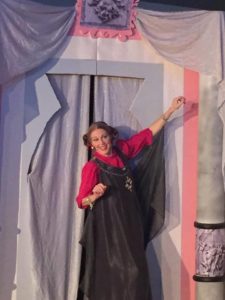 It's a coin toss when it comes to true scene stealers in this production. The boldly brash Miles Gloriosus (Kevin McAndrews) might have run away with it hands down simply owing to his bawdy nature upon initial arrival had it not been for the kooky, zany Jean Louise taking on the role of Marcus Lycus. Twisting Louise into the traditionally masculine role brings a whole new level of hilariousness to the character, and Louise's well recognized ability to play heightened caricatures well serves this casting choice. McAndrews has some funny facial expressions as well, but when it comes down to it, Louise's entire cowering in fear and bellowing "unclean" is what triumphantly takes the show's thunder.
There really is something for everyone— whether you're looking for a pretty little picture of a love story, a wild and whacky comedy of errors, or heck— a virgin on the roof! Be sure to hop the next horse down to Twin Beach Players and catch A Funny Thing Happened on the Way to the Forum before the session is dismissed!
Running Time: Approximately 2 hours and 20 minutes with one intermission
A Funny Thing Happened on the Way to the Forum plays through October 30, 2016 at The Twin Beach Players in the North Beach Boys & Girls Club— 9021 Dayton Avenue in North Beach, MD. Tickets are available for purchase at the door or in advance online.