Love. Deception. Soap Opera. Kiss. An evocative new work is pushing the conversational envelope at Woolly Mammoth Theatre Company in the 2016/2017 season. Revolving around the melodramatic relationships of four individual characters inside a soap opera, but going so much deeper than that simple premise, Kiss is a story like no other. In a TheatreBloom exclusive interview, we sit down with Woolly Company members Gabriela-Fernandez Coffey and Tim Getman, who are starring opposite one another in Kiss, in addition to being married in real life, and hear what they have to say about the experience.
Thank you both for taking a moment to sit with us! If you want to give us a quick introduction, we'll get started.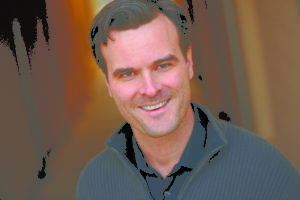 Tim Getman: I'm Tim Getman and I've been in the DC area for what— well, my whole life really, I grew up here— but I've been working here professionally now for 15 or 16 years. I've been a Woolly Company member since 2011? Is that right?
Gabriela Fernandez-Coffey: No…I don't think it was that early.
Tim: When did we move back?
Gabi: 2012…2013…
Tim: It was the year that Appropriate and Detroit were produced. That was the year we joined the company. In the last year, I've done some interesting stuff. I was at Ford's for the Women's Theatre Festival with a play called The Guard. Then I was up in Baltimore doing Outside Mullingar with Everyman Theatre. There was Father Comes Home from the Wars at Round House and I just finished Hand to God at Studio Theatre.
Gabi: I'm Gabi, as the case may be. Here I'm playing Bana in Kiss. The last show I did at Woolly was The Nether this past spring.
Tim: Oh, I forgot about that one. We were both in that one here at Woolly together.
Gabi: I think the show I did before was Destiny of Desire at Arena Stage, which funny enough was another ode to or response to the soap opera form which you see here in Kiss. It's done in a very different way, but there are some interesting common threads from both writers in terms of looking at the soap opera as a popular form and one that is able to hold not just the fluff and romance that we initially think of with the soap opera form, but also some really interesting populist political perspectives.
It was suggested to me by the powers that be that you two would be perfect for an interview because you're married in real life.
Tim: That's correct.
Gabi: We are married.
Tim: We just celebrated our fifth wedding anniversary in mid-September. We have a two-year-old who just turned two, two days after our anniversary, so it was a big September for us.
Gabi: Being back at Woolly is also meaningful because it was here at Woolly that our friendship and later our relationship began when we were both working in a play called Gruesome Playground Injuries. We were working on GPI, we became friends, and soon afterwards we became involved. We've worked together in various theatres, Theater J, Studio Theatre, but we mostly find ourselves working together when we come back here. We were together in The Nether and in Detroit.
Tim: It's interesting because I don't think we've ever played actual couples. We always play opposite of each other. We're always with other people.
Gabi: We're with other people in this one as well.
Tim: And in The Nether we actually played each other. Well, different iterations of each other.
What is it like working together as a married couple and what sort of challenges does that present?
Tim: I don't know. I always say it's mostly— we get along better at work than we do at home.
Gabi: We do! It's a very familiar landscape for us.
Tim: Because we met working together, that's very familiar. It's not like we formed the relationship and then started working together and because of that there's tension. It's not like that. It's very easy for us to work together. We talk to each other probably differently than our fellow cast members. But there's a respect and a healthy giving each other space. We work very differently so it's important that we give each other that space.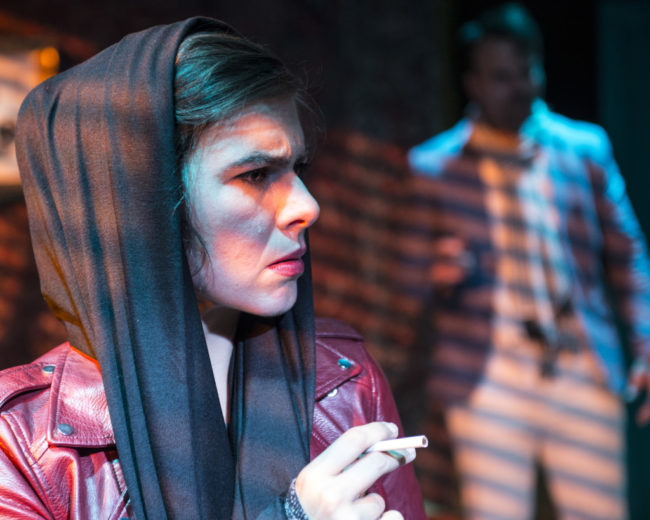 Gabi: It's actually really nice to be able to continue the conversation, though, when the rehearsal is over. To have somebody that you can continue to share your thoughts with, "I was just thinking about this" and to be able to keep the thread of your own process going in an externalized way? I love that.
Tim: The framework of our lives at work and what's going on in them is already there. It's not like going home to complain about your day to your spouse and having them say "Yes, dear" but them having no idea what's going on. We're in the context together so we can have continued table work or brainstorming as we go.
Gabi: In terms of challenges, though it's actually lovely and easier and simpler to work together in regards to the logistics of our lives, but our daughter graces us with great patience and our parents are a tremendous support in making this happen.
Tim: We both grew up in the area.
Gabi: Both of our parents are here so they take care of our daughter. During tech week and opening week of a show like this? We don't see her for a good chunk of time. And then we miss her. And in that sense it's by the good grace of our family that we're able to do this.
Tim: That's actually the biggest challenge. It's not the work that's the challenge, although the work is challenging and that goes without saying, it's figuring out the logistics of how to have a family and still be working. During her first year, we staggered our work much more so that one of us was always with her. But more recently, this year especially, we've worked at the same time, which is challenging.
What is it about Kiss that drew your interest and made you want to come and audition to be a part of it?
Gabi: It's Guillermo's work. The playwright, Guillermo Calderón is somebody whose work I have been following that I have been desperately inspired by and deeply motivated by since I first saw his work in Los Angeles. His work, Diciembre, a play which he wrote and directed and then produced with his own company, came to the states from Chile after touring internationally back in 2010/2011. Soon after that, I moved back to DC, we became company members, and I remember saying to Howard (Artistic Director Howard Shalwtiz) just mentioning to him how much I loved Calderón and his company's work. Howard had said yes, he had seen his work also. Nothing was in the mix and then all of the sudden here it was in this season.
I had been thinking about stepping away from performing quite so full time. I've been wanting to give more time to education and I had been on that track. But then Howard was like "we're doing a Guillermo Calderón play."
Tim: And then Yury (Director Yury Urnov) approached us about it.
Gabi: So Guillermo's work is finally coming to Washington, and at Woolly, and Yury's directing it? I cannot not be a part of it!
Tim: And we've been trying to work with Yury for a while now.
Gabi: Yes. And it is incredibly exciting to have Guillermo's work coming to DC specifically because of the marriage of the complex conversation with the theatrical form and the very sophisticated conversation with what is happening in terms of contemporary global politics. What he's saying in the play both about the form and global politics is remarkable.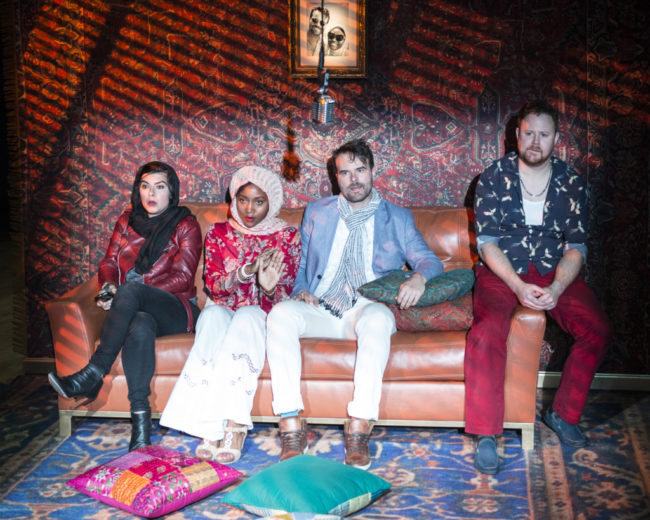 Tim: And he challenges the form. It's not like what you see in DC. You see pretty straight up theatre. There are plays form, a plot, structure, and characters. And then there's Woolly. Woolly is the place that really pushes the boundaries for that. But even this play, and I don't want to say too much about it, but it really challenges what we think of as the theatrical form. It really looks at it from the outside and it really digs in. It questions; it both honors theatre but also questions the values, the worth, and limitations that it has.
You had both mentioned being very excited about working with Director Yury Urnov, what has that been like?
Gabi: Awesome.
Tim: It's been great. He is the perfect director for this play. He comes from an Eastern European background so you get that different use of the form. The way he talks about it, we should do theatre because we should do things in theatre that we don't see on TV that we don't see in film. The theatrical form should open up and explode, and give the audience an experience of more than just watching people on stage talking to one another.
Gabi: One of the things he's offering is the consideration of the theatrical form not as a literary tradition. The fact that this is a performative tradition and that that includes elements that often we forget about in the American theatre. One of those elements is genre & style. That is one that is really explored in this play.
Tim: The audience, hopefully, will be on the edge of their seats. Hopefully they'll be jarred and taken aback, trying to keep up and leaning forward and not really sure what the twists and turns are going to be. Hopefully they'll be wondering what's real and what's not real and what's performative and what's actually lived, what's on the page.
Gabi: Do you remember what he said in rehearsal? Something about everything being possible. It had something to do with the relationship we have. It speaks a lot to the way he's working and also to the themes in the play itself. The question of everything being possible, nothing in terms of meaning or action is impossible.
Tim: Action, intention, physicality—
Gabi: It's not—
Tim: It's not anchored in reality. Sorry.
Gabi: Go ahead.
Tim: No, I'm sorry. Go ahead.
Gabi: Nope, I lost my train. You go.
Tim: Sorry. It's not specifically anchored to the text. You're used to just reading a text, digging into the text, and saying that everything comes from the text. But there is so much more of a world of creation even outside of the text. That's something I think Guillermo is challenging us to do.
Gabi: Words are both everything and nothing. That is something that is there too. The words are there and they do have meaning as well. But the meaning isn't something we are construction. And this is a fundamental thing about working with Yury, "meaning making is an act of creation." Everything, every word and every action is something that we are consciously creating in the moment and it doesn't have any inherent meaning.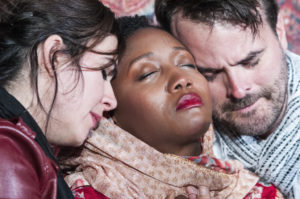 Tim: And it doesn't have to be literally connected to what you're saying, which is something that we as American Theatre People need to be challenged to. The thing that Howard always emphasizes is that the tension lies between word and action. There should be a tension in what's being said and what's being felt and seen.
Gabi: Because those are actually what we experience in the world.
What has this experience of working on Guillermo Calderón's Kiss, with Yury Urnov taught you about yourselves?
Gabi: That's a good question.
Tim: It's a very short process. It was a two-week rehearsal process and then we were into a week of tech. That was and is challenging because we're not used to that. But it does make you leap in with both feet. It also magnifies your— I don't want to say shortcomings— but the things you need to work on. It places the focus on things in a different way.
Gabi: I think that there is something about working in the theatre, I think a lot of people have this experience, but whatever play you're working on is the exact play that you're meant to be working on in that moment of your life. And there's always this deep relationship that you end up having. I find that I couldn't be working on this play right now if I had not just down Destiny of Desire. There is a natural relationship and dialogue that the work you are doing has with itself. Where I've been, as I'm coming into rehearsal process with Kiss, is that I've been beginning to ask myself, "what am I doing as a performer?" It's very easy in the DC area to work as an actor very consistently, which is rare in this country, and to be able to make a living from it. But one of the things that happens when work is so available and you're working as a freelancer in the field, there is a degree to which you stop dialoguing with your very personal creative mission, or artistic purpose. You stop asking yourself why you do the work you do.
I think that this play is really helping me ask that question in a stronger way and a way that is a little bit more out loud to myself. It's also inviting that question communally. What, as theatre makers, is our job? What makes our work of value? What is our relationship to our community? Is our work of value? That's an honest question. And if it is of value, what parts of myself do I need to bring to the table? I think the process of performing this play is helping me experience what is possible with the theatrical form when the theatre is actually trying to respond to what is happening in the world around us. What do I need to bring as an artist and will I bring it? That's an invitation as an artist, and a provocation to myself if I'm going to stay working as an actor. There is a lot that's needed in this world right now; there are a lot of good ways to use your energy. As these systems continue their collapse and as violence continues to increase around the world, I begin to feel like I want to make sure my energies are going to where they are needed. I think the question is if my energies are going to continue in the form of theatre, then how does that need to change? Am I still working as an agent for hire? This play is a beautiful invitation for all of us to ask who we are in the world, how we're using our energies in the world, and how we are actively responding to the truth of what surrounds us.
Tim: Everyone— the performers, the audience, the director— everyone is asked to challenge themselves in their own idea of how we relate to this art form and what our responsibility is in that. It's vulnerable. We're putting ourselves out there, asking ourselves questions and asking the audience to ask questions about what we do, and the value of what we do. That's pretty scary stuff.
Gabi: It's a lot about the relationship to otherness and the notions of otherness.
What does Kiss mean to you?
Gabi: A brief…touch…
Tim: This is going to be profound. I'm not going to be able to follow it.
Gabi: A brief touch…It's like the briefest touch with the deepest intimacy. It's the lightest touch with the heaviest intimacy. It's something that's fleeting.
Tim: I don't know how to follow up anything she's had to say in this interview.
Gabi: Kiss me, baby!
Tim: Gosh…I think in the context of this play, it's intimacy and it's love. It's what we think it is
Gabi: And it's what we think it's not. It's violence—
Tim: Can I finish?
Gabi: Kiss me, baby?
Tim: It's what we think it is…now I'm lost. It's— it's how we can be surprised by what it actually is or what it isn't. How it can sneak up on us and jar us and surprise our expectations of what we think anything is. If that makes any sense at all.
Why should people come and see Kiss?
Tim: I don't think there is anything else like this going on anywhere else. I think it will be an experience unlike anything that's been done in this town. And it's in the rehearsal hall so there aren't many seats? There's only 100 seats per show, so that's a really great reason to rush out and buy your tickets.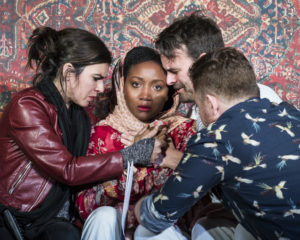 Gabi: I think this is the first time there has been a full production of a multi-person cast show in the rehearsal hall. Other companies and one-person shows I think have been done in there but this is a first. For people who have never experienced Guillermo Calderón's work? And he is one of the most important young writers in the world right now, they need to come and experience his work. It's been happening for a while now— this type of work, and the world has known about this work for a while now, and it's about time that this region got a sense of where the form is and where the form is going. It's a killer cast, a great group and a tremendous team of designers.
Tim: In a very tiny space.
Gabi: The intimacy is another part of why this should not be missed, it's going to be very personal.
Kiss plays through November 6, 2016 at Woolly Mammoth Theatre Company— 641 D Street NW in the Penn Quarter District of Washington DC. For tickets call the box office at (202) 393-3939 or purchase them online.
Click here to read the TheatreBloom Review of Kiss