If you want the world to listen, stand up tall and proud! And these sisters have the whole world listening as they raise their voices on the fourth installment of the Little Sisters of Toby's interview series. This time around we're featuring Sister Mary Robert and Sister Mary Patrick, played by Teresa Danskey and Amy E. Haynes. We sit down with both ladies to hear their take on the Sister Act experience.
Thank you both for joining us! If you'd give us a brief introduction, we'll get started!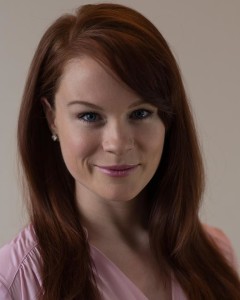 Teresa Danskey: My name is Teresa Danskey and I play Sister Mary Robert in Sister Act here at Toby's. Most recently I have been involved in theatre here at Toby's and at NextStop Theatre. I did City of Angels. I played the Step-Mother vixen who also had a very evil heart. Before that I was in South Pacific here at Toby's; I played Nelly.
Amy E. Haynes: I'm Amy Haynes and I'm playing Sister Mary Patrick here at Toby's. This summer I was the understudy for Tracy in Hairspray. I got to go in one time, yes I did, that was a great night. Before that I was in Kate Monster in Avenue Q at Phoenix Festival Theatre. And I guess before that it was Hairspray again at Purple Light Theatre Company.
What was the draw or the appeal to want to come and be a part of Sister Act?
Teresa: So last year I saw Sister Act the musical for the first time down at Riverside Dinner Theatre. It was one of my most joyful theatre experiences as a patron. When I saw it, I felt like if I ever had the opportunity to audition for this show, I would love to. Then just a couple months later, Toby's announced they were doing this show and I knew I wanted to be involved.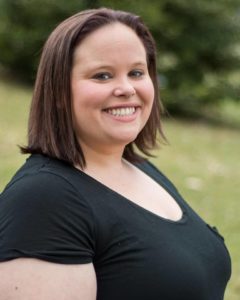 Amy: I think that my draw was a probably a little bit different. I had never seen the show, I had heard some of the music because I'm a dork and I listen to the Broadway channel on SiriusXM. I went to an all-girls Catholic school growing up— to the point where we used to sing "Hail, Holy Queen" from the movie at our liturgies. My friends and I when we were driving to school in the mornings would jam out to the Sister Act I and II soundtracks. We were slightly obsessed with it. So this really brings me back to my middle school and high school experience. We called each other sisters and this really parallels that. It brings me back too. This is also not my first time playing a nun, I did it a lot during high school, so it's taking me back to those memories too. It brings me back and gives me memories of a very nice time in my life.
That's a perfect segue. So this isn't your first time in the habit, what other nun roles have you played?
Amy: I was Sister Margareta in The Sound of Music. And then I was Mother Superior in Nunsense in high school. That's actually not the part that I wanted in that show. I wanted to play Robert Anne.
Teresa, have you donned the habit before?
Teresa: This is my first time playing a nun, much to my parents' chagrin because I also grew up very strictly Roman Catholic.
How are you finding this whole nun experience?
Teresa: Well my character is different from the other nuns because I'm still a postulant. So Sister Mary Robert is still in the process of deciding if this is what she wants to do for her life. I think like all humans, we go through this period of trying new things and trying to decide if this new thing is the right fit for you. I feel like this is a somewhat easy task to do because I draw a lot from personal experience.
Amy: For me, again— going to Catholic school, there was a time where I wanted to be a nun. I was in fourth grade and I said "I want to be a nun when I grow up." And my mother said, "No, we did not have you to not have grandchildren." Because I'm the only child. The draw for doing Mary Patrick is she is just so happy all the time. I wish I was as happy as her. I wish that I could find the joy that she finds in very simple things. I think that is the magic of her as a person and I have absolutely fallen in love with Mary Patrick through this process.
How are you guys similar from Sister Mary Robert and Sister Mary Patrick or are you similar and what are you bringing to these characters, what are they bringing to you?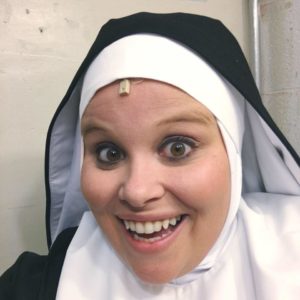 Amy: I think Mary Patrick is such an iconic part in the movie, everyone remembers Kathy Najimy. I watched the movie while we were in the rehearsal process just to see what she did. When you're portraying such an iconic role, you have to do some of the stuff. I wanted to pay homage to her while still making it my own. I definitely try to keep a very positive outlook on life and I think that is the very wonderful think about Mary Patrick. Everything is fun for her. Everything makes her smile. That's why when she doesn't smile it has such an impact on her. I just think that she's naïve, she's the second youngest, and not much older than Mary Robert, she hasn't been in the convent for very long. But I think Mary Patrick has known she was going to do this her entire life. She knew she was going to be a nun.  
Teresa: Well, for Sister Mary Robert, I wanted to make sure that I could portray, not a full journey, but a very clear journey for her because it is such a short amount of time. She starts off— I think you quoted it as sort of a mousy kind of character— very shy. She's not assertive but at the end the way she asserts herself against Mother Superior, the woman that has raised her essentially, is very drastically different. Yet she can't move from being mousy to that in just one swift move. That's really what my focus has been on, in every scene trying to change something in her so that the audience can be brought along on her journey.
What would you ladies say has been your biggest challenge taking on the habit, coming into Sister Act?
Amy: Hmm. The habits are hot.
Teresa: I was just about to say that! And I wear significantly less than the other nuns.
Amy: They are very hot! I am not complaining because I have lost weight. They are a heavy material, but they are very beautiful and I think there is no other way to do it. When we first got the habits they had a thing to help them weigh down and those were a little too heavy so we took those out. But the habits are definitely hot. And then learning to maneuver in them. Because at first when we were in rehearsal we were in leggings and shirts, normal clothes. And then you get all of these pieces and these layers and that was definitely a game-changing challenge. It's necessary— but it is very hot.
Teresa: For me Sister Mary Robert's role is more vocally demanding than what I've had in the past. The high belt and doing that eight times a week was something that I really had to work up to. I remember working with Ross (Musical Director Ross Scott Rawlings) in the first two rehearsals, not even doing my songs yet— we hadn't even touched Sister Mary Robert's music yet— we were just doing the nun stuff. And my voice was almost lost. He gave me a lot of pointers on how to strengthen my high belt. And that has really helped.
Amy: And I think that a lot of the harmonies— getting them— was tricky at the beginning. But I think now, I mean it's hard because you don't hear them while you're actually singing, but I heard videos and what I hear there sounds great.
This is not the first time for either of you working with Mark Minnick. What has that been like this time around? With his signature style of choreography?
Teresa: His high energy choreography? The last Mark show I did was South Pacific. And for South Pacific Nelly had very limited to no choreography. With this show there is a lot of kitchen stepping with much hand and arm movement. However, that also was very tolling when you consider how much we're singing.
Amy: We also have to be very precise.
Teresa: That too. But singing takes so much energy and then you add in all of this, and making sure you're doing all of the movements not just precisely but with lots of joy and intent and energy. It's exhausting.
Amy: Now compared to the track that I understudied in Hairspray, and I did only go in once, but Tracy was pretty dance intensive. In that way this show has been different. But they're very different shows so they have very different styles of dance. I think the precision gets me. And also? I'm in the front so I have nobody to look at. So I'm panicking thinking, "Oh, God! I better get this right!" Mark is such a visionary. He has such a specific image of what things should be. I think that is wonderful to work with. In having that specific image, if something is not working for you as an actor, as a dancer or a singer or whatever it is— he's willing to talk about it and help you figure it out. He is definitely a lot of fun to work with and I hope I get to do it again.
Do you have a moment in the show that really speaks to you or really defines the show for you?
Teresa: I feel like there are a couple. One is "Raise Your Voice" with all of the nuns. I feel like in a couple of years when I look back on this show, I will remember that. The other point I will remember is when I'm up in the balcony area with Sam (nunsemble member Samantha McEwen Deininger) and we're in the dark waiting to be lit and both of us are just watching Deloris in her dream and all of her dancers are dancing around her. I look forward to that every night.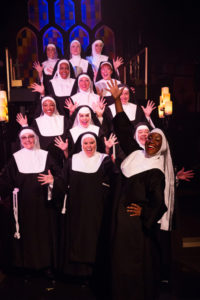 Amy: I would definitely say "Raise Your Voice"— the song is just incredible. It's perfectly stage. When we all come back in after learning things individually and there is this sound that is just so booming. I can see people in the audience— they just lean back— it's so cool. To hear it swell and to feel it swell is just a wonderful moment. I also really love the meet the nuns bit when we sing "It's Good to Be a Nun." If you look around at all the little nuances that everybody does you can see what they do and what they want their character to do immediately. I love that in a relatively short scene that you can see so much of the personalities, whether you're not saying anything or maybe saying a little too much.
What does "Raise Your Voice" mean to you?
Teresa: Hmm. I'm trying to choose one thing. I feel like it means that everyone has a distinctive voice and Deloris is trying to get that out of the nuns. Raise your voice to be represented, raise your voice to be heard.
Amy: Piggybacking, like I say in my classroom, off of Teresa's response, I think that to me "Raise Your Voice" is telling us that everybody has a voice and a lot of times— for whatever reason— it gets stifled. I think that "Raise Your Voice" is let your voice be heard, be yourself, and let everybody see who you are. That's something that is very important for people to do. Find yourself. That is absolutely what this show is about, finding yourself and finding what you mean to the world.
What is your favorite part about being a nun?
Teresa: In that number, "It's Good to Be a Nun", Mary Robert has the biggest reaction to Beth's (nunsemble member Elizabeth Rayca) line, she says "There's nothing like the rush of doing chores for Christ our Lord." I have also made Mary Robert have a larger reaction when "service" has come up anywhere in the show. So I feel like her favorite part of being a nun is actually being someone with a servant's heart.
Amy: I think for Mary Patrick it is just having that relationship with God and being so happy to share that with the world. That is one of the things that makes her very special. A lot of times people think of Catholics as being very strict and very stern. I think that Mary Patrick is able to add the fun into that while still being a devout Catholic. But she's so joyful about it and that makes her awesome.
What is your nun's one guilty secular pleasure?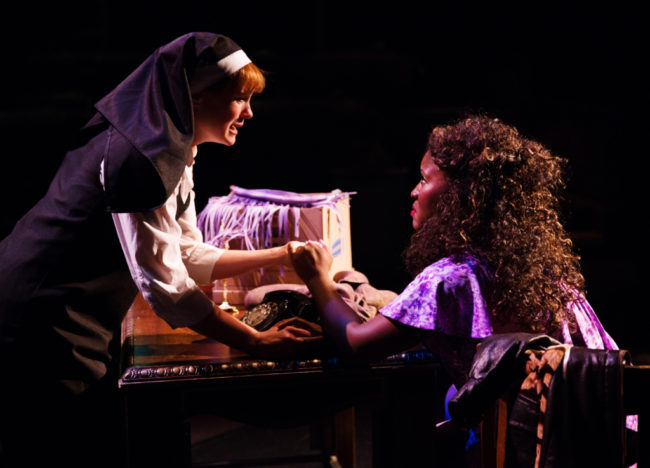 Teresa: I think Sister Mary Robert likes to listen to secular music. And sing along. I think she likes Elvis. I think she likes a lot of people, though. When we look at that jukebox in the bar scene both Sister Mary Robert and Sister Mary Patrick are like "oh my gosh! Look at this! Whoa! What does that mean?"
Amy: There are actual titles in that jukebox and every night we find a different one! We've been doing this for how many weeks now? And we're still finding new songs! I think for Mary Patrick, though, it's definitely food. Probably chocolate. I think she sneaks chocolate into her room.
If you could be anyone in the show— regardless of race, gender, age, etc.— who would you be?
Amy: I know. And I said it to Mark backstage the other day. I want to be Curtis so bad. He is so much fun. DeCarlo (actor DeCarlo Raspberry, playing Curtis) does such a wonderful job with him. I tell him all the time that I am his understudy. I love Curtis because he is so different from Mary Patrick, like complete 180 opposite from Mary Patrick. I never get to play villains, I guess people think I look too nice. I played Pennywise once, from Urinetown, but she's not really a villain. The closest I have gotten to a villain ever is Lucy in Charlie Brown. I just don't get to play villains.
Teresa: I really love playing Sister Mary Robert. I love her, especially in the second act. I really love the connection opportunity that that makes for the audience to be on that journey with her. If I do have to choose someone else, I choose Deloris hands down. I know every single one of those songs by heart now.
What is it that you are hoping people will take away from seeing Sister Act?
Teresa: Robert (actor Robert John Biedermann 125, playing monsignor) at the end of his emcee spiel says to the audience that if you feel joy then our cast wishes that as you leave this room you spread it around.
Amy: Spread the love around.
Teresa: Right, spread the love around. That is sincerely what I hope happens.  
Amy: I think the response from the audience that I have heard is that they are all smiling. Parts of this show are very heavy but at the end of the day it brings happiness to people. Going out and being inspired to spread that love around and to raise your own voice. To do all of those blessings that this show teaches and to be yourself, I think that that is the impact that I want this show to have on people.
What has being a part of Sister Act taught you about yourself?
Teresa: I have learned, since this is only my second show at Toby's, I have learned to be very selective in believing what I hear about other people and taking my time in being patient with myself and with other people before actually developing an understanding of who they are.
Amy: I think like most actors I had some self-doubts over whether I could sustain my voice and my energy for eight shows a week considering that I am also a full-time kindergarten teacher. Being able to juggle the balance between those two things and still finding joy in coming to both places and it not being a "oh my God, I don't want to go do that again." Thankfully the character allows me to do that when I'm here and my kids at school allow me to do that for both places. I think just learning that I can sustain my voice and my body and taking care of myself, which I don't really do, has been great. So much of my life is about other people and taking care of other people that I don't really take care of myself the way that I should. But this has taught me that I have to because otherwise I'll be passing out on the stage. And that would be bad.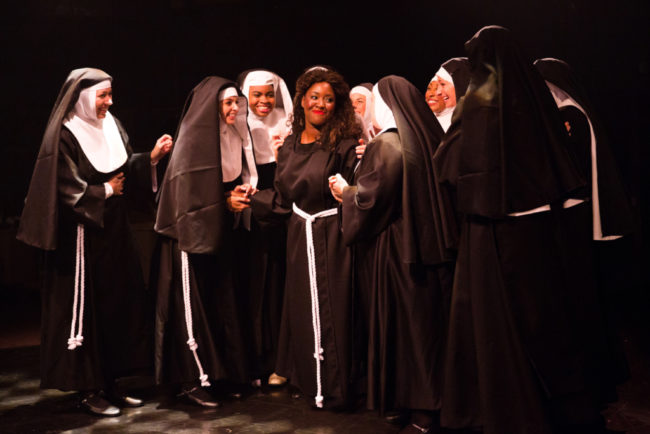 If you had to sum up the Sister Act experience in one word, what word?
Amy: Sisters. I think that the bond we've formed is so good. It's so real. When Teresa hugs me every night during "Bless Our Show"—
Teresa: Oh that's real!
Amy: That is a real hug. Every single time we do it and we do it sometimes twice a day. So many of the feelings that we have for each other are so true and so real. That's why I said sisters.
Teresa: Genuine. There are too many words to choose from.
Why should people come to see Sister Act?
Teresa: You will leave feeling significantly better and you will leave with a stronger purpose than when you entered.
Amy: I think that you get a really good experience with this show by being in the audience. You leave and you're happier than when you walked in here. I'm happier when I walk in here by the time I leave at the end of the night. I think that that is very special. I'm very lucky. This has been my first experience on-stage all the time at Toby's and I still "Fan-Girl" sometimes. I would come and see shows for years, and now I'm in a show with people who I would watch and it's just incredible. I consider myself very lucky to be among people that I have looked up to for so long.
Sister Act plays through November 13, 2016 at Toby's the Dinner Theatre of Columbia— 5900 Symphony Woods Road in Columbia, MD. For tickets please call (301) 596-6161 or purchase them online.
To read the TheatreBloom review, click here.
To read Part1 of The Little Sisters of Toby's series, click here.
To read Part2 of The Little Sisters of Toby's series, click here.
To read Part3 of The Little Sisters of Toby's series, click here.