Tossing everything in and digging deep inside, the third round of The Little Sisters of Toby's are ready to raise their voice. Sitting down with Samantha McEwen Deininger, Ashley K. Nicholas, and Elizabeth Rayca, we find out just what it's like for these sisters to be a part of the sisterhood happening in Sister Act playing now through November 13, 2016 at Toby's Dinner Theatre.
Thank you ladies for giving us a quick pinch of your time! If you'd give us a quick introduction of who you are, who you play, and what you've done recently, we can get going!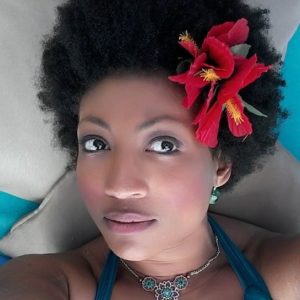 Samantha McEwen Deininger: I'm Samantha McEwen Deininger. I play Tina and I also play Sister Mary Kaye. I've been a bit around here recently; I've been very busy! I was in Hairspray. And I was in Ragtime and another production of Ragtime not at Toby's— it's been a busy year!
Ashley K. Nicholas:  I'm Ashley K. Nicholas. I play various characters. I play Michelle in the first scene. I'm in the bar— and I have dubbed that character Vanessa. My homeless person is Gertrude. I do not have a name for the fantasy dancer, that's for Deloris to decide. And last but not least my nun name is Sister Mary Augustine Assata Shabazz III. Assata like Assata Shakur. This is my first show at Toby's. I'm from DC so that's where I've done most of my work. I did a workshop production of Lost in Wonderland at Pallas Theatre Collective. I did Caroline, or Change at Creative Cauldron. I did Adventure Theatre's Three Little Birds tour.
Elizabeth Rayca: I'm Beth Rayca. I play Sister Mary Laura. Ragtime was the last thing I did. It's been a while.
Where did these fascinating nun-names come from?
Beth: Mine's kind of boring. I couldn't think of a name. Robert (Actor Robert John Biedermann 125, playing Monsignor) said I reminded him of his Aunt Laura. It was a really high compliment, so he named me after her.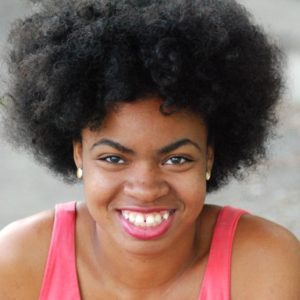 Ashley: So I did Sister Act about six months ago in Pittsburgh and that's when I came up with that name. At first I was just going to be Sister Mary Augustine. I wanted it to be something real black, because that's what I'm all about. Augustine is a black saint. But then I got really creative. Assata Shakur was a blank panther. She's still alive, but she was really involved in the civil rights movement and the black liberation movement. Right now she's actually on the FBI's most wanted list. She's been hiding out in Cuba for decades, she's a badass. I recommend her autobiography, it's great. And then Shabazz? I figured the show is set in the 70's, so I was thinking "If my character was a panther, she was probably in the Nation of Islam as well, so why not add Shabazz on top of that?" And then the 'III' is just because I like being funny. With all those names? You have to be a third.
Sam: It's funny. Mary Kaye is actually supposed to be short for Mary Katherine, who was actually the patron saint of native and African Americans. But I also figured if I didn't get all of my makeup off making that really quick transition from lounge singer to nun? Sister Mary Kaye has got me covered.
What was the draw to want to come out and be a part of Sister Act?
Sam: It was brand new to me. I was very unfamiliar with the musical. Now I was familiar with the movie, of course. I like the idea of doing something new and different. I thought it would be a great opportunity!
Ashley: After I did the production in Pittsburgh, literally a week after it closed, I saw the audition notice for the production here. They were accepting submissions for Deloris and Eddie. I had understudied Deloris in the Pittsburgh production as well and I figured that they would see that understudy credit on my resume and hoped that because of it they would give me a chance. I sent in a video, there was a callback, and the rest was history.
Little birds of the cloister said that you've actually gotten to go on as Deloris in this production, how was that?
Ashley: It was so much fun! I didn't get to go on when I did it in Pittsburgh. That was my very first Deloris performance and it was brilliant!
Beth: She made us all cry.
Ashley: I heard that. There's this one particular tear-jerker scene towards the end, and afterwards all the nuns are in the lobby changing, and I heard after— because I was on stage when they're all out there— that all you could hear was sniffles and weeping.
Beth: It's true! You made us cry!
Ashley: It really was an amazing opportunity and I feel particularly proud of myself, I only had one rehearsal. It was cool.
That's really awesome. Beth, why did you want to get involved with the show?

Beth: I'm like Sam. I didn't really know the musical but I loved the movie and I thought it would be really fun to be a nun with everybody.
Now who's been a nun before and for who is it a first time in the habit?
Sam: My first time in the habit.
Ashley: I've just been nuns in Sister Act. Here and then back in Pittsburgh.
Beth: This is my fourth time as a nun.
Ashley: What? Girl. Get serious.
Sam: Wow, really?
Beth: Yes. I did Sound of Music in middle school. That was my first show ever. I was Sister Sophia. I did Sound of Music at Toby's in Baltimore, I played Maria, and then I did Nunsense there— Sister— oh I forget her name, the one that gets Amnesia. And now this show.
What is it like to reembrace the habit and what is it like being a nun?
Ashley: Beth, you go first, you're the veteran nun.
Beth: It's good, I mean the last time I was pregnant as a nun, so it's a little different this time.
Ashley: What? Are you serious? That is too funny!
Beth: Also, for some reason, our veils are very heavy in this show. They were not that heavy in Nunsense and with all of the choreography in this show it's very hard to get your head back. All of the sudden the veil comes two seconds later and it's making the movement a lot harder.
What about you, Ashley? Are you finding it easy to fall back into the habit?
Ashley: Yes and no. What's interesting is that they're still habits. They still have the same pieces, but yet they're different. Our wimples in Pittsburgh completely covered our head. The ones we're using here, the back of our heads are exposed and we have to tie them. I've actually had to get extra ties because mine kept slipping. My veil fell opening night. It was quite epic. It was at the end of Act I where we have our big dance number. I was holding back a little bit, usually I go all out full body when we're dancing, but I was holding back because I didn't want the veil to fall. We were at the end of the number and I was like "Good— I made it!" and FOOM. It fell. But it was funny, as soon as FOOM happened I was like "Whatever, I'm dancing full out" and just went for it.
It's interesting. I'm not Catholic. I don't really know anything about the -isms or the—
Beth: Traditions?
Ashley: Yeah, I don't know anything about the traditions behind it all. It's been interesting discovering that with each production. For example, putting your hands beneath your bib is not just for aesthetics. If you're not praying or you're not working, idle hands are the devil's plaything so you need to keep them puppies tucked away! Working out the physicality of the nuns has been interesting too.
What about you, Sam? How are you finding tackling the nun for the very first time?
Sam: Well, the costume is heavy! It's probably the heaviest costume I've ever worn. It's fun. But we've got so many layers. And it's intricate. I never realized how many layers nuns wore, and I'm sure real nuns wear even more! It puts your mind to worrying about a whole different set of things. I'm used to worrying about whether or not I'm too exposed in my costume. You definitely don't have to worry about that in this outfit!
What would you say has been the biggest challenge with this show?
Sam: Probably for me not being as bouncy. I usually try to put a little bit of bouncy into my characters, especially if the show is upbeat. I was told as a nun you would be a bit more reserved. So trying to be a bit more natural in a way was challenging.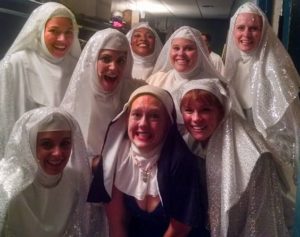 Ashley: This show is deceptively difficult. I saw Sister Act on tour a few years ago and I've listened to the album. But when you see it and you listen to it and you know the film, you think, "It's nuns. It's fun." It's not Ragtime, it's not Les Mis, it's not a heavy serious pour-your-soul-out piece. But no. This is a very hard show. Now I knew that coming into this production at Toby's, but being reminded of that has been interesting. Also, this is my first time doing this show in the round. This is my first time doing a show eight times a week as well. The hardest thing for me has been trying to get my health and my vocal routine going. I still haven't mastered it. I'll probably master it closing week. I've been going home drinking tea every night! Keeping up the physical and vocal stamina is a real challenge because this show ain't easy.
Beth: I had a really hard time learning the music for this show because like she said it's deceptively hard. Also, I did miss the first four rehearsals, so that didn't help. The tech'ing of the choreography was something else. Doing Mark's (Choreographer Mark Minnick) choreography with this heavy veil on was really, really challenging. You had to work on it.
I know Sam you've done at least one Mark show, and Beth you've probably lost track of how many times you've worked with him, Ashley this is your first with Mark Minnick. What is it like getting to work with him and his choreography?
Ashley: Dancing in the round…I was fine. Until the costumes. I don't know if it's the veil or the whole thing or what but some of the stuff that we do because we're in the round? I get dizzy. I'm fine now, but those first two weeks? Those circle-around ourselves moves? My body was still moving but my eyes were like "Yo, what the hell is going on? Where are we?" I like this space. I like how intimate it is.
Beth: I was actually pretty proud of myself when it comes to the dancing. I think I actually did pretty well with the dancing considering I'm not a dancer. Mark takes non-dancers and makes them dancers, I think.
Sam: I'm loving every bit of it. I love working with Mark. I get him and I get the way he likes to teach things. He complimented me saying he's watched me grow into a dancer! Success! So I'm loving it and I'm having a great time.
What does it mean when you say "raise your voice?"
Beth: Why is everyone looking at me? Why do I have to answer first?
Ashley: Because you're the veteran nun.
Beth: Oh gosh, fine. I think it means don't be afraid to speak your heart. Don't hold it back if it's something you're passionate about, just let it all out.
Sam: Ditto.
Ashley: Right.
Beth: No! This is your second time doing this show— you should have like the profoundest answer.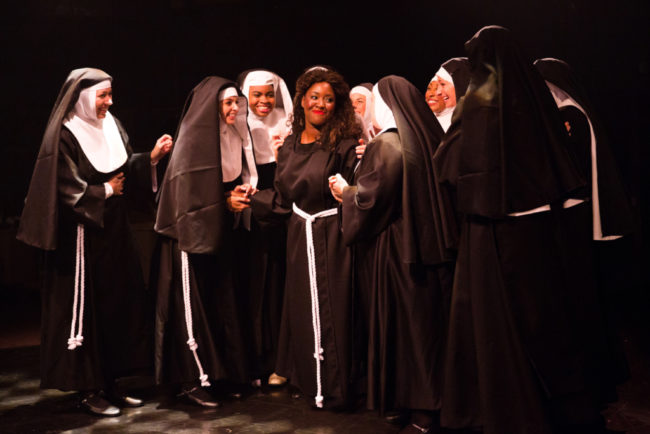 Ashley: This might be low-key profound. That number today felt different for me. My day, personally, was kind of shitty. So I went into the show like "here we go, okay." So my character choices were a little different because of where I was. So my nun character, Miss Sister Mary Augustine Assata Shabazz III, was a little bit more reserved and shy and not willing to speak up especially when she was singing. You go through a transformation every night and you know where it's going to be— but there are certain shows where something just clicks. You feel something a little bit more. So tonight, I went from feeling like I did coming into the show and then when we hit "Raise Your Voice" that moment just clicked. "Yes! I am here doing this show. I'm doing my craft, I'm doing what I love." Through the character's journey I got to have my own personal little journey tonight. It was catharsis in action. I love theatre!
Raising your voice means not letting the walls and inhibitions block you. The lyric literally says "keep that fear from interfering" and I love that line. That's what raise your voice means.
Do you have a song or a moment—
Ashley: What about Sam?
Sam: I answered. I said ditto.
Ashley: What? No! That's cheating.
We'll make sure she answers a non-cheating answer for this question. Do you ladies have a song or moment that defines the show for you?
Sam: I'll even go first. For me, it's kind of weird on a personal level. There's a part when we're reading the reviews for the show that we're doing as nuns and we're all so excited and happy. One of the sisters says "this is why we're nuns!" My character personally has been struggling with whether or not she wants to be in the convent or if she wants to remain being a nun. So I find that moment draws my character back. It becomes a personal moment for me, "that's why I'm a nun!"
Beth: I was going to talk about a moment— it's not a me moment though— but I love watching Ashley (actress Ashley Johnson, playing Deloris Van Cartier) and you too, Ashley now that I've seen you do it— I love watching her do "Fabulous Baby (Reprise)" where she says— how does that line go?  "I'll finally find a place where I succeed?"
Ashley: Gotta get to a place where for once I can say I succeeded, gotta get to a place where at last I can feel I belong.
Beth: That line! I love watching that part and every time I watch them do it I think about how amazing they are.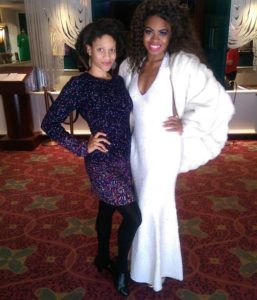 Ashley: Aww, thanks, Beth! I also love that song. It's one of my favorite scenes for multiple reasons. It's fun vocally. It has a lot of different key changes and I love shit like that. When I'm in my ensemble track I'm in a solid gold fantasy dancer and that is one of my favorite looks and the choreography there is really fun. I get to wear my big curly wig and it's great. But Deloris' inner struggle there? The writing juxtaposing the disco music with the literal "Ave Maria" in conflict with it is so jarring, but it works. I love that we get this literal tug-of-war, we get to see her struggle with that conflict. Getting to do that moment as Deloris and as ensemble in the same day— when I went in for Deloris it was a two show day— it was profound. And when I did the show in Pittsburgh I wasn't a fantasy dancer in that moment, so I've seen that moment from all three perspectives and it is fascinating all round. It is one of my favorite scenes— but I have to say my favorite line? It's in "Sunday Morning Fever" when Sister Mary Robert says "Put your backside in rotation" and in both productions there is very fun choreography for that. I look forward to that moment every single time.
What is it that you are hoping audiences are going to take away from seeing Sister Act?
Beth: Joy. There is so much bad going on in the real world that I just want people to come in and have fun. I want them to see us loving one another on stage, and see people treating each other right the way you should treat each other.
Ashley: I'm thinking.
Sam: I'm about to ditto out again.
Ashley: Don't cheat again!
Sam: Okay! I'm not going to say ditto! But it is a fun show. It's a feel good show. If you're not having a good time we're not doing our jobs right. There are a lot of good loving moments. Our last scene with Deloris before the finale is a very touching moment and has been very special to all of us every time we've done it now.
Beth: It is very hard not to cry real tears on stage in that moment.
Ashley: I've had to hold them back.
Sam: I'm hoping that the audience really gets something out of it and enjoys really any of the moments, the happy ones or the sad ones. I'm just hoping they've walked away being invested in the show.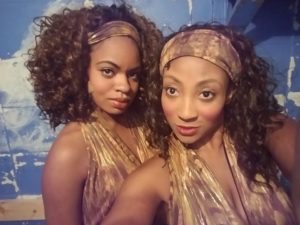 Ashley: I'm gonna get deep again. Yes, I concur with all of this. It is a fun show and you can't help but feel good at the end of "Spread the Love" I mean it's called, "Spread the Love." I saw the tour a couple of years ago. One thing that I particularly got from it was that I kind of saw myself in Deloris, and not "oh I could play this character" but I saw this quirky black girl. You often don't see weird— I don't to say weird because she's glam but she's out there— and you just don't often see that out there for women of color. Deloris, in that same vein, she is unapologetically herself. She's not underneath anybody's foot— except Curtis and she overcomes that— but you don't see her getting beaten or victimized in a physical regard. It's a relief to not have to see that on stage all the time. There is lots of great art out there for black folks, but there is a lot of victimization. We see the bad stuff, the beatings, the slavery— and while that is part of our narrative, that's not all there is to our narrative.
It's a relief having this character, who is written in the script as black so you can't play her any other way, not being underneath a white person's foot. I see a lot of black people come into Toby's, and that's great because I don't always see a lot of black people in the audience when I'm shows. But I see them coming into Toby's and I hope that they can see themselves— male or female or anybody— reflected in Deloris. It's good for us to see that, especially echoing what Beth said with all the crap happening outside these walls.
What is the joy for being a nun for your nuns?
Beth: In the song I turn to Santina (actress Santina Maiolatesi, nunsemble) when she says "…or basking in the magic of your favorite Latin phrases…" and I always mouth/whisper, "Oh, I love Latin!" So I guess the Latin is my favorite part of being a nun.
Ashley: My nun's line is genuflecting. I find multiple moments in the show to do that. And I've actually realized that I do that a lot in real life. I also react to Sam's line about confession and the line about consuming holy wafers by the ton. I've been to communion like one time in my life at an Episcopalian Church and that wafer was delicious!
Beth: I think they taste like cardboard!
Ashley: Well, maybe you need to go to an Episcopalian church.
Beth: I guess so. Catholic wafer taste like cardboard.
Ashley: Go to the Episcopalian church, you guys— they know what they're doing over there.
Sam: My nun likes communion too, because honestly she likes to get that hit of wine every now and then. It's the only time I get it and I love it!
What is your nun's guilty secular pleasure?
Beth: Oh, I was going to say something boring like chocolate cookies…but I'll be the other nuns have really good ones. So now I've got to think of something good!
Ashley: Wait— are nuns not allowed to have chocolate chip cookies?
Beth: Probably not.
Ashley: Because of all that mutton. Wait— what if your nun is a vegetarian? Because mutton is definitely a meat, right?
Beth: Our mutton is Styrofoam.
Ashley: I've got to go back to the drawing board and figure out what Sister Mary Augustine Assata Shabazz III's guilty pleasure is. She probably still has some essays and books from her Black Panther days that she keeps underneath her bed and pulls out for special occasions.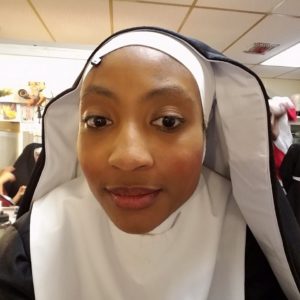 Sam: You know…Mary Kaye has actually snuck in a few lipsticks. At night she gives herself a little makeover, it's just for her. In her room she likes to show off for Jesus. Lipstick makes me happy.
Beth: I had this problem with my Full Disclosure back during Addams Family! Oh gosh, what did we end up saying? Can that be my nun's guilty pleasure? Oh— oh wait— no. No it can't. I think I remember what I said now— or what Darren (actor Darren McDonnell, an ensemble altar boy) said— no. Nevermind. That is not my nun's guilty pleasure.
Ashley: Maybe you have a secret baby hidden away somewhere…
Beth: Well I was pregnant the last time I was a nun…The Little Sisters of Dundalk made me transfer…we put the baby up for adoption. There we go. That's it.
If you had to sum up the Sister Act experience in one word— what would it be?
Ashley: Oh no. I can't do one word. One word? What? Fine— a guess— fun.
Sam: No! I was going to say that!
Ashley: Yup. Fun. In big huge capital letters with a period. FUN.
Sam: Sweet.
Beth: I was thinking— I wanted a big word— but joyful is the only word coming into my head. So joyful.
What has being in this production of Sister Act taught you about yourself?
Sam: It has taught me that I have amazing stamina. This my first time doing two shows in a row, back to back like this. So between the full-time job during the day, doing this, I've got the kids— boy do I have some stamina! Stamina!
Ashley: I learned, through understudying Deloris and then going on, that I can step into a leading role. I've often been the featured role or supporting role, I slay in the ensemble. But this was my first time, even though I'm understudying, being the lead with the final bow and being in all the scenes as the central focus. I can do it. I actually can do it. I've only been out of school now for a year or so. So I'm still learning what I can actually do as a working actor and how far I can stretch. Learning that I can actually do this leading role and do it well is pretty awesome.
Beth: I love the whole friendship part of it and the being sisters and stuff. I'm learning that about myself that that is what I want to be to my friends, I want to be that kind of person.
Why do you want people to come and see Sister Act?
Sam: There is something for everybody. You're going to have a good time. There's no way that you are not going to have a good time. It is rare that you have a show where everybody in your group, no matter how old they are or what things they are into, everybody is going to find something to like about it. This show is for absolutely everybody.
Ashley: The show is really joyful. You're going to have fun. It's funny. There are so many moments where you can just hear the audience cackling. This cast is really talented. You don't notice it while you're in it, but I've been watching the little videos Mark sneaks and it's like "Damn! We sound good!" or "We look good!" And the lighting is always slaying it. It's a great company we have here. And you get to eat on top of that? I love the food here. It's good. So come to the show.
Beth: Again, it is a very uplifting show. So just come for that, to feel happy for three hours. Also— there was a Wednesday matinee where I was sitting out in the lobby at one point listening to Ashley sing her song and I thought— if anybody says you can't find amazing theatre and talent on a Wednesday afternoon in Columbia, Maryland? Then you have not seen Ashley perform in Sister Act. She is freaking amazing. I have yet to hear her voice show any kind of strain. It's beautiful. She's amazing. Everyone is amazing. Come see how amazing these people are.  
Sister Act plays through November 13, 2016 at Toby's the Dinner Theatre of Columbia— 5900 Symphony Woods Road in Columbia, MD. For tickets please call (301) 596-6161 or purchase them online.
To read the TheatreBloom review, click here.
To read Part1 of The Little Sisters of Toby's series, click here.
To read Part2 of The Little Sisters of Toby's series, click here.