Everybody knows that the first rule of singing is to get those rafters ringing! And nobody seems to know that better than the sisters of Sister Act now appearing at Toby's Dinner Theatre! In a TheatreBloom exclusive series, we go behind the walls of the cloisters and talk chapel with the nuns of the show! First up? Sister Mary Lazarus and Sister Mary Martin of Tours.
Thank you ladies for giving us a moment of your time— if you would just remind the readers who you are, who you're playing in the show, and what you've been up to on the stage, that would be a great place to start!
Lynne Sigler: My name is Lynne Sigler and I am currently playing in Sister Act as Sister Mary Lazarus. And the last thing I did here was Wonderful Life, Ma Bailey, and the year before I was Gladys Calhoun in Memphis.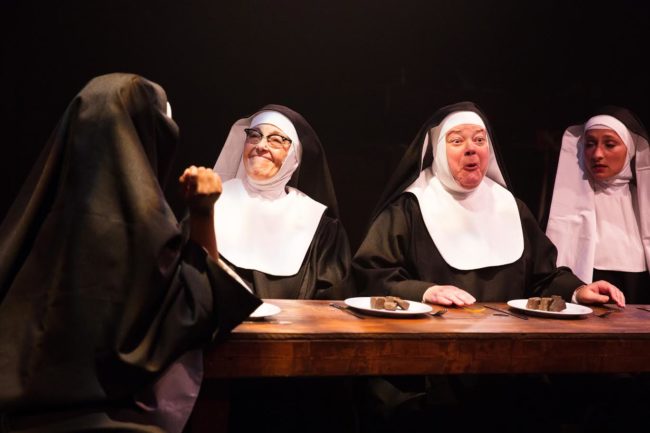 Jane C. Boyle: I am Jane C. Boyle. In Sister Act I play Sister Mary Martin of Tours. The last thing I did here was Into the Woods, I was Jack's Mother. And before that was Pirates of Penzance, I think. But in-between that I did Something's Afoot, I played Tweed, at Vagabonds.
What was the appeal to want to put on the habit, or for some of us to put back on the habit, and join the convent with Sister Act?
Jane: I love being a nun! It's fun. And it's a new show. I knew it was a fun show. Getting a bunch of nuns together is just fun. It's an ensemble unlike other shows. You get a bunch of women together and it just works.
Lynne: This is my first time ever being a nun in a show. After having auditioned numerous times for all of the Nunsense shows everywhere and never having gotten cast— because there were too many other talented people— I finally get to wear a habit. This was definitely another "okay, what the heck, let's see what happens if I go out and try it this time." Except I didn't even have to audition. They called and asked and I said yes. And then I got very frightened once we got into the rehearsal. "What the <bloop> was I thinking?"
Jane: Jesus freaking Christ, what have you done?
Lynne: Exactly.
Now, Jane, this is not your first time wearing the habit, this is what your— fourth? Fifth?
Jane: Sixth. I did Nunsense both here and in Baltimore and I had done it previously before both of those shows. And then there was Sound of Music. And now it's here. And we all have matching habits for this show! I was very excited about wearing this habit this time around because Lynne and I haven't done a show together since— what did we decide it was?
Lynne: 1995.
Jane: Yeah, something like that. So over 20 years ago.
Lynne: We did Hello, Dolly!
Jane: Yeah. She played Dolly and I was Ernestina. We've been trying to get back together for a while.
Lynne: We've both spent a lot of time in straight plays off and on, and we've both just been trying to find a show where we could both conceivably audition and get cast together. And here we found it.
Now, Jane, I know this is not your first Mark Minnick show, but Lynne, I believe this is your first show working with him? What has that experience been like?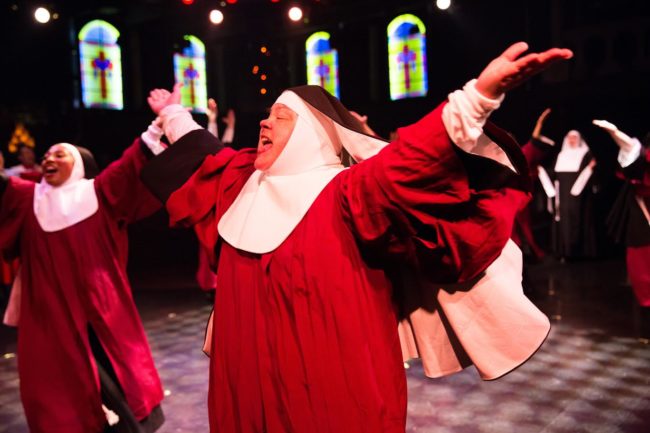 Jane: Having done Nunsense with him there's a very similar feel to the whole process. I was used to how he works, I was a little more prepared for it, I think. Older, but wiser, and all that.
Lynne: The choreography is aerobic. There's a lot to remember and remembering is not my forte these days. I beat myself quite a bit in the process. It's taken a while and it's really only been in the last couple of shows, knock on wood, that I actually feel like "man! I got it all right!"
Jane: We have a stroke at least once a show.
Alright! Can you tell us a little bit more about Sister Mary Martin of Tours and Sister Mary Lazarus?
Jane: She's fun. I can get away with almost anything. Not that I would, but you know? She's just fun. Now she's very different from Reverend Mother from Nunsense or Mother Superior in Sound of Music. And you know it's funny, it's just a little thing, but Larry (Director Lawrence B. Munsey) originally he wanted me to wear glasses. I kind of nixed the conversation and didn't go back to it just because I identify Reverend Mother with glasses. I didn't want to start to feel like that so I wanted to go naked face. Now she wears glasses as Lazarus.
Lynne: Well of course. In fact, the glasses belonged to my grandmother. And she was not a nun. But she was probably the age I am now in the 50's when there really weren't any attractive glasses for older ladies. Just black, heavy duty glasses, they were it. They're bifocals and the sad thing is that I can pretty much read with them.
How are you sisters finding the music for this show?
Jane: Challenging!
Lynne: It's very challenging music.
Jane: It's vocally aerobic as well.
Lynne: The harmonies are amazing. When we get them right they're really amazing!
Jane: It's every song is intense. And we both sing alto, thank goodness we're together most of the time. But I mean even the altos are very rangy, we're all over the place. You've got to warm up physically and vocally.
Lynne: And mentally.
Jane: It's rewarding to do a good show like this, but you have to try to really make it work.
Lynne: The music is clever. I know Ross (Musical Director Ross Scott Rawlings) kept saying how clever the lyrics were. He loves this music. He likes the genre that creeps in and out of the music. The lyrics, a lot of them, are very clever.
Jane: Everybody transubstantiate. I mean come on. It doesn't get much cleverer than that.
Lynne: The other night somebody laughed at that! I thought no one was ever going to get that, but I heard somebody laugh, I think it was in A-section.
Jane: I'm spitting out those words as much as I can, because I think it's really funny stuff.
Do you have a favorite number in the show?
Lynne: Well, I think my favorite song actually isn't one that I'm in. "Lady in the Long Black Dress" is just funny! But, I don't know, I had kind of a favorite in the beginning, but since then it's switched. "Raise Your Voice" at one point was my favorite. Of course it seems like everywhere we go, because the sisters have gotten together to do a number of benefit things and fundraisers, we end up doing that one. That was the one we learned first.
Jane: And we know it. That one is a nice clump of a song because the other songs are all sort of broken up.
Lynne: But I think now "Take Me to Heaven" is my favorite.
Jane: Yeah, me too. I love when we're all in that clump together on the stairs—
Lynne: Once we finally get our mojo going!
Jane: Yeah. I just love doing that number. But I also love Curtis' song too. He just does a great job, DeCarlo (actor DeCarlo Raspberry, playing Curtis.) I love when people laugh at it because it's like "Thank God, they get it!"
What would you say "raise your voice" means to you?
Jane: Speak up and don't take any shit.
Lynne: Sort of the same thing. Don't be afraid to speak your mind and say what you have to say.
What would you say being a part of Sister Act has taught you about yourself?
Lynne: It's reminding me of when I was younger.
Jane: Oh yeah! I'm glad I can still do this kind of stuff. It's challenging. But I'm glad I did it. I'm glad I can still kind of do it for the most part. I just love the camaraderie of the nuns. I don't think I'll ever get enough of that. I would do Nunsense again in a heartbeat. And I would do this show again too.
If you weren't playing the two nuns you're playing, and you could play anyone who would you play?
Lynne: Anyone in the show?
Yes, let's forget about age, vocal ability and—
Jane: Gender???
Yes, you can forget about gender too. Anyone in the whole show. Who would you be?
Jane: Ooooh. I like Curtis. Curtis is a great part and DeCarlo does a great job with him. I would be Curtis.
Lynne: Oh my Lord. I think I would be the Monsignor. Who doesn't want to be the Monsignor?
Jane: The first night I saw that zebra thing he wears I thought, "Oh, Lord, what have we done? We've created a Roman Catholic Monster!"
What are you hoping the audiences will take away from seeing Sister Act?
Jane: Just a good time. I always try to say "come see live theatre." I hope that it encourages them to come back. Nothing too exciting, just have a good time!
Lynne: That was another thing I've been in a lot of shows over time, even a lot of traditional shows where people would leave the theatre singing the songs. I think there are several numbers in this show where people, even if they don't remember all the words, the melodies will stick in their head. I think it's possible for them to take a part of the show with them and that's always nice. And like Jane said, it's just kind of a nice, pleasant show. I think it gives people the feeling that you can create your own "Sister Act" in any situation. It can be any person, any gender, people in different life obligations; there is a camaraderie that develops with people from all different walks of life.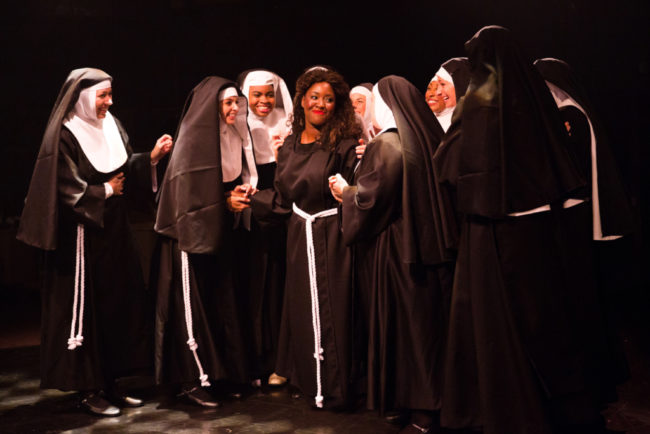 Jane: That is absolutely true. We have our very own "Sister Act" going on backstage!
What is your favorite part about being a nun?
Jane: Oh boy…
Lynne: Being a nun is like being a member of the Red Hat Club. When I get old I'll wear a nun's habit and a white collar around my neck and I can say just about anything I damn well please.
Jane: It's good to be a nun! The habit hides many, many multitudes of sins!
Lynne: You don't have to worry about fashion.
Jane: That's right. I don't have to wear Spanx! I can wear a pink bra if I want to and nobody cares.
Lynne: I would say that you get to wear comfortable shoes…in theory…
If Sister Mary Martin of Tours and Sister Mary Lazarus had one guilty secular pleasure, what would it be?
Lynne: Together? Or separate?
Either or, take your pick.
Jane: Well it ain't mutton, I'll tell you that! Oh my God, that mutton just makes me laugh. I think Johnny Carson would have to be my go-to guilty pleasure. Wait, how would I even know about him? I must sneak into Reverend Mother's office and watch…
Lynne: She must have a TV in there.
Jane: Yes…she must…Mary Martin of Tours watches some TV.
Lynne: Hmm. Well, you know? I kind of think she should be singing the line about self-flagellation.
Jane: "Enjoy the sweet sensation of extreme self-flagellation…" and we look at each other and try not to lose it.
Lynne: She might just have a wall of whips hanging on her back door.
Jane: She's secretly Frau Blücher.  
If you had to sum up the experience of Sister Act in one word?
Jane: Joy.
Lynne: A miracle.
Why should people come and see Sister Act?
Jane: We will make you happy whether you like it or not.
Lynne: Yeah, what she said.
Jane: The cast is wonderful. The cast is really smart.
Lynne: It's well cast.
Jane: Ross is brilliant.
Lynne: Yes, Ross is brilliant!
Jane: People love this stuff.
Lynne: Come and see it. Damnit!
Sister Act plays through November 13, 2016 at Toby's the Dinner Theatre of Columbia— 5900 Symphony Woods Road in Columbia, MD. For tickets please call (301) 596-6161 or purchase them online.
To read the TheatreBloom review, click here.