Bippity-boppity-BAM! This isn't your mother's Cinderella. In the newly woven magic spell of the Rogers & Hammerstein classic, the shiny glass-slippered fairytale gets a retelling, a retooling, and a new look on how the story happened. Sitting down with us for an exclusive TheatreBloom interview, we chat with Sarah Primmer, playing Madame (aka the evil Stepmother), about the story and what her journey has been like so far.
Thanks for joining us, Sarah! If you want to give us a quick introduction and maybe tell us some of your favorite more recent credits, we'll get started!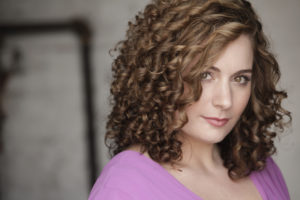 Sarah Primmer: My name is Sarah Primmer, I'm playing the role of Madame, who is the Evil Stepmother. Some of my most recent favorite credits? I was able to do the Beauty and the Beast national tour for about a year as well as the first national tour of Nice Work if You Can Get It. I just got to work on the world premiere of a new show called Chasing Rainbows: The Road to Oz, and that was really fun.
What is it like getting to step into this iconic villainess role for you?
Sarah: At first it's a little intimidating because everyone has such a clear memory of the evil stepmother, whether it be from the animated movie or the original Rogers & Hammerstein production or any live-action version of the film that they may have seen. There's certainly a little bit of an intimidation but it's quite fun. The costumes, every element of Madame in this production is so rich and powerful. Just the colors I get to wear, it all just feels like the most exciting game of dress-up! I remember the first few days of rehearsal I was worried, I kept thinking, "How am I going to be this cruel all the time?" And then you sort of find the rhythm with your cast-mates and it's quite exciting!
Would you say you are similar to or different from Madame? What are you bringing to her and she to you in this experience?
Sarah: Well, I think that I certainly don't conduct myself the way that Madame conducts herself. But I do really appreciate how driven she is and how focused she is. I think at the heart of it she's really just looking out for her family and she's doing the best that she can. I think I get to take her confidence every night, the way she just speaks her mind to do what needs to be done. I guess I give to her a little bit of humanity and a little bit of heart so that you can really sense that this is coming from a place of love for her family.
What would you say has been the big challenge for you in taking on Madame?
Sarah: I think honestly it's knowing that at the end of the show, while the audience might enjoy how I add to the story or laugh at some of my lines or almost love the way that they've gotten so angry at me, it's a new challenge to realize that the success of my job is relying on people rooting against me! That is a very different feeling to have. It's a cool challenge and it has been an exciting journey to get comfortable in that place.
Is there a moment somewhere in the show that really speaks to you and defines the show for you?
Sarah: What a great question. There's a few, but I'm trying to think of one that won't spoil it. Without giving anything juicy away…hmm. Now I'm trying to think of a way to express that defining moment. I don't want to give that part away. My favorite moment is a spoiler, so what I'll say to hint at it is this. There are a few twists in our beautiful production that allow for us to have a better sense of the full journey that everyone is on in the course of the show. Particularly for Madame, I think there is a moment where you are able to see exactly where she fits into the community as a whole, not just within her family. I think that's a very powerful moment. We all just have to face who we are and what that means.
How does the singing of Madame compare to other roles that you've sang?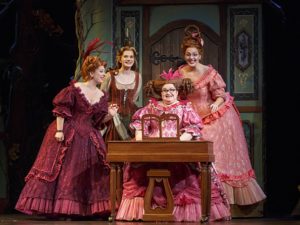 Sarah: Actually, Madame sings far less than a lot of roles that I've played previously. The fun part is that she still gets to sing "A Lovely Night." It's fun that I get to jump in and join the girls on that number. But she does sing quite a bit less so this is much more of an acting role than some of the roles that I've done before. The bulk of the work is really in the dialogue. It's a different feel but she's still part of the musical world of it and there is underscoring for every moment of it. There are monologues that are underscored so specifically that it almost feels like the dialogue itself is musical. It's a different experience for me, but a fun one.
You were talking about the fantastical costumes that you get to wear. Do you have a favorite costume that you wear that you wish you could take home with you?
Sarah: Oh yes. And I actually wear it for the shortest amount of time, isn't that how it goes? I love all of my costumes. We all have signature colors that we wear and mine is this rich burgundy, almost a deep wine color. It just seems powerful and strong. I get to wear these tall wigs with giant feathers and I just feel like I'm towering in them and it's thrilling. My favorite is this one coat that I get to wear over my ball gown for a moment. I wear it while I'm walking through the woods. I just think it's so stunning, it has this gorgeous waist tie, and these big sleeves. In a dream world where I could walk through the world wearing one of my show costumes, it would be that beautiful coat.
You had a working familiarity with Cinderella coming into it, yes?
Sarah: There are multiple fairytale versions of Cinderella. Our is based on the 17th Century French fairytale, Charles Perrault version. All the new twists and turns are really taken from that. I have probably seen most of the versions. The first show that I had ever done, which was I think in second grade, was Cinderella. It was a small children's theatre or summer camp and I think that production was mostly based on some of the music from the animated movie. Later in high school I did get to do the original Rogers & Hammerstein version of their original text. So now getting to do this one is really exciting. Especially since we've just had these recent movie adaptations as well? This feels like it's taking different pieces of all of those versions and bringing them together. The book just has this edge of contemporary humor without leaving the world of the fairytale. I have been quite familiar with all of this and it's just been such fun.
They call her Madame, have you given Madame a name for yourself?
Sarah: I have toyed with some names, yes. But even her daughters call her Madame, so that's what I stick with. It's just so powerful. Sometimes that title is enough and it definitely is for her.
What would you say you've learned from taking on this project?
Sarah: So far, we're still beginning our journey which is quite exciting, but being part of this process has really taught me to contribute to the community in a new way as far as being on stage. Sort of as I mentioned before, playing the villain you don't necessarily feel celebrated in the course of the show because you have to be the polar opposite to our heroine. There's a bit of out-of-body realizing "this is what I'm contributing" and that has forced me to rely on my own confidence. Sometimes I take Madame's confidence during the show and that has allowed me to strengthen that in myself.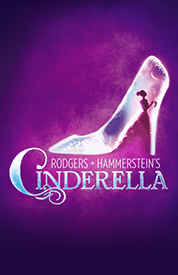 What is it you are hoping the audience will take away from an enchanted evening with Cinderella?
Sarah: Oh I hope they will feel so inspired. It's such a beautiful romantic show but there is also this beautiful arc of finding your voice and then using it for good. I think right now in this world that is such an essential thing. We all need to be reminded that we just need to face the world with some kindness.
Do you believe in fairytale magic?
Sarah: A little. I think everyone does somewhere deep in their hearts. But yes! Yes I do.
Anything else you'd like to talk about regarding the show?
Sarah: I'd love to give a shout-out to our creative team. From start to finish they have just given us so much support and freedom to really find our version of this story. I think we as a cast are a really supportive and nurturing community. We're all just so excited to bring this show everywhere. We're all so proud of it. I'm thrilled that we get to come and play these cities all across the country.
Why should people come out and see Cinderella?
Sarah: They should come out and see it if they just want to have a fantastic evening. You will laugh, you will cry, you will be bouncing in your seat wanting to sing along with songs you knew from your childhood. You will have a wonderful time and you will leave uplifted.
Cinderella pays an enchanted visit to The Hippodrome Theatre in the France-Merrick Performing Arts Center starting November 1 through November 6, 2016— 12 N. Eutaw Street in the Bromo Seltzer Arts District of Baltimore, MD. For tickets call the box office at (410) 752-7444 or purchase them online.