Come on, babe, why don't we paint the town? Paint it red with the blood o' the Irish, that is. Or perhaps you are more inclined to let those Italians marinate in their own-a special ragout? Whichever side of this roaring 1920's mafia feud you're on, you're in for a deviously delightful good time as Do or Die Mysteries presents their September show, One of the Gang. Appearing in the dining room of The Sunset Restaurant and Lounge on select Monday evenings throughout the month, this madcap murder mystery show, written by Ceej Crowe, will have the bullets whizzing, the insults slinging, and the audience involved every step of the way? Can you figure out whodunit?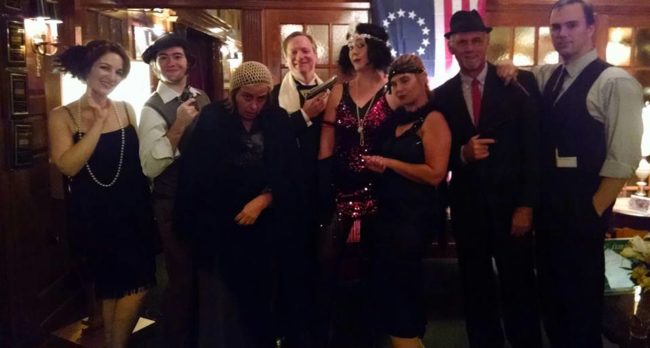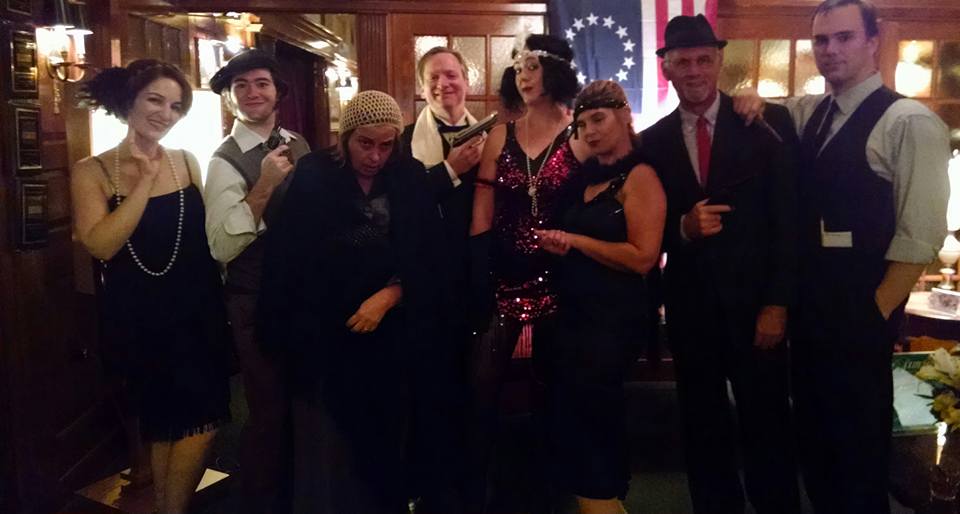 Trying her hand at a saucy era nearly 100 years behind us, Crowe pens a fountain of flourishing ideas about the 1920's into the show— everything from Irish and Italian mafia stereotypes, which are enacted to heightened enjoyment by her team of tightly bonded improvisational actors, to quirky comic references that really speak to those familiar with the era and lingo thereof. The Irish Mafia head, Kieran Padgett Jr. and the Italian Mafia head, Fabrizio Santorini, have come to call a truce at a peace meeting held at Maggie's Place— exactly the sort of establishment one might expect for such dealings. Charity Brown, owner of the place, has just four simple rules:
No fightin'
No cussin'
No spittin'
No weapons
And you can bet before the evening's out all four of those house rules will find themselves broke!
The Usual Suspects
Featuring a relatively large cast of seven highly likely characters, any one of whom has good cause to be guilty of murder, Crowe's script really pays homage to the great stereotypes of old school gangster movies and the roaring 1920's in the Big Apple.
Fabrizio Santorini
An absolute hot-headed, hot-blooded, and overall hot Italian (played with a liberally hot mess of an accent by Pat McPartlin), the head of the Italian Mafia Family, Fabrizio has a temper with a fuse shorter than a chipmunk's attention span. McPartlin takes the piss right out of the campy theatrical stereotypical Italian accent and really gets a good laugh or two when he puts it on. With a natural calm about him during the interrogation, it's questionable at best as to whether or not such a tempestuous temper could really be guilty of murder. Known former lover of Eve Adams, Fabrizio is currently a swinging bachelor, but always has room for a woman in his life.
Antonio Santorini
The somewhat calmer Italian in the room, and kid brother of Fabrizio, Antonio (John Kelso) sticks mostly to the walls and shadows throughout the show. Is this little brother syndrome? Or is he really just a wall flower? Kelso, who gets nominated to host the interrogation and investigation near the show's conclusion, has a snappy and sharp ability to zip zingers and flip quips right back at the audience once they get involved. This is particularly true for people who don't remember to raise their hand, or who have cutesy rhyming names.
Kieran Padgett Jr.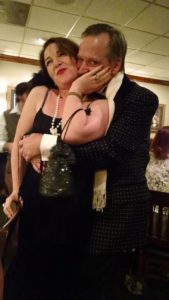 Head of the Irish Family Mafia, Kieran (Jose de la Mar) is a smarmy cocksure bloke with a too-right 'caccent and a bit too much bravado for his own good. Sporting a smug grin for most of the performance, de la Mar is cheeky in his own right and really gives the character a zesty life. He too, like Kelso, has a way with the audience and really engages on those off-handed zingers and encourages appropriately timed 'callbacks' when the opportunity arises. Currently involved with Eve Adams, despite his wife Caitlin, and just as blood thirsty when it comes to the feud between his family and the Italians, Kieran— like everyone appearing throughout the evening— is a shady character with plenty of secrets.
Colin Padgett
The sprightly younger brother of Kieran, Colin (Anders Tighe) is top o' th' mornin' when it comes to the Irish accent. He's also the family hitman. Tighe is convivial in his portrayal of Colin and definitely worth watching during the "interactive intermission." It's what goes down between he and his sister-in-law, Caitlin, that keeps him so highly entertaining. Much like Antonio, there is something to be said for suffering in the shadows of an older brother who is head of the Mafia Family, and curiously enough, Tighe's character seems to be the only one without any connection whatsoever to Eve Adams. Or is he?
Charity Brown
A saucy madam whose days of turning verbal tricks are far from over, Miss Charity Brown (Cybele Pomeroy) is the current owner of Maggie's Place. With a chipper personality that's just right for laying down the rules inside of her house of…questionable repute…Pomeroy embraces the veteran 'lady of the night' character with motherly intentions. Ensconcing her girls— even the formers like Eve Adams— with that tough-love maternal quality, Pomeroy raises the suspicions on her character just as much as any other character in the room. Quirky and full of surprises, especially when it comes to the comedy she finds during the voting process, there's nothing but polite conversational things to be said about this enigmatic vixen.
Eve Adams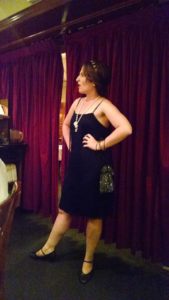 A tarty little tramp, Eve Adams (Erin Tarpley) is parading herself around none too quietly on the arm of Kieran Padgett, despite his active marriage to Caitlin. Nasty, vile, and completely insensitive, Tarpley takes on this obnoxious antagonistic character with a flair for the dramatic. Biting interactions are shared with Charity Brown, and love-bite engagements are being shared with Kieran Padgett (and everyone in the room who's watching!), all of which are well suited to Tarpley's portrayal of Eve. Her facial expressions in particular are worth noting, especially when she discovers new bits of information. Treating these experiences like they were the first time her character has ever heard them, Tarpley makes the show refreshing and really exciting for the audience.
Caitlin Padgett
Wife of the philandering Kieran Padgett, Caitlin (Ceej Crowe) is a good Catholic wife. Crowe affects the Irish accent with ease and her drunken shenanigans as she starts swilling back Italian iced tea is just too much for words. A hilarious string of comedy comes flying out of her mouth, both as a drunk and when she's angry, but none quite so memorable as her spoken word rendition of Gloria Gaynor's "I Will Survive." Paying out every Irish joke and word pun she can get her hands on, Crowe really gives it Kieran once all the details are in the open.
Conclusion
Whodunit? Well, I think both the Santorini Family and the Padgett Family might be taking me for a ride or fitting me with some cement shoes if I were to give it away. The players are fantastic, their ability and willingness to engage and play with everyone in the audience makes it a most memorable evening, especially considering there's a murder involved! A must-see from Do or Die Mysteries, One of the Gang is a roaring blood bath of the 1920's!
One of the Gang plays its second Monday evening showing on September 19, 2016 at The Sunset Restaurant and Lounge— 625 Greenway Road SE in Glen Burnie, MD, where Do or Die Mysteries are currently in residence. Reservations are required and tickets are available for purchase by calling (443) 442- 3810 or by purchasing them online
Be sure to catch the October show— Death Expo, an exhibition of products for the newly dead and grieving, a real convention to die for— on Monday October 10 and October 17, 2016. Tickets are available here.
Also appearing in October— Poe's Last Stanza, charming intrapersonal meet-n-greet with Edgar Allen Poe— on Monday October 3 and October 24, 2016 Tickets are available here.
To read the TheatreBloom review of the 2015 production of Poe's Last Stanza, click here.