The world may change but people stay the same, at least they do in Newfoundland. This is a sobering discovery for rock-legend Oran Tobin when he returns home for the first time since childhood. Coping with the loss of a father he never knew, his declining career, and rocky relationship, the rock star vocalist finds himself drowning in a tidal wave of nostalgia and memories that are not quite his own as he encounters for the first time the legend that was the father he never knew. Memories & Legends, a tumultuously emotional musical making its world premiere with Wolfpack Theater Company at the Greenbelt Arts Center, explores a life and a town that time left behind, a heart and a mind that the world nearly ruined, and a hole in the soul that is not so easily filled with nostalgia. Directed by William Leary, with Musical Direction by Stanley Livengood, Memories & Legends sets out to create its namesake— wending the two together through Geddes' music, book, and lyrics, like a westerly wind blowing along the seaboard of Newfoundland itself.
As with any new musical there are kinks and tweaks to be worked out and made. While the book's narrative is structurally sound, there are places where the plot could use tightening. This is a partial fault of Geddes' overall creation and a partial fault of Director William Leary who lets some of the momentum slip slowly between music and spoken scenes. Geddes' overall musical and lyrical approach to the show is intriguing; several numbers having a warm profundity that tug firmly at the heartstrings. Cultivating a balanced sound that includes both 80's rock and gyps-and-reels folk, Geddes melds the two worlds of Oran Tobin— the show's featured character— into a blur of emotionally charged sound.
Geddes attempt to pen a production in this loosely underground genre of "band-musicals" (think shows like Once) where the players are not only actors and singers but players of musical instruments, is a mostly successful one, even though Leary's production shies away from this notion somewhat as only a handful of the performers are actually able to play the featured instruments. (To their credit, those that cannot make a good mimicry by way of imitation.) What is lacking from this approach is the fluidity from which songs and entered and exited— again half on Geddes and half on Leary. There are clunky pauses, particularly coming out of a song (often accented by a fade-to-black or a full-stage blackout) where the music ends and a beat or two passes before the scene resumes. There is also a lack of cohesive choreography to assist in the transition of such scenes. While two choreographers are credited— and Eileen Murray-Kraft as well as Leah Livengood manage to inspire lively jigs during the actual musical numbers— this lack of smooth transitions is one of the larger components that keeps the show from achieving its fullest potential.
There's a largely questionable moment in the show's second act that feels out of place, though whether from Leary's execution or the way Geddes has written it is difficult to say. The number, "Maddy's Missing", is a deeply profound, albeit somewhat expository, moment wherein you learn the truth of the character referenced in the song's title. Delivered by Lenny (Michael Reeher) just a verse or so in, the song loses its lyrical musicality and turns into a ranting, shouted blast. Reeher, who proves early on in the production to be in possession of a well-tuned vocal instrument, is erupting with rage and frustration but at such an intense volume that many of the words are lost. If the number truly is a song, Leary's decision to have Reeher deliver it in this fashion fails to provide justice to the striking and harrowing reveal of the moment. If Geddes has penned it as a blasted poem, this too fails to do the moment's potential a service. There are minor moments peppered throughout the production where the playwright versus director conflict arises, though this is the most blatant example and really the only one that stands out a completely "non-functioning" moment.
Geddes has firm handle on the rich history and tradition of the closed-knit community life of the village in Newfoundland. He also has a knack for writing conflict and knowing exactly how and when to reveal critical components of the plot to build tension and reward the audience with fully loaded moments of catharsis. The story's overall narrative is one shared by the iconic culture, which Geddes has represented well within the confines of his music and lyrics. Leary's vision for the show, particularly when it comes to the set that he designs, adds the warm sense of community to the script. The reveal of the Peggy's pub and house is quite breathtaking; the nuanced detail quite impressive.
Costumers Dannielle Beitzell and Eileen Murray-Kraft do their best to settle the show's aesthetic in the mid-late 80's of Newfoundland and the chilly Canadian coast is well-represented in their sartorial selections. There are two wildly refreshing outfits, seen on Ron 'Aquarius' and Kelly, which remind the audience that rock and roll lives on even when folk music is what's attempting to prevail. A nod of praise is also deserved of Lighting Designer Stephen Beitzell for the way in which he captures the essence of certain scenes, particularly those outside which feature sound effects blending into the lighting to create an atmosphere. Though there are some questionable choices in the light-work, primarily doing tight color focuses every time that Oran sings a solo (only because this then detracts from those around him having reactions and responses), for the most part, the lighting in the performance is on point. 
With a tireless ensemble who carries the energy of the show through the more rousing musical numbers like "Memories and Legends" and "All the Way Home," the show is in good-spirited hands. Dancing and clapping, this dedicated group of performers makes the most of the opportunity they've been given, under the guidance of Musical Director Stanley Livengood. Working together to cultivate that sense of community and kinship, a bond is formed through the music and lyrics of this intimate Newfoundland flock of friends.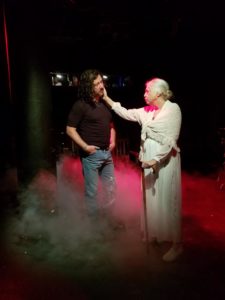 The scene-stealers of note in this production are two-fold. Elanor Murphy (Helenmary Ball) is the epitome of a kooky old bat, or perhaps a ghastly apparition who appears only to the lost and wandering soul. Ball runs away with her scene, both the initial where she encoutners Oran and later when she joins the ensemble. Wild of spirit and vividly expressive, her spoken poem, "Oh, Sea" strikes the audience deep and true, but it's her ranting off the rails inside Peggy's Pub that really puts the wind up the sails of the audience. Ron 'Aquarius' White (Stanley Livengood) gives old lady Elanor a run for her money when it comes to commanding the comedic attention of those watching. Plucky, spunky, and downright weird, there is a vivacity beyond expression in his portrayal of the quirky little character. Both Livengood and Ball are welcomed comedic relief to a show which quickly idles in the emotional mire of the plot.
Another striking performance worthy of note, and all the more so because of her silence, is delivered by Lauren Patton, who plays Maddy. Disturbed, reclusive, and living in her own little bubble, Patton invests deeply in the character and makes her an integral part of what's happening in every moment, even when she only subtly exists in the background. Maddy's father, Lenny (Michael Reeher) is a warm personality to contend with as well. Delivering a potent, albeit screamed, rendition of "Maddy's Missing", Reeher showcases his emotional versatility, as well as displaying a strong singing voice during the ensemble numbers.
The stronger of the vocal abilities are well-assigned to the more prominent characters. Daniel Douek, playing the French Guy LeBlanc, gets to showcase his robust sound during "Claire", an emotional solo that is both rich in sound as well as emotional depth.  So too does Leah Livengood as Peggy during "Eri", the most folksy and haunting number featured in the show. Livengood should be praised for her "Newfy" accent, which is one of the most consistent and dialect-accurate in the performance. With a peppery personality to match her spitfire character, Livengood makes her mark on the performance, and has the audience quickly on her side when it comes to her involvement in the whole funerary affair.
Though Kelly (Vashti Gray Sadjedy) is a late arrival to the scene, between her wild outfit and poppy attitude, you feel her entrance making waves from the moment she crashes through the door. Sadjedy possesses a strikingly powerful and beautiful voice, making it perfect for the duet "Canvas Wings", which is shared with her father Pete (Paul M. Davis.) With an equally strong singing voice, Davis finds himself carrying quite a few of the song selections, including duets with Sadjedy and Linda Whiting, who plays his wife Jenny. Davis should also be praised for his "Newfy" accent, as it carries with solidarity into his singing voice and maintains a level of consistency that is remarkable and pleasing.
The emotional throw-down between Davis' character and Oran Tobin (Christopher Overly) is moving. When they come to blows, with all but Peggy keeping them apart, there is something deeply unsettling about the pathos that charges each of their blasts. Overly, who drifts in and out of moments as if his conscious mind and presence thereof were the ebb and flow of the tide. With a clear and deep voice numbers like "Fireflies in the Rain" and "Now That I Was" gain exceptional emotional purchase in the ear of the audience when Overly sings them.
It is an experience worth having, a show worth seeing, and despite its bumps and bruises of being a new work in development, definitely something that will settle into the mind and the heart as a touching tale of how to survive life.
Running Time: Approximately 2 hours and 15 minutes with one intermission
Memories & Legends plays through October 9, 2016 with Wolfpack Theater Company at Greenbelt Arts Center— 123 Centerway in historic Greenbelt, MD. For tickets call the box office at (301) 441-8770 or purchase them online.