Mary Burnett is clad in the scarlet of fire and blood as Medea. Britches and Hose Theater Company's new production of the Greek tragedy by Euripides both boils with anger and freezes with cold calculation. It opens with Arielle Seidman as the Nurse, skillfully relating how Medea has been wronged: her husband Jason has picked a younger wife, the daughter of the king, so Medea and her two children are to be banished. She heads a chorus of six women, who remain on stage the entire show, suffering the roller-coaster of brutal emotions, fervently in every moment. 
It's tempting to keep your eyes riveted to Burnett as Medea. When she enters, the chorus scatters: she owns her space. But do not miss their incredibly talented performances. The six of them have created strong characters. Most notable are Elizabeth Weiss as Kallistrate—  suspicious of Medea but gradually won over (to the point of tears smearing her eyeliner)— and Sarah Pfanz as Metrodora—  named for an ancient Greek physician, strong and sensible and grounded. They and the rest of the chorus (Tiffany Foxworth as Charis, Francesca Cesaro as Aspasia, Erika Carlson as Eumelia, and Connie Ramsey as Phile) perform magnificently, heightening every moment— especially the horrifying, resounding silence that comes just after the play's climax. They are alone on stage, sharing their grief, so potently that you will understand what catharsis really meant to the Greeks.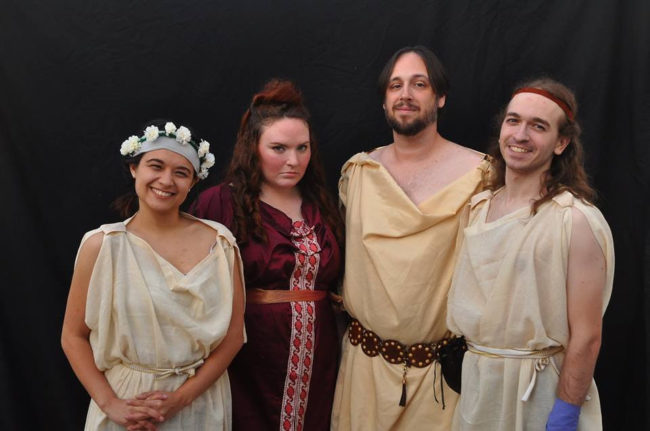 Medea's journey to that moment is a painful one. She has indeed been wronged, and she resolves revenge in the most shocking way a mother can. The thoughts behind that horrific act have been debated for thousands of years. Director Leandra Lynn has crafted a character who is decidedly not insane, but coolly, calmly making terrible choices … and making them almost reasonable. Or perhaps more than "almost" as Burnett's performance is sympathetic and tempered, angry and manipulative. She tells Creon, the father of Jason's new bride, just what he wants to hear, and then immediately sets about plotting both his death and his daughter's. Creon receives less sympathy both self-involved and uncertain of himself; Michael Angeloni has put his finger right on the character's duplicitous heart. Medea similarly manipulates Aegeus, King of Athens (Dave Joria), who is tricked into offering her a refuge for the crimes she has already set herself to commit. 
Those crimes will be children (Tom Barylski and Wendy Briggs). Barylsi and Briggs are innocently childlike, unaware of the fate that befalls them, while their Tutor (Spencer Pilcher) empathized with Medea's plight in Pilcher's powerful voice. All of this death focuses on Jason, nobly defended by Dan Clark. Jason has certainly wronged Medea, and attempts to buy his way out of his crime with money and offers of transport. Again, Medea pretends to make peace with him. He kisses her, but her face and posture are clear signals that she's not really having any of it. 
This being a traditional Greek tragedy, action all happens off-stage; it tells rather than shows. The most potent telling of all belongs to Margaret Carson's Messenger, who tells how brutally Creon and his daughter died. They died of poison, classically the woman's weapon, but this is no morphia that puts them to a gentle sleep. The Messenger has a terrifying story to tell, and Carson will harrow you.
The costuming by Mari Davis and hair by Francesca Cesaro are also very traditional. Strongly based on scholarship, they help the performers evoke Greek statues come to life. Medea's scarlet gown matches her flaming red hair, and the costumes help each of the Chorus members establish their identities before they've spoken a word. What's not traditional is the staging. Lynn has chosen an in-the-round performance style, which keeps the pace up with lively blocking, and an intimate feel. The Chorus often gathers in the corners, all affirming together or in singles or pairs, while the protagonist and her co-stars sweep through the center of the stage. Again, do not miss them: they are the emotional rock of the show. The cafeteria in which Britches and Hose makes its performing home is not a glamorous place, but this is vibrant, passionate theater. 
Running Time: 90 minutes with no intermission
Medea plays through September 25, 2016 with Britches and Hose Theater Company at the Green Acres Center— 4401 Sideburn Road in Fairfax, VA. Tickets are available for purchase at the door.