They were just four guys under a neighborhood street lamp singing someone else's number one hits. If you ask those four guys how it all happened, you'll get four different stories, but the truth of the matter is when those four guys found their sound? The Jersey Boys were born. For a one-week only limited engagement, the smash-hit musical Jersey Boys (with Book by Marshall Brickman & Rick Elice, Music by Bob Gaudio, and Lyrics by Bob Crewe) lands— as a part of the CareFirst Hippodrome Broadway Series— at Baltimore's Hippodrome Theatre, and if the truth be told? Oh, what a night! Featuring the Musical Supervision of Ron Melrose under the esteemed Direction of Des McAnuff, this powerfully nostalgic musical will take you on a feel-good trip down memory lane, inviting newer audience members to the music of the 60's, and tell one incredible story of how four neighborhood boys from Jersey became the iconic sensation known as Frankie Valli & The Four Seasons.
The Jersey scaffolding, crafted into existence from the mind of Scenic Designer Klara Zieglerova, is the perfect backdrop against which the story is set. With a lamppost that lowers from above into the scene every time its required and the spiral metal stairs that flank the scaffolding to the right, the gritty feel of humble beginnings is threaded with solidarity into the set. Enhancing the storytelling element of the performance, Projection Designer Michael Clark highlights several moments with dated comic-book style animation captures that fully ensconce the essence of each moment or musical number being featured. These are charming little nods to an era of pop culture that has gone from our present reality but is certainly not forgotten. Add to this aesthetic the precision lighting plots conceptualized by Lighting Designer Howell Binkley and the show is transformed into an electric hybrid performance: half storytelling, half jukebox musical, all heart and soul.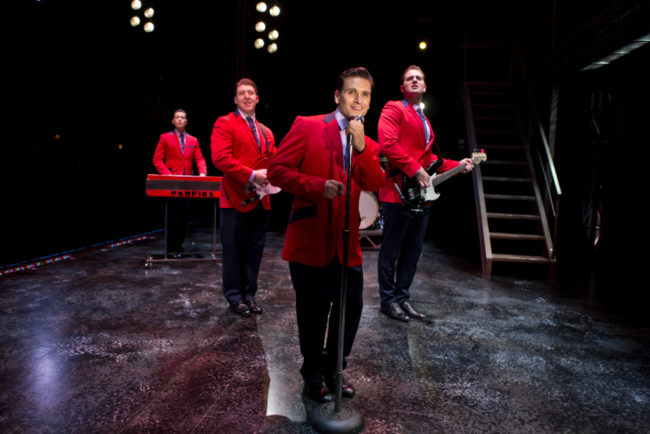 Capturing not only the essence of the 60's in the sartorial selection but also the spunk and personality of a group of young men trying to find themselves, Costume Designer Jess Goldstein (in conjunction with Wig and Hair Designer Charles LaPointe) fabricates a unique look for the title characters as they go through group name after group name until they finally establish their identity as The Four Seasons. A great deal of the suits are shiny or contain some element of glitter or sequins. Goldstein's designs resonate beyond the physical attire, carried into the performance energy of the main four characters, for even when their jackets don't possess the physical representation of glitz and twinkle, that razzle-dazzle sparkly can still be heard in their voices.
There is a crisp sharp succinct nature to the dance moves of the show. Choreographer Sergio Trujillo has defined the epitome of 60's 'boy-band' dancing when it comes to Frankie Valli and the others on the stage shuffling, shifting, and swooping along with him. Trujillo focuses on their bodies as instruments, using each pelvic pop, shoulder shrug, and hip-swivel to add a layer of glorious harmony to songs like "Walk Like a Man" and "Sherry." Although the fellas are dancing and grooving long before they come into their own sound as The Four Seasons, Trujillo's choreography is most strongly represented once they identify as the group they were always destined to be. This energetic burst of motion keeps a lively spark reverberating across the stage and out over the audience from the moment the music begins right through to the concert-style finale featured post-curtain call.
Recreating the sound that defined an era while simultaneously making it sound fresh for the very first time to an audience each night is no small task, but with Music Director Taylor Peckham, Music Coordinator John Miller, and Musical Supervisor & Vocal Arranger Ron Melrose at the helm, such a feat is easily accomplished and with great aplomb. The harmonies, the blends, the instruments on stage, all of these tremendous successes come together as a functioning vehicle for the show's ultimate success because of the musical team working tirelessly to make them exceptional. Rhythm and pacing feel smooth, sounds are articulated with striking balance; there isn't a note out of place, an arrangement out of sorts, and everything is pleasing to the ear. Working all of these components into Director Des McAnuff's vision for the show, which far supersedes the average jukebox musical in its strikingly vivacious story, the show is nothing short of sensational.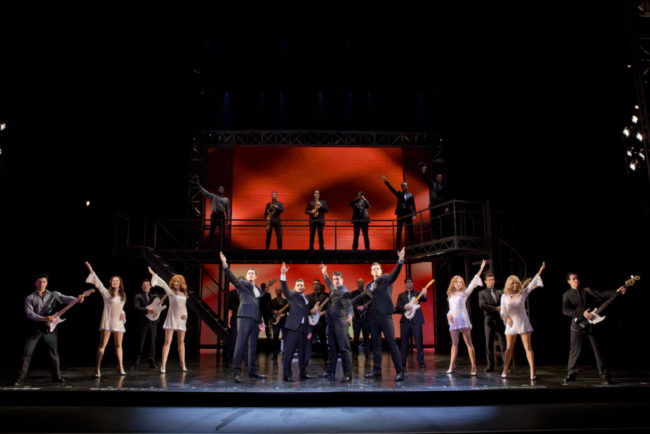 Pop-up performances worthy of noting in the ensemble include Leslie Rochette, who first plays Frankie's Mother and later plays his daughter Francine, Kristen Paulicelli, who takes on the larger than life role of Mary Delgado, and David LaMarr, who provides us with a plethora of poppy characters that are memorable for the hysteric they create. Rochette delivers a fine Jersey accent in both of her named characters, but it's the moments in silence as Francine that she shares with her Frankie that strike a chord with the audience. Paulicelli, who is a fiery cat as Mary Delgado, brings momentary bursts of depth to this cameo character that liven the portrayal tenfold. LaMarr, who qualifies to be a scene-stealer several times throughout the performance (including the wailing riff during the curtain-call finale, which showcases his impressive vocal prowess) understands the keen nuances of comic timing, especially when it comes to his character work with the Police Officer.
Little Joey (Jonny Wexler) is a pip of pizzazz, though much abused by the Tommy DeVito character. Much like the others in the ensemble, with little moments of humor sprinkled in here and there, Wexler adds a layer of humanity to his incidental moments, making the cameo pop off the page rather than blend into the background. The same can be said for Gyp DeCarlo (Thomas Fiscella.) With hysterical melodramatic reactions to Frankie's rendition of "My Mother's Eyes", Fiscella finds the humor in the character and works it to a frenzied peak. This is not to dismiss the severity with which Fiscella carries the mafia boss-like character, because that— like a black hole— is heavy with gravity and will pull you in without a doubt.
Running away with his introductory scene, among others, the spastically engaged and extremely high-strung Bob Crewe (Barry Anderson) is on a wavelength all his own in this performance. Anderson is fantastically flamboyant, playing right into the heightened camp of the character but toeing the fine line of keeping him firmly rooted in reality without drifting away into a caricature. There is a contagious energy burbling about him, or more accurately wafting around him like a shining pink mist, which just screams inspiration and seems to dissipate into those around him on the stage. Anderson is a delight to watch, though his moments of interaction with the others are brief, if for nothing else because of the tenacious vivacity he brings to the character.
Putting four incredibly talented performers together is one component of creating The Four Seasons. Having an authentic verve of camaraderie and friendship that permeates the fourth wall to the extent where the audience can feel their kinship and love for one another through the good times and the bad times is theatrically masterful and a success well achieved with the four stars playing Tommy DeVito (Matthew Dailey), Frankie Valli (Aaron De Jesus), Nick Massi (Keith Hines), and Bob Gaudio (Cory Jeacoma.) There are moments where these four fine performers truly are The Four Seasons, as if time itself were suspended in the theatre and these four gentlemen, wailing away through iconic tunes, snapping their fingers, and strumming their guitars were captured in the middle of the 60's and brought straight to the stage for our viewing pleasure.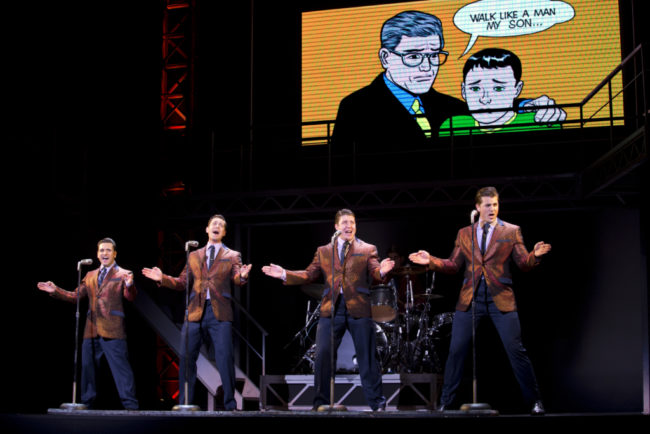 Fully embodying their characters, the relationships they have with one another, the way they handle their narrative elements of the story, and of course the intricate manner in which they interact with the music, all four performers create a riveting performance that draws you fully into the show. Hines and Dailey, as Nick and Tommy, will have moments in various songs where they are jamming away on their guitars, leaning into each other's bodies so caught up in the music that they become the song. De Jesus and Jeacoma, as Frankie and Bob, have similar moments, whether it's a glance or a smile shared between them; these moments which are carefully cultivated by this quartet of talent are what make the show feel alive.
Matthew Dailey starts the show off as the narrative figure, a true mouthpiece from Jersey as Tommy DeVito. Glowing with gusto, packing panache, and cocksure certified, Dailey delivers Tommy DeVito as the backbone of the group that the man believes himself to be. There's never a moment where he wavers in his convictions, there's never a pause for doubt, even when his emotions get the better of him and he erupts. With a character like Tommy DeVito, it's easy to play him reserved and on the surface, but Dailey digs in deeper and unearths a rare humanity, which showcases that despite himself, he does care. Dailey's portrayal of DeVito makes the character description line of the man "…he can't help himself…" strikingly true and has the audience feeling for him despite all that he does. "Earth Angel" as well as "You're the Apple of My Eye" are solid examples of Dailey's vocal prowess in addition to his impressive ability to harmonize in all of the group numbers.
Keith Hines, who remains mostly quiet as Nick Massi, has a serious deadpan approach to his humor which makes the character an absolute scream. There is a low-rumbling tension that starts building early on, little one-liners here and there, the stoic and stiff-upper lip of the character starting to quiver as the show moves forward. Hines goes off the rails in the second act and its delightfully detrimental, quickly reminding the audience of just how passionate Nick Massi can be. There is a wonderful broad stroke of both humor and conviviality in Hines' portrayal, in addition to the committed dedication of his musical ability. Though not credited with any solo features, there are distinctive moments peppered throughout the performance where Hines' voice can be heard clearly as Nick Massi and the sound is glorious. His accent is the most praiseworthy of the quartet, largely because it defines his character so thoroughly.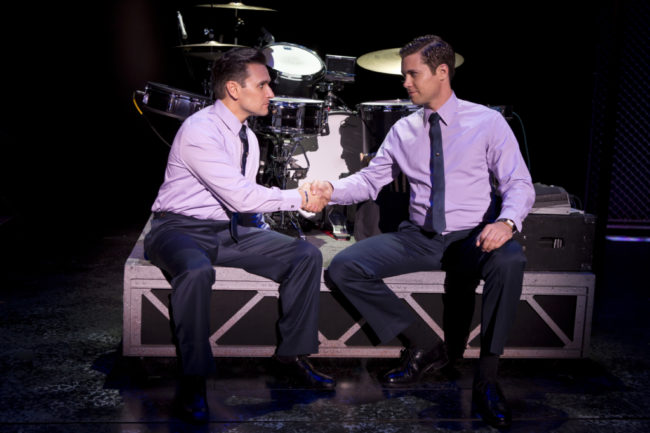 Cory Jeacoma is a dazzling dot of youthful exuberance that drops into the quartet as Bob Gaudio as if he belonged there from the start. Upbeat, energetic, enthusiastic, Jeacoma carries this spirited youngster of a character right into the thick of things and never looks back. With charismatic vocal prowess, which is surprising given the youth of the character, Jeacoma's Bob Gaudio is a jubilant pleasure to watch. "December, 1963 (Oh, What a Night)" though humorous is a great showcase of his vocal ability, as is "Stay" and "Cry For Me." Congenial almost to a fault in his earnest approach to the character, you see right through everything that Jeacoma infuses into the character. It's all heart and soul, all honesty, and all amazing.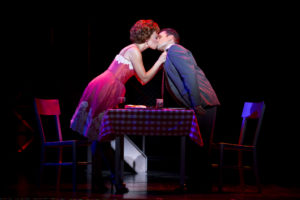 When it comes down to playing Frankie Valli, Aaron De Jesus takes us on a marvelous journey. This is no longer just the story of Frankie Valli & The Four Seasons, but a personal invitation to a narrative reenactment of Frankie Valli's life story. With astonishing and mesmerizing vocals that defy the laws of sound in places, De Jesus emulates the sound of Frankie Valli— so high in the rafters— while simultaneously making it his own. This unimaginable balance between tribute and performance is masterfully handled by De Jesus and with great consistency throughout the performance. "Fallen Angel", a song none too often recognized, becomes the pinnacle moment for the character arc that De Jesus lives in as Frankie Valli. Broken open and bared with a soul-searing vulnerability, this number moves the audience to tears. "Can't Take My Eyes Off You" as well as every other iconic hit where Frankie's notorious wails can be heard as sensational. De Jesus is a Frankie Valli of his own creation, everything the audience expects when they see the musical legend, and yet delivered with so much more individuality, spirit, and heart than any mere replication of a famous musician.
Oh, what a night indeed! And big girls don't cry, though they might if they miss their chance to see this stunning musical here in Baltimore. So walk like a man to The Hippodrome Theatre, get your tickets to see Jersey Boys while it's in town, and you too can have a night to remember that will be out of this world.  
Running Time: Approximately 2 hours and 45 minutes with one intermission
Jersey Boys plays through October 2, 2016 at The Hippodrome Theatre in the France-Merrick Performing Arts Center— 12 N. Eutaw Street in the Bromo Seltzer Arts District of Baltimore, MD. For tickets call the box office at (410) 752-7444 or purchase them online.