When the wind howls do you answer it by building a shelter or by building a kite? Forum Theatre answers by not only building a kite but flying it through an emotionally turbulent storm with their 13th season opener, with the DC-area debut of I Call My Brothers, written by world-renowned playwright Jonas Hassen Khemiri. Translated from Swedish by Rachel Willson-Broyles and Directed by Michael Dove, this gripping and visceral tale explores the narrative experience of Amor, an average individual in an average American city, doing his best to blend in, be invisible, and not raise suspicion simply by existing. Strikingly suited for the current political climate, this 90-minute high-octane emotional surge sizzles with hot-button topics like racial stereotyping and profiling and destabilizes the audiences' preconceived notion of what exactly it is they are seeing and hearing.
Jarring and startling are the words that best describe the combined approach of Lighting Designer Max Doolittle and Sound Designer Justin Schmitz when it comes to the beat structure of Khemiri's play. Visually disarming and aurally alarming, Doolittle and Schmitz work together to paint the audience with a sense of discomfort, a sense of disquiet. This primes theatergoers for the highly exposed nature of the story that's about to unfold: a car has exploded; the city is crippled with fear. In addition to these unsettling moments of audio-visual sensationalism, Doolittle is responsible for the cleverly crafted spotlight circles that focuses the performers into tight moments of isolation. The illuminating elements of the show become a masterful character of sorts, filling in the gaps in the skeletal framework of Director Michael Dove's minimalist set design.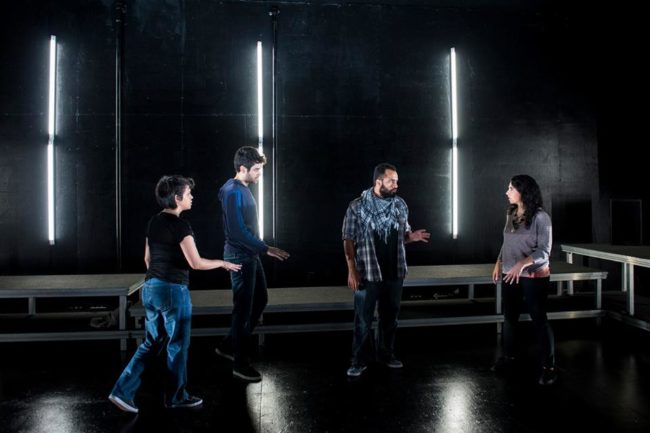 Augmenting the chilling light plot, Projections Designer Hannah Marsh infuses an imitation of live-feed grayscale imagery, which features all four performers, as if they are the eyes forever watching. This replicates the symbolic paranoia that Amor feels throughout the performance and is a strong visual image to pair with the concept. As mentioned, Schmitz assists both Doolittle and Marsh with their craft by spinning a unique sound plot, articulated to enhance certain moments of emotional overflow with exacting care.
Playwright Jonas Hassen Khemiri has penned a profound piece of theatre, almost poetic in its descriptive nature with vivid language that ensnares the attention early on. In the hands of leading player Ahmad Kamal, who takes on the main role of Amor, this intentionally deliberate phrasing and use of descriptive imagery exposes emotional depth in the text as well as paints a disturbing experience for all to see. Continually blindsiding the audience with the upheaval of circumstances, every time the play gets its footing or the audience gets a clear notion of what exactly they're witnessing. Is this a story about a terrorist? Is this a story about a terrorizing experience? Is this a story about injustice and racial profiling? Is this a story about struggle? Or perhaps it is all of the above? Khemiri loads a theatrical powder keg with his script; Michael Dove and the four-person cast ignite it into a theatrical explosion of unapologetic cathartic experiences and narratives that seize the audience and throw them headlong into a chasm of chaos.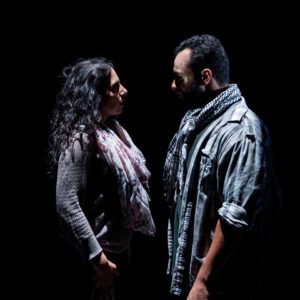 While Ahmad Kamal is the leading focus of the narrative, the show moves and breathes like an ensemble work. Saleh Karaman, Nora Achrati, and Sarah Corey fit effortlessly into the story like woven threads of hand-stitched embroidery that identify the work as complete. Corey, who spends most of her on-stage time as Valeria, is emotionally expressive in a fashion that is simultaneously insular and expulsive. This contradictory approach to unpacking Valeria's experience is nothing short of fascinating. The exchanges between her character and Kamal, particularly when the threads of tension are drawn taut and the undercurrent of foreboding slips into play, are difficult to swallow but force the audience to actualize what is happening between them from both perspectives.
Nora Achrati is used in various fashions throughout the performance but none so moving as her character with the phone-conversation towards the show's conclusion. There is something deeply heartfelt about her portrayal in this instance that grounds a different level of emotional reality into the play as a whole and brings to the forefront the nature of Amor's internal struggle. Not without humor, in appropriate balance with the more solemn and serious moments of the play, Achrati is sharp in her comedic delivery as well as her timing.
Saleh Karaman crackles with quirky energy as Shavi. Though his other ensemble characters are well defined by a simple shift in posture, it's his work as the curiously understated best friend that is worth mentioning. A refreshing conviviality comes into play with Karaman's approach to Shavi and this welcomes him into Amor's narrative, despite the dismissive fashion in which he is first described. Full of punchy delivery, particularly early on when the show is still erring on the side of light engagement, Karaman finds his place among the quarter of performers with ease.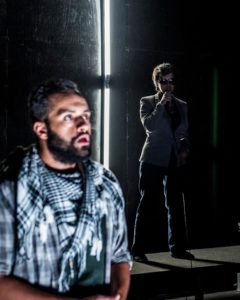 Astonishing in his ability to deliver stream of conscious monologue text, Kamal drowns the audience with emotional intensity when that rapid-paced scene comes gushing out of his mouth like a floodgate has given way to a swell from a much needed cathartic storm. Mindful, present, and ever conscientious of how he moves and how he speaks, Kamal embraces the story of Amor, making it his own, will guiding us through the experience. There is no detachment from the experience, even when the character internalizes some of the more emotionally evocative moments. Kamal's performance is not only a testament to his exceptional skill as an actor but an appreciative thanks to Khemiri's work.
A true bang, I Call My Brothers will spark conversation beyond the shadow of a doubt, making it the perfect way to start Forum Theatre's 13th season.
Running Time: Approximately 90 minutes no intermission
I Call My Brothers plays through October 1, 2016 at Forum Theatre in residence at The Silver Spring Black Box Theatre— 8641 Colesville Road in the heart of downtown Silver Spring, MD. To purchase tickets call the box office at (301) 588-8279 or purchase them online.