Good evening, Charm City. It's 9:00 o'clock. Do you know where your children are? If they're good little children, then they've settled into The Wind-Up Space for an evening of radio broadcast that is the strangest, most bizarre thing ever heard, at least this side of millennial temporal rift! Broadcasting live from W-IND studios, Horatio Dark's Between the Lines is here and it's a doozy. Featuring just one recurring serial and three new non sequiturs, September's installment falls just in time to welcome autumn, fresh corpses and all.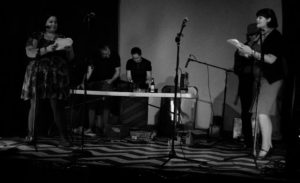 With Foley Master Dave Marcoot and SFX assistant Eidhnean Illuviel at their Foley table to get things underway, the authenticity of the radio program is here to stay. Using everything under the sun from hot water bottles to the newly-created, state-of-the-art coffee-can-space-wobbler (a staple sound effect to the intros and outros of each program, previously produced by a metal thunder board) both Marcoot and Illuviel enhance the veracity of the scripts as their read. The audience can expect to hear everything from tires squealing to doorbells ringing, and all sorts of mysterious aural effects in-between. The scripts writers of Horatio Dark have yet to uncover a sound that Marcoot and Illuviel can't manage, and some of the sound effects that the team does manage to create are astonishing to say the least!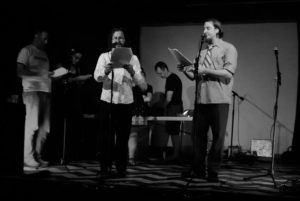 Properly settled into the new space, which is a good four months under their belt now, Horatio Dark's Between the Lines takes the broadcast to the newly christened "W-IND." With the iconic Jon Freedlander continuing his role as show host and master of the macabre, Horatio Dark, the familiar voice entreats the audience to spooky soirees, insane anecdotes, and morbid marvels as he introduces each of the evening's tales. Taking permanent residency in the role of the program's Announcer, Chris Allen brings a uniquely spunky and inviting vibe to the character. This energetic burst of pep makes the hallmark of the broadcast, which as everyone knows is the "Campaign for Truth Dollars", a real pip of a plug between programs!
Highway 11: Part 1 by Zachary Yarosz and Lisa Hillring
A creepy hitchhiking ghost story? Not on your life. Zachary Yarosz and Lisa Hillring have already piqued the audiences' interest by titling their tale as a "part 1" and after the show's cliffhanger conclusion, it's no wonder that eager theatergoers are hanging on the edge of their seats. James (read resplendently by resident vocal artist Jeffrey L. Gangwisch) finds himself strangely stranded at Levi's Diner, a wholesome, all-American, roadside pit-stop of a greasy spoon that God forgot somewhere in the middle of nowhere. Yarosz and Hillring do an exceptional job of painting the scene, employing the theatrical device of Noir-style narration (presented by house reader Mike Jancz.) The descriptions featured therein are the strongest of the pair's writing in the story. Markedly a smidge uneven between this and their characterization of each person encountered, the script still flows smoothly and the tension that builds to the shocking cliffhanger is quite well wound.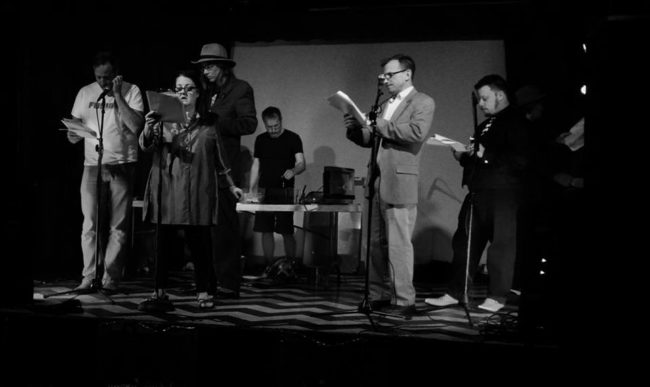 Gangwisch, as mentioned, plays the main character, engaging fully in the audio drama with not only a captivating vocal escalation as his character falls deeper into the madness that's occurring around him, but with an active body and vivid facial expressions. Joining him on his madcap journey, a slick-talking mystery man, George (voiced by Todd Gardner) really turns heads once he enters the scene. Gardner has an impressive handle on his delivery as George, speaking so smartly and with such a slippery pace that it's dizzying to keep up with his words; he speaks almost as fast as he speeds his car. Adding peppery flavor that only denizens of a diner can, Alix Tobey Southwick plays the initial diner-counter encounter character of Sef, while Douglas Johnson takes on the saucy role of Sal, a real diamond in the deserted rough, as it were. The pair add comedic cheek to the show, which is topped only by Michael Stevenson's cameo as Earl, the muttering diner dingbat, whose ridiculously short one-liners just about steal the scene.
Line of the Script: "Well, I can't say I know a drip, drip, drip about that…" – Sef (Alix Tobey Southwick) spoken to James (Jeffrey L. Gangwisch)
SFX of the Script: Hot-water bottle squealing across the table simulating car swerving all over the road.
The Body by Horatio Dark
This one is a no-brainer, or perhaps a no-body-er? Horatio Dark sets down his pen to create a non-sequitur this week, which goes right off the rails of reality! Alexandra Bates is a sweet housewife. Alexandra Bates cooks dinner for her lousy husband Ron. Alexandra Bates is fed up with being beaten by her abusive husband Ron, who comes in drunk and wails away on her. Alexandra Bates takes matters into her own hands! Dark, yet strikingly cheeky, this latest non-sequitur from the master of the macabre himself touches on domestic violence but in an approachable fashion. Scripting Ron to be a ruthless misogynistic asshole, the audience quickly becomes Team-Alexandra all the way. Delving into the science-fiction element of the show, we start with Ron being dead but still completely able to communicate with Alexandra.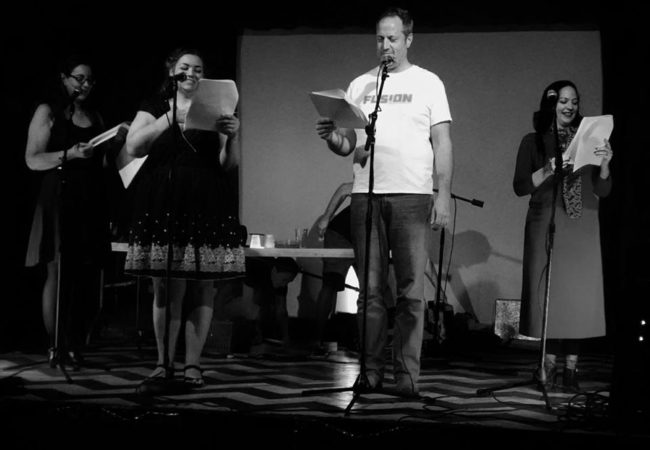 Voiced by Vii Lee and Michael Stevenson, who have a tremendous working rapport with one another (to the point of hugging each other at script's end to ensure there are no hard feelings), bring this characters to life! Lee goes above and beyond to animate the vocal logistics of Alexandra, almost to the point of winning best SFX of the script for all of her huffing, puffing, grunting, and groaning. Stevenson has more than a handle on the utter douchebaggery of Ron in both delivery and facial expressions. The cameo appearances by Amelia Carroll and Lori Travis are quite telling of Horatio Dark's writing in regards to characterization of the 1950's kitchen sink situational comedy, however dark this one happens to be. Travis plays the sweet, albeit ignorant downstairs neighbor Barbara, and Carroll swell son, Joey.
Line of the Script: "The gall, killing your husband and then playing cards right after, I can't wait to see your poker face." – Ron (Michael Stevenson) spoken at Alexandra (Vii Lee.)
SFX of the Script: Whatever in the world they were doing for the dragging and shuffling of Ron's body
Dummy Up by Todd Gardner
Easily arguable as the funniest and most polished script of the evening, Todd Gardner's latest work had the audience yucked up in stitches before curtains were dropped on the old Vaudeville act featured in his newest non-sequitur, Dummy Up. Nuanced thoroughly with Gardner's patented puns, there is a surprisingly well-crafted plot buried beneath all the flim-flam flummox happening in the story. This is not to say that one should not expect intricately woven plots with carefully placed twists from Gardner— obviously that's exactly what we should expect— but it is a delightful surprise all the same considering such plots are often absent when comedy and written shtick take the foreground in a tale.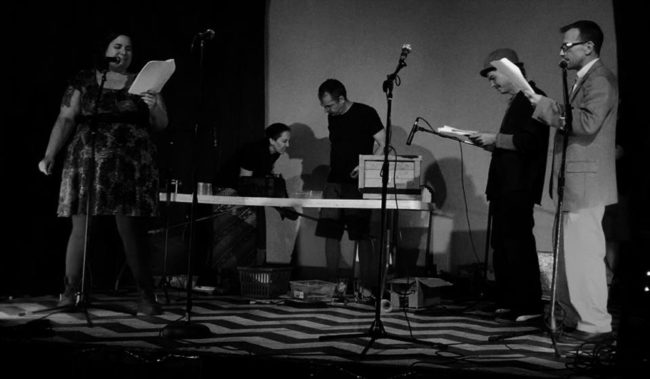 Making Gardner's writing that much more impressive is the strong vocal affectation that Mike Jancz brings to the featured character of Sammy. Nasally, nervous, and altogether a bit reedy and meager, Jancz presents this underdone milquetoast potato of a man that is quite precious, making the way his character falls apart that much more intriguing. Katie Rouse brings a vivacious accent to her stereotypically Jewish agent character of Shelly Litwack, getting all of the words out with an appropriated sound that carefully toes the line between humorous and offensive, always landing on the safer side of said line. And then there's Jimmy Birch (Becky Hackerman) who's a chip off the old block as it were. Seedy, scary, and the stuff of dummy nightmares, Hackerman does a fantastic job of bringing this dummy to life with her creepy voice and well-timed delivery. Other pop-up performances include the boisterous Detective Morris, played by Nairobi Collins, the drunken heckler, played by Douglas Johnson, and sweet Big-Apple-sounding doll Lucy, read by Kate Smith-Morse. A remarkably humorous tale with a deeply dark twist!
Line of the Script: "Pow! Word'll spread like poison ivy on your privates!" – Shelly Litwack (Katie Rouse) to Sammy (Mike Jancz)
SFX of the Script: Clattering, clinking glasses for the low background rumble of the bar
The Castle: Part 3— A Rex Pylon and Dot Planet Tripper Adventure by Horatio Dark
Concluding the three-part saga of The Castle, our heroes Rex Pylon and his quirky traveling companion Dot find themselves where we last left them in Part 2…or do they? In this thrilling conclusive episode to the trilogy, we are reintroduced to Doctor Salamagundy (who's rebirth was teased at the cliffhanger end of Part 2) and are astonished to learn that the good Doctor has appeared in real time only this time as a woman! (Voiced seductively and nefariously by Emily Ward.) Horatio Dark takes the audience on a real thrill ride as we encounter dream state after dream state, trying to figure out just what in the world is going on! Will Doctor Salamagundy's evil pl0t be thwarted? Or will her terror reign supreme? With the assistance of her latest creation— Congaline (supposedly pronounced Conga-leen, except for when Derek Vaughan Brown, the recurring voice of Rex Pylon, has at it— and then we're all doing the conga-line in our seats with uproarious laughter.)– the good Doctor may well be on her way to universal domination!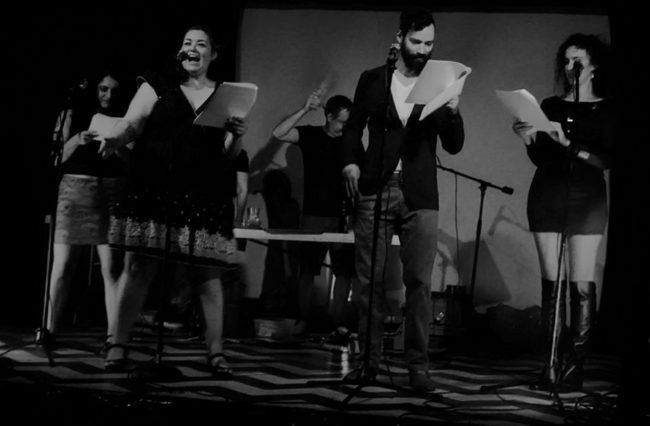 Congaline (read by the serendipitously sweet Ann Tabor) is at first blindly loyal to the good Doctor. Tabor's portrayal of the sentient caveman-cyborg is endearing, imbued fully with innocence and a firm grasp on how to deliver the broken grammar which her character is afforded. Tender and delicate, when the plot twists round, it makes it that much more adorable to see the decision Congaline is forced to make, and with Tabor's performance, who wouldn't love her? Emily Ward, as the dastardly Salamagundy, has audiences squirming in their seats with her sensual voice, each sentence oozing from her lips like seductive slime ready to ensnare all those listening. Up to snuff and on point per usual, the recurring roles of Rex Pylon— Derek Vaughan Brown— and Dot— Vii Lee— are delivered in their typical manner, with Lee bringing her own brand of country bumpkin animation to the vocality of the character. Vaughan Brown gets the opportunity to showcase a bit more of his vocal aggression, really digging into his ferocity reserves when it comes to the injustices that befall him and his lovely companion this go-round.
Line of the Script: "You a just a human, plucking fire from the Gods! You will fall!" –Rex Pylon (Derek Vaughan Brown) shouted at Doctor Salamagundy (Emily Ward)
SFX of the Script: The hefty slurping straw sounds for Dot's Choco-cola at the Soda Fountain
Conclusion: A most excellent evening of scripts— and an impressive three non-sequiturs keeping the audience's attention throughout the course of the evening, with crowd favorite Rex Pylon and Dot closing out the evening, a splendid time was had by all.
Horatio Dark's Between the Lines: September Broadcast was a one-night engagement on June 22, 2016 that played The Wind-Up Space— 12 W. North Avenue in the Station North Arts District of Baltimore, MD. For more information on Horatio Dark's Between the Lines, like the Facebook page or drop them an inquiry email.
Missed a broadcast? No problem! You can hear Horatio Dark's Between the Lines online as an uploaded podcast. Just click here.
Owing to the fact that the last Monday of October is Halloween, Horatio Dark's Between the Lines will be skipping the month of October. Regularly monthly broadcasts will resume on Monday November 28, 2016.