In a world where brunch heals most wounds and Shiva is the fast-acting delivery pray-to God when it comes to finding one's soulmate, there are most definitely stories to be told. Stories of identity, stories of the struggles when it comes to pursuing one's identity, stories of experience; these are experiences not our own and yet we can relate to them on a simply human level because they are stories that answer questions that at one time or another in our lives we have all asked ourselves, mainly— Who Am I? In a smartly comic and warmly sentimental one-woman show, storyteller Ritija Gupta invites the audience into her journey of self-identifying with religion and love. Charming the Destroyer: Questionable Choices in Search for the Sublime is a highly personal and deeply involved tale that is both irreverent and respectful of Gupta's life experiences with her religious identity, her trials and tribulations in love, and the happiness that she is embracing in her life at present. A feel-good night of theatrical storytelling awaits everyone coming to attend the show.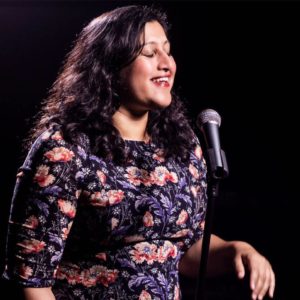 Requiring a tremendous amount of stamina not only to maintain a 90-minute one-woman show but to keep the audience engaged with the narrative of the tale, storyteller and performance maker Ritija Gupta delivers this stamina without question from the moment she takes the stage through to the performance's end. Although there is no set linear pattern of her story's narrative, though it does start in the toddler years and end somewhere in the present, the way in which each segment of the tale flows in and out of one another is reminiscent of tracing a mandala, with its intricate looping all interconnected. The journey is an emotionally potent one, but liberally peppered with laughable moments all throughout the story.
With little more than the black box space at Flashpoint, a projection screen, and a Power Point presentation loaded with video clips, photographs, and some cleverly matched music, Gupta— under the direction of Stephanie Garibaldi— has an organic stage presence that invites the audience into the experience of her world. Though there is a story being told, Gupta never falls into the contrived trap of 'telling the story' in a way that makes it feel as if it's being narrated. Crafting an open conversation to attentive listeners is a far more accurate description of her flavor of unpacking her experiences through the lenses of recall and recollection. This unique approach, where there are moments that appear to roll from her tongue as if she were remembering them for the very first time in a very long time in that moment, lends an air of authenticity to the story and brings it to an even deeper and more personal level.
Unearthing a rich balance between the irreverence and the emotionally grounding moments of her story, Gupta wends her way through significant life events that have shaped and molded how she perceives her identity, particularly in regards to her religious affiliation. With personal anecdotes that are charming and delightful as well as refreshingly honest, Gupta exposes her world in a sensitive yet unapologetic fashion. While Gupta is the only performer on the stage and delivers a great deal of her memories as simply that, it is not to say that she is the only character featured in her performance.
One of Gupta's many strengths includes the affectations of voice that she utilizes to welcome in other characters to the narrative journey. This is particularly noteworthy for her cousins during the pilgrimage story and of the Baron, when recounting her accidental involvement with a man whose primary job was to serve as a lobbyist for world dictators. These adjustments of accent and overall patois keep the audience amused and invested as these differing character voices are infused into the story.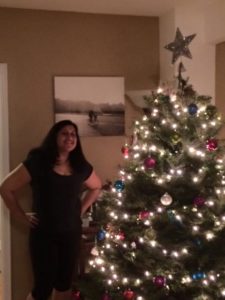 With an adroit passion for phrasing and word selection, Gupta engages with her text in such a way that you want to listen. Whether it's the moment where her emotional passions peak in panic over the porcine crisis at the "wildlife preserve for nerds summer camp story" or her solemnity at sharing the moving experience of attending the church in Charleston, or her incredibly frustrating eruption over somehow screwing up her pilgrimage, there is in earnest a vulnerability and a humanity to each and every moment that she's speaking on stage.
With a fabulous penchant for entangling the audience for all of the moments, be they happy or sad, lighthearted or heavy, irreverent or respectful, Gupta's one-woman show is well worth investigating for its limited-engagement run at Cultural DC's Mead Theatre Lab.
Running Time: Approximately 90 minutes with no intermission
Charming the Destroyer: Questionable Choices in the Search for the Sublime runs in repertory with You Have Made a Story on My Skin as a part of the Mead Theatre Lab Program at Cultural DC in the Flashpoint Theatre— 916 G Street NW in Washington, DC. Tickets are available for purchase at the door (though advance reservations are strongly recommended) and for purchase in advance online.