Entering their fourth season as a professional theatre outfit, NextStop Theatre Company is making butter out of cream with their smashing season opener, Catch Me If You Can. Based on the DreamWorks Motion Picture, this snazzy musical— featuring book by Terrence McNally, music by Marc Shaiman, and lyrics by Scott Wittman and Marc Shaiman— will inspire you to hop a Pan Am flight down to Herndon, Virginia so you don't miss out on all the excitement and entertainment the show has to offer. Directed by the company's Artistic Director, Evan Hoffmann with Musical Direction by Elisa Rosman, this marvelous musical is the bee's knees, the cat's meow, and sky full of delightful dancers who are serving up some choreographic realness live in living color all evening long.
Director Evan Hoffmann, who also serves as the show's Scenic Designer, brings that 1960's vibe to the forefront of the stage with his extremely colorful paper lanterns. Looking a bit like a radio station with an orchestral pit plopped down in the middle of it, Hoffmann's game is simplicity, letting the madcap characters and their crazy plots, the sprightly music, and sensational choreography become the focus. Working in tandem with Lighting Designer Brittany Shemuga, Hoffmann electrifies the stage for every musical number with a different aesthetic accent, whether it's the blitzing blink of the steps or the flashy pops of the paper lanterns; each song is matched with this colorful device to add an extra layer of pizzazz to the experience.
Shemuga, for as talented as her motion and color patterns tend to be when it comes to illuminating a scene, falls short when it comes to the more basic elements of lighting the show. Though the silhouette feature against the left and right 'glass' doors, which hug the staircase just so, is a brilliant idea, its execution is too clouded and muddled to be properly appreciated. There were also some minor issues with actors missing their light and the follow spot being in and out of focus, but these trivial blunders do not on the whole truly detract from the overall enjoyment of the performance.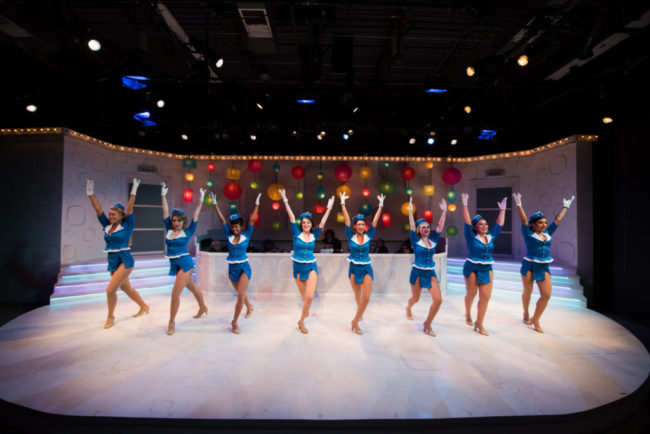 Costume Designer Julie Cray Leong desires the highest of praises for her achievements with the array of colorful costumes featured on the showgirls. While the suits are dapper for the bureau agents, and Frank Jr.'s disguises help him blind right in as he progresses from one career path to the next, Leong's finest work is displayed readily in the dozen or so highly sexualized dancer uniforms used for the showgirls. From naughty nurses to unbelievable umpires, the pinstripes are all that audience is seeing when it comes to Leong's sartorial selections. Balancing the appropriate level of sexuality that she threads into the outfitted aesthetic, Leong inspires risqué sentimentality while still keeping it somewhat wholesome.
Hands down the most stellar component of the production is the phenomenal dance routines crafted by Choreographer Rachel Leigh Dolan. With Assistant Choreographer Logan Floyd and Dance Captain Melrose Pyne lending their experience to Dolan's brilliant craftsmanship, the dancing is bursting at the seams of every musical number, loaded with lively enthusiasm. Dolan takes care to feature a fine core of Showgirls (Carolyn Burke, Corinne Holland, Hannah Jennens, Alexis Krey, Ariana Kruszewski, Mackenzie Newbury, Melrose Pyne, and Patricia "Pep" Targete) that put dynamite levels of razzle dazzle in each of the choreographic routines. The dances are smart, exceptionally well fitted to each of the musical styles featured in the show, and do miraculous things (like disguise the fact that Carl Hanratty is an energetic mover more than a sophisticated dancer in the number "Don't Break the Rules.") Filled with kicks, struts, swings, and tap-influence, each big dance routine— especially "Doctor's Orders" and "Live in Living Color" becomes a show-stopping smash for everyone watching.
As the showgirls comprise the general ensemble, so too do a few of them play other featured characters. Carolyn Burke takes on the role of Paula Abagnale, Frank Jr.'s mother. Though her French accent feels somewhat forced and a little inconsistent, her warm conviviality falls carefully in-step with the character's construct right up until "Don't Be a Stranger"— a duet shared with Frank Sr. (Doug S. Sanford)— where the illusion of lively perfection unravels. Other notable showgirls in featured roles include Hannah Jennens as Cindy and Patricia "Pep" Targete as Carol, with the latter of the two being downright uproarious as Brenda's mother, especially during "(Our) Family Tree." This group number also features Ruben Vellekoop as Brenda's father, matching the insane levels of camp delivered by Targete and all of the performers featured in the scene.
What's a classic game of cat-and-mouse without a cheesy distraction for the mouse? For Frank Jr., the mouse's name is Brenda (Mackenzie Newbury) and although far less cheesy and much more there stereotypical gooey-eyed ingénue in love, Newbury takes to the character with ease. Bright of voice and of sentimental mentality, the duet shared with Frank Jr., "Seven Wonders" has a syrupy sweet sound and even fluffier feel to it. There is a rather striking difference between this number and her only featured solo, "Fly, Fly Away" wherein Newbury showcases her vocal abilities and finds her emotional footholds in the lyrics of the song.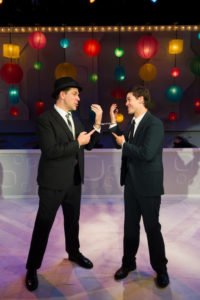 Relentless, stoic, and most definitely uncool, Carl Hanratty (Russell Rinker) is on the case like cheese melted on a burger. Conveying that 'hard-ass' detachment that only a leading point of the bureau can possess, Rinker slices through scenes with crisp and stringent stoicism, which makes for a delightful twist of events come the end of the show. Rinker's vocals are suited for the mellow jazz and blues sound attributed to the Hanratty character track. Though lacking in dance technique for "Don't Break the Rules" his vocal prowess more than makes up for this shortcoming. "Little Boy Be a Man" is another brilliant showcase of his crooning song talent, but it's "The Man Inside the Clues" the serves as Rinker's 11 o'clock number and really brings home the essence not only of his vocal capabilities but of his portrayal of the character on the whole.
The electrifying chemistry between Rinker and Matthew Hirsh, who plays Frank Abagnale Jr., is as the opening number describes— live in living color. The pair bristle quite well but bond and grow as they cross one another's paths again and again throughout the course of the show. Their initial duet "My Favorite Time of Year" is surprisingly touching; their voices marrying well together for this intriguing end to the first act. The pair play their game of chase with refreshing and revitalizing energy every step of the way; by the time the reach "Strange But True" there is a delightful and organic bond between them that brings the tale full circle from its dubious yet lively start.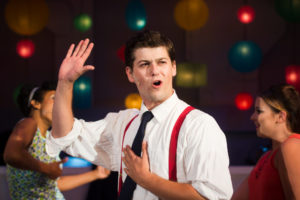 Cheeky, cocksure, convivial, and downright classy, Matthew Hirsh was made for the role of Frank Abagnale Jr. With a stunning vocal achievement, particularly when it comes to belted sustains at the end of numbers like "Live in Living Color", Hirsh dazzles the audience and charms them not only with his singing but with his dancing, his investment and connection to the character, and his thoughtful articulation of the character overall. Fabricating multiple layers to Frank Abagnale Jr., Hirsh showcases a plethora of emotions as well as a formidable arc of emotional growth over the course of the performance. Carrying the duet of "Butter Outta Cream", Hirsh is a singing sensation that glides with panache through this and other songs in the show.
They can't run forever, just like Frank Jr., so don't take the chance— you have to catch them if you can— NextStop Theatre Company and their brilliant production of Catch Me If You Can; do so before it hops the next Pan Am puddle-jumper out of town!
Running Time: 2 hours and 30 minutes with one intermission
Catch Me If You Can plays through October 9, 2016 NextStop Theatre Company— 269 Sunset Park Drive in Herndon, VA. Tickets can be purchased at the door, by calling OvationTix at (866) 811-4111, or in advance online.